Update September 2021: Frickin' Delights closed down this past weekend. Apparently for good now.
They had spent a lot of time being open and then not open and then supposed to be open but not open… it was confusing and also amazing to watch how loyal their customer base was. They were almost cult-like. The owners of Frickin' Delights couldn't do anything wrong according to their customers. Even if they suddenly took a few days off, they would sell out as soon as they would open up again.
It's sad that another completely vegan place in Edmonton and area has closed for good. It doesn't help the vegan movement, that's for sure.
But, for now, if you want vegan donuts, I suggest checking out Bliss Baked Goods in Edmonton. They have a ton of vegan options, including traditional donuts. A lot of their bread is vegan. They serve vegan options for lunch. And, they don't close down randomly or take random days off. They are serious about serving their customers and they deserve much more recognition than I've seen them get.
Update October 2021: Now they've updated their Facebook page and it says they are 'temporarily closed' and that they are moving locations. They haven't posted any updates yet, though.
_____________________________________________________________________________________
One of my greatest joys after going vegan was finding Frickin' Delights Donuts in Devon, Alberta. We found them only after a few weeks of going vegan, and their donuts gave me life. I'm not even kidding. They are that good. It's about a 30 minute drive for us to get there, but it's worth it. Each time we get them, I'm stunned at how good they are all over again.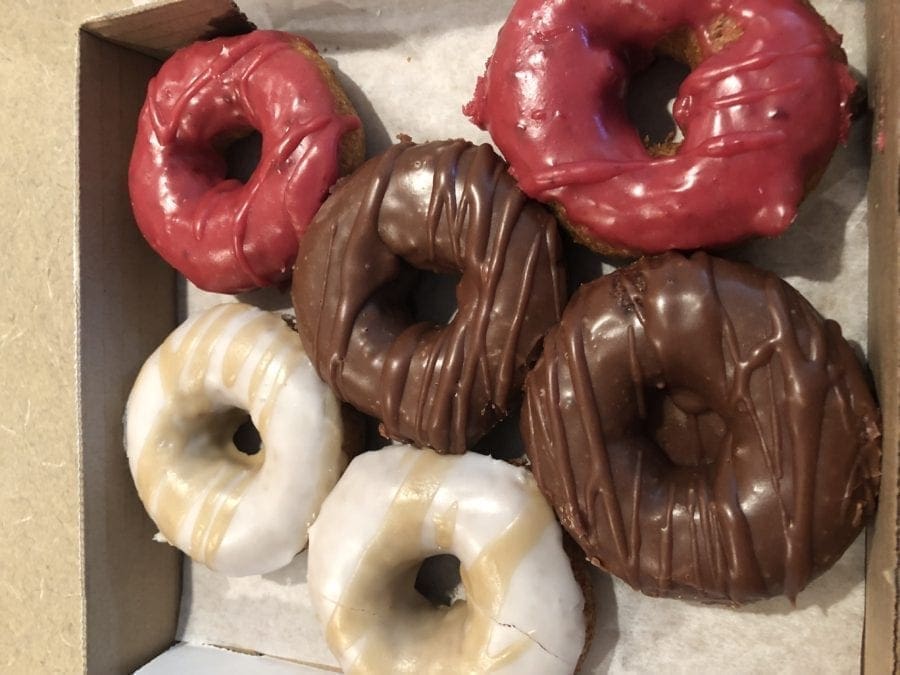 They Change Up The Toppings Each Week, Which Makes It Harder To Resist
They serve the same flavors from Tuesday to Sunday, which is their summer work week. Then, they change it up the next week with new flavors.
This is so smart. It's a great way to keep customers coming back over and over again. I always want to try what's new before it disappears.
If they were to serve the same flavors each week, I'm sure I wouldn't have such a need to get them each week.
I got to tell you, it's hard NOT to look and see what their week's flavors are going to be. They post them both on Facebook and Instagram – usually the day before they introduce them. As of the summer, they are closed on Mondays and will usually post the new flavors for the week near the end of that day.
Once you see them, you want them – or at least 1 of them for sure.
White And Chocolate Donuts To Please Everyone
Every week they do 3 different topping flavors on white donuts and 3 different topping flavors on chocolate donuts.
For instance, this week they have Salted Caramel, BlackBerry Lemonade, and Coconut on their white donut, and Cherry Almond, Mocha, and Nudda Budda on their chocolate donut.
I think the fact they do both a white and chocolate donut is smart. I love the white donuts, but my husband often prefers the chocolate, so Frickin' Delights is making sure they have different taste buds covered.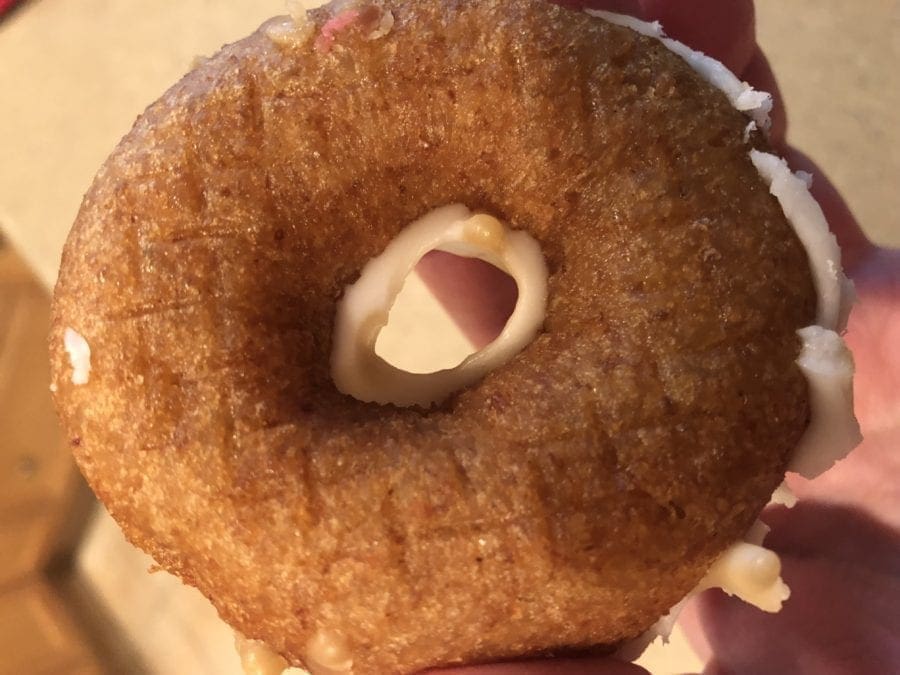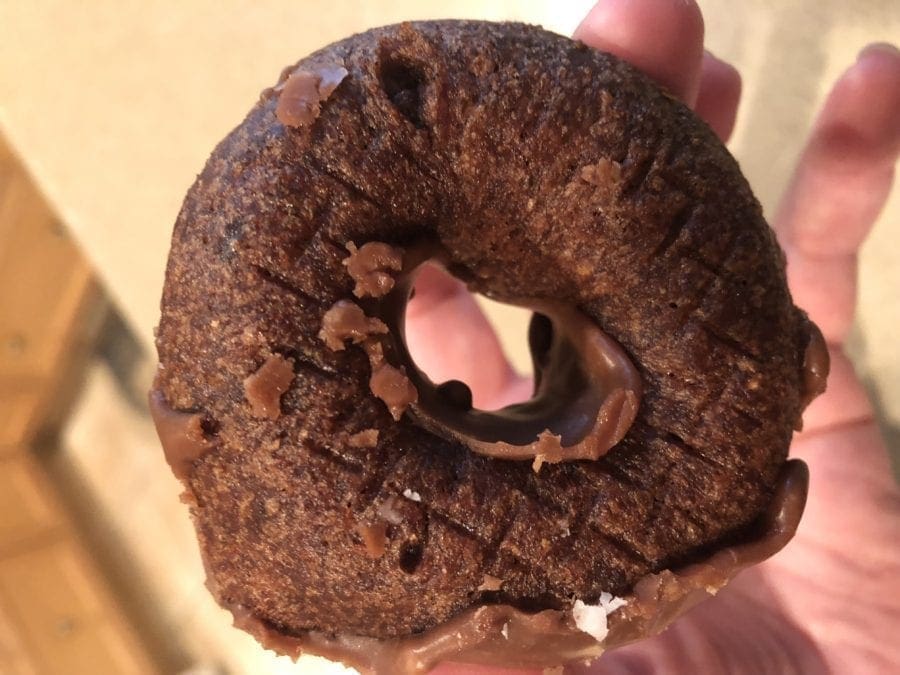 They Are Not Just Good For 'Vegan Food'
I read one review about Frickin' Delights that said their donuts were good, but to keep in mind that they were vegan so they were not the usual sweet treat that non-vegans would expect.
That's complete crap.
If that person hadn't found out these donuts were vegan, she never would have been able to tell the difference. They are cake donuts, and they would match any non-vegan cake donut out there – or maybe even surpass it.
I highly recommend that non-vegans give these donuts a try. They are so good and may quickly become your go-to for donuts.
They Do Offer Other Vegan Food
They offer amazing coffee. It's really, really good coffee and goes really well with your donut.
They also offer mac and cheese, chili, dill pickle soup, sandwiches, and a cornbread donut. I've had the mac and cheese, dill pickle soup, and cornbread donut. All were really good, just like their donuts.
Recently a customer asked them if they were going to introduce meat in their menu. I've heard of some other vegan places in Edmonton introducing meat and dairy into their menu, which I personally am not a fan of.
The owner said that they would not be adding meat to their menu. Therefore, if you are going there, expect to choose from a vegan-only menu.
So, they have a lot to offer besides just donuts.
But, what keeps you coming back again and again is the donuts, for sure.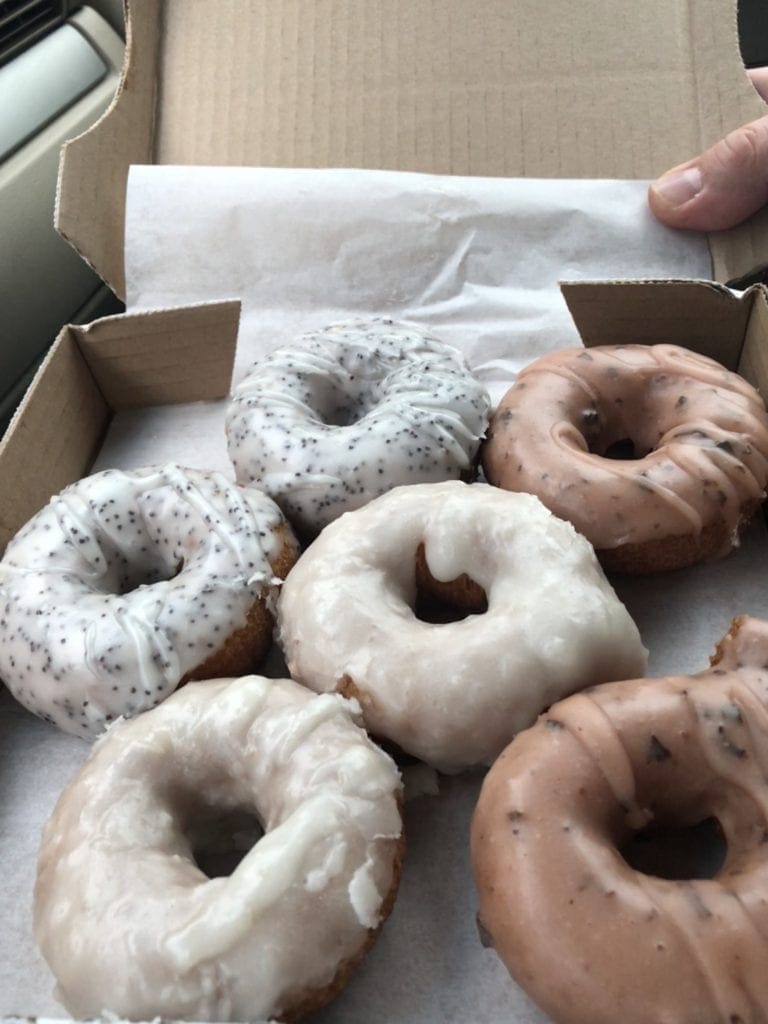 Updates December 2018:
New food – They just announced a new menu that is AMAZING! There are a few new breakfast items – a parfait, bagel, and daily muffin. I can't wait to go out and get a bagel and cream cheese for breakfast again. That was my favorite on-the-go breakfast before I went vegan. And they are also heading into the burger and fries territory along with a donair, buffalo wrap, pesto pasta, dill pickle corndog, and what looks like will be an amazing bowl with squash and quinoa and more. To see the full list, check out their Facebook page for the announcement post. I don't see the full menu on their website yet.
Another location for donuts – In the middle of January, they are opening a donut kiosk in Sherwood Park. It will only be open from Tuesday to Friday and there is no seating because it's located in another business.
You Can Sit Down And Eat
Frickin' Delights has quite a bit of seating. You can down in some comfortable chairs and socialize, or look out the window and enjoy some alone time with your donut.
They do offer WiFi there. You need to get the password from the staff – or at least I did when I worked online there.
The Staff Is Friendly
I have seen some reviews commenting on the staff and how they don't seem to be very enthused to serve you. I felt that way too when I first started going there, but I soon realized that it's just the laid-back atmosphere of the place and, honestly, it's just them being who they are.
We are used to the 'How can I help you?' version of customer service in big-name restaurants, but Frickin' Delights is more down-to-earth and real. They don't feel the need to put on a fake face.
They have never been rude in my experience. They may not be bubbly and smiling all the time, but they are always willing to serve you with kindness.
It's also important to note that recently the owners posted the following statement about receiving feedback.
So, if something bothers you, don't be scared to speak up and communicate with the owners. It seems like they are willing to receive constructive criticism, listen, and communicate.
They Are Doing Their Best To Be Environmentally Friendly
We all know the impact that places like Starbucks and Tim Horton's can have on the environment.
One of the comments I saw recently on the Frickin' Delights Facebook page was asking them to please reduce their plastic waste. Here's the response from the owner:
Then another comment approached the topic of too many disposable items, even for eating in. Here's that conversation:
It's nice to hear that they are doing what they can and are working on it. Some places wouldn't even consider it an issue.
The Donuts Freeze Well
We wanted donuts for a Christmas dinner we were going to, but they were going to be closed on the day we were going. So, we went and bought a dozen a few days before our dinner, and we stuck in them in the freezer.
The day of the dinner, we brought them out and let them unthaw for the day. By dinner time, they were perfect. They didn't have a slight crisp, like they often do when first buy them, but they tasted exactly the same and the texture was good.
The Drawbacks Of Frickin' Delights Donuts
There are so many good things about Frickin' Delights. But, there are also some drawbacks.
1. They Occasionally Run Out Of Donuts Early
The biggest issue is that most people need to drive a decent distance to get there and sometimes they run out of donuts early, which means you are left with some wasted gas but no donuts to show for it. It's a nice drive, but when you are going for donuts, you want donuts.
The owners say that you should call and reserve a box before you go. I usually don't call. It feels awkward to me.
I would be ticked off, though, if I got there and there were 20 boxes reserved – meaning that there were technically no donuts left even though they were all still there. So maybe I should make the call. But, sometimes I just want to drive out and order a donut (ok, a half a dozen donuts always) without reserving anything.
That said, if you don't want to call, make sure you check their Facebook often as they usually post quite quickly when they run out of donuts. That could save you a wasted trip. We have checked Facebook, headed out, got there to find no donuts, and realized they posted the situation a few minutes after we checked Facebook, so it can be a gamble.
2. The Cost
I think the donuts are worth the money. I always get 1/2 dozen at $14. It sounds like a lot, but the donuts are made fresh, they are unique, and they are so frickin' good.
But, not everyone is OK with the cost, so it's something you should be aware of before you go.
I don't know the prices off hand, and I don't see them on their website, so it may be wise to send them a message on Facebook or phone in to find out what the prices are for various things you want to try.
3. The Menu Is Not Posted Online
This drawback came out of the previous point. As of this review, the link to their menu is broken on Facebook, and they really should have it posted, with prices, so people can decide if they want to make the drive or not.
The Bottom Line: Frickin' Delights Is Worth The Drive For Me
Even with other vegan options popping up in Edmonton, Frickin' Delights is unique with its donuts and extended menu. It's worth the drive for me. And if you are like me, you may become addicted to the donuts and find yourself driving out there every single week.