Last Updated on October 14, 2022 by Kari
If you are a personal development junkie like me, and you find a lot of value in Mindvalley's courses like me, then you are going to want to read this Mindvalley review because you are probably going to love the Mindvalley Membership (formerly called the Mindvalley All Access Pass).
I heard about it being released, and before I even watched the masterclass I knew I was going to want it. I just wasn't sure it was going to be as awesome as they promised; however, after buying it, I can say that so far I'm pretty impressed!
Here's my review of the Mindvalley Membership, along with my experience and thoughts. I tried to cover everything, but if you have any questions about  Mindvalley or the membership that I don't cover in this review, please ask in the comments below.
What Is The Mindvalley Membership?
The Mindvalley Membership offers access to (almost) all the courses and quests on Mindvalley for an entire year. In other words, if you want to take a Mindvalley course, you have access to any course you want except for Lifebook Online, WildFit, and Unlimited Abundance.
Update March 22: Scratch out Unlimited Abundance from that last sentence. They just changed the program into a quest format and it is NOW INCLUDED WITH THE MEMBERSHIP! This course alone is worth the membership price. When I first started taking Mindvalley courses, Unlimited Abundance was $499 or more. It has the most content of any quest on Mindvalley… I'm pretty sure. If you decide to get the membership, take Unlimited Abundance first. I don't think you will regret it.
Not only that, but you get access to any new Mindvalley course as long you have the membership, and, lately, they have put out a new course once a month or so.
You also get access to live webinars and pre-recorded webinars. There is pretty much a new talk each day of the week, so there's a lot of content that you can go through with the Mindvalley Membership in this case.
The Mindvalley Membership is the third level of Mindvalley. 
You are at level 1 when you join a free Mindvalley masterclass. You create an account and have access to the masterclass, but that's about it.
You are at a level 2 when you buy individual quests from Mindvalley. You will have the Mindvalley course or courses that you bought in your dashboard, but that's it. This is all that used to be available when I first started taking Mindvalley courses.
You are level 3 when you become an all-access member, which this review talks about.
And you are at level 4 when you pay more to get a pro membership and get coached with Vishen and be part of a peer mastermind group.
What's Included With The Mindvalley Membership?
As of this updated review, there are 52 quests plus Zenward included with the Mindvalley Membership.
Here's a screenshot that was taken directly from the information page for the Mindvalley Membership. It is current as I update this review, but because Vishen Lakhiani is saying there will be changes, you should check it out to see if anything else has been added.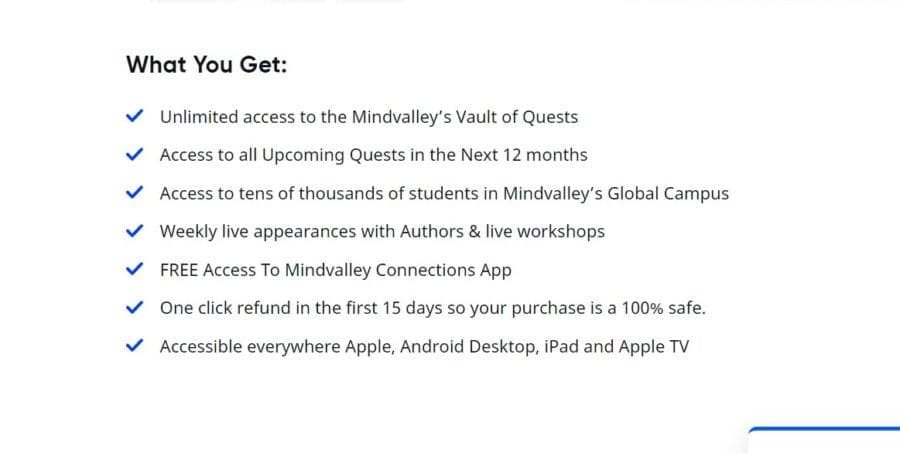 When the Mindvalley Membership first came out, I didn't believe it was a real thing. How could they offer unlimited access to almost all of their courses? They had never done anything like that in all the years I had been learning from them.
I watched the masterclass. I listened closely to Vishen talk about the Mindvalley Membership at the end of his masterclass. I thought that there might be a catch. I thought maybe he would say you only get access to one quest per month. But instead, he said you can take one quest per day or two quests per day or whatever you want.
Still, I waited until the full detailed page popped up about 10 minutes before the end of the masterclass and read it fully.
I was blown away. And I STILL didn't totally believe it. But the Mindvalley Membership came with a 10-day refund when I first signed up (now it's 15 days), so I wasn't worried. If it wasn't what I thought it was going to be, I would get a refund.
By the way, Mindvalley now has a page where you can apply for your own refunds without the hassle of contacting support. That's pretty cool and so much easier than sending emails back and forth.
I've had the Mindvalley Membership for about two and half years, and it has stayed the same since I first bought it – you can take any quest included with the pass at any time you want as many times as you want.
You can find a list of all the Mindvalley courses currently available, plus the upcoming courses on this page under 'what you'll learn.
9 Features Available With The Mindvalley Membership
It's insane how much new stuff has been happening with the membership since I wrote this original review. It's constantly getting more and more content.
Vishen says that there is going to be a new feature every month. His vision is that Mindvalley is going to be the number one online learning platform.
I can say that since I've started on Mindvalley, they've changed leaps and bounds. They are always listening to their audience, expanding, and improving, so I can't even imagine what they will be doing in a year from now. I do know that it's going to be damn near impossible to not want to stay with the Mindvalley Membership because we are constantly getting more and more features that continuously increase the value the pass offers.
You can download a Mindvalley app on your Apple TV and watch Mindvalley quests on Apple TV. There is something called binge mode, which means that every chapter is unlocked, which means that you can go through the entire program in one sitting. This is so funny because Mindvalley moderators kept saying to do one day at a time and never do it all at one time, but now Vishen is saying they are giving you the opportunity to do it all at once.
Connections app – This is an app where you can connect with other people on Mindvalley. It's a networking app where you can find people, interact with them, and meet up with them. Vishen says there are close to 10,000 people on the app right now. It's been out for a little while, but Vishen talked about how people are creating new live meetups and zoom meetups more than ever before. If you want to host a meetup, you can do it, no permission needed. You can search through the connections app by occupation, which helps you create mastermind groups. You can see where people are to create meetups or make friends. You can see all the events happening and decide to join them. Vishen has talked about dating and the connections app, so one day you may be able to find your love interest through the app.
New live talks on Mindvalley all the time. This is kind of like Mindvalley University Live happening all the time now, but instead of daily classes, there seems to be a few new classes per week. All the talks are live on zoom, so you can interact with other students and the teachers. You can see what's coming up on the Mindvalley Calendar. This is where you can watch the introduction class to the Mindvalley Membership too. If you miss them, they get put in your Mindvalley dashboard anyway within a day.
New meditation features. This is pretty cool. Omvana and quests have been integrated, which means that if you have the Mindvalley Membership you can access every meditation from every quest! You can also combine meditations. For instance, you can listen to one meditation and add in advanced binaural beats, birds, silva beats, running water, sleep well backgrounds, and many more. You can adjust the volumes on the main meditation and the background noise. You can also save it and come back to it at any point. You have to download the Omvana app to do all this. You don't need the premium version if you are part of the Mindvalley Membership. It's all available to you.
No more Facebook. Vishen says that they want people to be focused on learning, not caught up in fake ads, political stuff, etc. So now all the tribes are in the Mindvalley community. What's the difference between the connection app? Vishen says that this community is designed for long-form discussion. The connections app is a networking app where you can connect with other members.
Create with Mindvalley. Vishen says that you will be able to give the authors feedback. Apparently, a workshop is coming up where you give feedback to someone and he modifies his course according to what Mindvalley Membership members say? I'm not sure how this is going to all work.
Mindvalley mentoring is now free for everyone with a Mindvalley Membership. This costs $200 a year but is free when you buy the Mindvalley Membership. That's insanely awesome! In Mindvalley mentoring, you spend an hour in a class and can learn things that will change your life, according to Vishen. I haven't sat down and listened to any of them, but I'm super stoked that they are a part of the Mindvalley Membership! You can find them all in the community section of the Mindvalley Dashboard.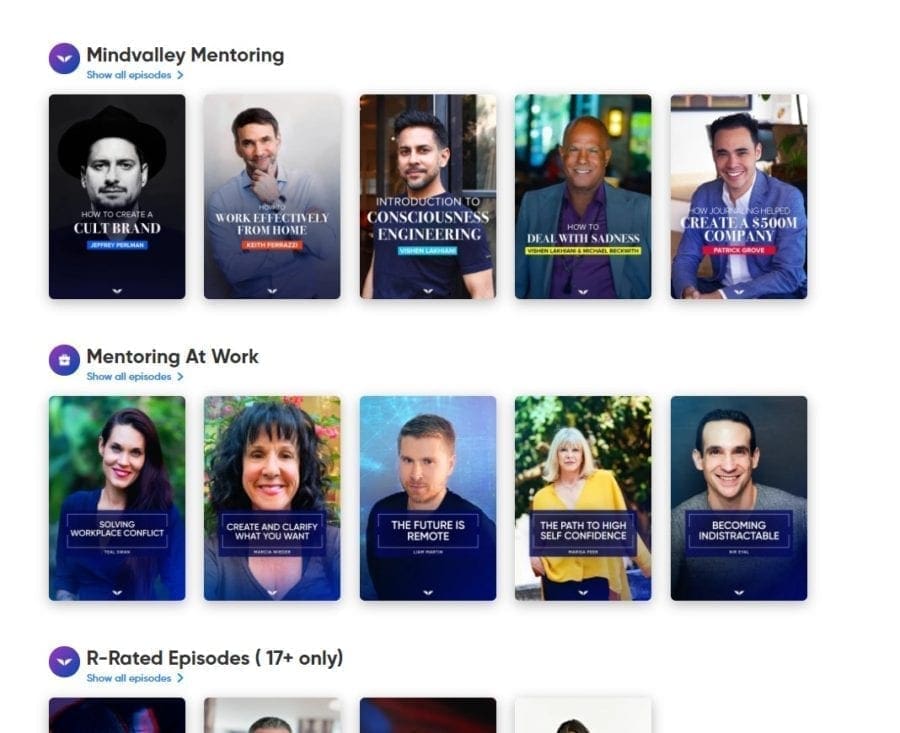 8. The Soulvana courses are available to members. Years ago, I used to pay for Soulvana. I don't remember everything we got, but I do remember getting one free course or book per month. I hadn't been following Soulvana since I stopped my subscription to it, but I see that there are new courses under 'My Programs' that say Soulvana on them. The following screenshot shows what I mean. Mastering your breath, Qi Secrets, Quantum Health, Quantum Jumping, Quintessence, and Recalling Your Soul Mission all have Soulvana written on them and they are all quests! There are more courses from Soulvana that I didn't screenshot.
Quantum Jumping used to be a course on Mindvalley. I never took it but wanted to, so I'm excited to try that one. I'm also looking forward to the Mastering The Power Of Breath quest.
9. Zenward – This is all about Yoga and movement. There are different classes to take and challenges. There are even some dancing videos and kickboxing videos. I haven't done any of these videos so I can't really say how good these classes are, but they look decent, and going through them they seem to have good ratings from students.
Features Coming To Mindvalley (Or Possibly Have Already Come)
Depending on when you read this review, these features may or may not be added. But, I thought I would add them as soon as I find about them coming to Mindvalley to the review because some of them might interest you.
1. Connect By Mindvalley – Join networks and chat with other members individually or in groups. Connect through friend requests. Create community events – invited people over, create a class, etc.
2. Create New Friendships – Combat loneliness with this new AI feature that helps you find new friends. Everytime you open the Mindvalley app, it will recommend someone that it thinks you will have a close connection with based on your interests and information. If you both send friend requests, you have a connection and you can meet up for coffee or whatever to see how compatible you would be as friends.
What Happens After Your Yearly Membership With All Access Is Up?
As you can see in the following screenshot, the Mindvalley Membership subscription (called the Quest All Access Pass when I bought it) shows up in the billing area of your Mindvalley account. You can see when the next billing date will be and how much it will be. It will be a year after you first purchased it.
You can cancel your subscription before it renews if you want so that you won't be charged again for the Mindvalley Membership.
Note: The price in the screenshot was the initial price I paid for the Mindvalley Membership. It's now $300 cheaper.
The big problem with this is that if you cancel your membership you lose access to everything that you got with the pass. That's how they get you to stay around. If you want to keep the content, you will need to renew your membership.
That may not be an issue if you can take all of the courses within the year and don't care about upcoming Mindvalley quests. But, if you can't take all the courses or want to take new quests as they come up, then you will either want to renew the Mindvalley Membership OR buy the courses and quests you miss out on individually.
When you buy the courses and quests individually, they will stay in your Mindvalley account forever. When you buy the Mindvalley Membership, any courses and quests that come with it will stay in your account until you decide not to renew your subscription.
How Much Is The Mindvalley Membership And Is It Worth It?
Instantly after I paid (remember I paid the initial price at $795 and it's now $595), I had access to every Mindvalley course available with the membership in my Mindvalley account.
For me, that means I had 7 quests added to my account and 5 new courses. I have already taken a good amount of Mindvalley's quests and courses so they were already in my account.
So, I got 12 new courses to take, which means I roughly paid around $66 USD per course. And, if Vishen wasn't lying (after over a year of having the pass, I can say that he wasn't), I should get all future quests this year for free, which brings my total per quest down.
You will have to do the math for yourself depending on your cost and how many classes you have already taken. Chances are you will be paying much less than me per course.
Your Price For The Mindvalley Membership May Not Be The Same As Someone Else's Price
I'm in Canada, so while the price for the Mindvalley Membership was $795 USD the first year, I actually paid around $1076 with the current conversion.
Therefore, I paid $90 CAD per course.
It was still worth it to me. Considering that most classes cost during specials or after the free Mindvalley Masterclasses between $250-$300 USD, that's not a bad price for 12 courses.
And, for me, the value in the quests is high. They have the potential to change my life. They will help me with my writing and my online business. They will give me new ideas, insights, and habits to work with.
So for me, the Mindvalley Membership was a no-brainer.
Now that the price is $595 USD a year (update: $499 per year now as of my latest update of this Mindvalley review) I'm paying even less per course.
For some countries, a tax is added to the price.
So, not everyone will pay $499. It depends on your country's currency and whether or not you are in a country that has taxes applied.
Update October 2020: Someone told me they saw an option to pay monthly, so I went to check that out on the main sales page. It's true! You can pay $99 per month if you want to go month by month. It's insane how quickly things are changing with the Mindvalley Membership.
Update December 2020: Vishen just announced that the Mindvalley Membership is going to be lowered to $499. Wow. Considering they keep adding things to the pass, this is kind of insane to me. But, it's better for us!
Update September 2021: I received an email today from Mindvalley that I think a lot of people are going to like. It said that Mindvalley is introducing Global Pricing, which means that using GDP per capita models, they are adjusting prices to match where you are from. Here's the main part…
So when you go to mindvalley.com/membership, it will auto-detect where you're browsing from and adjust the pricing accordingly.

This means, while a Mindvalley education is $499 a year for people in Western Europe and the United States… The price goes down to $399 a year for people in regions like Eastern Europe.

And for those of you in developing nations like India or China, that drops even further to $299 a year.
How Do You Know Which Mindvalley Course To Take First When You Join The Mindvalley Membership?
When you sign up, you have access to so many Mindvalley courses that it can be hard to choose which course you want to take.
In a recent class with Vishen, he mentioned a tool that I hadn't heard of before. This tool allows you to plug in what you want to focus on according to categories of your life, and then gives you recommendations on where to start. It's a great way to decide which Mindvalley course to take first.
But, I think you will be able to pick something that resonates with you once you get all the classes in your account. Sometimes quests just speak to you and you know that you need to take it. That's how it's worked for me.
Will The Mindvalley Membership Be Worth It For YOU?
Vishen talks about personal growth in the free masterclass for this offer. One of the things he says is, "Overcome the stress of chaos by immersing yourself in yourself instead of chaos."
In other words, by immersing yourself in yourself, you take the focus off your worries. You focus on progress, your goals, your desires, etc. You improve yourself and your life, and that helps you keep your focus off your daily struggles and on a bigger picture.
I have not taken one Mindvalley course that wasn't beneficial in some way, so with this Mindvalley Membership, I believe that everyone will be in a constant state of growth and learning, which will help reduce daily anxiety and stress and improve the overall life of yourself and others.
That's what I truly believe from experience. Whenever I stop learning, I feel stagnant and I become more focused on unimportant things. But, if I'm taking a course, my focus turns to faith, potential, goals, and growth.
That Said, Not Everyone Will Want This Pass
I think everyone will benefit from the Mindvalley Membership if they get it and start taking quests on a consistent basis, but it may not be right for everyone.
For instance, if you only want to take one or two courses from Mindvalley, then this pass doesn't make financial sense. You can buy two courses for the same price and not worry about being charged again in the future.
Moreover, if you are not going to be able to sit down and do at least 3 or more courses throughout the year, then, again, this pass doesn't make financial sense.
Check Out The Mindvalley Membership For Yourself
Mindvalley has some of the best classes and tribes on the internet. The Mindvalley Membership gives you access to almost all of those classes and tribes.
I can say that the Mindvalley Membership keeps my personal growth in a constant state of flow through its quests, interactions, updates, videos, tribes, and other content. And I know that they are constantly going to be adding new things to the pass, so it's an invaluable part of my personal growth, as you can probably tell from this review and other reviews on my site.
If you want to learn more about how having the Mindvalley Membership will benefit you, take the free masterclass here with Vishen. He talks about personal growth and what he has learned about changing your life and being your best self.
If you are interested in signing up for the Mindvalley Membership, you can learn more about it here.
I'm still blown away and so excited that I have a constant stream of quests and classes and learning to go through. I dedicate every day that I can to actively doing a part of a quest or course.
If you have any questions about the Mindvalley Membership or this review, please ask in the comments below! Sometimes things change and I haven't updated the review, so clarification can be key.