Last Updated on August 6, 2020 by Kari
I was writing the other day about how Mindvalley doesn't do specials or drastic discounts for an event. Or, at least, I've never seen it done and I've been learning from them for years. That's why them offering the all access pass where you can take almost all the quests that they offer on Mindvalley for the price of a few quests still blows my mind. It's not just a discount, it's an incredible discount that I've never seen anywhere else when it comes to personal development courses taught by respected teachers and done on a professional level.
Besides the cost, I've talked about some of the other benefits, like taking new Mindvalley quests the first time around and taking Mindvalley quests on your own schedule. And those are definitely still two of the biggest benefits of having the pass.
The All Access Pass Allows You To Choose A Quest That Relates To Your Current Struggle
I think another benefit of having the pass is being able to decide what you are struggling with most and picking a course that relates to that.
This is especially true right now when struggles that we may not have had before are popping up as the world seems to be shifting into a new state of being.
I've always chosen courses to take that relate to the Lifebook topic of the month, or courses that pull me the most to them.
Because I've been with Mindvalley and the pass for so long, I only have a few courses left to complete! Four to be exact. And, I've already finished a few days in some of them and weeks in others.
There's A Postponed Quest But The All Access Pass Has New Chats With Vishen
Only having four quests left to take doesn't seem like a lot. So, I'm looking forward to the new quests that come with the all access pass.
I knew that there was supposed to be a networking quest coming up, and it seemed like it should have been at the end of March, but it wasn't showing up in our dashboards. I finally wrote in to support to find out what was happening. Here's the message I got back.
Even with the spelling error ;), it makes sense to me. I'll be interested to see if they change the context of the quest entirely considering it could be months or even never when the old normal of meeting people face to face comes back.
Then, it was announced in the all access pass Facebook tribe that Vishen would be holding a 'fireside chat' at the end of the month, which was last night.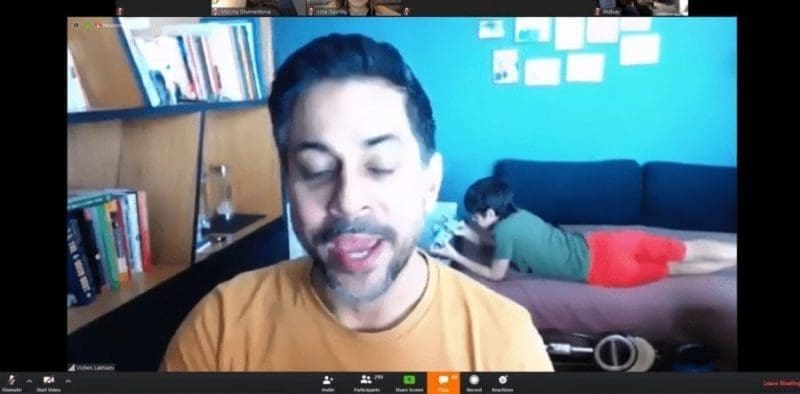 It was OK. Vishen talked about what's going on right now and how we can set up our journey over the next little while as we face fears, a recession, and potential health issues.
One problem was that the call only allowed 300 people on it, so if you didn't log in early like me, you were pretty much out of luck. Many people didn't get to attend the call.
But, a replay link to the call was posted in the Facebook group rather quickly. As you can see in the following screenshot, in the replay, you can see the video, chat that was happening, and you can actually download the chat and the video by clicking on the 'download' link on the top right of the replay screen.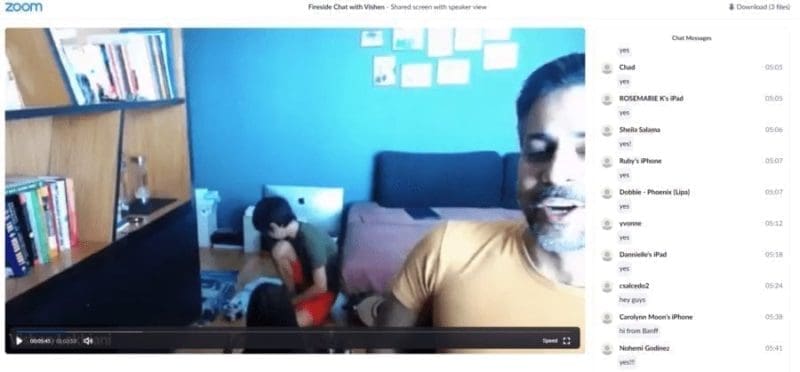 In the chat, Vishen talked about some truths relating to this time and then explained how we could move forward in a productive way.
Most of what he said resonated with me. I did find myself coming up with some ideas for moving forward with a little more success in all areas of my life.
At one point, he did talk about 'eating lots of meat' to stay healthy which obviously I don't agree with, but it's something he truly believes, and he was sharing his best tips on surviving and thriving at this time.
In the chat, a lot of people had their video turned on, so you could see a lot of the members of the all access pass, which was pretty cool. You could even pick a 'gallery' option that brought all the videos, including Vishen's, into a gallery format on the screen. There were about 50 people visible at one time on one screen. And you could scroll through the screens.
It was funny to watch one person fall asleep and another person show off their sweet dog every chance they got. It made it seem like a real community with real people, which I think is something Facebook can't totally do.
Vishen said that this might become a regular part of the all access pass, which I think is likely one of the changes they are making as they adapt to this new world with the pandemic going on.
He did say that we might see more online events with Mindvalley as opposed to their offline events, which makes total sense.
If I had to guess, I would say that Mindvalley is going to be even more of an online community than it already was, which will beneficial to people who want to work on their personal growth and stay connected to like-minded people around them.
I'm looking forward to seeing what's to come with the all access pass and Mindvalley in general. I'm very glad that a company like them already has their feet in the ground and a solid base of information that can help people during this time.
It's going to be interesting to see how much they can do to keep people on a positive journey in life.