I've never been a religious person, but I've always wanted to be more spiritual. Prayer is something that I've used off and on throughout my life to help me feel better, mostly in times of trouble or sorrow. But I want prayer to be a habit. It makes me feel good. It makes me feel connected to something bigger. That's why the 7-Day Prayer Challenge with Iyanla Vanzant appealed to me. The premise was that we were going to learn how to do an affirmative prayer so that we could create an intimate form of prayer in our life. I wanted that. I signed up. I went through the week and beyond. Here's my experience.
Iyanla Vanzant's Passion Around Prayer Is Contagious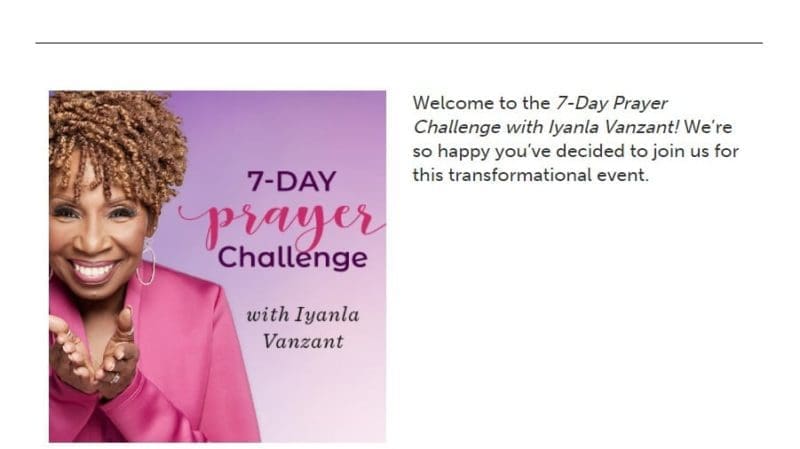 This isn't a boring challenge. Iyanla Vanzant has a lot of natural passion for prayer, and it made me excited to pray. That's exactly what I needed. I needed to see someone that passionate about this type of prayer. I needed to see how to use it to its fullest with full belief. And that's what Iyanla Vanzant delivered.
She consistently showed us how to do what she was talking about. She gave examples. She showed us how to do every aspect of affirmative prayer and put it all together for us at the end. She even showed how to pray the lord's prayer as an affirmative prayer.
The Challenge Came With Really Good Worksheets And Slides
Sometimes courses don't have worksheets that are that good, but this prayer challenge included awesome worksheets. This was my first course through Hay House in a long time, and if this is the kind of stuff they produce in their courses, I'll be taking more for sure.
It can be hard to take in everything that Iyanla Vanzant says. She talks fast and she covers a lot of ground, so these worksheets are perfect to go over before and after the daily video for more clarification.
Every day we got an overnight assignment where we could answer questions from the day's topic. These were what drove home the lessons for me. These questions helped me to reflect on the lesson and even dig deeper inside of me to find the answers.
Also, throughout the video Iyanla Vanzant posted slides. I screenshotted and attached these slides to my OneNote notes and they are so important to drive the lesson home further.
If You Have Set Beliefs, You Will Be Challenged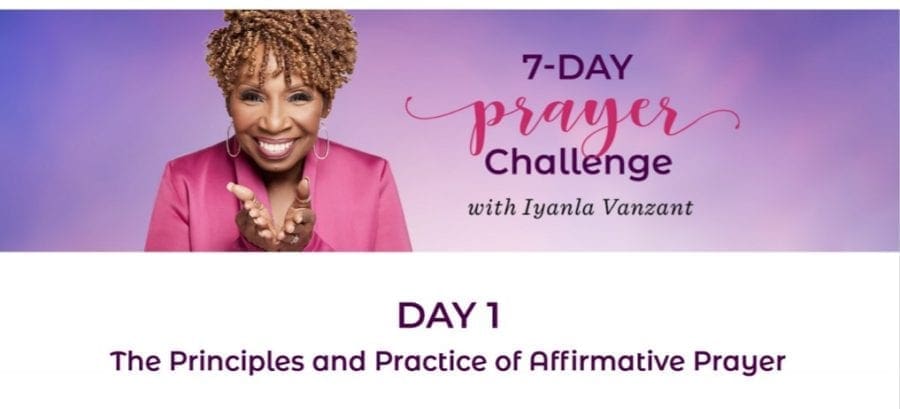 As I said, I've never been a religious person, so I don't have a lot of set beliefs around what is and what is not proper in terms of spirit. I think if you are drawn to this challenge, you are likely more spiritual like me and less religious anyways. But just know that she's not focusing on one aspect of religion that you may believe in.
For instance, she encourages you to use whatever name resonates with you to pray to. God, Mother, Lord, Abba, Elohim, and Jehovah are just a few of the names she mentions. She states that they are all names for the same entity. I agree with that, but I could see my very religious friends not liking this.
I grew up praying to God. That's the name I knew so that's the name I used. But I always looked to God as out there, somewhere, and not necessarily in me. Other names resonate with me more when it comes to focusing on the spirit around and within me, which is something I got from this prayer challenge.
For example, the eternal spirit resonates with me as something that is omnipotent and omnipresent. I feel something larger when I say the name so it's one of the names I use when I do my prayer.
Also, confession is used in affirmative prayer, but not in the way that you may use it. It's a process of clearing and aligning the mind and the heart, but it's not just about admitting all your sins. It's about owning your fears and mistakes and questions and everything else and
She Did Seem Short With People's Questions And The Group In General
The only thing I didn't like about the prayer challenge was Iyanla's way of dealing with people. Maybe it's just the way she is. I've never taken a course with Iyanla Vanzant before.
For instance, with the questions, she kept saying, 'I don't understand what you mean?' when obviously she did. She was trying to imply that the question was not valid or did not align with what she was teaching. And she made that known a few times in a way that I thought was a little harsh.
And she kept the comments turned off a lot of the time, which I can understand on some level. When people are talking in the comments, they are not focusing on what she is saying. But the comments are there for a reason. That's why you take a course live. It gives you the ability to communicate with others and share and create some fellowship. You can always go through the course again later. She only allowed the comments on when she wanted an answer to a question, and she seemed annoyed with them at points and quickly got them shut off again.
Also, one of the very last things she said in the course was 'I know you all don't want me to leave you, but I've got to go. Seven days with you people is more than enough." She didn't laugh after she said it and it felt like a very shitty way to talk to everyone who was looking to her for guidance. It was almost like she was saying that she was annoyed with us and more than happy to get the hell out of here. It was just a weird and awkward way to say goodbye to people who signed up to learn from you.
What The 7-Day Prayer Challenge Did For Me
This challenge helped me build a closer relationship with spirit – and going forward I know it will get stronger and stronger.
I have a prayer practice in place now. I've been praying morning and night and throughout the day. It's something that I turn to naturally to feel better and more aligned.
I'm giving a lot more thanks. It's part of the affirmative prayer and I can't get enough of it. Recently, I talked about how the 7-Day Prayer Challenge with Iyanla Vanzant is just one of the many courses that talk about gratitude and giving thanks. But this course had a lot of power and energy behind it, especially when talking about giving thanks, so it's really resonated with me.
It reminded me that how I think and speak is very important. In the course, Iyanla Vanzant explains that every thought you think and word you speak is a prayer and since she taught this, I've been extremely mindful about my thoughts and my words. This has helped me with the anxiety I've been having lately, and it also helped me clear out some physical ailments I've been having (likely from the anxiety). It's powerful stuff.
I feel like prayer is a more personal and purposeful thing. It has a whole new meaning to me. It's not just about asking for what I want or giving up my worries to something bigger than myself. It's about being connected to something bigger than myself and being passionate about my role in bringing things into my life – or not. I pray deeper than I ever have, and it feels very authentic and purposeful.
This Prayer Challenge Was Something I Needed
I'm thankful that I noticed this course. I get a lot of emails from Hay House (and other places) that I don't pay attention to, but for some reason, the 7-Day Prayer Challenge kept catching my eye. I obviously needed it in my life.
There was a lot of information packed into this prayer challenge. I learned a lot. I took a lot from it. And, it's going to impact me in a big way going forward.