For Father's Day, my dad wanted to go on a boat trip on Maligne Lake. My husband and I have been to Jasper, Alberta many times, but we've never driven up to Maligne Lake, so we were excited to go check it out and see what it has to offer. We took the Maligne Lake Classic Cruise, which is supposed to be 1.5 hours long. Here is our experience.
The Drive Up To Maligne Lake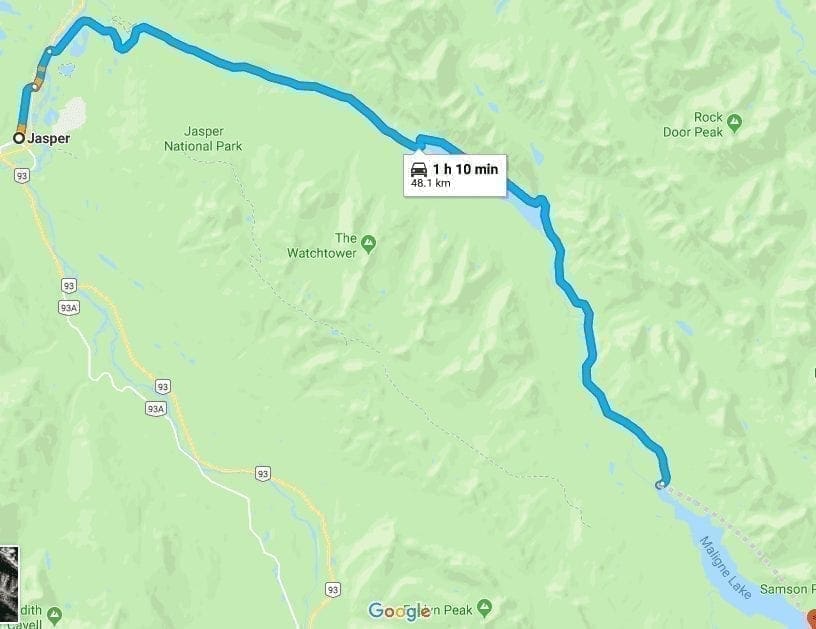 I am convinced I went over a cliff in a past life because I'm terrified of driving on the edge of mountains or anywhere there is a huge drop off one side. I was sure that the drive up to Maligne Lake was going to be terrifying for me, but it wasn't that bad.
I wouldn't want to drive it during a good snow storm, though. It's a steady incline, and I'm not a fan of slippery roads on any kind of incline.
You go through a couple avalanche zones, which I'm not a fan of either. It does provide for a pretty rock view, though. There are a lot of huge boulders and trees that have fallen and are sitting on the hillside.
But, for the most part, you are driving with upright trees on either side of you. Until you get to Medicine lake, which is about halfway between Jasper and Maligne Lake.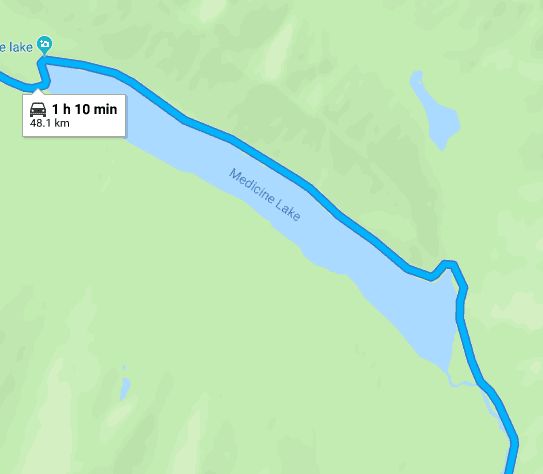 It is a beautiful lake. There are a few places where you can pull over and just enjoy the scenery. Apparently the lake has an underground drainage system, which means the water level can vary from season to season, and sometimes it can completely disappear. Knowing this makes you appreciate the water even more!
Expect To Get Stuck Behind At Least One Person
I'm not a fast driver, but I don't like going 40km/h when the speed limit is 60km/h.
There are a lot of turns on the road up to Maligne Lake, so if you get stuck behind someone slow, take that moment when you have some stretch of road to get past them or else you could be there for a while.
Expect To See Some Wildlife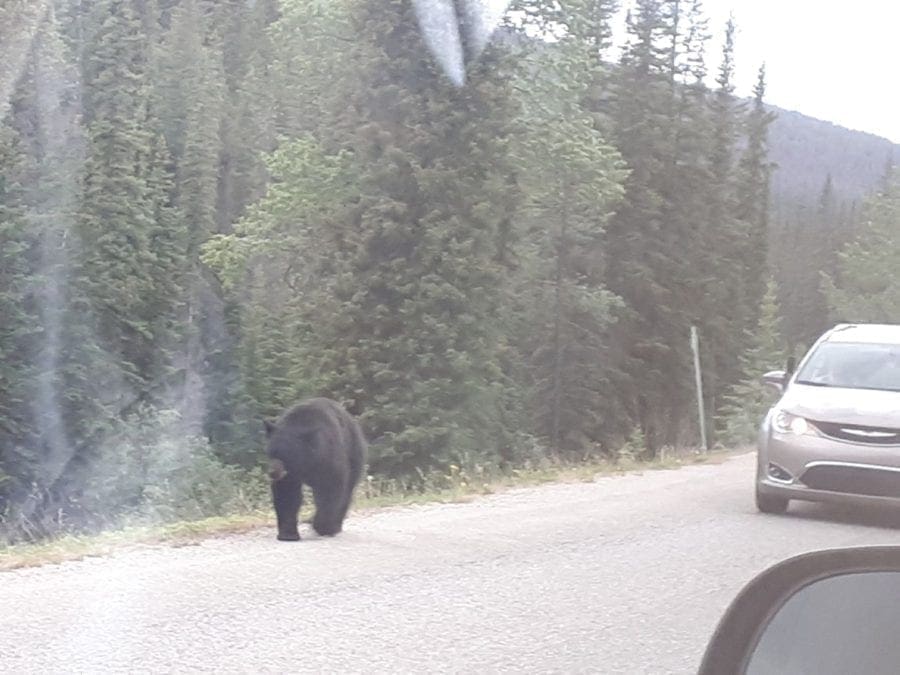 While you may not want to go super slow, you shouldn't go super fast either. There is a lot of wildlife in this area, and you don't know what could be coming around a corner. We came around a corner on the way back to Highway 16 and saw this black bear. He was walking up the side of the road towards Maligne Lake.
The car behind him seemed to be videotaping – so they were not going around him. Of course, there were about twenty cars behind them at that point!
It didn't affect our time, but that may be something you will want to take into consideration as you plan your trip up to get to the Maligne Lake classic cruise – or just the lake in general. A good animal sighting could set you back 15 minutes or more because the road isn't that wide and doesn't have a lot of places to pull over.
Pulling Into Maligne Lake And Heading To The Dock
Don't worry about missing Maligne Lake. It's marked well.
The parking lot is huge, and it was full. But what we noticed is that there seemed to be a steady stream of people coming in and going out, so the chances are good you will find a spot easily.
When you park, you have to walk about 5 minutes to get to the gift shop and cafeteria. The cafeteria has basic stuff like soup and chili, but you can also bring your own food and sit outside at one of their many picnic tables.
There is a ticket cabin there as well. But, I've read reviews that said all the boats can be filled up and you may miss out on a ticket if you don't book ahead. For us, all the boats we saw were full, so this doesn't seem like a one-time piece of advice.
Order online and get your tickets in advance so that you know that you will be guaranteed to get on a boat after that long drive.
The dock with the cruise boats is just down the hill from the gift shop.
The Boat Ride
You have to line up about 10 minutes before your departure time.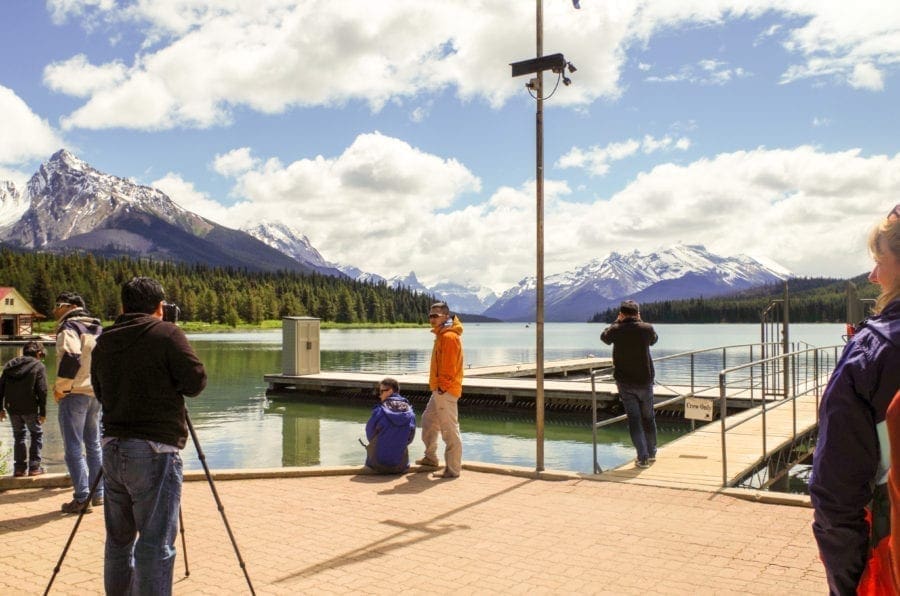 If you printed off your tickets, make sure you bring the piece that has the time on it. We all had a ticket to get on, but they didn't scan it or anything. He was more concerned at looking at the time of our departure, which we had put away in my dad's coat because we didn't think we would need it. But, I'm certainly glad we brought it! We did hold up the line as we struggled to get that confirmation out, though.
When you get on the boat, don't be scared of going up to the front if you can. You can open up the front window and really take in the breeze and beauty as you go along.
But, if you get stuck in the back, don't worry because they have a back deck that you can stand on once the boat starts moving.
On our boat, there were only supposed to be about 8 people out back. But we had a bunch of people who were inconsiderate the whole trip, so they all piled into the back despite being asked to not to, and the rest of us never got a chance to go back there.
Nonetheless, you can see everything from your seat, and it's beautiful. At the front, there is someone running the boat. They watch for people on the lake kayaking and canoeing and go slow as they pass them so they don't tip them over from the wake of the boat.
There is also a guide who gives you information about the lake and the mountains surrounding it. On our boat, with all the inconsiderate people, we could barely hear him because they were talking so loud over him, but we still were given a bunch of great information that helped us get to know Maligne Lake much better.
Spirit Island
On the Maligne Lake Classic Cruise, you only get 15 minutes on Spirit Island. It's not really an island, but it has a beautiful view!
I would have appreciated a little more time there just to sit around and take in the view. There was a friendly guy who works there who took up a lot of our time talking to us. We appreciated his stories and conversation, but it didn't give us any time to sit and enjoy the view and listen to the nature around us.
Apparently if you book the Premium Cruise, you get extended time on Spirit Island. So, if that matters to you, the extra price may be worth it.
You can also skip the cruise and rent out a canoe, kayak, or rowboat. But, I think our guide said it can take hours to get to Spirit Island by canoe. The trip would be worth it if you are comfortable in a small boat and have the time. There are so many different spots you can stop along the way to Spirit Island and just relax and enjoy the view.
On the way back, the guide did a little bit of talking, but he mostly let us just enjoy the ride back.
There were plenty of boats on the water.
So, we were going slowly for the last little leg of the trip.
The Pros Of The Maligne Lake Classic Cruise
The boat is warm and, unless they are behind a window, will keep passengers who don't like the cold happy.
The boat ride to Spirit Island is about 30 minutes (same coming back), so you get some relaxing time on the water with breathtaking views.
If you get a chance, you can go on the back deck of the boat and be in the open.
The guide on the boat gives you a ton of information about Maligne Lake and can answer any questions you have.
The boat has life jackets under every seat in case of emergency.
There is a place to eat before or after the boat cruise.
A good price for the ride and tour.
Very organized tour. No waiting. No wondering. Just doing.
The Cons Of The Maligne Lake Classic Cruise
It took us about an hour to get there from Jasper, so if you are doing a day trip to Jasper, it's going to add a good few hours to your trip.
You can't pick who you are riding with on the cruise, so expect some people who feel entitled to be inconsiderate jerks.
Not enough time spent at Spirit Island.
If there are a lot of people out in canoes or kayaks, then the boat needs to slow down to a crawl so they don't tip them over with the boat's wake. This can be a bad thing if you are on a tight schedule.
The Classic Cruise Fit Our Needs
It was a great Father's Day. We enjoyed the drive up to Maligne Lake, and the classic cruise was perfect for us. Everything was beautiful. I'm grateful it was one of those things we could experience together as a family.
As a side note, there was a family who spent the entire time on the cruise looking at their phones. I have a picture of it to show my friends, but I don't want to put their faces online for all to see. Trust me when I say that they spent the entire time on the water with their heads down. I guess there are always people like that.
I think it was worth the money. It cost us $66 per person, which worked out to $266.40 CAD.
After we purchased our tickets, we saw an offer on Groupon for savings, but it was too late. It was only about a $6/ticket savings, but if you are traveling with a few people, that could add up to lunch! So make sure you check it out before you buy your tickets.
If you have any questions about the Maligne Lake Classic Cruise, please ask in the comments below.