Last Updated on February 2, 2022 by Kari
I see a lot of people who say that tofu doesn't have a taste. These people can't have anywhere near the taste buds that I do, because tofu has a taste to me, and I don't normally like it. It's hard to describe the taste, but I guess slightly sour and beany (but not in a good way) would describe it.
My Husband Saw A Noodle Soup Recipe With Tofu That He Wanted To Try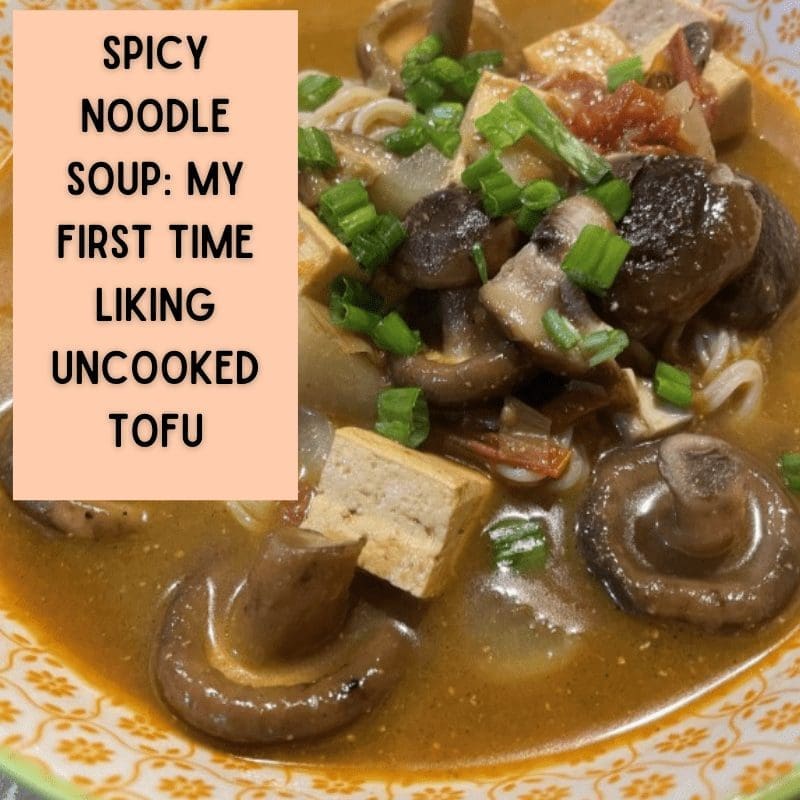 The other day, my husband called me into his office and showed me a soup that he wanted to try to make. He doesn't often find recipes he wants to make, unlike me who finds recipes every single day. That's why when he finds a recipe he wants to try, we have it within a day or two.
Surprisingly we had pretty much everything in the house, except for a bean paste, enoki mushrooms, and snap peas. But we had a satay sauce that is thick and delicious, so he used that instead, and we just replaced the enoki mushrooms with extra shitake mushrooms and left out the snap peas.
Wow, just wow. This vegan spicy soup was better than the soup we get from our favorite vegan Vietnamese restaurant.
And the TOFU!
When my husband was putting the soup in my bowl, he was putting in a lot of tofu, but I didn't want to refuse it. I figured I would just pass it off to him at some point like I always do. But, when I took my first bite of the tofu, I was blown away.
The texture reminded me more of paneer than tofu. And the taste was also more like fatty delicious panner encased in the amazing soup broth. I thought maybe it was just a one-time thing, but every single piece of tofu was the same. And when I had leftovers the next day, it still tasted just as good.
We have never thrown tofu in broth before for soup. Even if we order soup out, I won't get tofu put in unless it's been fried.
Obviously, this is the way to do it!
Next time, we will add the extra enoki mushrooms and snap peas in there, but for now, this was delicious. I told my husband he'll be making it at least once a week because it's so good and one of the few healthy ways I can get tofu into my body!
I highly recommend checking out Yeung Man Cooking on YouTube. He's not vegan, but his recipes are.