Last Updated on December 22, 2021 by Kari
Optimize.me is a personal development site by Brian Johnson. It offers wisdom through summaries of books, daily lessons, and master classes. This is a site that you can go back to daily and grow as a person just a little bit every single day. This is my kind of site! Besides Mindvalley, I don't know of another site like this. Optimize offers three big things on their site.
Update October 2021: Optimize.me is totally free now. I just got an email that said it was acquired by Heroic Public Benefit Corporation and, since their goal is to create a world where over half of it is thriving by the year 2051, they have made the optimize.me membership free. In other words, all the stuff below is now free to view. That's a TON of content, so  I highly recommend signing up so that you can start going through Optimize.me today.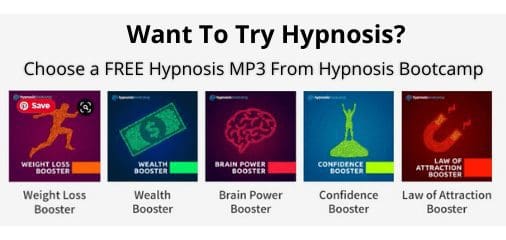 1. Philosophers Notes
This is what I knew Brian Johnson for back in the day. I wrote a review of Philosopher's notes years ago on HubPages. That review was written back at the beginning of 2018 and it's still up on HubPages. When I wrote it, he had a total of 180 notes. Now, he has 600+ notes! If I did my math right, that's around 140 new notes per year since I wrote that review.
Philosopher's Notes are summaries of books that cover the most important points. Brian's Philosopher's Notes are 6 pages long each and discuss the 'big ideas' from books. They are like cheat sheets for books you want to read, and with over 600 books, there are a lot of notes to choose from.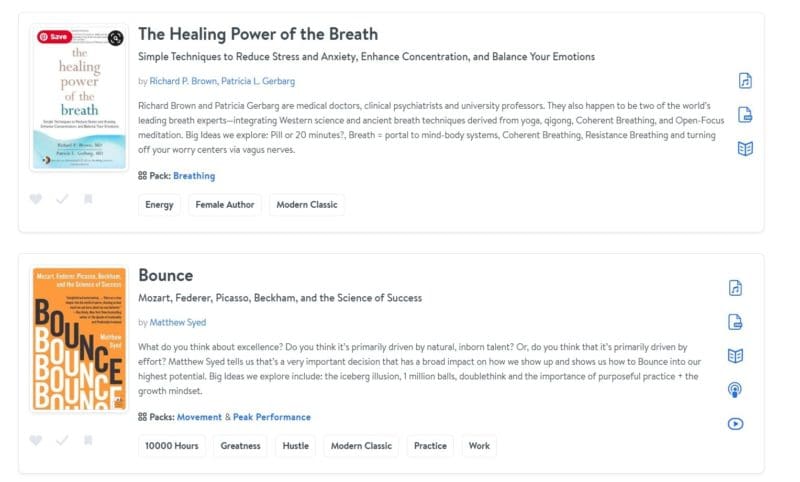 With each philosopher note, you get a PDF, MP3, and web view.  And for some books, you can check out a podcast or a YouTube video of the note. You can see the icons in the above screenshot on the right.
Here's the YouTube video for 'On The Shortness Of Life' note.
You can filter through the Philosopher's Notes by keyword, when they were released, author, and title. So, if you are a little OCD like me and like things to be in order, you can start from the first Philosopher's Note and work your way through all 600. The following screenshot has the latest Philosopher's note along with the filter options.
2. Optimize.me +1s
If you want to do a little bit of personal growth each day, this is for you. The Optimize.me +1 series offers a new idea daily to help you become better each day through micro-lessons with wisdom. This is SO smart. And if you are just coming in, you have a lot of catching up to do at 1288 sessions already recorded! That's amazing. So far, the videos seem to be just a few minutes each. But look at what they include.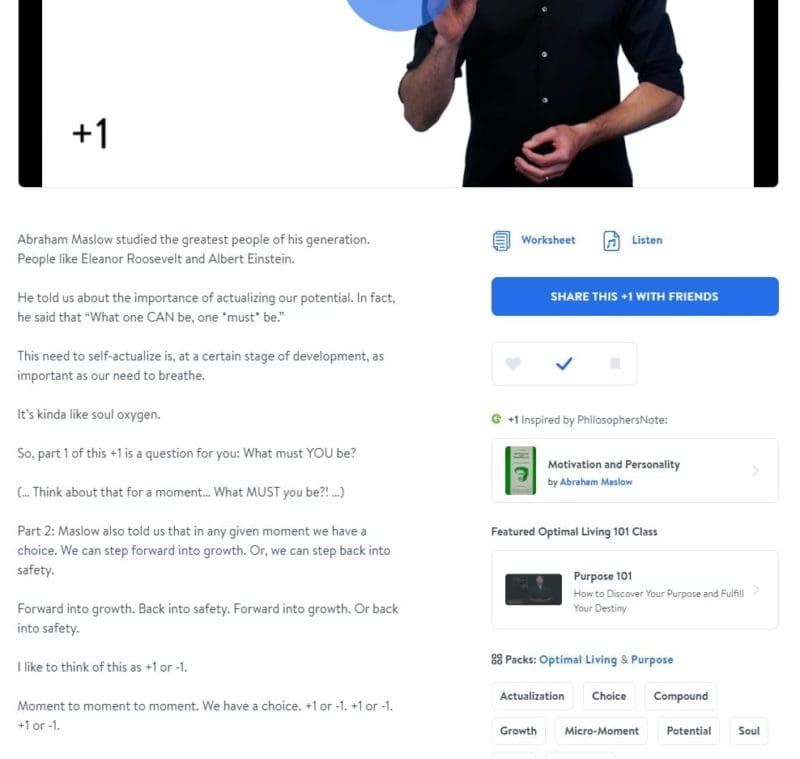 They include the notes from the session along with creative worksheets that you can fill out, print off, and throw into a binder labeled something like 'My Optimized Life'.
And they include the Philosopher's Note that inspired the lesson as well as the featured Optimal Living 101 Class that relates. You can click on any one of those filters and get sucked down a rabbit hole of wisdom through classes, notes, and Optimize +1 sessions.
For instance, clicking on 'choice' in the tags leads you to +1s, Philosopher's Notes, authors, and quotes related to 'choice'.
In other words, if you want to spend a few minutes optimizing yourself, you can. But if you want to spend the whole day optimizing yourself, you can do that too. It's really up to you.
3. Optimal Living 101 Master Classes
Take all the big ideas that Brian Johnson has learned through the years, and that's what you will find in these Master Classes on Optimize.me. There's not much you can think of that's not covered here.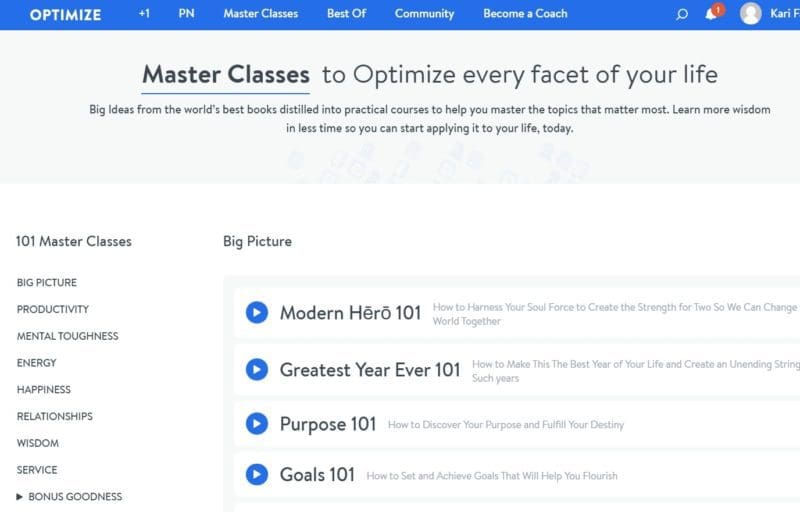 I counted 53 Master Classes in total, and they are about 1 hour each, so you have another 53 hours of content here.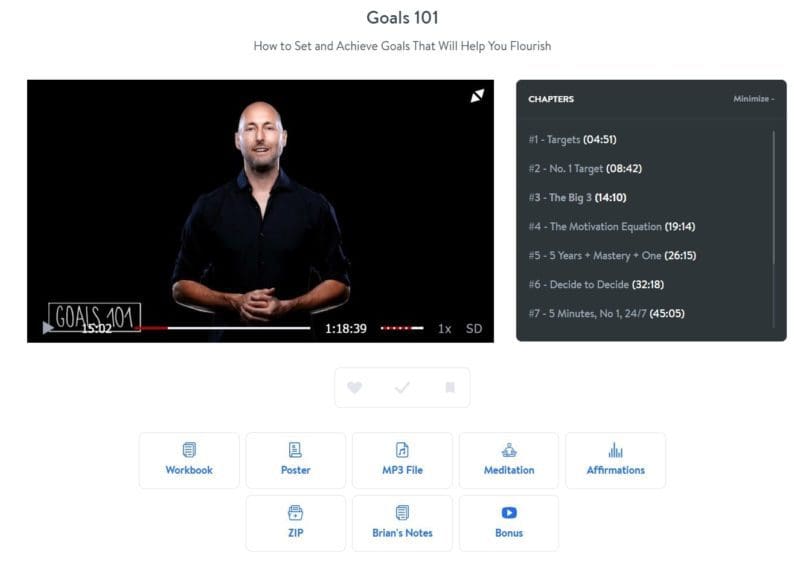 Plus, you get a workbook, a poster with the key ideas (like a cheat sheet), an MP3 file, an MP3 meditation (about 20 minutes or more), an affirmations MP3 that includes affirmations pertaining to the topic, a copy of Brian's notes for creating the class, and a zip file with everything included (so that you can take a class when you are offline and avoid distractions.)
Interviews, Community, And More On Optimize.me
Optimize.me also has an interview series, a community called the Oasis (I remember when this was just being built up!), and a coaching program that is separate from the membership, but, would include everything in the membership for one year if you get it.
And this is just the beginning. Brian Johnson has added so much to Optimize.me over the years, so I imagine he will add the same going forward. You will never run out of videos, Philosopher's Notes, or Masterclasses to go through on Optimize.me. It's pretty awesome.
There's so much content on here for so much less than you pay on other sites that offer an equal amount or less. I guess a drawback would be is if you don't resonate with Brian Johnson as his face is in a lot of the content here. But that's where the 2-week free trial comes in (it's free now, so no more trial). If you don't like him, you can cancel.