Last Updated on June 16, 2021 by Kari
Eggs were one of the last things to go for me when I went vegetarian. This was only because in my early twenties I partied pretty much every night and then stop at McDonald's on the way to work every morning. I would get the Egg McMuffin with just cheese and egg along with a hash brown, and I would instantly feel a little more alive after a long night of drinking without eating. I long ago stopped partying and eating eggs, but I still crave an Egg McMuffin for breakfast. It's one of those things that I was hoping a vegan restaurant around me would make vegan.
We've Tried Just Egg In Liquid Form
We tried the Just Egg in liquid form a few years ago. We scrambled it up with some black salt. We didn't like it. I think it was the black salt. It was too much like the yellow part of the egg – with extra sulfur taste  – and it made us both sick. We ended up associating Just Egg with the taste and we never bought it again.
Instead, we ended up liking tofu scramble from Lauren Toyota's cookbook, Vegan Comfort Classics. My husband loves that tofu scramble, and I do too, but I still longed for an Egg McMuffin.
A Local Restaurant Came Out With A Vegan Egg Breakfast Sandwich
Then, a few months ago, one of our local vegan restaurants was offering a breakfast sandwich with a folded egg in it. We didn't know it was Just Egg. We thought they had made it in-house.
We went out, got the sandwich, and it was good! The sauce they put on was a little weird, but the egg itself was good.
I was happy. I kept saying to my husband, 'THIS is what I've been missing.'
Then I Found The Folded Just Egg In A Grocery Store
I've been going on solo trips to Jasper a lot lately. The only store I shop at is Freson Bros because I end up staying in their parking lot overnight and, even though they are considered a meat shop, they carry all the vegan stuff I need.
For instance, I found Just Egg in there!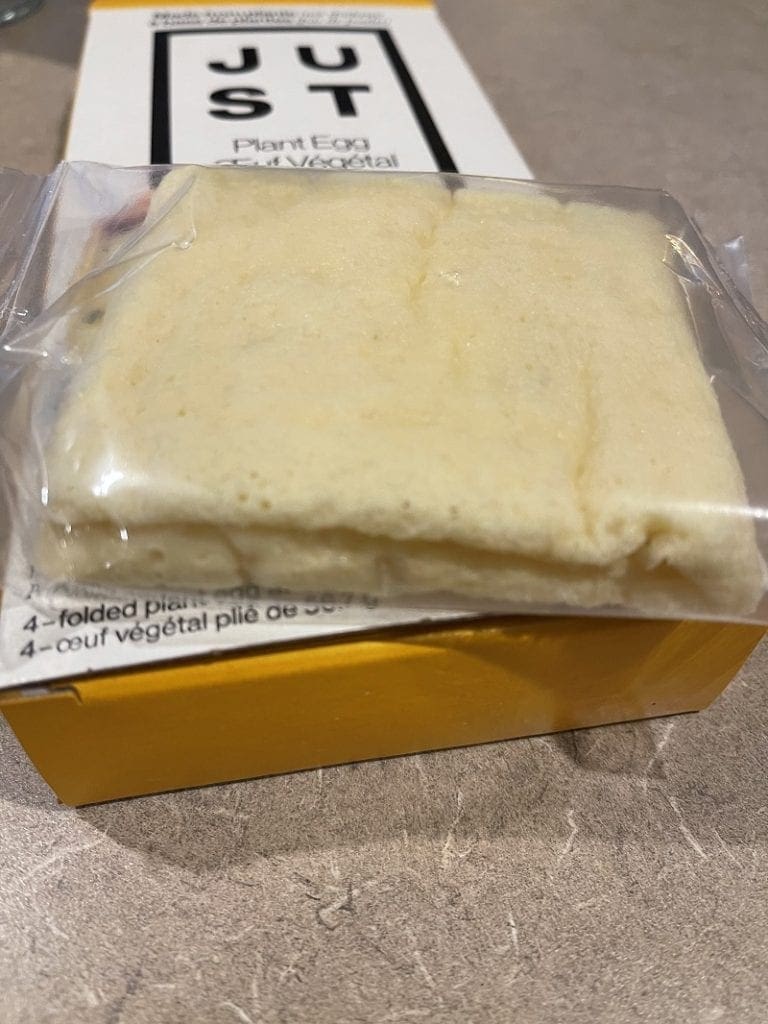 I thought it was kind of weird that it was a premade folded egg, but I realized that it looked exactly like the egg that the vegan restaurant had used, and I realized that I could make a breakfast sandwich without the weird sauce at home!
I got it home and made it within minutes. I used the Violife smoked provolone because that's what we had in the fridge.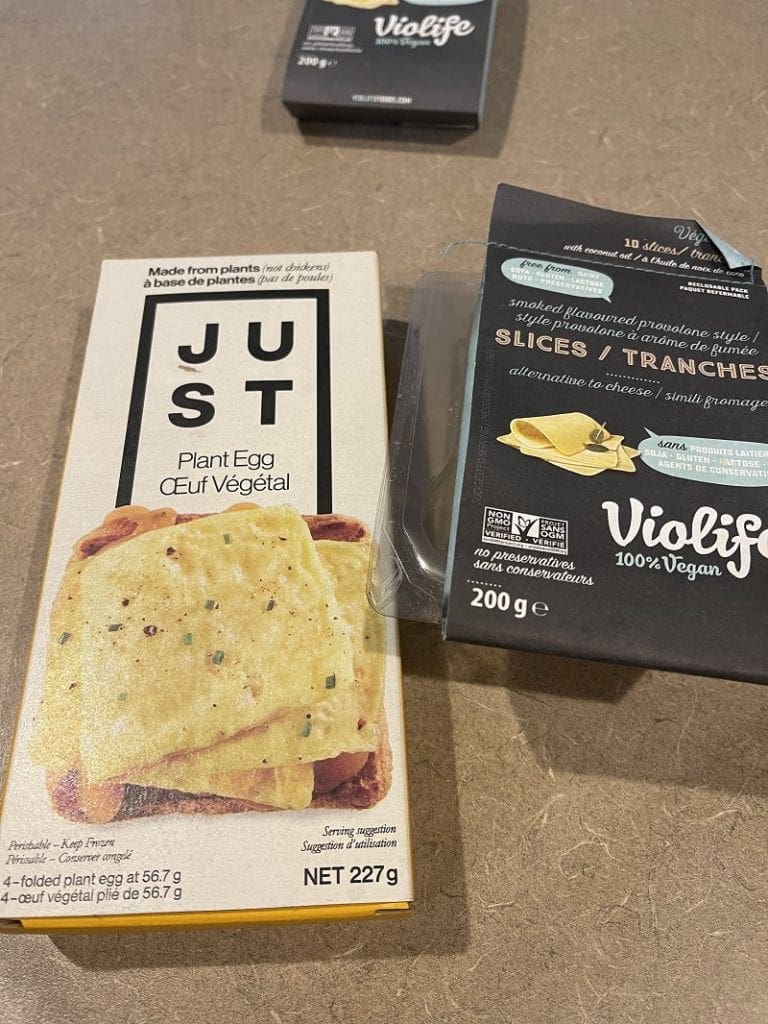 But, after that, we went out and bought the Violife mature cheddar (which I've never liked too much before) and THAT is what made the sandwich taste extremely close to a McDonald's Egg McMuffin.
The egg doesn't have a weird taste. It tastes creamy, like the white part of the egg on an Egg McMuffin. There's also no weird texture in the folded Just Egg.
Apparently, you can toast it. We haven't tried that. We've been pan-frying it, and I find that the more you fry it, the crispier and harder it becomes. So if you like it to be smooth and creamy, don't fry it for too long.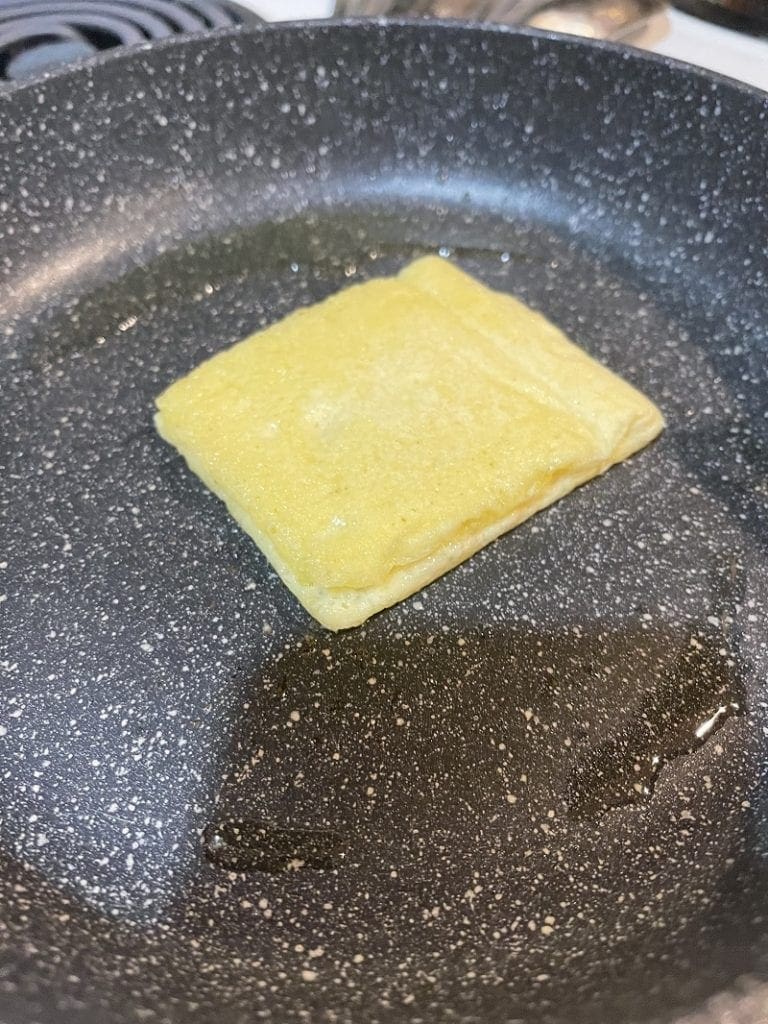 Also, it will soak up whatever oil or butter you put in there, so if you don't want it to be overly fatty, then put less oil or butter.
We've tried it on both these vegan English Muffins and my homemade buns, and I think I like it better on the homemade bun, which is surprising to me because I always picture an egg and cheese sandwich on English Muffins. But, with the homemade bun, it's not as dense and every bite has more of a cohesive, buttery taste.  The English Muffins are good, though. They are more of a butter and jam thing for me. The picture below is on a lopsided English Muffin that I made.
If You Liked Egg And Cheese Breakfast Sandwiches, You'll Like The Folded Just Egg
This is a good vegan egg product, for sure. It's still a little weird that it comes intact and folded, but you get used to it. It smells good and tastes good, and that's what matters most.
My husband puts Yves ham and other Yves meats on his and he too can't get enough.
I had mentioned that we could probably break up the folded Just Egg and make a scramble with vegetables, but he doesn't see the point in doing that. He says that it tastes amazing in a sandwich so why bother trying something else.
I have to agree.
This is why we haven't toasted the folded Just Egg. We like it pan-fried so why bother throwing it in a toaster? If a toaster is our only option at some point, we will try it. But until then, why bother ruining a REALLY good thing?
Update: I've been having GERD issues, so I decided to try to toast the Just Egg. It tastes just as good toasted as it does when fried. Who knew? I'll be toasting it from now on.