Last Updated on May 27, 2023 by Kari
Another Conqueror challenge in the bag. This time I took on the length of the UK and did Land's End to John O'Groats. That's 1744.2 km, and I did it in 138 days. I finished 100% of my distance in 82% of the time I had set out for myself. Too bad I was too busy to really pay attention to where I was and what I was doing!
I Updated Once A Month For The Lands End Challenge (And Barely Noticed What Was Going On)
I started off strong for the first few weeks, updating daily and paying attention to where I was on Streetview. But then the massive black hole job stocking shelves I took on as a part-time gig swallowed up all my time, energy, and interest in learning where I was on the challenge and how far I had come and had to go.
So once a month, I sat down and manually updated all my distances for the past 30 days and called it a win.
I didn't pay attention to where I was on Streetview, which is a huge bummer because that's part of the Conqueror app challenge draw. It's like a virtual vacation where you go along the path and take in the sights around you.
That's one of my favorite parts of the Conqueror challenges with Streetview. You get to see how other people live. You can look at their houses, yards, communities, and even the people walking along the street and get a sense of what it's like to be in that location.
I have no idea what's along the length of the UK route. Throughout the months, I looked maybe three times.
5 Tips To Make The Most Of Your Conqueror Challenge
I've learned that whether you pay attention to the challenge or not, it's still a good thing to take on. Knowing your steps are going towards something that gives you a visual of how far you've walked is motivating and helps you to keep stepping -and even add extra steps here and there.
However, not paying attention to something that you've signed up for and paid for doesn't feel good. I can attest to that more than ever right now.
In short, I've done it all with the Conqueror Challenges, so I know what feels best while doing them and what feels not so good. Here are my tips on making the most of a Conqueror Challenge.
1. Create A Challenging Timeframe For Your Distance
Yes, you can give yourself a year to finish a challenge, but it feels much more exciting to create a distance that is a little bit scary but also doable.
I often take my last challenge and do some cross-multiplication to figure out how long it would take me with the new distance to finish based on my past results.
For instance, it took me 138 days to finish 1744.2 km in the Land's End to John O'Groats challenge. I'm starting the Ring Road Iceland challenge today which is 1332.5km, so technically it would take me 105 days (15 weeks) if I do just as well as I did on the last challenge.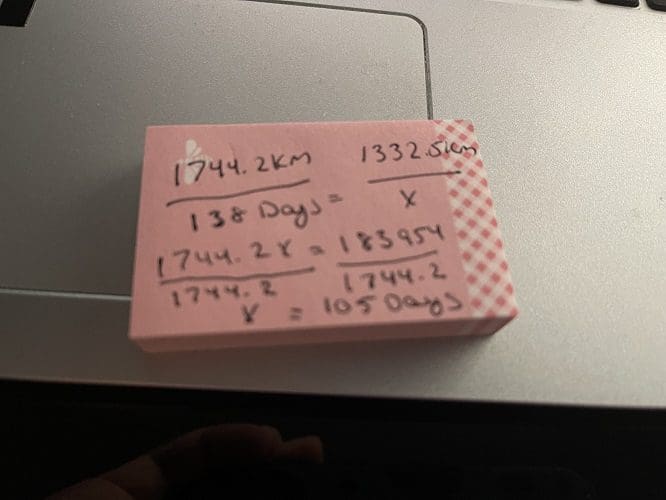 So, I put 14 weeks down for this challenge to challenge myself a little bit further.
If you are just starting out, spend a day seeing how far you walk on a normal day and then use that to come up with a challenging timeframe.
2. Pay Attention To Streetview If You Have It
My favorite Conqueror Challenge to date is the Ring of Kerry challenge.
Every single day I went over the area that I had walked the previous day, and I can remember so many images from that virtual walk.
I truly feel like I walked the Ring of Kerry, and it's a memorable experience in my mind, even if it was virtual.
It's because I didn't miss an inch of that road with Streetview.
If you have Streetview on your Conqueror Challenge, I highly recommend looking at it daily. It's not only motivating, it makes the challenge more interactive and fun.
3. Pay Attention To The Postcards
The people behind the Conqueror Challenges have done a great job with the postcards they send out.
These postcards highlight cool areas along your route and include a lot of information.
If you are like me, you pick the virtual route because you are interested in the place, so these postcards can help give you a better understanding of the locations along the route, including the history of the land you are on.
4. Talk About It To People Who Care
If you know other people doing a Conqueror Challenge, then talk to them about your route and what you are experiencing, including how far you have to go or how far you've come. It's extremely motivating and keeps your energy high around the challenge.
DO NOT talk to people about it who are not interested in walking challenges or who are not participating in a Conqueror Challenge. They truly don't care and their disinterest could attach a negative vibe to your challenge.
There is a Facebook group for The Conqueror Challenges, if you don't have anyone in your non-virtual life to talk to about it.
Or, you can share your experiences on social media or on your website (like me), or on your YouTube channel.
5. Make It A Priority
If you make your Conqueror Challenge a priority in your day, then you are going to obviously pay more attention to it and work harder at it.
Before this past challenge, I spent time everyday at least looking at my steps and/or looking at the Streetview to see what was going on. There were some challenges, like the Nakasendo Trail challenge, where I delved even deeper into the history outside of the actual postcards and virtual challenge of the Conqueror Challenge.
Throw the Conqueror Challenge in your Lifebook as a health challenge (because walking is good for your health!) or just make it a non-negotiable daily habit to look at your virtual challenge and where you are.
As always, if you have any questions about the Conqueror Challenges, feel free to ask me in the comments below. I've been doing a Conqueror Challenge consistently for almost two years now, so I'm pretty confident I can answer any question.
You can check out all the challenges for yourself here.