Looking for vegan donuts, bagels, pita, bread, pastries, and food in Edmonton? Bliss Baked Goods is an amazing spot. I had stopped going when the pandemic started, but recently I had a craving for a good donut, and suddenly I was craving everything from Bliss Baked Goods. Now that I went back, I'll be going regularly.
The Vegan Pastries Will Satisfy Everyone
First off, let me say this is a dairy-free establishment. That's awesome! I asked them what they use, and they told me that they use soy milk in place of cow's milk.
I don't know how they do it, but they make the best vegan whipped cream I've ever tasted. I guarantee your friends and family will not know it's vegan. If I could figure it out, my vegan black forest cake would be even better. In the following picture, you can see their vegan donut eclairs (missing a bite) and vegan apple fritters.
It is also a nut-free facility! I know a lot of people will appreciate that fact too.
I haven't been for over a year and a half. Last time, they only had chocolate and something like a maple donut, but now they have Boston cream donuts, sugar donuts, chocolate donuts, maple donuts, fritters, and more! She named them all out for me, but I had stopped listening at Boston cream donut. I can't remember the last time I had a Boston cream donut.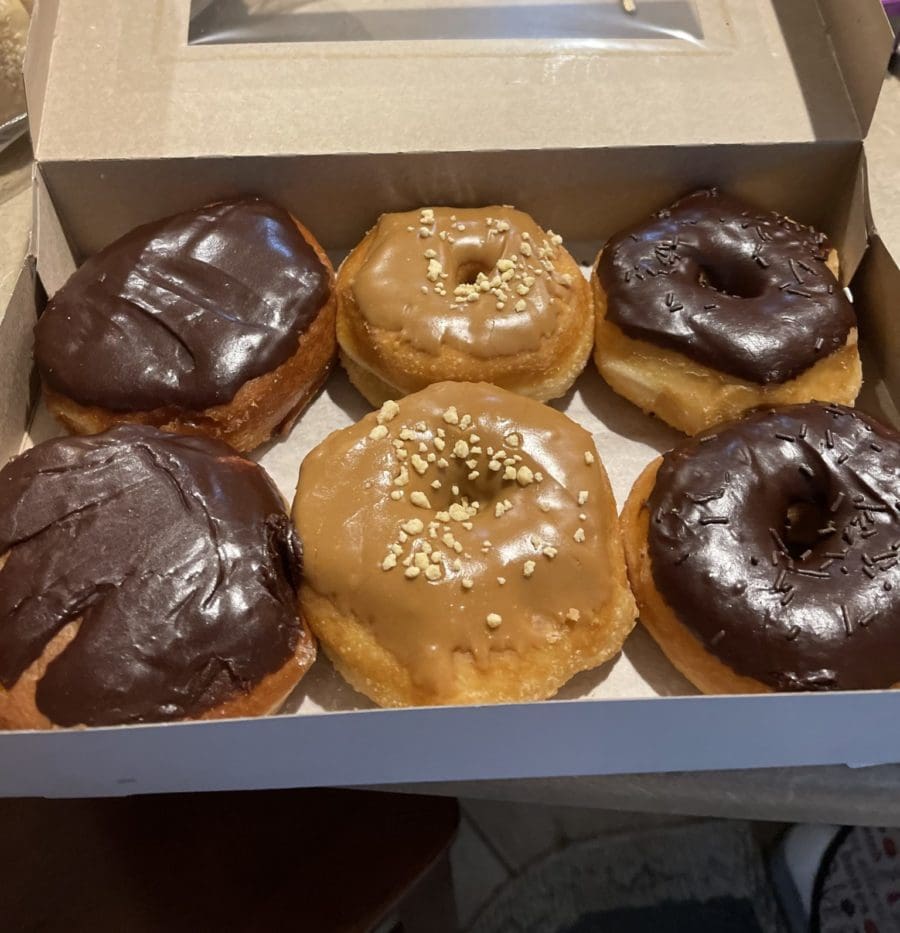 If you go to their site and look through their pastry section, you will find all kinds of vegan options. Scroll down and look for asterisks. Those are the vegan options.
Just to name a few of the things I found:
Red Velvet Cupcakes.
Orange Creamsicle Cupcake
Black Forest Cake
Chocolate Cookie Dough Cupcake
Vegan Croissants!!!!!
Nut-Free Baklava
Nut-Free Nanaimo Bar
Fruit Turnovers
CHOCOLATE ECLAIRS
Why have I not been here for over a year and a half?
Oh, right… pandemic. Well, that's changing. When I need things like donuts or pastry, this will be the place I go to. Birthdays, lazy weekends, guests coming over – Bliss Baked Goods has me covered.
I guarantee your non-vegan friends and family will not know these pastries are not vegan. In fact, they are so good that I can't understand why Bliss Baked Goods doesn't just make everything vegan. They told me that in their non-vegan donuts, they use eggs. I don't know what those donuts taste like, but I can't imagine they are any better than their vegan donuts.
When I went in this morning, I overheard the girl asking a customer if he would like an assortment of vegan donuts with his non-vegan donuts. I think he was picking up donuts for work or a meeting. It made my day to hear him say, "Yeah, throw in some vegan donuts." I hope the people that try them are blown away and decide to eat some more vegan options.
The Vegan Bread, Bagels, And Pitas
Vegan bread is abundant at Bliss Baked Goods.
I can make bagels, bread, and pita at home, but I can't make the variety you can get from Bliss Baked Goods in one order. Well, I could, but it would take too much time.
This is their Marble Rye Bread, and it's all you need in life. Trust me.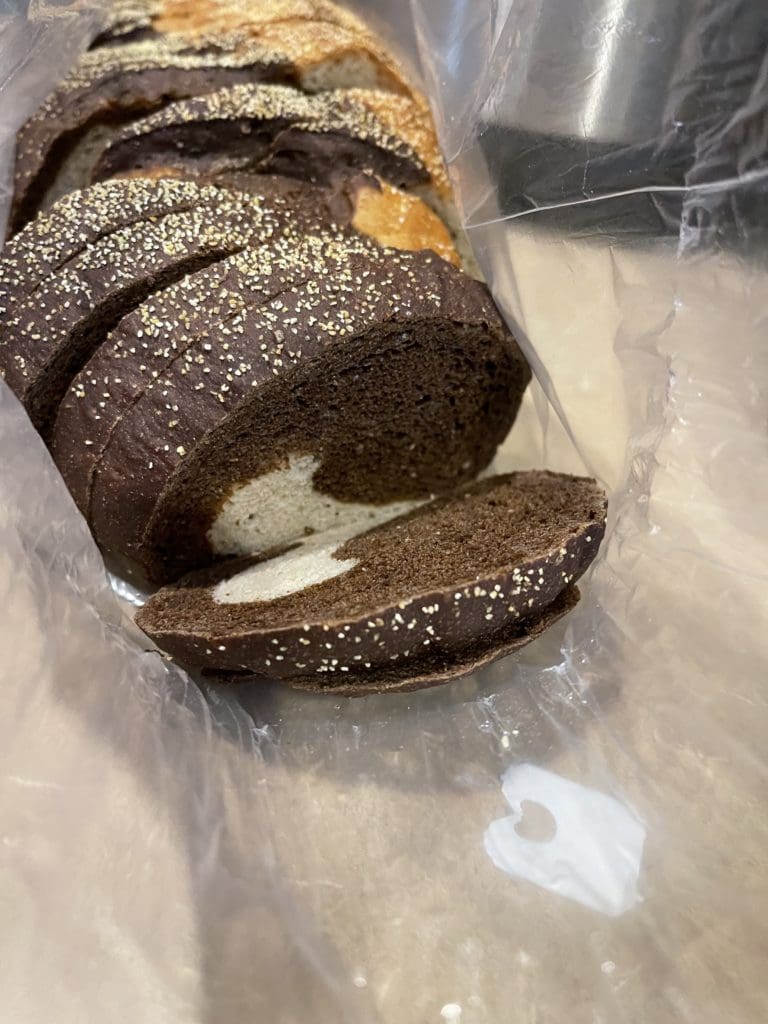 As far as I know, all of Bliss Baked Goods' bagels are vegan.
My husband likes darker flour bagels, such as pumpernickel. I like a sesame seed bagel. The great thing about Bliss Baked Goods is that you can make your own bag with whatever you want. So, for my husband and me, it looks like:
We've also had their pita bread and Persian bread with hot peppers and olives (my husband especially loved this one).
But there's a lot more to choose from when it comes to vegan selections, including:
Hot Dog Buns
Burger Buns
White Bread
San Francisco Sourdough Bread
Caraway Rye Bread
Marble Rye Bread
You can check out all their bread here. Again, scroll down and look for the asterisks.
Bliss Baked Goods Has Vegan Food Options Too
I've been following them on Facebook, and I've noticed that they always seem to have vegan options available for food now. We haven't tried any of them, but considering how good the pastries and bread are, I'm sure they are nailing this food.
For instance, they have:
A falafel platter
Vegan chili
Vegan sausage rolls
Black Bean Burger
Mushroom Stroganoff
Shepard's Pie
They list all their vegan options with an asterisk. You can check them out on their fresh foods page.
They Have Great Customer Service
One thing that I've found with them since we started going is that they are always consistent with their customer service.
They are friendly.
They don't rush you when you are trying to make a choice between all their delicious options.
They know their products well and can help you decide what you want while you are in store. This is important when you are vegan. It can be hard to trust that people know what they are talking about. But I've written to them through Facebook a few times over the years to clarify concerns I've had, and they always have a knowledgeable answer.
I FULLY trust they know what's vegan and what's not, and they are careful to ensure if they say something is dairy-free or vegan, they mean it.
I did see a woman who works there walking around without a mask today. Maybe she doesn't come into contact with customers. Maybe she wears it while cooking or handling food. Regardless, I still trust that they are putting practices in place that keep people safe on regular days and on pandemic days. And I'm an extremely cautious person when it comes to this stuff.
Their Prices Are Good
A good price can be a subjective thing. I know my friend often thinks things are pricey when I don't. But I really don't think Bliss Baked Goods charges too much for their products.
I paid $22.41 for 6 bagels and 6 donuts.
I think that's a great price. Frickin' Delight's used to charge something like $15 for 6 donuts and $23 for 12. I can't remember the exact prices as we haven't been there in a while, but it was around there.
The donuts from Bliss Baked Goods are yeast donuts, big, and satisfying! And the bagels are perfect. Totally a good price in my opinion.
And this bakery is dairy-free, nut-free, and Kosher – all making the price more worth it in my opinion.
Bliss Baked Goods Can Sell Out Fast On Certain Days
Before the pandemic, Bliss Baked Goods used to run out of stuff quite quickly on various days. I'm sure things haven't changed. They were having consistent customers when I was there at about 8:30 am.
For instance, if you want Persian Bread, it's only made on Fridays, and you better get there fast because, in my experience, they sell out quickly. For vegan options, they also only make their Onion Buns, Portuguese Buns, and French Miche on Friday.
Now that I'm writing this review, I'm kicking myself for not getting a few other things this morning which, incidentally, was a Friday morning!
In any case, I highly recommend Bliss Baked Goods for all your vegan pastries and bread.
You can check out their Facebook page here or check out their website here.