Another new vegan product from President's Choice? Wow! It feels like they've been putting a ton of vegan stuff out lately. I hope they keep up this pace. The newest thing I've found is this Plant-Based Mexican Spice Sunflower Seed Dip.
I really like their vegan queso dip, so I had high hopes for this one.
This roasted sunflower seed dip is much thicker than the cashew dip. There's no risk of it dripping off your nacho (or whatever you use to dip in it) like the cauliflower queso dip.
It's good. It has a nice deep flavor. I think it's the roasted aspect of the garlic and sunflower seeds that create the flavor.
The problem is the flavor keeps slightly changing for me.
Sometimes it tastes like a spiced tahini dip to me.
Sometimes it tastes like Mexican dip.
And sometimes it tastes like an Indian flavored dip.
All the flavors I experience are good, it's just funny to me that I experience different flavors!
I find the flavor sits at the top of your mouth long after you finished it. I think this is because of the roasted aspect.
The Ingredients In Their Plant-Based Mexican Spice Sunflower Seed Dip
I don't know why President's Choice has a hard time listing out ingredients on their website sometimes. It's such a pain in the ass. I first saw this dip on their site here, but they don't have the ingredients listed. They didn't even have it when I was shopping through pc express, so I had to buy it blindly knowing that it was at least vegan.
The Nutrition In Their Plant-Based Mexican Spice Sunflower Seed Dip
It's about what you would expect from roasted sunflowers with oil and sugar. My mom probably wouldn't even go near this dip with her Weight Watchers mentality.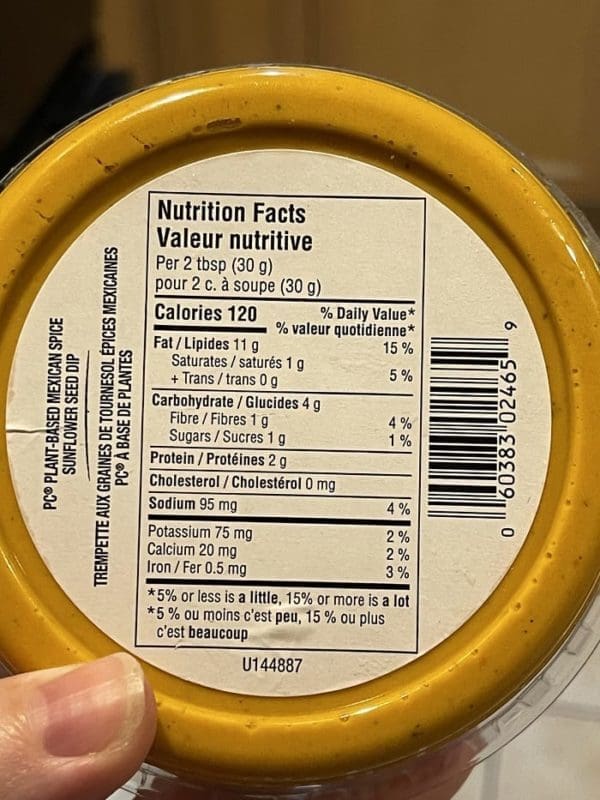 The Nacho Test
I always like to test these dips on nachos because I like nachos!
I found that it pretty much kept its shape. It just got warmer.  It doesn't look pretty.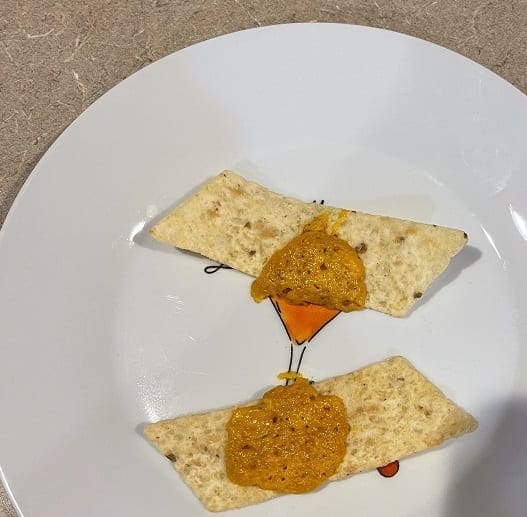 It tasted good warm though, though. I would say better or worse than cold. It just tasted warmer.
I Prefer Their Cauliflower Queso Dip
This sunflower seed dip is good. But I definitely prefer their Queso Style Cauliflower Dip. It's got more tang and a better flavor to me. I just wish it was a bit thicker, like this sunflower seed dip.
In any case, I would only buy this again if someone else wanted to try it.