I tried making whipping cream with coconut cream years ago and it didn't turn out, so I never tried again. But, when my dad requested something like black forest cake for his birthday, I really wanted to find a good whipping cream for it. I was going to do a buttercream as a backup if I couldn't find the right vegan whipping cream, but luckily, I never had to go there. I found a can of coconut cream that is perfect for a vegan black forest cake, or anything else you want to put vegan whipping cream on.
This Vegan Whipping Cream Is So Easy To Make
It is coconut cream, so it does taste like coconut, but the texture is amazing. It's called Cha's Organic Coconut Whipping Cream.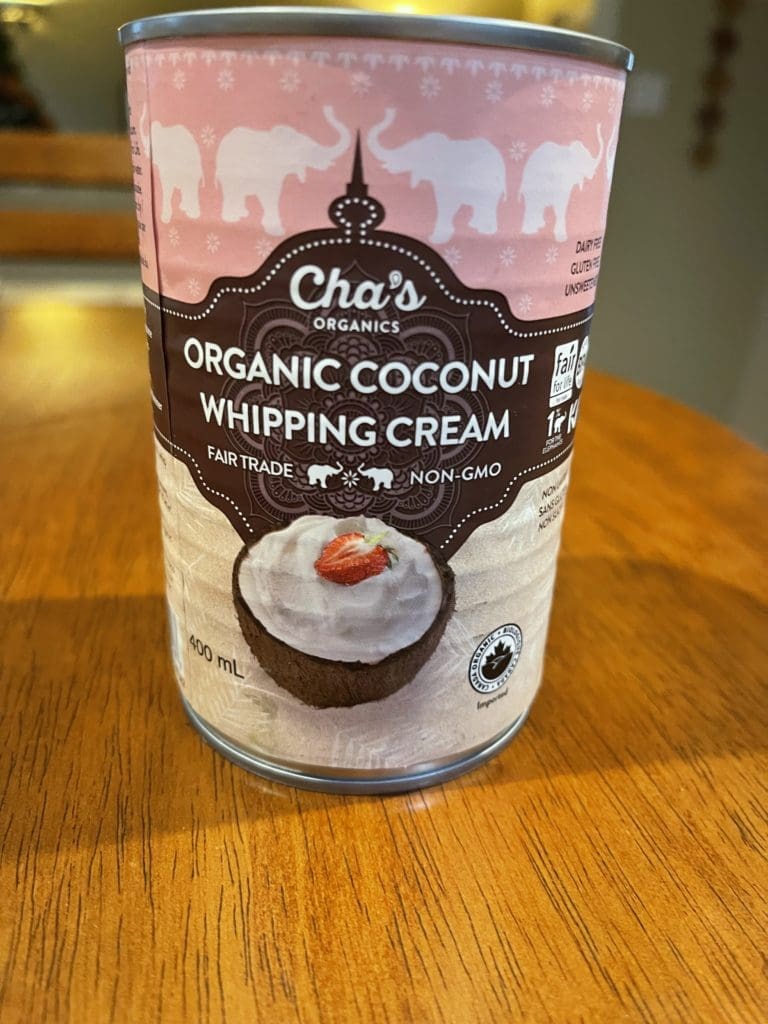 All you do is chill it in the fridge overnight, and then pop it open when you need it.
It's a thick cream from the top of the can to the bottom of the can. There's no water to be found anywhere. Just cream.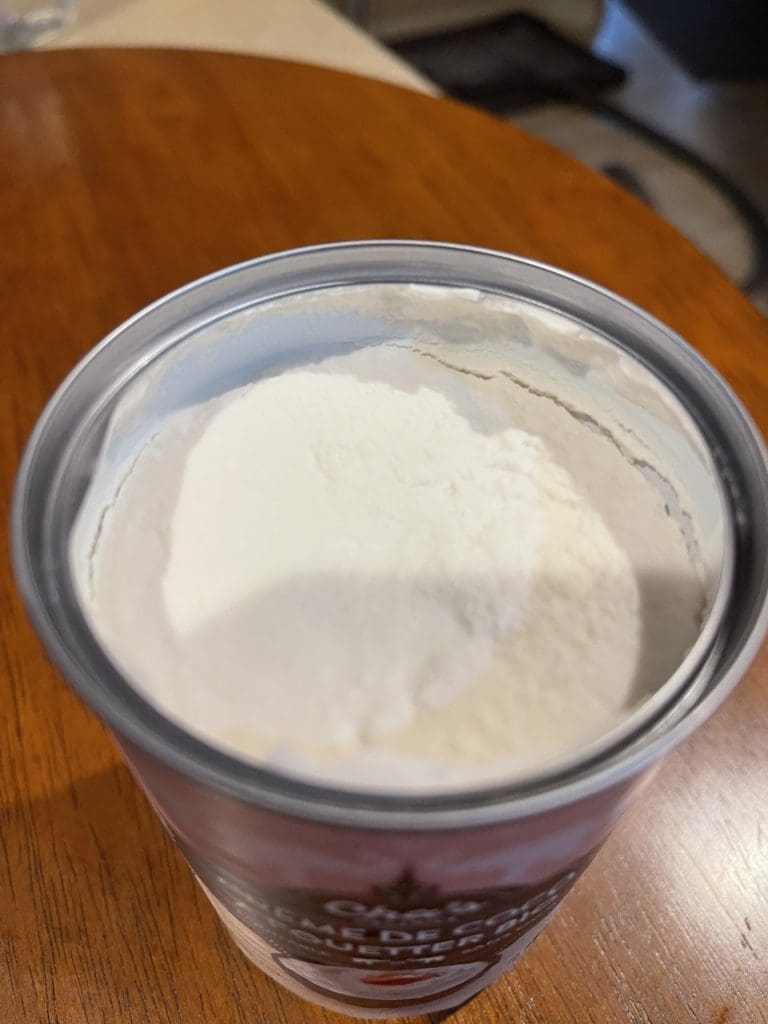 It doesn't need to be whipped very long. Whipping it doesn't make it thicker, it just makes it whipped instead of hard.
I added this whipped cream stabilizer because I had read from a vegan food blog that it helps to keep vegan cream intact. I don't know if it made a difference or not because I've never tried serving this whipped cream without it. But, since it was my dad's birthday cake, I didn't want to mess around. I wanted as many safety nets as possible to make sure the cake came out decent.
I can say that it lasted throughout the day and beyond in the middle of chocolate cake and cherry pie filling, so it held up really well.
I added some powdered sugar and vanilla to the cream and whipped it for as long as I dared. I was scared it was all going to melt away into oblivion, but it held firm. I didn't even need to chill it before putting it on the cake.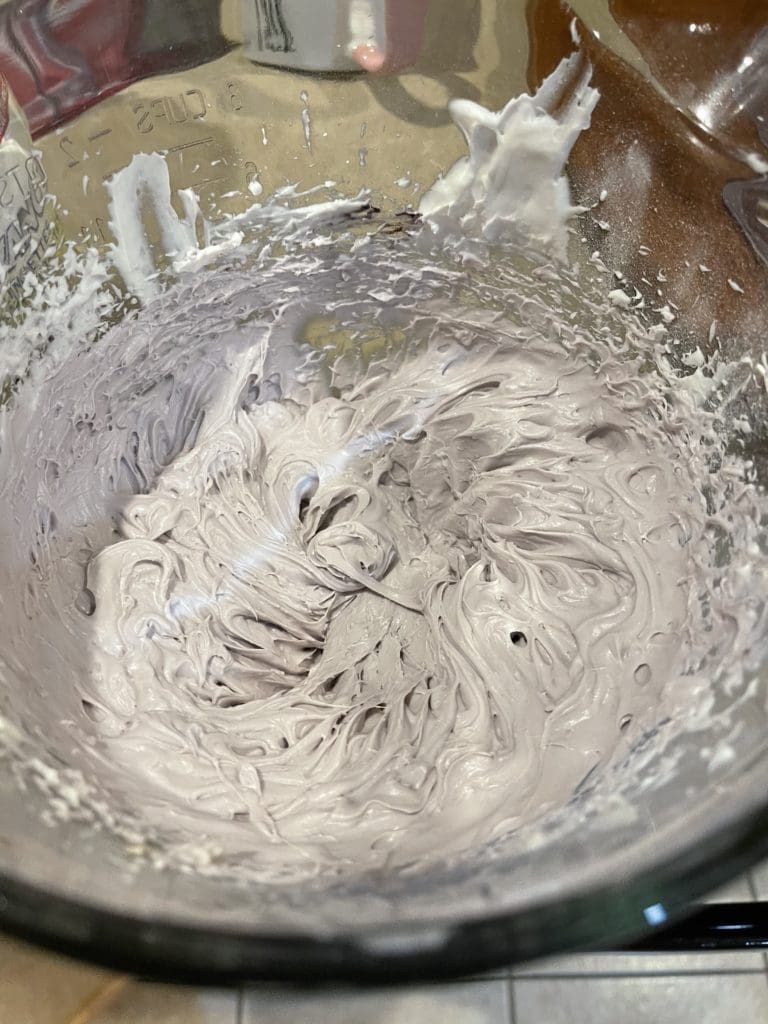 I was even able to pipe it (I did chill the cream before piping just to be sure) so that I could put little pillows on the top of the vegan black forest cake for the cherries, as well as pipe out a simple G for my dad's name. I added some purple liquid food coloring to the icing for the piping and it still held its consistency.
I'm not the best cake maker. I usually have a hell of a time decorating it and making it look good. But I was happy with the end result, and my dad talked about how good it looked a few times, so that's what matters.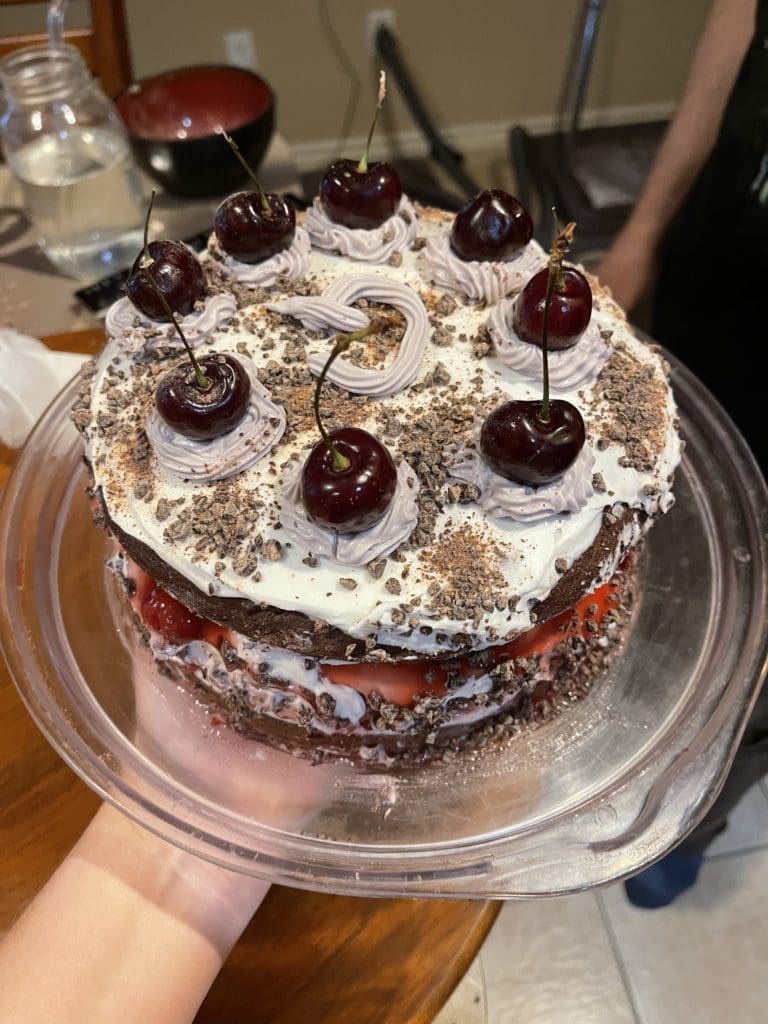 I was worried that the coconut flavor would overpower the cake, but it didn't. It worked well with the cherries and chocolate, and everyone really enjoyed it.
Any Thick Vegan Coconut Whipping Cream Should Work Well
I'm not sure if Cha's is solely in Canada or if you can find it in other places. But, if you can't find the Cha's whipping cream, don't despair. If there is one product out there like this, then there's got to be a lot more. I just wanted to show you that a thick coconut cream can work in place of whipped cream in your vegan dishes.
The more sugar I added, the better it tasted (duh!), so I think if you were to use this coconut whipped cream with cocoa or some other flavor, it's really going to help balance out that coconut flavor and make it more appealing to everyone.