A while ago, I made a vegan baked feta pasta (aka the Tiktok pasta) with the Violife feta. It was good, but I don't have the Violife feta near me, so I don't get it that often. I do get other brands of cheese, though, such as Spread'em and The Cultured Nut, which are two kinds of vegan cheese that I eat a lot of lately because they are amazing! So, when we want a quick-baked pasta dish, we use one of those cheeses. We just plop it between a bunch of tomatoes and garlic and bake it. Baked, a lot of the cheese ends up being very dark and hard, which we like. It's almost crumbly as if all the moisture has been taken out of it. But, the other day, I wanted a creamy pasta dish, so I used both of those cheeses with some amazing plant-based cream, and it came out awesome!
Here's What I Used In My Creamy Vegan Pasta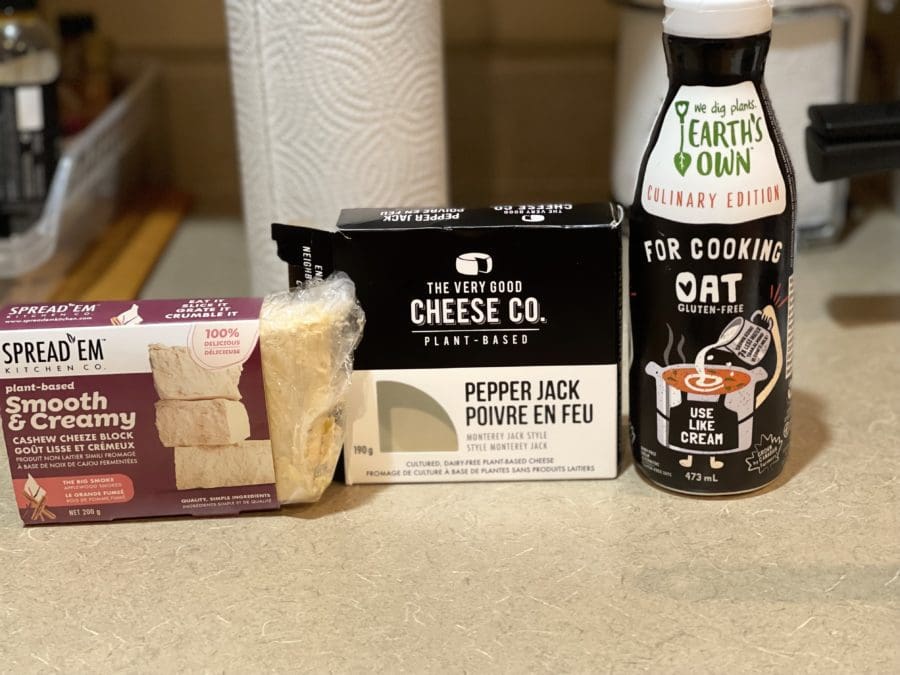 Earth's Own Cooking Cream – I haven't had a chance to use this much. This vegan creamer is supposed to replace dairy cream without compromising on flavor. On its own, it doesn't taste like cream, which is what someone else had said. It tastes like thickened oat milk, but it's not a strong flavor. Because I cook with so many spices, it's never going to stand out as a flavor. I think, though, it wouldn't even stand out without spices. In the vegan mac and cheese, it added a thicker creaminess that I haven't had for years. I'm not sure how much I put in, to be honest. I would say about two cups. After making the vegan mac and cheese, I would say you could add more if you want extra creaminess. This product is amazing.
Spread'Em Cashew Cheese – I recently bought a variety of cheeses from Spread'em. The flavor I used was The Big Smoke, which is probably the best smoked vegan cheese I've tasted. It's not too strong. It's perfectly balanced. And I knew it was going to taste good in the mac and cheese, I just wasn't sure how good it would melt because I haven't tried that.
The Cultured Nut Plant-Based Cheese – On this package, it says The Very Good Cheese Co. I bought it from the Very Good Butchers, and I'm not sure why it's labeled that there, but I know this brand as The Cultured Nut. I'm 99% positive it's made by the same company. No matter what you call it, it's good. We normally either use this brand in our baked pasta or just as is on sandwiches or crackers, but, again, we've never tried to melt it. (Update: It seems like the cultured nut went out of business.)
The Vegan Cheese Sauce
All I did was throw about a tablespoon of olive oil in a pot, add some garlic and cherry tomatoes with a pinch of salt and let that cook up a bit. Then I added about two cups of the Earth's Own cream and threw some of The Big Smoke and the Pepper Jack cheese in. I didn't even cut up the cheese. I threw in a few big chunks of each.
And… it melted into the oat cream beautifully.
I did need to keep stirring it, though. I could tell that it was going to burn on the bottom if I didn't and it would thicken up rather quickly if I wasn't stirring. This is why I think I could have used more oat cream if I wanted to. But I wanted it a little thicker because that's what I was craving – a thick, creamy sauce.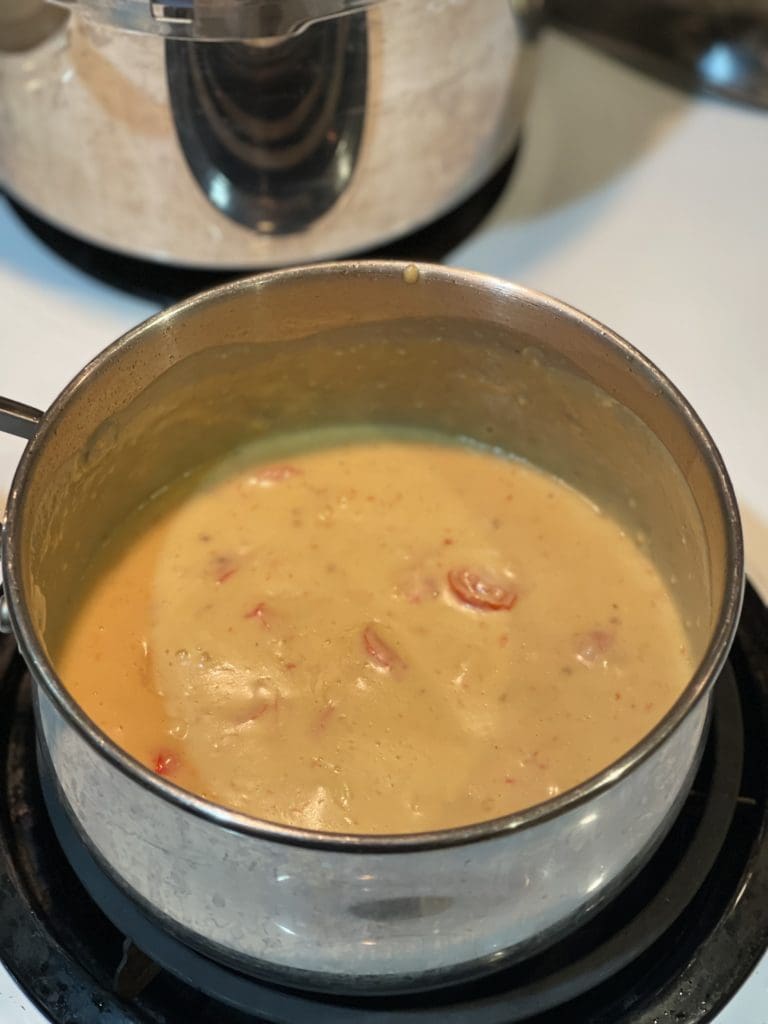 I Probably Won't Add Tomatoes Next Time
The tomatoes didn't need to be in there. I guess I could have blended it up, but chunks of tomatoes are not necessary.
That said, the dish came out surprisingly fantastic. It was without a doubt the best vegan mac and cheese I've had since going vegan.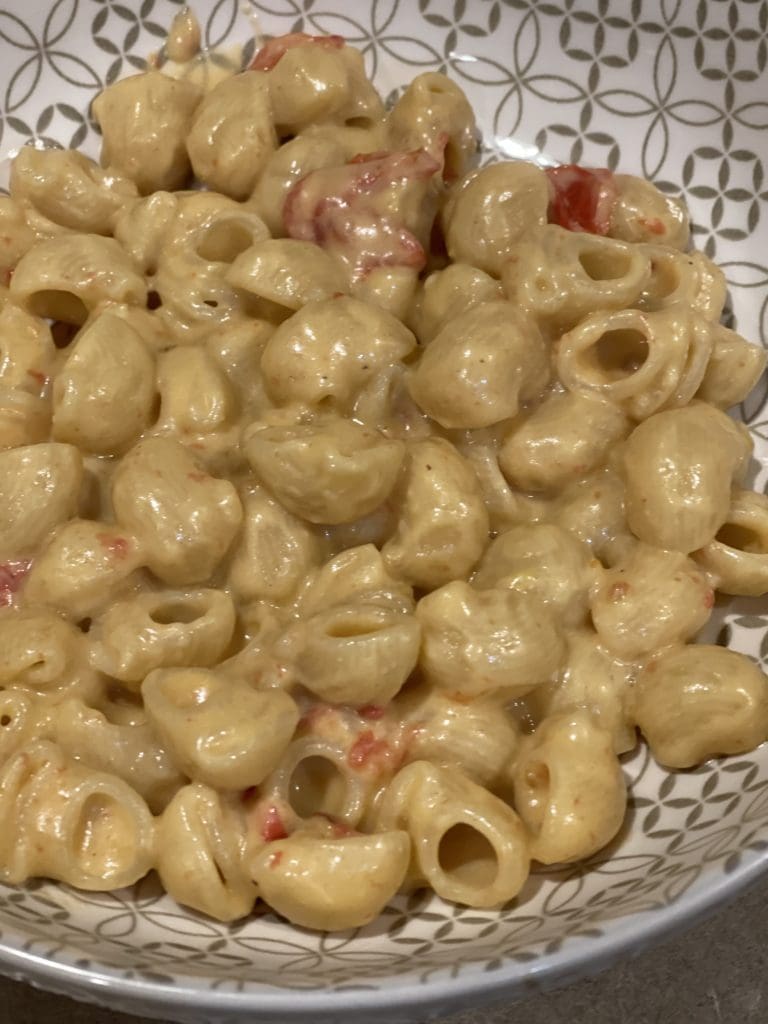 We had some Earth Island (Follow Your Heart) Parmesan, but the dish didn't need it. It was perfect as is. I did get some hot sauce out and dipped some of my pasta in there because that's what I like to do, but other than that, it didn't need mustard or any of those other tricks to make it taste cheesier. It WAS cheesy, creamy, and delicious.
And I highly recommend pasta with holes in it because the cheese sauce gets into those holes and makes the eating experience even more pleasant.
Man, vegan cheese has come such a long way!