I have tried a lot of vegan cheese over the years. Some are good are some are not. With vegan cheese, both flavor and consistency can be a problem. Sometimes they taste really bad and sometimes they won't melt or turn into a weird gooey texture that isn't appealing to the eye or the mouth. I have had some favorite cheeses over the years, but I have a new favorite coconut oil based cheese as of the other day. It's made by Applewood in the UK.
I just happened to see this Applewood Vegan cheese on an online order I was making and thankfully decided to buy it.
I don't try too many coconut oil based vegan cheeses anymore. I've kind of settled into my favorite vegan cheeses and, because of a lot of disappointments, I haven't been trying too many new ones.
But, I'm so glad I decided to buy Applewood's vegan cheese. It's without a doubt the main coconut oil based vegan cheese I'll be buying from now on.
My First Thoughts Of Applewood's Vegan Smoky Cheese
When I first opened it and looked at it, I kind of felt like it was going to have that processed cheese texture and taste.
I was wrong.
It has the closest texture to dairy cheese that I've ever come across.
This cheese has a smoked flavor. However, I taste cheddar cheese before I taste the smoked flavor. It's been so long since I've tasted that kind of cheddar flavor that it shocked me, and I had to make sure it was vegan.
I always do a nacho test with cheese because it's the quickest thing to try and was my favorite quick food with cheese before I went vegan.
First off, it shreds amazingly.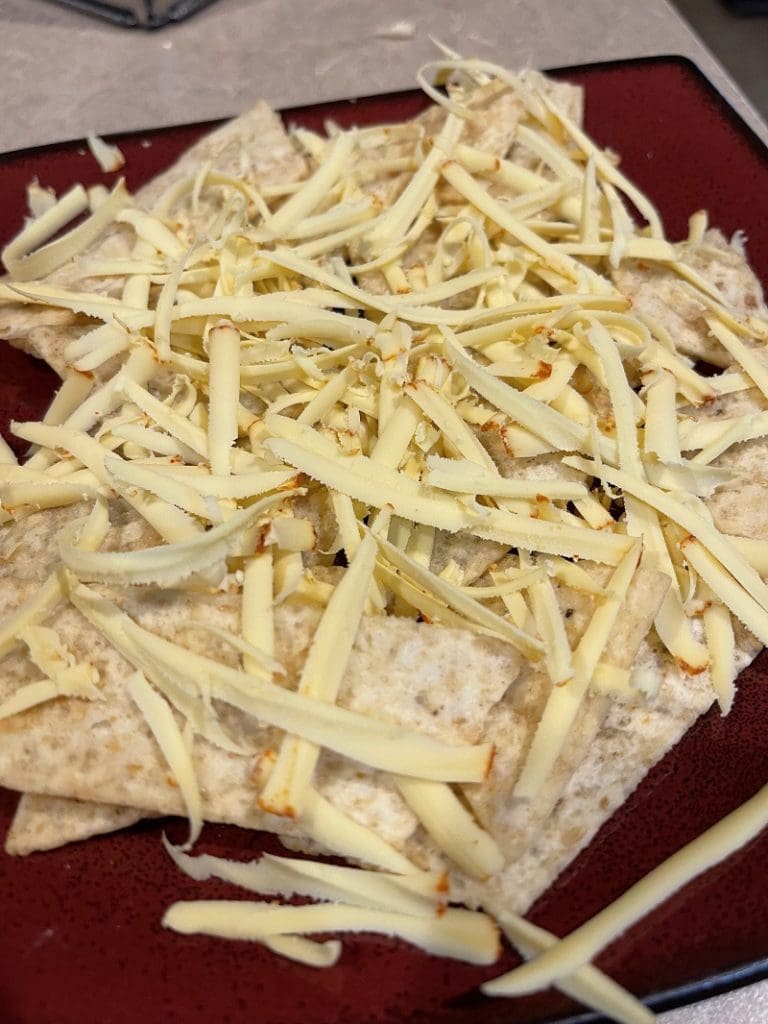 I cooked it in the microwave.
If you heat it up too much in the microwave, it will look like the pic below. It only took about 45 seconds to get like the pic below. To be honest, though, this is how I sometimes used to do my nachos with dairy cheese. I would overcook it in the microwave and it would turn into a cheese crisp like this.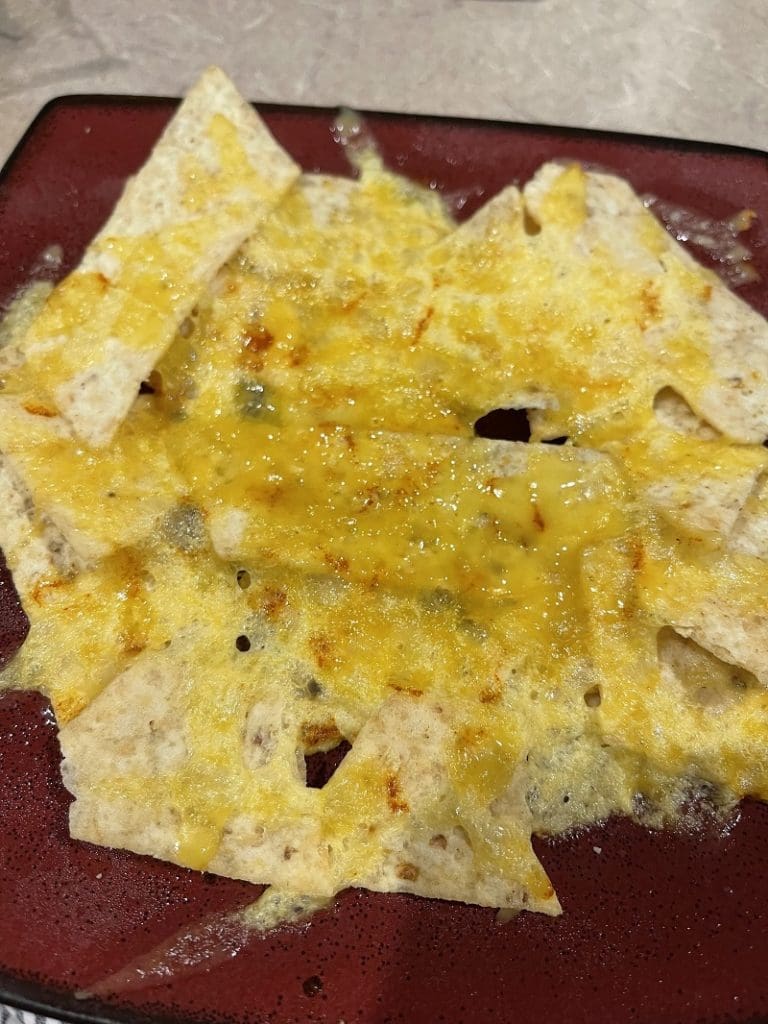 In about 30 seconds, it looks like the pic below. I piled too much in the middle, so it didn't melt, but I didn't want to crisp out the outside cheese, so I just took it out.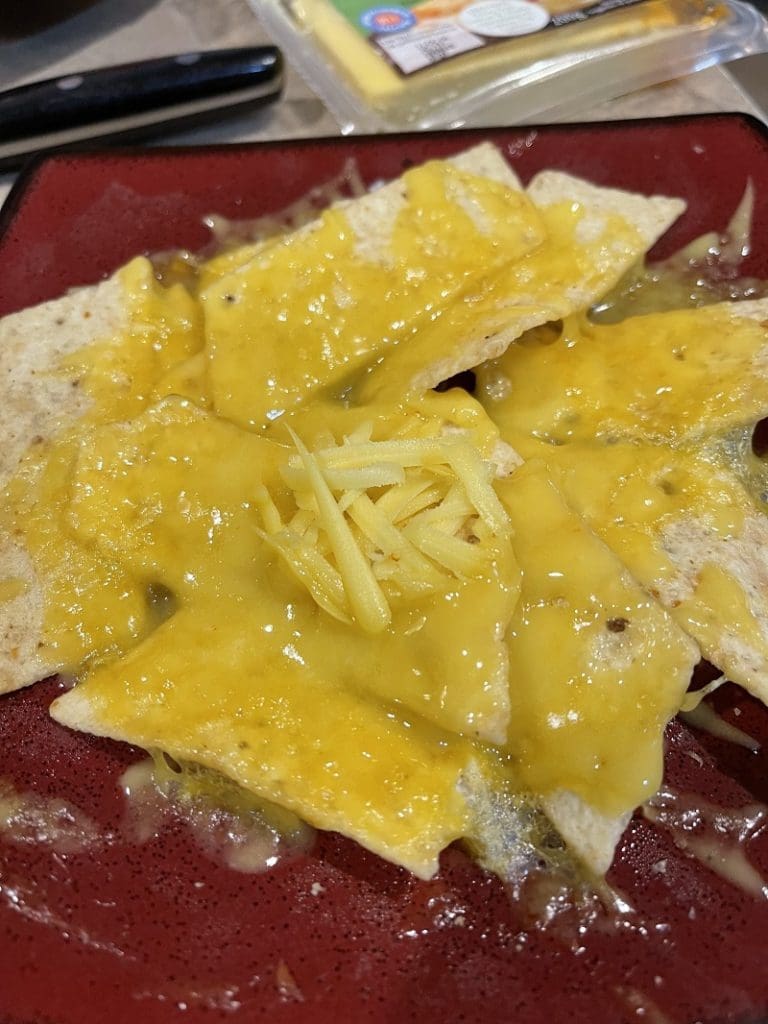 It tasted good to me both ways. The flavor didn't change after being heated, as some vegan cheeses do, from cold to hot.
My friend tried Applewood's smoked vegan cheese on her burger, and she liked it a lot too. I don't have a picture of it, but she was pretty impressed with the way it melted and tasted.
Applewood's Vegan Cheese Will Be A Staple In My House
This is going to be good in all the things where a smoky cheese will work – on nachos, sandwiches, grilled cheese, burritos, taco lasagna, with crackers, and so many more places.
I bought two more packages today and I will be using it in many recipes going forward!
And I can't wait to find the other vegan options from Applewood. They have a mature, blue, and Mexican vegan cheese that I NEED to try.