Last Updated on February 19, 2019 by Kari
When it comes to Daiya's cheese, you either love it or you learn to love it or you just don't ever love it at all. My husband likes it in a lot of different dishes. I always skip the original Daiya cheese because I get that Daiya taste. It's hard to explain the taste, but you will have your own taste memory of it when you first try it. That said, I know some vegans who love Daiya right off the bat. In fact, when Daiya came out with their new Cutting Board Shreds, I saw some people freak out in fear, worried that the old Daiya would fade away. It hasn't, but I'm so glad that we have the option of the Cutting Board Shreds. And, one store near us just brought in all of the flavors, so I'm pumped!
The Taste Isn't Like The Original Daiya
The Mozza doesn't have much flavor to it. There is a flavor there, but it's hard to describe. I remember what mozzarella tasted like, and I would say this is pretty close, just in a harder, less creamy way. When heated, though, it doesn't have that fatty, buttery taste that dairy mozzarella has. It tastes the same as it does when it's hard.
The Cheddar has a flavor that I think is similar to mild cheddar. Again, it tastes the same to me when melted as it does hard.
At first, I didn't like the cheddar as much I liked the Mozza, but now I like the cheddar more. It's interesting how your tastes change along the vegan path.
I think a lot had to do with the fact that I really liked extra old cheddar cheese when I wasn't vegan. And, I liked the white cheese because I didn't like the added color. So, yellow cheddar cheese that didn't have a sharp taste didn't appeal to me. But, now I like the subtle cheddar flavor that this cheese has.
The Pepperjack flavor tastes like the Mozza but with some kick.
It Melts Fairly Well
We put a combination of Cheddar and Pepperjack on some 'cheesy' bread we made the other day and it came out very good. There was none of that weird Daiya taste at all. Under the cheese is roasted garlic. The cheese melted pretty darn good and tasted great.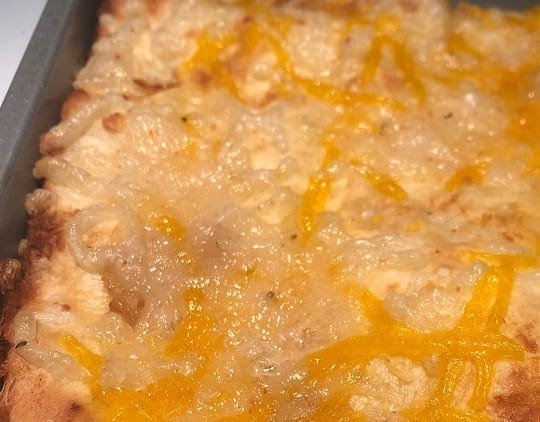 I Like Daiya's Cutting Board Shreds Right Out Of The Bag The Best
I personally like these shreds straight out of the bag in things like fajitas or wraps. I even like them on top of a taco dip I make which calls for shredded cheese as the top layer.
When they are not melted, they add a texture that is reminiscent of adding grated hard cheese, and if you like the taste, they do add that extra cheesy taste.
When I want something melted in grilled cheese, for example, I still prefer the Earth Island provolone.  In fact, we had the provolone on top of mushroom burgers last night. But these shreds do work well in recipes that require a bunch of shredded cheese.
Update: I used the cheddar shreds in a tortilla wrap with chili, and OMG was it good. I didn't melt them, just threw them in. The cheddar taste is growing on me more and more.
Give Them A Try, Even If You Hate The Original Daiya Taste
In the end, I think the Daiya Cutting Board shreds are much better than the original Daiya. They still don't totally taste like dairy cheese, but they are not a bad substitute.
I'm starting to prefer to make my own cheese at home or buy from local places that make cheese by hand because it has a taste and texture much more like dairy cheese. But, when you need something quick to use as cheese, Daiya Cutting Board Shreds do the trick.
[poll id="11″]