If there were one online store where I could buy everything, it would be Conscious Items. They are so in line with me and my interests. In short, if you follow me, you know that I love crystals and gems and believe in their energetic powers.
The last items I got from Conscious Items were a chakra bracelet and stones. The string broke on the bracelet and I have to get it restrung, but up until it broke, I wore it every day.
I also have taken those stones with me on multiple trips up to the mountains to add energy to them and use them often to meditate or bring me good luck while doing things that require luck.
The other day, two new things arrived from Conscious Items that I love. I can't even explain how much I love the first item. It's something I've wanted for a while.
Crystal Face Roller Set With Jade, Rose Quartz, And Amethyst
I have alopecia. And since losing most of my hair this last round, I need to take action where I can on things that make me feel pretty.
There's nothing like losing your hair after 40+ years of having it to make you feel like your femininity has diminished. Well, maybe there are some things, but this was a big blow to me.
So, little self-care things like beauty cream and other beauty products are a big YES in my life.
Whether or not a face roller can do magic for your face is up for debate as apparently there isn't a lot of evidence to hold up some of the bigger claims, such as a face roller can have permanent positive effects. But, with alopecia, I think any kind of increased blood flow to my skin is a good thing.
Plus I hold a ton of tension in my face. I tend to lock my jaw and furrow my eyebrows (or the area where my eyebrows used to be) a lot.
This face roller from Conscious Items FEELS SO GOOD! The crystals are round, not whatever shape most face rollers are. I don't know if that's a good or bad thing in comparison, but I like the round shape. It is really good for getting out the tension in the face and even in the neck.
I'm keeping the crystal rollers and the wand in the fridge so I can pull them out in the morning to decide which one I wanted to use.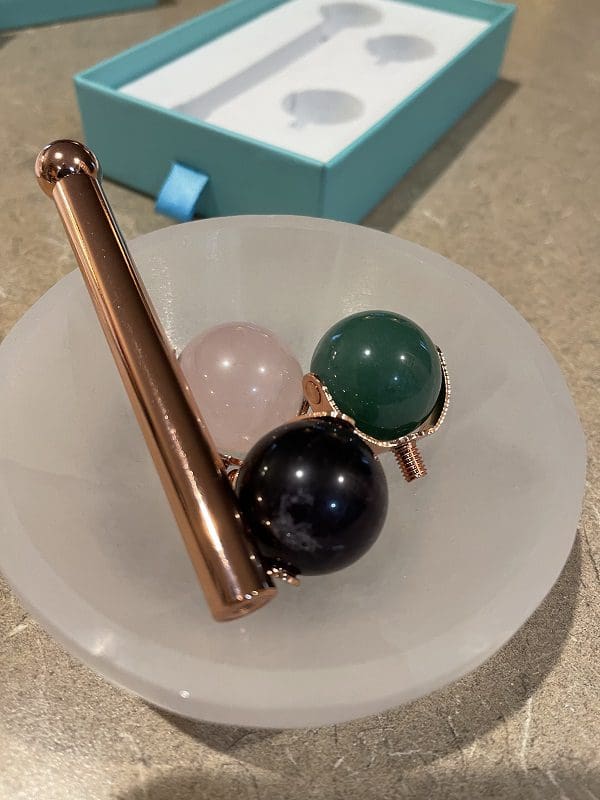 I'm keeping them in a Selenite bowl, which is supposed to recharge the crystals. It's also supposed to give them high vibrational energy, which I feel would be good for any kind of thing going on my face and near my head in general.
I'm a huge believer in the placebo effect, and I have to admit, I have hopes these will somehow impact my alopecia. So let's see how that goes.
The three crystal balls are made from:
Rose Quartz: Rose quartz is believed to have energetic properties that can promote relaxation, stress relief, and emotional well-being.
Jade: Jade is said to be able to be grounding and improve focus.
Amethyst: Amethyst is known to help with spiritual growth, intuition, and meditation. It can also be used to protect against negative energy.
Along with the good physical feeling I get while using this face roller, I like to think that I'm infusing the energy from the crystal head that I'm using.
The Dragon's Hoard Ring
This dragon's hoard ring is for my husband. He loves big clunky rings that have unique heads on them, so this was right up his alley.
He usually sizes 10 to 11 in rings, so we got him the size 11 listed on Conscious Items, and it fits perfectly on a couple of fingers, mostly his middle finger, which he likes.
It's so detailed, but it's hard to see that detail unless you are up close. Otherwise, it just looks like a huge black ring.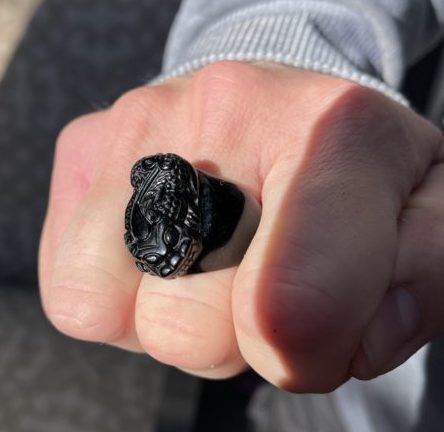 It's made from Black Obsidian, which is said to be a powerful tool for spiritual healing and protection. And the dragon is said to represent abundance. This was right up my husband's alley.
Plus, he could knock someone out with it if he wanted to, but that's not what Conscious Items had in mind for it, I'm sure.
He says he feels powerful when he wears it. I think it's doing its job.
Two More Wins From Conscious Items
If you are in the market for jewelry made from crystals or stones, I highly recommend checking Conscious Items out. As said, I could buy one of everything from them.
I also really like the idea of their self-cleansing crystal pens and how they could play into therapeutic journaling, which I plan to be doing a lot more of starting in September, so that will be next on my list.
You can check out all their products here.