I love everything about chakra energy and healing. I have taken the chakra quest with Anodea Judith and I'm constantly focused on my chakras during meditation or even during my reiki sessions. And now I have a beautiful chakra bracelet that brings even more awareness to my chakra energy.
I Received The 7 Chakra Bracelet and Stones Set As A Gift
My mom surprised me with the 7 Chakra Bracelet and Stones Set from Conscious Items. Everything from the package the chakra bracelet and stones come in, to the bracelet and stones themselves is beautiful.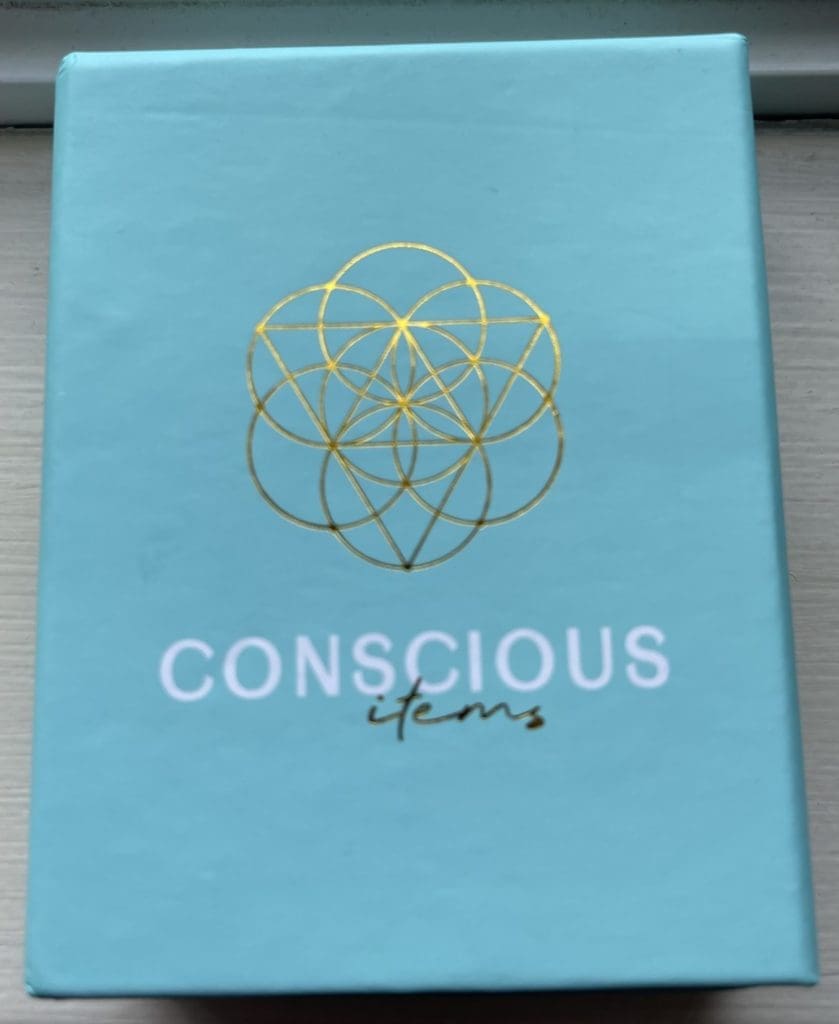 I don't know where the interest came from. My mom doesn't mention chakras a lot, so I'm assuming she listened to someone talking about chakras. She did get the HayHouse Unlimited Audio, so maybe that's where she started focusing on chakras.
In any case, I'm glad she got me the chakra bracelet. It's so beautiful and uplifting and helps me bring my focus inside when I'm getting caught up in outside stuff.
The Stones Included With The 7 Chakra Bracelet
Ok, so there are 7 stones on the bracelet, but as you can see in the following image, there are 8 stones listed for the bracelet on the website's description of the chakra bracelet. I wrote in to ask about this.
Here's the conversation:
Me: On the 7 Chakra Bracelet, in the description, it says there are 8 stones in the bracelet, but there are only 7 sets of stones on the bracelet. Am I missing something?

Them: I would like to kindly explain that when it comes to the 7 Chakra Bracelet and Stones Set, there are 7 stones on the bracelet and 7 raw stones. The one difference is that Calcite is included in the bracelet while Citrine is raw stone. Therefore, the stones used are Red Jasper, Red Agate, Calcite (only on the bracelet), Citrine (raw stone), Aventurine, Sodalite, Amethyst, Clear Quartz.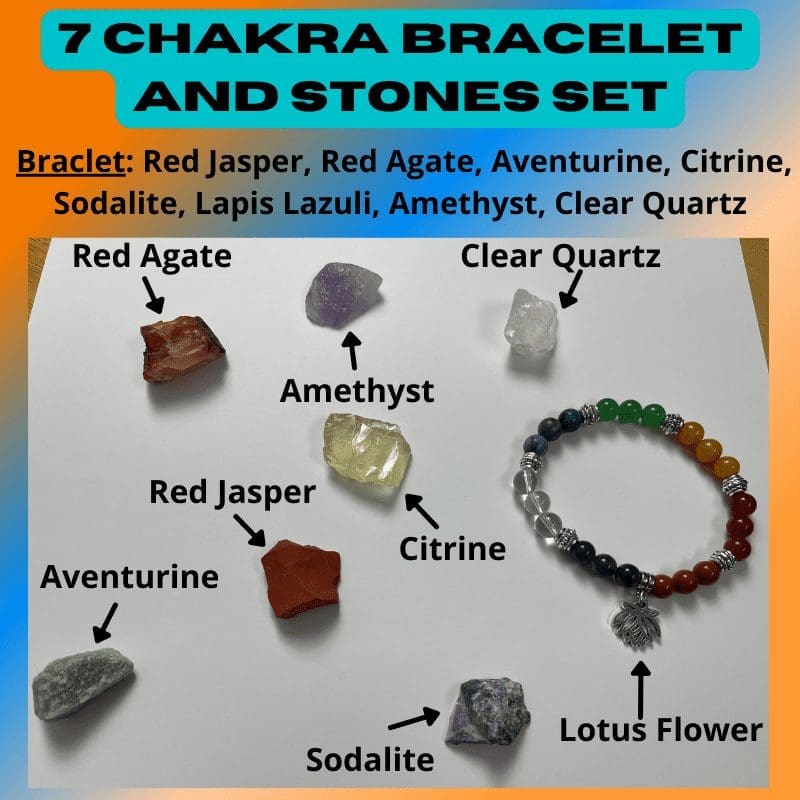 What The Stones Represent
I also got The Crystal Bible with this charka bracelet. The book lists all kinds of crystals, and it includes pictures, descriptions, attributes, healing powers, various colors, sources, and more. It's pretty comprehensive.
My only complaints are that the text is so small, and when I bent the spine to hold my place, it kind of felt like it was going to give away. But it's definitely a comprehensive list of crystals… a bible.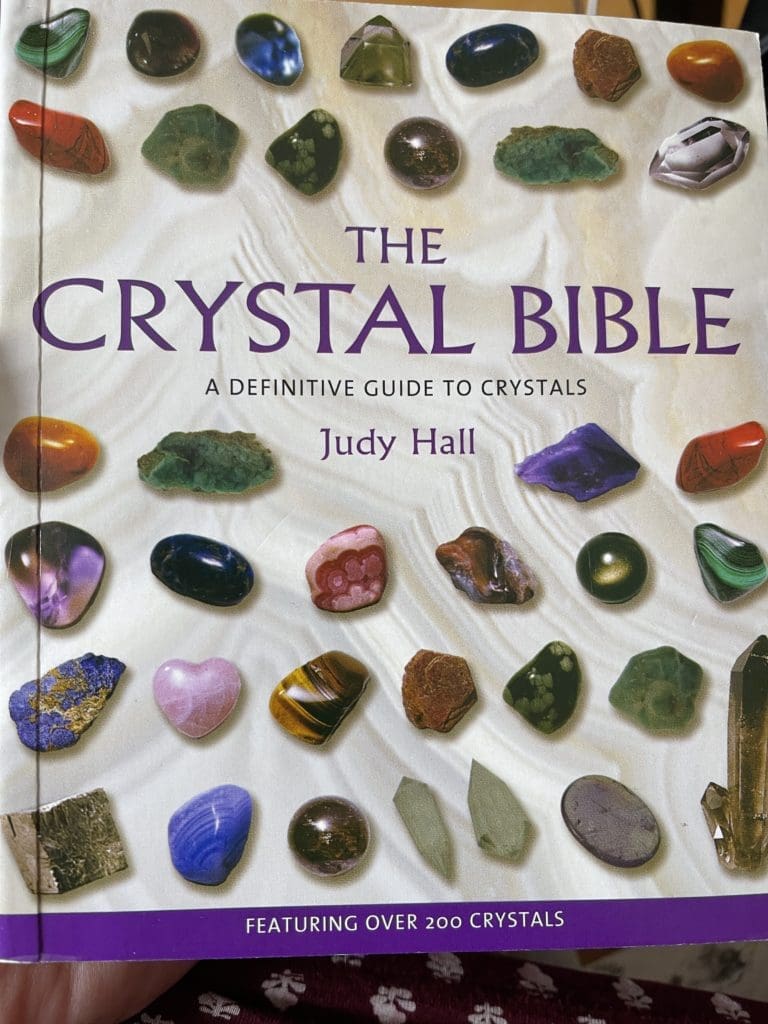 Here's some information The Crystal Bible gives about the crystals you get with the chakra bracelet and stones.
Red Jasper – Gives support during times of stress. Aligns the chakras. Supports digestive, sexual, and circulatory organs. Red Jasper is used for the root chakra and specifically grounds energy and calms emotions. If you put it under your pillow, it helps with dream recall.
Red Agate – A grounding stone that helps bring about balance in your emotional, physical, and intellectual state. Promotes acceptance of self which is good for self-confidence. Promotes the healing of anger and can be used for any kind of emotional trauma. You can even put it on your abdomen, and it is supposed to help with digestive issues and relieve inflammation. It also can heal eye, stomach, uterus, and skin issues. It is a crystal for the solar plexus chakra and sacral chakra.
Calcite – Cleans energy and heightens your energy. Boosts emotional intelligence, calms the mind, combats emotional stress, stimulates tissue healing, and fortifies the immune system. Orange calcite (which is on the chakra bracelet) helps to energize the lower chakras. It is connected to the sacral chakra.
Citrine – This crystal never needs cleaning as it absorbs and dissipates negative energy. It provides energy for every level of life. It opens up intuition and promotes abundance through manifestation. Can help you overcome fears, depression, and phobias as it promotes inner calm. It is connected to the sacral chakra.
Aventurine – This protects against environmental pollution. Promotes compassion, helps you find sources of illness, calms anger, and protects the heart chakra.
Sodalite – This crystal helps to deepen meditation. Put it on your computer to block electromagnetic emanation. (I already did this!) Use in a group setting as it stimulates trust. Can calm panic attacks by promoting emotional balance. It's connected to the throat chakra.
Amethyst – This crystal guards against psychic attacks and negative energies. A very spiritual stone that encourages spiritual wisdom. Sleeping with amethyst can help with out-of-body experiences. Relieves emotional, physical, and psychological pain. It is connected to the crown chakra.
Clear Quartz – This is the most powerful healing and energy ampliefier around due to its helical spiral crystalline form. It raises your energy to as high as a state as it can go. It enhances the organs, cleanses the soul, enhances psychic ability, and helps you align with your spiritual purpose. And apparently, if acupuncture needles have quartz, the effects increase by 10 percent. Most importantly for me and my alopecia, it stimulates the immune system and brings the body into balance. And in the case of chakras, quartz harmonizes the chakras. It's connected to the crown chakra.
Lapis Lazuli – This crystal opens up the third eye chakra. It promotes spiritual power and brings about peace. It encourages self-awareness and repressing anger. This crystal also benefits the immune system, lowers blood pressure, stimulates faculties of the mind, and blocks psychic attacks.
It Really Is A Pretty Chakra Bracelet
It's such a stunning chakra bracelet, and I love that you get the stones with it as well.
You can check out the 7 chakra bracelet for yourself at Conscious Items here. They have a lot of great stuff on their website and I have a feeling I'll be buying from them as often as I can.