I don't know what word to use for a deep and heavy sigh, so you will just have to imagine me doing it. I haven't got FabFitFun for a while, so I was so excited to get it, along with my mystery bundle and one add-on that I ordered. In fact, I was really excited for the mystery bundle. But, it proved to be super disappointing and gave me insight into something that will keep me from ordering FabFitFun altogether until things change.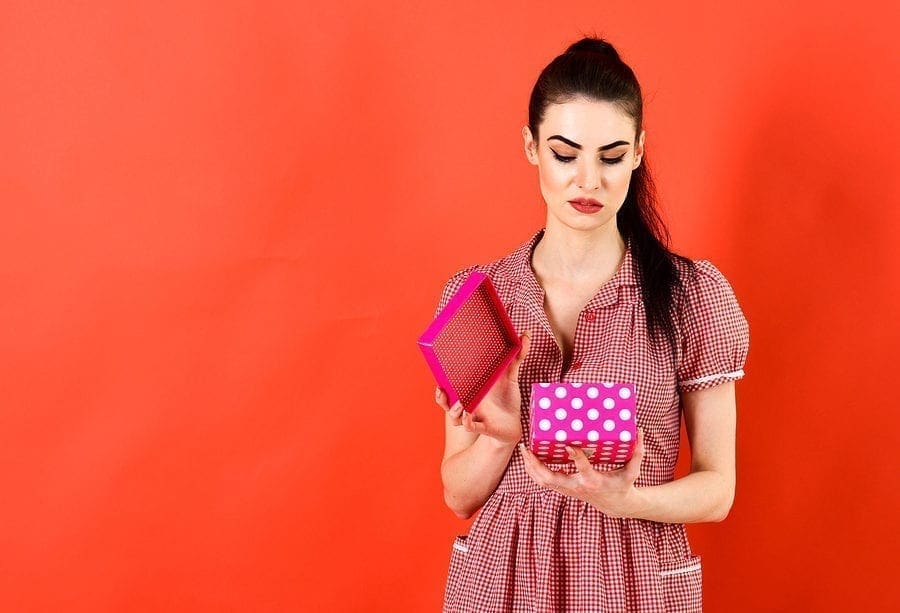 This Reason Isn't Going To Apply To Everyone
The reason I'm disappointed is not going to apply to everyone. Some people don't give a crap about what bothered me. That's why I ended up giving most of my mystery bundle to my mom… she's not concerned about this issue.
The reason is that three out of the four products contain animal products. I only buy cruelty-free products, and to see that Emu oil and other animal-derived ingredients were in them was extremely upsetting.
I understand that FabFitFun boxes and their mystery bundles contain items that are a mystery until you get them, but I have never received a product from FabFitFun with animal-derived ingredients, so I guess I just assumed that they only put cruelty-free items in their packages… I assumed wrong.
The Mystery Bundle Products Were Pretty Useful
I got four products in my mystery bundle. And, they all would have been pretty useful. But, like I said, I can't use three of them.
1. Briogeo Don't Despair Repair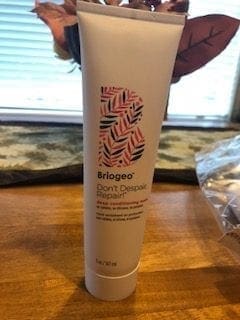 I would have LOVED to use this! My hair is drier than the desert, but, unfortunately, it contains animal products.
On the Sephora site, this sells for $46, a few dollars cheaper than on the Briogeo site when I checked.
On the Briogeo site's FAQ, they actually list what products are vegan and gluten-free. This wasn't under the vegan header, although, it was under the gluten-free header.
It contains Hydrolyzed Keratin, which is supposedly derived from hooves, scales, horns, feathers, and various animals.

I wrote the company to find out whether it was vegan or not before I researched the ingredients, but they never wrote me back.
2. Revivagel Hyaluronic Acid Gel Cream Booster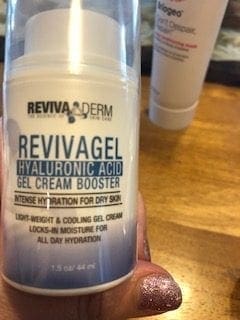 Along with my dry hair, I also have dry skin and I'm expecting it to get worse as the temperature gets cooler, so this would have been amazing.
I found this for sale at $24.99 on this site.
But, again, it seems to have animal products. The Sodium Hyaluronate Acid in the Revivagel doesn't say if it's animal-derived or not, so I have to assume it is. It can be derived from a rooster comb or through the fermentation of yeast.
3. Dermelect Vacial Spider Vein Treatment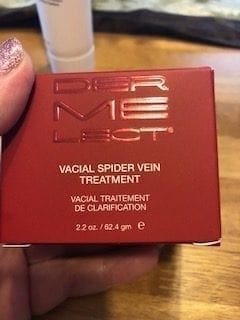 This stuff has Emu oil in it? What the heck? I'm not sure if there are any other animal-derived ingredients because when I saw Emu oil, I had no need to look into it any further. I wouldn't be using it.
This sells for $38 on the Dermelect site.
4. Campo Energy Aromatherapy Oil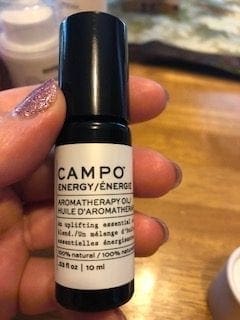 This is the one product I can use. It's has a roll-on applicator. You are supposed to put it on your body for energetic benefits.
It sells for $45 on the Campo Beauty site.
I've put it on my neck and wrists and it smells nice, but the smell seems to disappear quickly.
I Can't Risk Getting Products With Animal Ingredients
I wrote FabFitFun. I don't know what I thought they could do.
Maybe I was hoping they would send me some vegan products to replace what I couldn't use, but, realistically, I knew that wasn't going to happen. They don't exchange or refund according to their policy.
I did take my chances with a mystery bundle, after all. I think I just felt better writing to them and telling them that I was extremely disappointed.
I got a message back, including this:
Thank you for reaching us. I hope you're doing well today. While we strive to work with as many cruelty-free brands as possible, we can't guarantee that every item in each box will meet those guidelines. Regarding the Mystery bundle, we don't have any hold on what's going to be kitted in the said bundle. Please be advised that FabFitFun boxes are actually mystery boxes and we have a wide variety of items available, although members can't be assured that they will get exactly what they want but that's the best thing about mysteries, there is always a surprise.
So, it's clear, I won't order the mystery bundle from FabFitFun again.
Moreover, because you can't pick and choose everything that's in your box, you may get a product with animal-derived ingredients. So, I'm going to have to cancel my FabFitFun box completely.
Maybe one day you will be able to check off a box for 'cruelty-free products only'. Or, better yet, maybe one day they will only fill their boxes and mystery bundles with cruelty-free products. But, until then, I'm going to have to look for a box that contains vegan products.