This week has been yummy. My parents come over for supper the first Sunday of every month, so I'm always trying something new to show them how awesome vegan food can taste. That led me to a few of the recipes I've tried this week, and let's just say that they went over very, very well.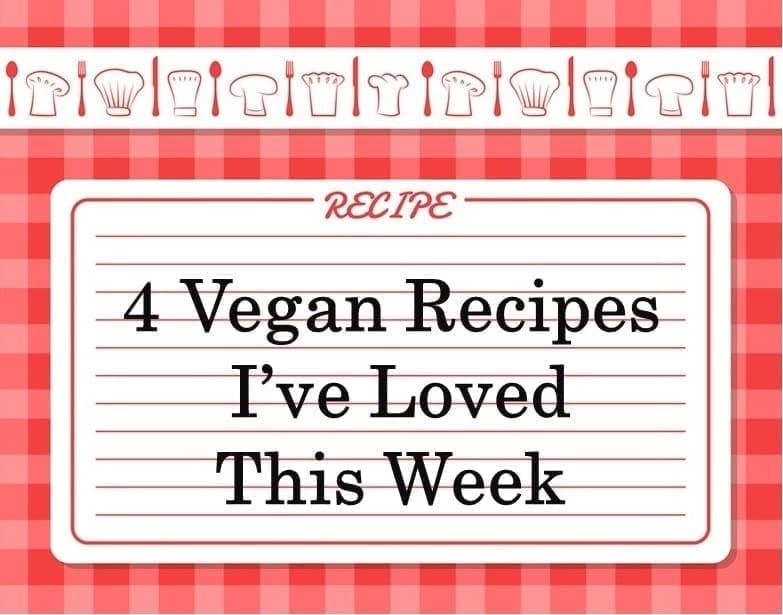 1. Peanut Butter Cake
I was on Facebook and someone said, "Does everyone else love Peanut Butter Cake as much as me?" I was like WHAAAATTTT? That sounds delicious. So, I searched for a recipe and found Vegan Richa's Peanut Butter Cake With Chocolate Peanut Butter Glaze.
To say my parents liked this is an understatement. They finished their piece, then looked at each other like little kids and ran to get another piece each.
My husband and I also loved it. But, I can say that we loved it even more after it was in the fridge for a day! It tasted twice as good cold to us, which is saying a lot because it was excellent not cold.
I followed the recipe exactly, although my oven wasn't cooking according to her time. It kept coming out gooey when I stuck the toothpick in and eventually I just had to pull out the cake because it was getting too dark on top.
I have a weird oven that cooks at different temperatures in different areas sometimes, and I thought I had it figured out, but not this time.
It didn't matter though. It was a little bit more gooey than what it looks like in her picture, but it was amazing.
2. Maple-Balsamic Vinaigrette
I make a different salad dressing each time I have salad. I like to try out different tastes. But, I can honestly say that this easy-to-make dressing will be used more than once.
I'm craving it just thinking about it.
My dad, who is not a salad guy and has never shown a love for dressing before, leaned over, took a bite, sighed in taste pleasure (I've never seen him do that) and then said, "You always make the best dressings".
That's how you know it's good people.
You can get the recipe for the Maple-Balsamic Vinaigrette here.
3. Tzatziki Sauce
I've never found a recipe I liked for vegan Tzatziki sauce until I found this one. I made it almost exactly as the recipe said. I added a little bit of extra garlic and a combination of apple cider vinegar and lemon and more coconut cream than coconut milk, and oh my god is it good.
She says it may be runny, and I thought it would eventually be when the cucumber's water came out, but the next morning it had thickened up instead of thinned down. I was shocked.
And, like any good dip, the flavor developed overnight in the fridge, so it's even better than when we first tried it.
We had it with falafels in a wrap the day after and it was amazing! This will be one of those dips that we make often, especially now when I'm overloaded with cucumbers from the garden.
4. White Hot Chocolate
When I was drinking dairy, white hot chocolate was my drink of choice. It brought me comfort, and I just really liked the taste of it. I haven't had one for over a year, but I haven't stopped thinking about it.
Last week, I wanted a white hot chocolate so badly and finally found a recipe for it. I had to get my husband to pick up some cocoa butter and I thought I was set.
Apparently you need coconut butter as well, but I didn't have any of that and I didn't realize she had a recipe for it on her site, so I made it without.
It was pretty darn close to what I remember. Enough to satisfy me and work me through that craving.
You will notice that the cocoa butter pools up at the top and you have to stir or shake it to go down, but that's how I remember it being with the drinks I bought with dairy. I guess that's just how cocoa butter rolls.
I will make it again with the coconut butter and see what difference that makes, but even if I don't have the coconut, I will still make it again without. I'm also going to try it with cashew milk instead of coconut milk to see how I like that.
You can find the Vegan White Hot Chocolate recipe here.