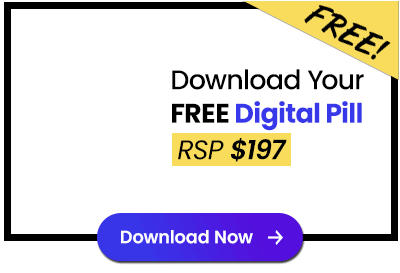 Have you ever gone on vacation to a place and don't want to leave? A place that's so nice and so good for the soul that you wish you could just buy it and stay there forever? That's what the Beaver Hills Retreat is like for me. It's a cabin you can book for two nights or more just east of Edmonton on the outskirts of Elk Island National Park, and it's such a relaxing place for my soul.
Sheryl and her husband have made their property and their cabin a relaxing but modern place. It has everything you need to do whatever you want, but also everything you need to do nothing. It's perfect.
Also, their property is a wildlife sanctuary that calls back Purple Martins each year, which, from what I understand, isn't the easiest thing to do!
How I Found This Little Vacation Paradise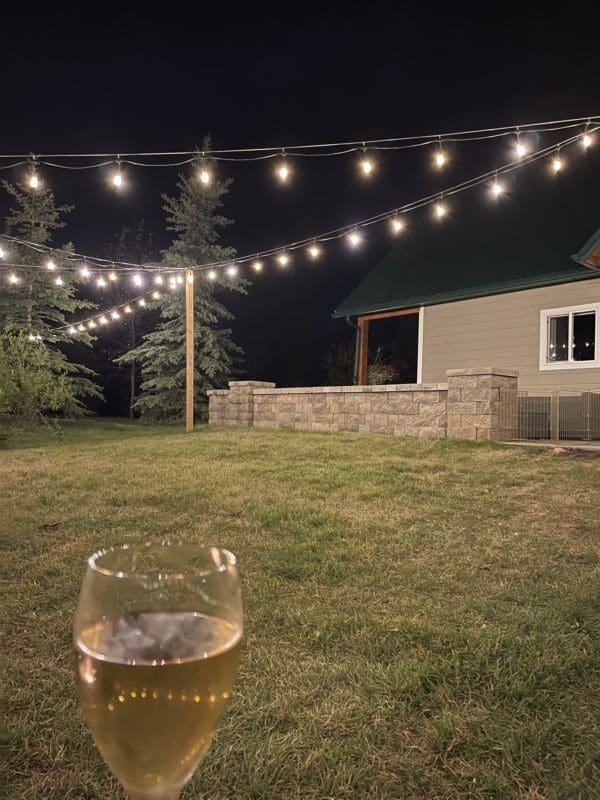 In the beginning of 2020, my friend was coming up from Newfoundland. We wanted to rent out a place to spend some time alone together crafting and doing some planning. But we didn't want to go to a hotel. We wanted a home where we had more space.
We found Sheryl's place (now called Beaver Hills Retreat and capable of booking off Airbnb) for rent on Airbnb and were quick to book it for a few nights.
I'm not a fan of staying in other people's homes. I worked in hotels as a housekeeper when I was younger, and I know that hotels are not the cleanest places to be. I have a very hard time staying in them. I'm also a little bit of a germaphobe and the thought of cooking in someone else's home didn't appeal to me. AND Covid was just starting to rear its head… but I also wanted to spend time with my friend alone, so we booked the home for a few nights.
When we got there, I was shocked. The property itself was beautiful, but the cabin was more than I expected.
It was winter and there was a lot of snow, so I didn't take many shots of the outside of the cabin, but here's a shot of our Happy Planning Extravaganza which is pretty much what we did while we were there. (Along with painting, watching movies on Netflix, and of course, eating.)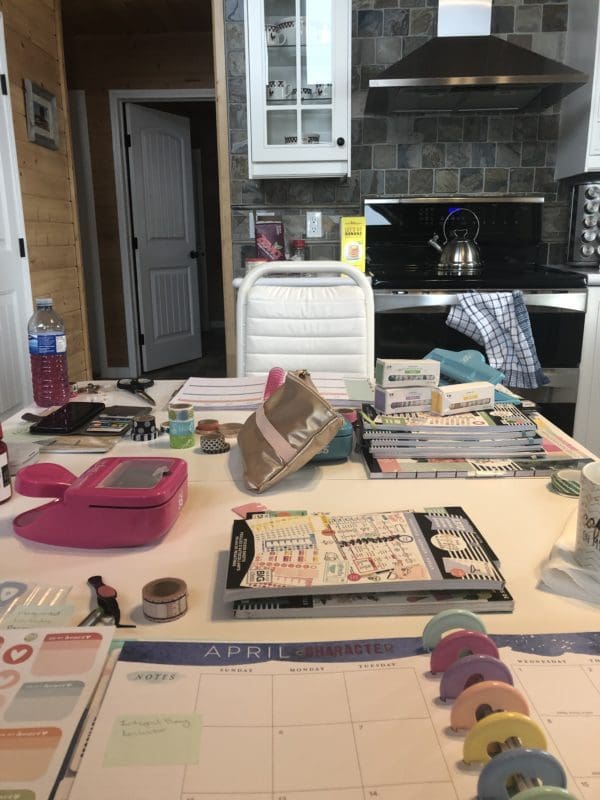 We also made use of the kitchen because I was vegan and my friend was not (at the time, she is now!) and I had to come up with some dishes that actually worked for her. So I made full use of the kitchen to cook pasta dishes and soups and an easy vegan Ukrainian meal.
I slept upstairs where there is a half bath in the room, and my friend slept downstairs by the full bathroom that has an awesome tub and shower in it – and we both enjoyed the place so much.
It was perfect in every sense. It had everything we needed and was comfortable and, best of all to me, was CLEAN. I've been a housekeeper in hotels and hospitals, so believe me when I say that this place was cleaned perfectly.
We kept saying how much we lucked out on finding this cabin east of Edmonton. We thought we would have to head out to Jasper to find something this nice.
I decided that I needed to come back in the spring with my husband because I knew he would enjoy it too.
My Husband And I Have Been A Few Times To The Cabin Since Then
My parents live in east Edmonton, so it was easy for us to drop our dog off and head out to the cabin.
My husband enjoys it as much as I do. We've been three or four times since over the last few years.
Each time we go, we both bring some work to do, because their internet is great and it's fun to work somewhere other than at home.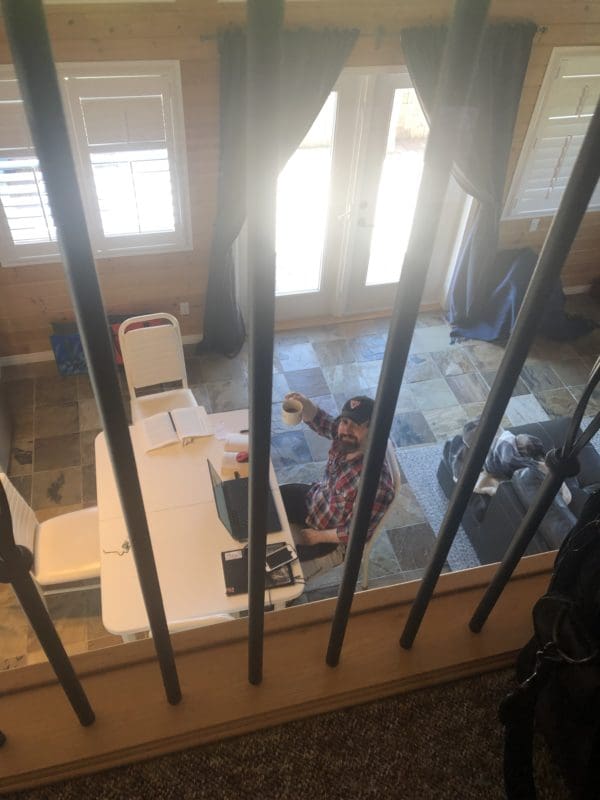 In the mornings, I always lay out on the outside couch in the beautiful enclosed courtyard and watch the sunrise. One morning I got to see this deer bouncing down the driveway. It was as shocked to see me as I was to see it!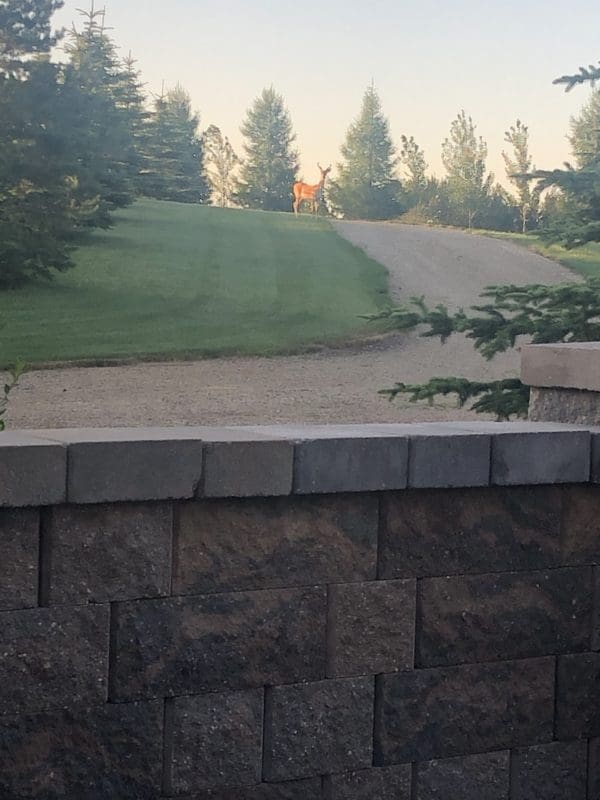 There are usually deer in the back of the property. You can walk all around the property as they have cleared a path. The walk is about 30 minutes all around, depending on how fast you walk. Much longer if you are walking with a slow Schnauzer who wants to smell EVERYTHING!
There's a path at the front of the property that you can take. You can either go through the trees or around the field. Either way, it's nice. We often saw their cat, Boo, taking this path on our last trip there.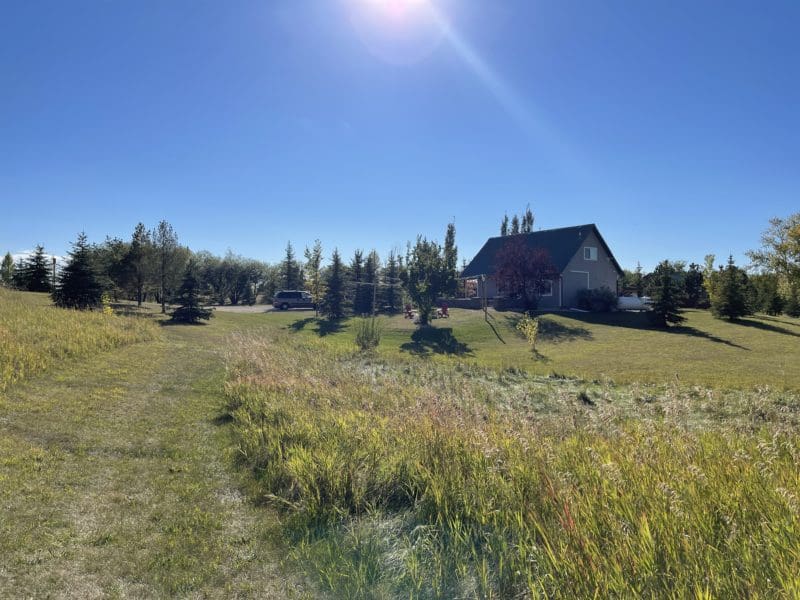 You can also go around the back of the property. They've made a trail all the way to the back.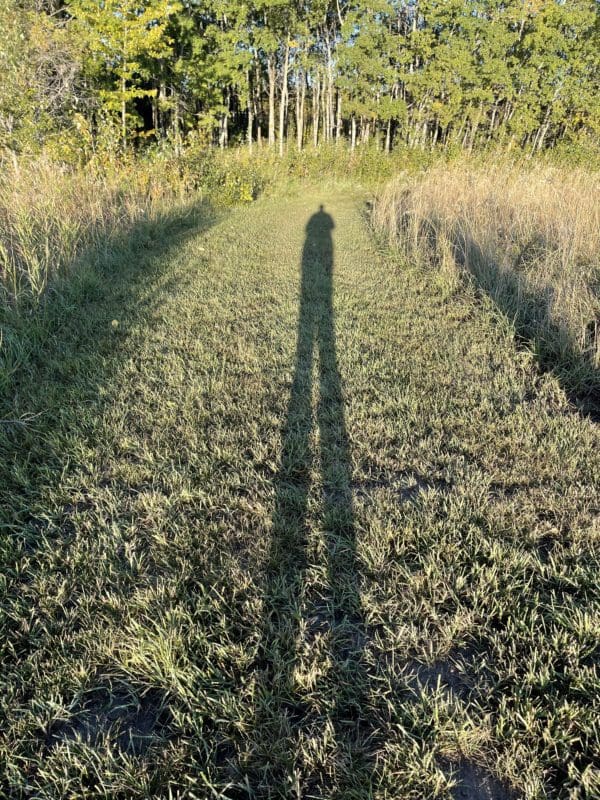 It's A Perfect Place For Dogs
Angelo has recently become diabetic and went blind, so we don't leave him anywhere anymore. He comes with us wherever we go.
He loves staying at the cabin. Actually, that's an understatement. He comes alive there. He's stayed there twice now.
The courtyard surrounding the cabin is almost completely enclosed. There's a small portion that has been removed to allow easy access to the firepit. We bring a gate to close that off and Angelo can explore the courtyard on his own.
The door of the cabin, along with part of the courtyard, faces east, so you get the sun in the morning there. In the afternoon, the sun is in the south, which is where the big windows to the cabin are. The courtyard also wraps around that side of the property.
Our Angelo decided that he wanted to be in the sun in the afternoon, so he made his way over there. It was amazing to watch how well he could navigate the place, both inside and out.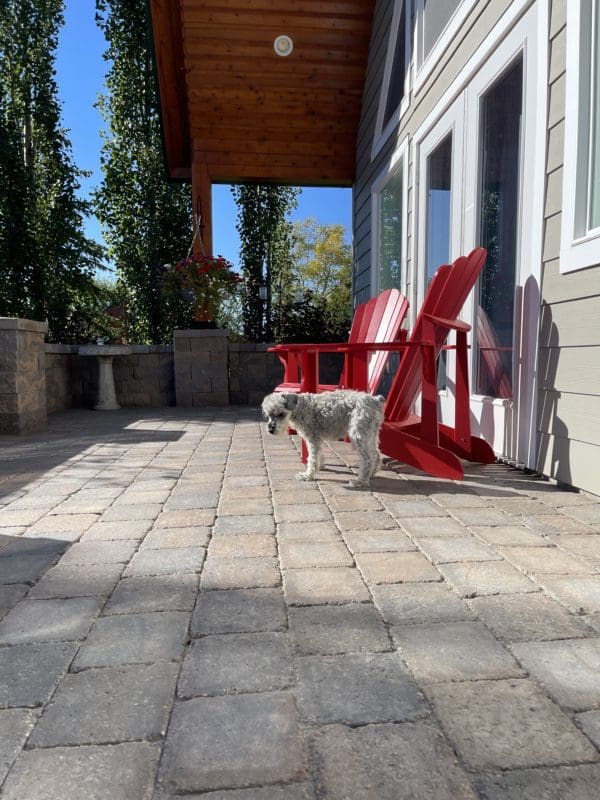 In the front of the property, he spent most of his time rolling around in the grass. He rolls when he feels good, as most dogs do, and he rolled and rolled and rolled…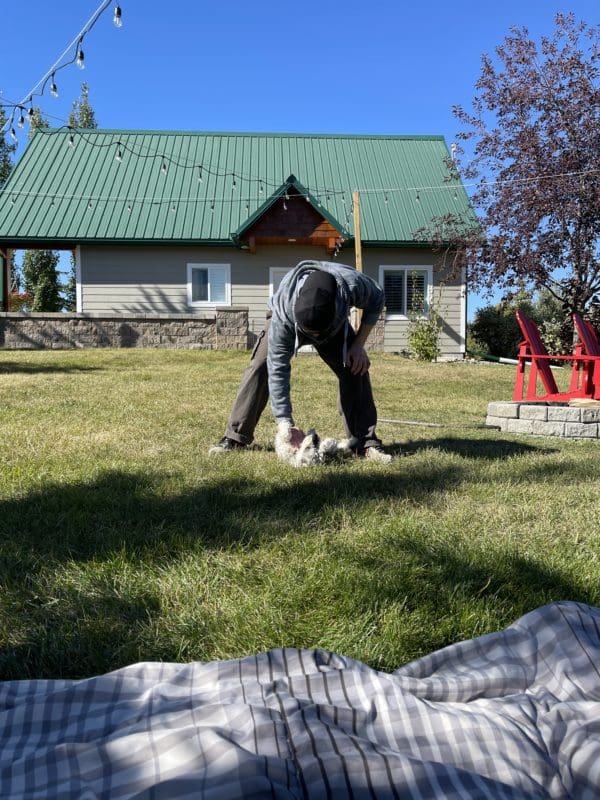 It's Beautiful At Night Too
At night, there are lights you can turn on around the firepit area. This is a nice feature.
Their property is in the Beaver Hills Dark Sky Preserve area. This means you can see the stars and the Milky Way and whatever else you want to see. This was one of the things that made me excited to stay at this place when my friend and I first went. There was a meteor shower and I wanted to be somewhere dark for it.
But it gets dark out there, so if you want to see what's going on around you while you are having your fire, then these lights come in handy.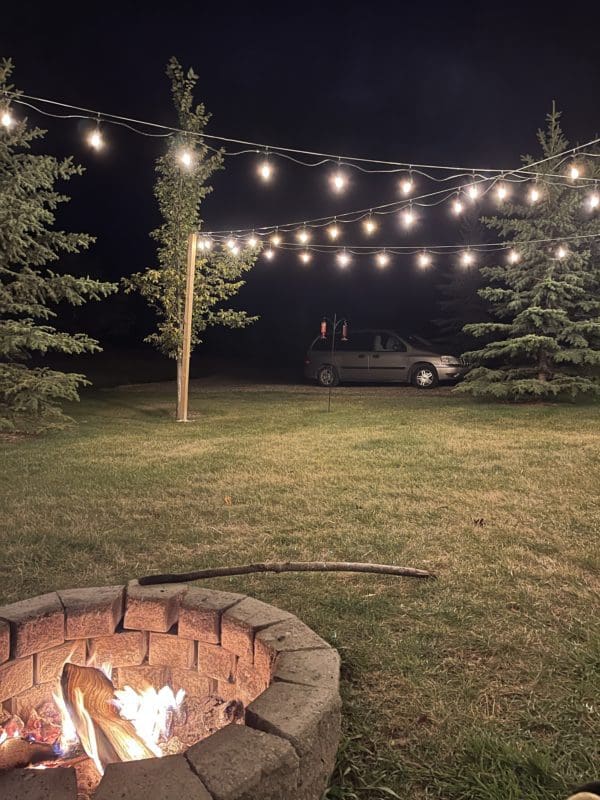 Every night the weather permits, my husband and I turn off the lights and lay outside and watch the stars for as long as we can. It's one of the features of this rental cabin that stands out for us.
My Parents Have Also Stayed At The Cabin
My mom and I stayed at the Beaver Hills Retreat for a few nights together. She LOVED it! She doesn't like leaving my dad alone, but since it's only about a 35-minute drive to Edmonton, she was OK with it.
When we arrived, we sat outside and enjoyed the nice weather for a few hours. But the next day we saw some snow start to fall.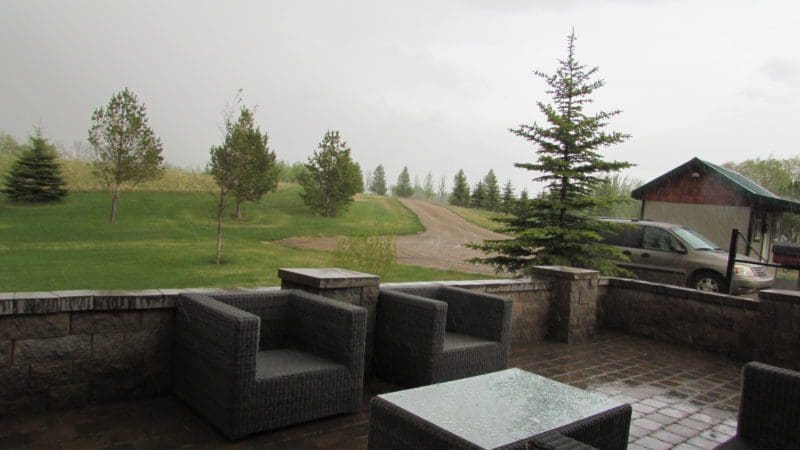 Then WHAM we were covered in snow.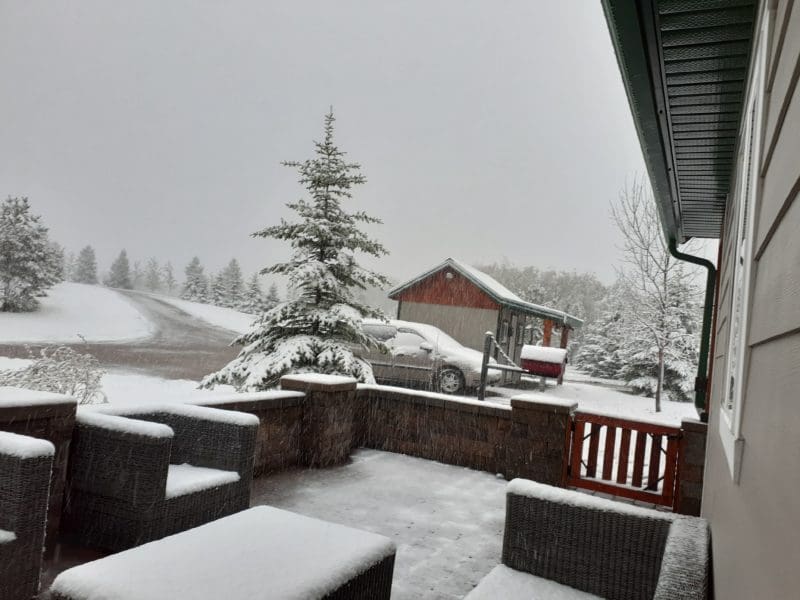 That's Alberta weather for you, but we didn't mind because we were at this beautiful cabin, and I could sit upstairs and work while my mom sat downstairs and read. The ability to be in a quiet and beautiful place to read is a luxury she doesn't get that often, so she was very happy.
Moreover, they came and shoveled us out! And that was no easy task!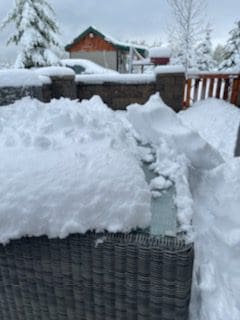 This is the view from the upstairs loft with snow.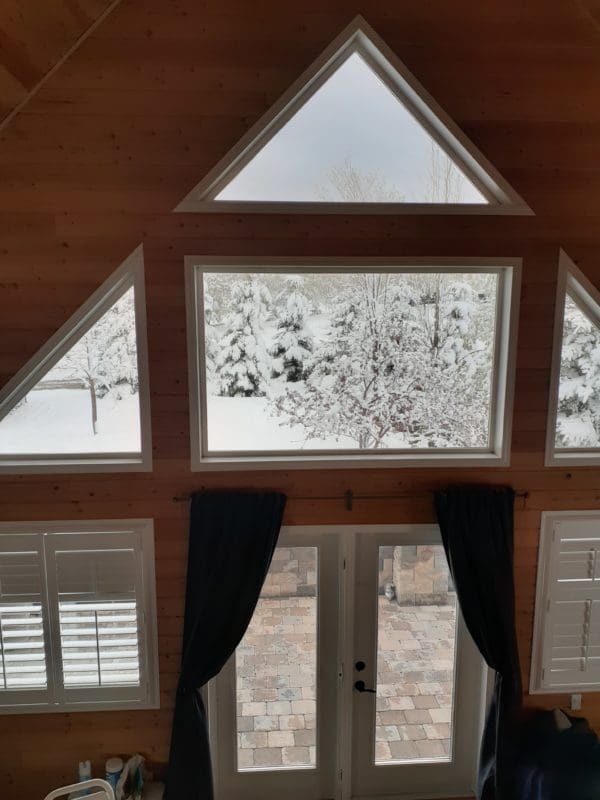 I know I have pictures without snow, but I can't find them right now. Just picture nature out there and that's pretty much what it looks like. 😉
Below is the living room where mom happily sat and read.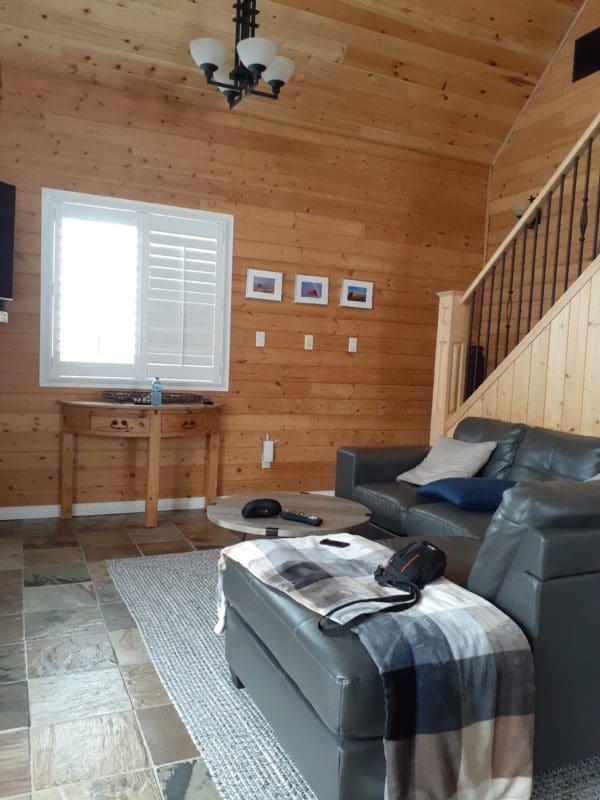 After my mom and I checked out, my mom was able to get my dad to agree to stay at the cabin for a few nights, which is no simple feat. He loves being at home. But because the cabin has a TV and a full kitchen, he was willing to try it out.
They had a storm occur during one of the nights they were there, and the power went out for a few hours. But my dad still didn't have one bad thing to say about this cabin. And he complains about everything. He really enjoyed his time there.
If You Are Looking For A Place To Stay For A Few Nights Or Longer, This Cabin Is It
Minutes away from Elk Island, this cabin gives you a sense of country living with everything you need to feel at home.
It's so quiet at this place too. That's one of the features that I love the most. It seems like my life is full of noise, so when I get out to the retreat – as we like to call the cabin – I feel at peace.
It's hard to want to go on vacation anywhere else. Hotels and other places for rent on Airbnb or other travel sites don't seem to have the draw that the Beaver Hills Retreat does for me.
My reasons to rent out this cabin include:
It has a full kitchen, including a BBQ outside.
It's close to Edmonton, Fort Saskatchewan (if you forget anything you can run into Fort Saskatchewan and it's only 22 minutes away or so), Sherwood Park, and Elk Island.
It's in a dark sky area and perfect for watching the stars or meteor showers.
It has a wrap-around courtyard with chairs and cushioned chairs and couches for sitting.
TV with Netflix.
Two bedrooms and both beds are comfortable.
Fireplace inside.
Firepit outside.
Internet with a little workspace.
Trails to walk on.
During the spring/summer months (I'm not totally sure of the dates – I think it's April) the Purple Martins live in the back of the property behind Sheryl's house, and you can watch them dance around the property all day.
Hummingbirds! This is my favorite bird and Sheryl has set up a few Hummingbird feeders around the cabin. I think they come in around May or so. That's when my husband and I saw them. You can actually hear them fly in, which is the coolest sound, and watch them zip up and down as they feed.
Sheryl and her husband live literally a hop, skip, and a jump away, so if there's anything you need, they are there. And they are both so friendly. They are amazing hosts.
Privacy. Even though they live close, you have privacy. Over the years, they have worked on the landscaping to make an amazing separation from their house to their cabin. It feels like they are your neighbors, but not your nosy neighbors. More like your friendly neighbors that enjoy their privacy too.
Security. They have a camera at the front of the property, and you get a key to lock the cabin if you want to go out to Elk Island or wherever for the day.
Cleanliness. Sheryl understands what clean means and she makes sure the cabin is clean and ready for you upon arrival. This is HUGE for me.
Dog-friendly. There is a pet fee, and you can't take your dog into the loft as there is carpet there or on the couch, but she leaves out a dog bed and dog dishes. This last time we went, I led Angelo to his dog bed that she leaves out, and he jumped for joy. It's a little happy bounce that I haven't seen in a few months as he's been dealing with all his crap. It was the sweetest thing ever and it was his way of showing us how happy he was to be at the cabin again.
Air conditioning. This is something she just added, and we haven't used it, but we will appreciate it if we do. I can't stand the heat anymore. Actually, my husband and I were there when it was hot once and we were comfortable in the cabin without air conditioning. But it's been getting hotter and hotter in Alberta, so this will come in handy for sure!
Heated floors in winter. Yep, they are nice.
In short, I would travel to Beaver Hills Retreat all year round. I would stay for days, weeks, or months. To be honest, I would live there if possible.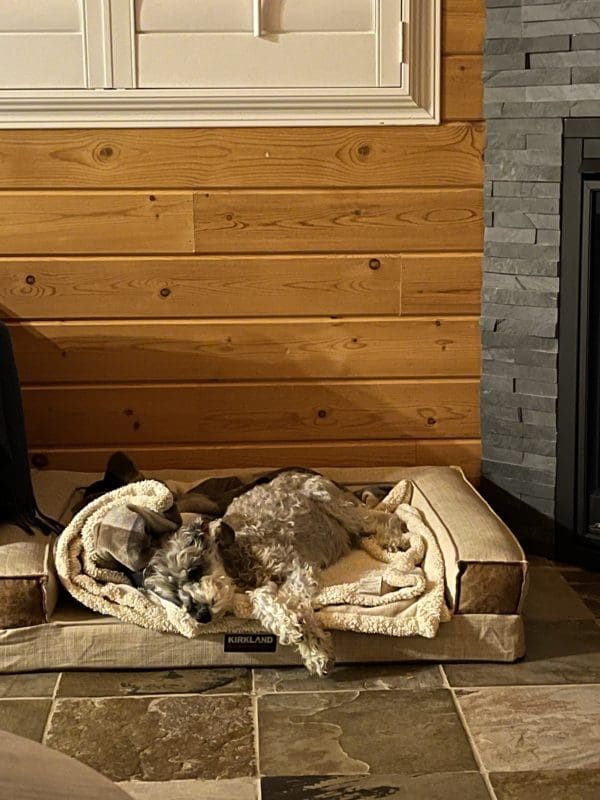 If you are looking to get away from Edmonton for a few nights (or stay somewhere close to the city) and enjoy some peace and quiet, walk some trails, and recharge your spirit, I highly recommend checking out Beaver Hills Retreat. Everyone I have gone with has loved it. There's something for everyone.
You can learn more about the cabin and the hosts, see more pictures, and see when they have the cabin available to book on their website here.
You won't regret booking this place. Trust me. You will, however, regret it if you don't book your dates and it books up. That's happened to me a few times as they book up fast.