Last Updated on September 1, 2021 by Kari
The other day I was on a road trip, and Starbucks was out of the vegan bagel that I normally get. I thought about Tim Hortons but remembered that, besides the obvious bagels with milk and honey, they usually have l-cysteine in the bagels without the milk or honey. At least that's what I remember the last time I checked. And, as far as I know, l-cysteine is not vegan.
Tim Horton's Doesn't List Their Ingredients?
I went to the nutrition guide for Tim Hortons and couldn't find a list of ingredients. Isn't that ridiculous? How are they not listing their ingredients? Am I missing something? If so, please share with me in the comments below where Tim Horton's posts their ingredients.
They do list their allergens and dietary considerations.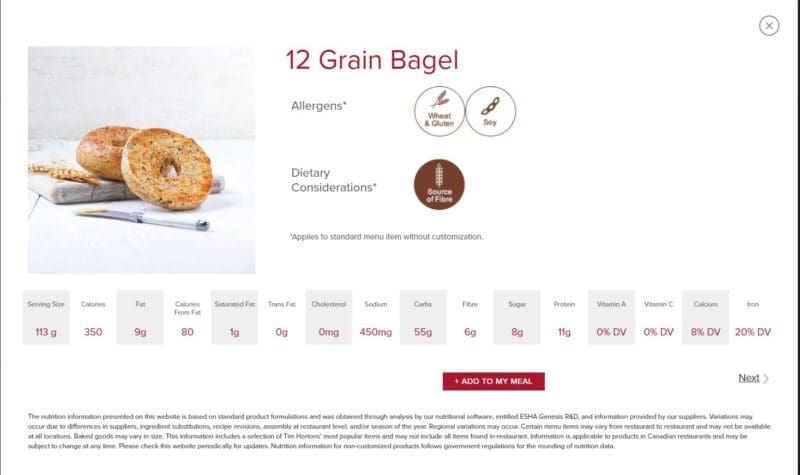 I found the ingredients for the 12-grain bagel (the one I was most interested in) here on fooducate.com. By the looks of it, they are still putting L-cysteine in their bagels. And this one had honey as well.
I did a quick search on the internet about L-cysteine. I wanted to know if there were any plant-based versions of it. I did find an article that said that it could be derived from both animals and plants, so not knowing if Tim Hortons used animal or plant-based L-cysteine I wrote in… because they should be able to tell me. Right? Here's the short conversation.
I originally wrote in on their contact form asking them if the L-cysteine was derived from animals or plants. Here's the response I got.
Dear Kari;

Thank you for writing in to us regarding the nutrition information of our products containing the L-cysteine in your bagels is animal-sourced or plant-sourced. I am happy to provide you with an ingredient list to address food preferences, sensitivities and/or allergies.

Please visit the website below to search for [insert product here] information.

https://company.timhortons.com/ca/en/menu/nutrition-and-wellness.php

If you cannot find the information you are looking for on the website, please contact your local restaurant directly. It clearly states synthetic which means neither of the above – animal nor plant but man made (artificial flavor).

Please let us know if there is anything else we can do to help and thanks for being a valued Tim Hortons guest!
I wrote back:
I did look through the site and couldn't find the information, which is why I wrote into you.

Can you please give me a link to where 'it clearly states synthetic'?
They wrote back:
I apologize that you are unable to see the information there, we here have the same information.  So your best option would actually be to ask the manager of the any location.
What? I don't understand how they can say that 'it clearly states synthetic which means neither of the above…' but then not be able to provide me a link to where it clearly states that.
Moreover, the link they gave me is the same link I used to search before I wrote into them. There are no ingredients listed anywhere. Again, I might be missing something.
In short, I know nothing more than when I started.
Tim Horton's customer support said that the L-cysteine in their bagels is synthetic. I tried to look for how synthetic L-cysteine is made but didn't find anything that satisfied me. Moreover, without actually seeing the word 'synthetic' on the ingredient list, I can't be sure it's actually vegan.
I also don't like the fact that they are not posting ingredients on their site or freely giving out a list of ingredients to people who write in. That doesn't seem right to me. It seems like they are hiding something.
Moreover, Tim Horton's is generally not a vegan-friendly place. They tried to bring in a vegan sausage sandwich a while ago, but they kept putting cheese on it when we asked for it to be off and, more than once, they had a hard time understanding what we meant.
Like McDonald's, Tim Horton's hasn't caught up with the times and added decent vegan options onto their menu. You think they would have at least one clearly marked vegan donut or vegan bagel on their menu!
It's ridiculous.