Before going vegan, I didn't think alcohol would have ingredients in it that I wouldn't want to drink. But at some point after going vegan I realized that not all alcohol is vegan just because it doesn't have dairy.
It's the processing of the alcohol that often causes the issue. Things like fish bladders, gelatin, seashells, and egg whites are used to filter drinks. Why this happens anymore is beyond me as there are vegan ways of filtering your alcohol. Maybe they think it makes their alcohol taste better… I'm not sure.
Moreover, some companies put honey and other non-vegan ingredients into their alcohol.
This has proven extremely frustrating for me because I like red wine, and most red wine doesn't seem to be made in a vegan way.
The One Source To Check All Alcohol
I have found a few wines that I consistently get. And, when I'm out and buying other liquor, I always go to one source to check to see if it's vegan – Barnivore.
It's the only place I know of to check out most alcoholic drinks and get a quick and easy answer as to whether or not they are vegan.
The only problem is that sometimes you will look up a drink, and it won't be listed on Barnivore. That's frustrating because it becomes impossible to tell, right then and there, if you should buy the product.
In short, buying alcohol as a vegan has not always been an easy task.
When I first realized that not all alcohol was vegan, I spent an hour going through the shelves of wine at my local liquor store and checking on Barnivore to see what I could and could not drink. The staff was not impressed with me. I'm sure they thought I was trying to steal something. Anyway, it turned out that 99% of the wines I checked were NOT vegan. Since then I tend to get the same thing over and over again because it's a pain in the ass to have to check everything you come across.
You can also contact the companies and then contribute to Barnivore. I haven't done this, but they've made it really easy. They've given you templates for what to ask and how to respond.
Note About  Checking Specific Alcoholic Beverages On Barnivore
It's not just enough to look up the brand of alcohol to see if it is vegan. Sometimes one brand will have some non-vegan wine and some vegan wine.
For instance, let's look at Cono Sur. Some of their brands of wine are vegan and some are not.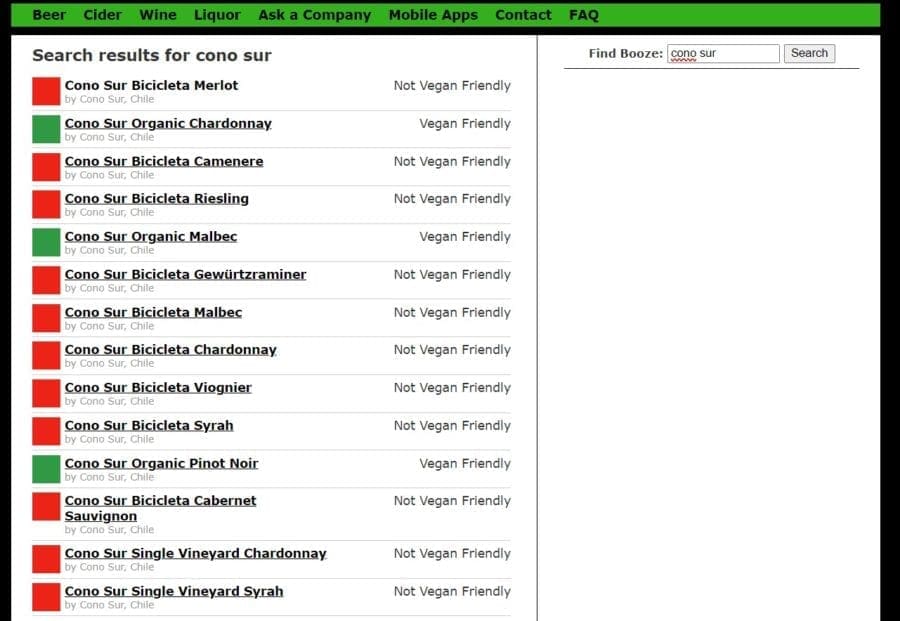 I received a bottle of Cono Sur Bicicleta Reserva as a vegan wine gift, but it's not vegan.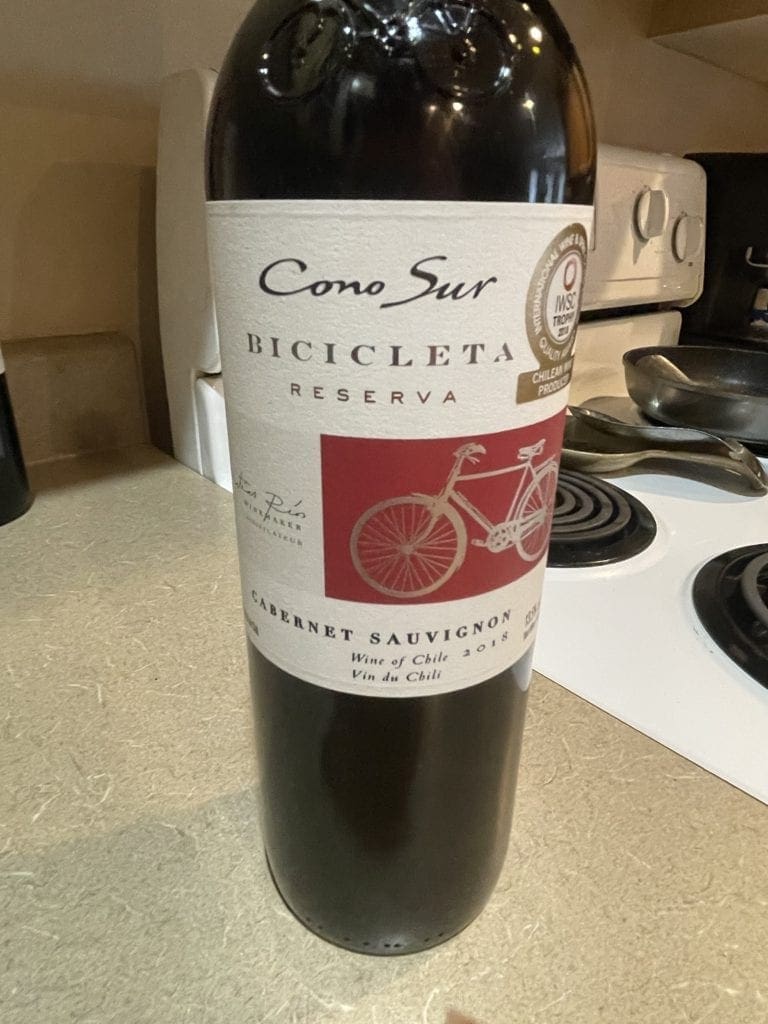 When you look it up on Barnivore, you can see that it's one of their wines that are not vegan, even though some of their organic wines are vegan. Of course, they are a little more expensive.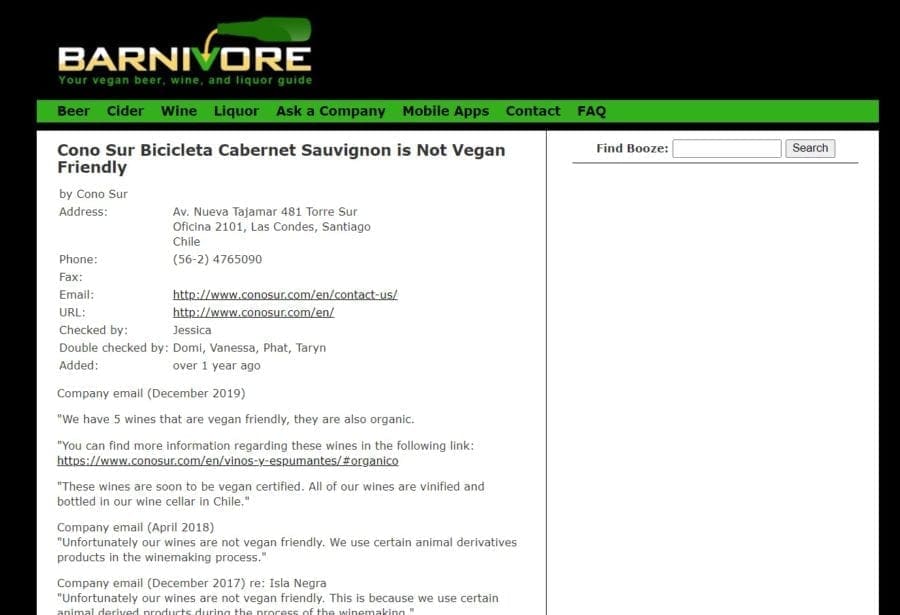 In short, this is why you need to check the specific alcohol and not just the brand.
They Are Starting To Label Some Wine As Vegan
Now they are coming out with a V symbol on some wine to show that it's verified vegan. My parents were the ones who discovered it, even though they are not vegan. None of us have seen the vegan symbol on anything but wine, but I'm glad it's at least on some products. Still, the wine labeled vegan is not very extensive.
In fact, my husband went into a liquor store the other day and asked the guy there if he had any vegan wine. The guy could not conceptualize what he was talking about. He just couldn't understand what vegan wine meant. And, needless to say, they didn't have any bottles marked with a V.
I find the V comforting though. It takes away the guessing, and I tend to buy alcohol that has it. For instance, Coyam wine is my go-to wine because it's labeled as vegan. Below is a picture of what I mean – along with some wine spilled down the side because when I pour, I pour everywhere apparently.
However, I am on the lookout for a sweeter wine that is vegan to go with the spicy food we eat. If anyone knows of something like that, please let me know so that I can stop the hunt and pick it up.
In short, anytime you need to check whether or not your alcohol is vegan, go to Barnivore.