Last Updated on September 13, 2021 by Kari
I've been wanting to replace lunch with a smoothie for a while now, so when I saw an ad for Revive Superfoods, I immediately ordered a bunch of smoothie cups. I thought my husband and I could have one a day for lunch and I would be able to replace my normal lunch of something, usually, much less healthy. I've enjoyed the convenience of having premade smoothie cups, but I think we are going to change things up going forward from getting 24 cups per month.
They Were Delivered Perfectly
First, I got to say that the delivery was really great. They were a day late, but the Revive Superfoods customer support team let me know about the issue with the carrier and were quick to communicate back and forth with me.
When the smoothie cups did arrive, they were packed well and were completely frozen. There were no problems with the box or cups. They came insulated with dry ice inside of a package.
You can see that despite these smoothie cups being with the carrier for an extra day, they maintained their frozenness.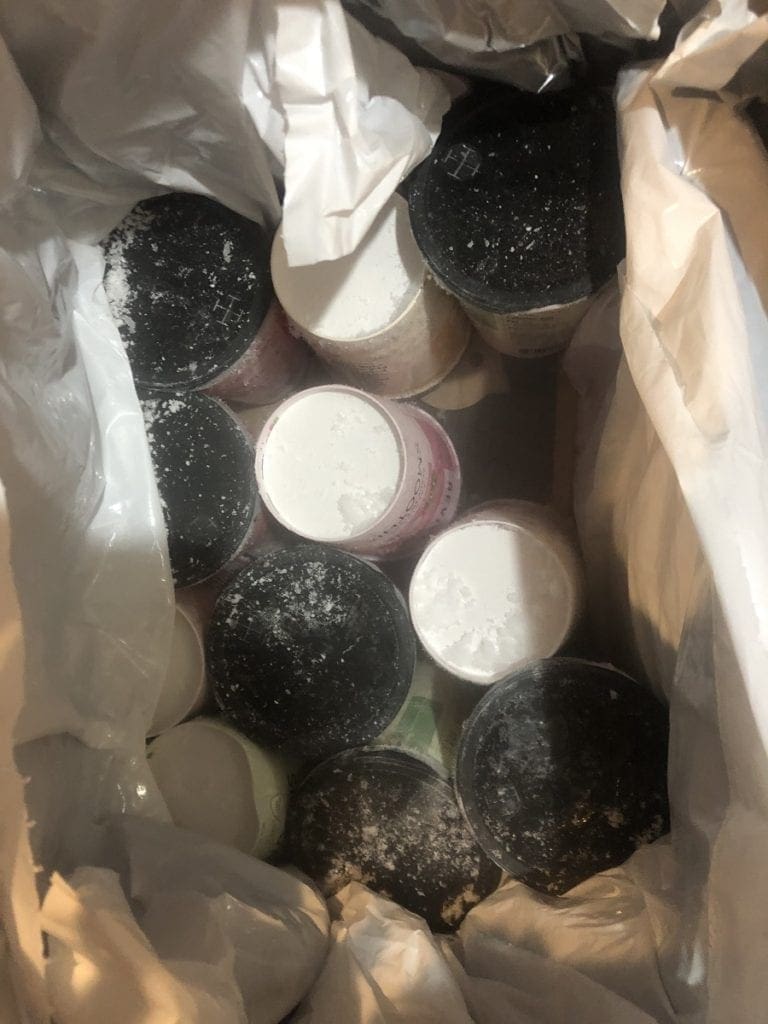 In fact, in the following picture, you can see how much frost there was on the smoothie cups while unloading them from the box. They were freezing! It was almost hard to take them out without gloves.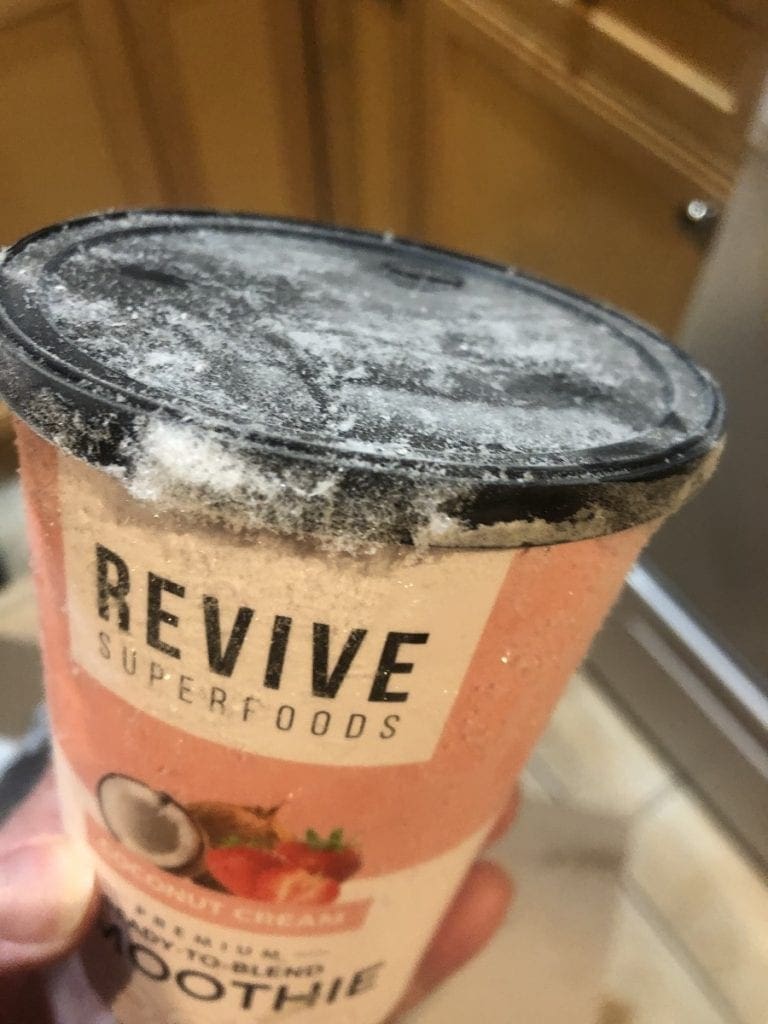 We got 24 cups, 2 of each flavor that we thought we were going to like so that we could both have a smoothie each day for 12 days.
The Pros Of Revive Foods Smoothie Cups
There are some good things about these smoothie cups that may make you want to buy them.
They Are So Convenient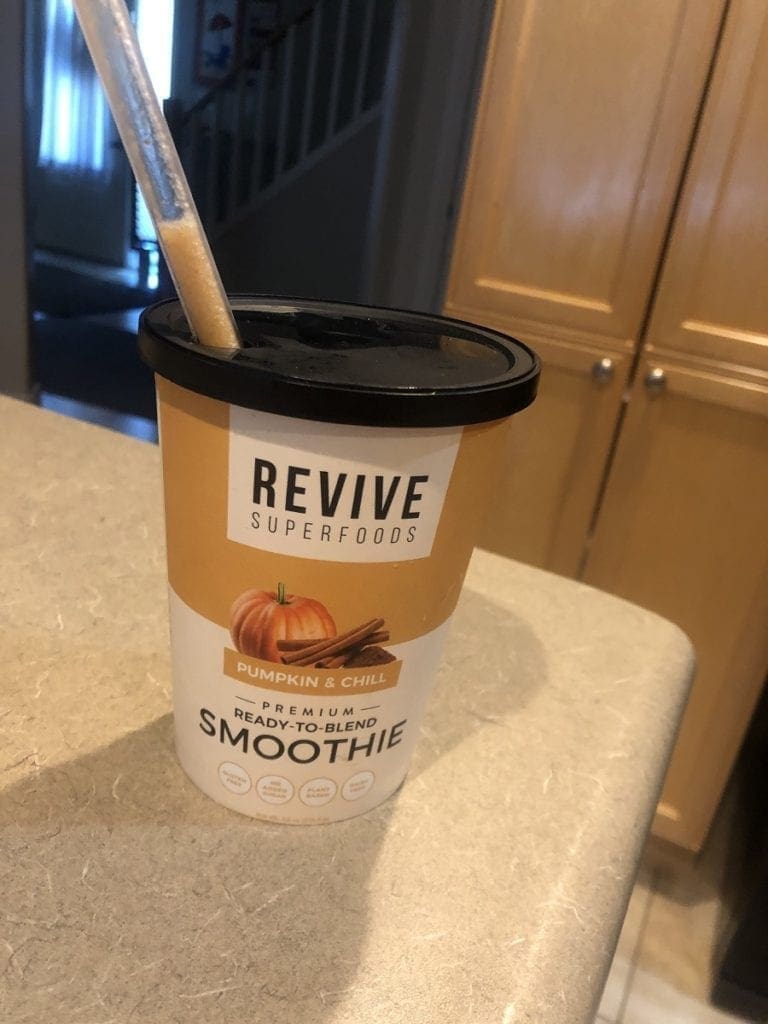 This is the big pro for these smoothie cups.
They are packed and frozen – and they stay frozen until you get the package and unload them.
They come in packaging that tells you what you are drinking, including what ingredients are in there and all the nutritional facts.
You just add water or a liquid of your choice to the top of the cup, then throw everything in a blender and blend. Then you pour it back into the smoothie cup.
The lids have a hole for a straw making these smoothie cups convenient for when you need to run.
All the shopping, measuring, and recipe creation has been done for you.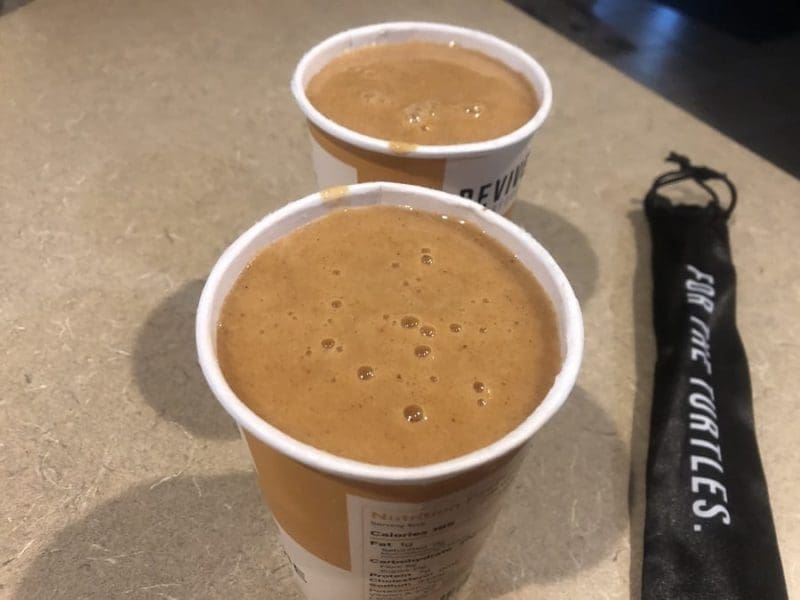 You Can Save And Earn Money
On your first order of smoothie cups from Revive Superfoods, you can get 50% off using a promo code. We did this and bought the monthly plan of 24 cups and only paid $71.88, making our first order around $3 per cup. So, doing the math, a regular order with no discount is going to cost about $6 per cup.

That's not bad. You are paying for the convenience of having everything ready for you, so if you can afford it, or you already go out and spend $6 per day on a smoothie or coffee, it's justifiable.
You can also earn reward money that gets applied to your future orders. Revive Superfoods doesn't have an affiliate program that I could find, but it has a referral program so that everyone with friends, family, or followers can benefit from recommending their products.
It's a refer and earn program where you share your link, and if other people purchase through that link, you earn money. It's a win-win because instead of your friends, family, or followers getting 50% off their first box, they get 50% off their first box and you earn money towards your future box.
Here's my referral code if you want to start the karmic process and save 50% 😉
You also earn points on every order. On your first box, you earn 140 points ($14) and on your second box, you earn 70 points ($7).
And you can earn points in other ways as you can see in the following screenshot from Revive Superfoods.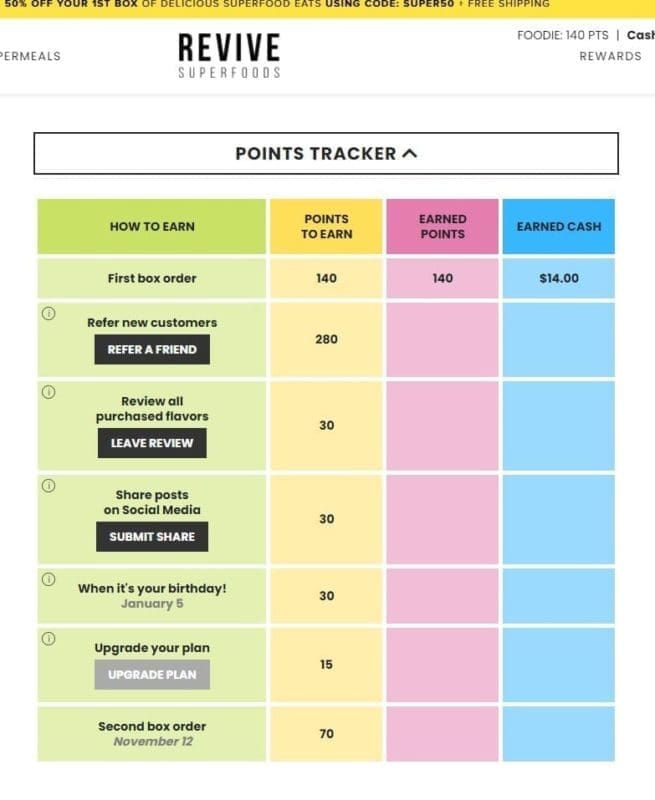 You Order On A Subscription Basis And Can Skip Orders Easily
With Revive Superfoods, you can order a weekly or monthly subscription. With the weekly plan, you can order 9, 12, or 24 cups. And with the monthly plan, you can order 12 or 24 cups.
We ordered the 24 cups on the monthly plan, but with two people having one cup per day, that only lasts 12 days. If we wanted to drink a smoothie almost every day, it would be better to order the weekly subscription for 12 cups. Then we would only miss a day.
I'm kind of surprised they don't offer 14 cups on the weekly plan. Maybe they will in the future?
But, Revive Superfoods makes it easy to pause future orders so that you can get the smoothie cups delivered when you want them (and pay for them when you want to pay for them.)
All you have to do is go into your 'Order History' under the account section. Then you click on 'Upcoming Deliveries' and you are taken to a calendar that shows you when your deliveries are going to be delivered. Then you just click on the day to skip or unskip the order.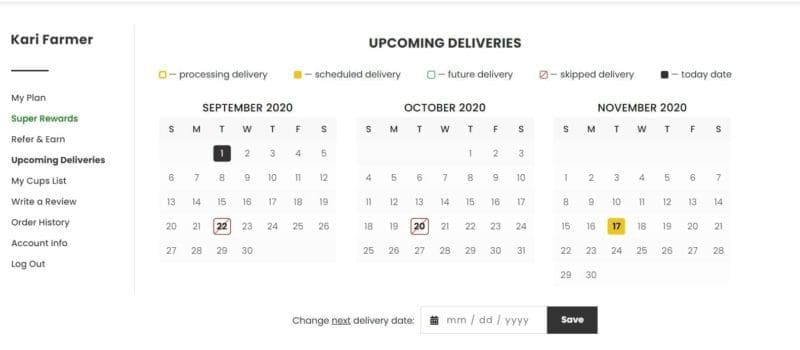 You can also click on 'My Plan' to see your next payment and delivery date. There, you can apply any balance you have earned from referrals to your next order.
The More You Order, The More Gifts You Get
The other nice thing about ordering Revive Superfoods smoothie cups is that the more you order, the more benefits there are.
You can see on the following card that came with our Revive Superfoods order what you get as you move along with orders.

We were thinking that we could gift boxes to my parents, and if they don't like it then it's really just a gift to ourselves!
All Of The Smoothie Cups From Revive Superfoods Are Vegan
All of Revive Foods' smoothie cups are vegan. They are dairy-free. They are also gluten-free.
This is obviously good for me and my husband as vegans. They use vegan sources for protein, which is awesome!
I noticed that in a lot of the reviews for these smoothie cups, people are using almond milk in place of water, so it makes me wonder if a lot of people ordering these cups are vegan, or if almond milk has just become that popular. 🤔 Either way, it makes me very happy!
The Cons Of Revive Superfoods Smoothie Cups
There are definitely a few cons with these smoothie cups.
They Take Up A Lot Of Room In The Freezer
We had stocked up our freezer already because of COVID, so trying to add these smoothie cups into our freezer was a lot. We don't have a super small freezer, but it's not a huge freezer either. It's a 5.5 cu. ft. chest freezer, to give you an idea of how it compares to yours.
So, keep that in mind if you order these smoothie cups. They need to stay frozen, and you don't want to have to knock on your neighbor's door.
They Don't All Taste Great
We ordered all the smoothie cups that we thought we would like, but some of them just don't taste that good to us. They don't taste so bad that we can't drink them, but they just aren't something we would want to drink on a regular basis.
For instance, we thought we were going to love the Morning Mocha smoothie cup.
But it wasn't what we expected. I guess I thought it would be a smooth blend of coffee and cocoa – like a milkshake – but there were a few funny tastes in there that took away from the coffee and the cocoa.
The Pumpkin and Chill one was another one of the smoothie cups that took some getting used to.
We've liked most of the fruit smoothie cups, although there was one with cherries that we found a little bit bitter.
My favorite one was the Pink Dragon. It has banana, dragon fruit, kiwi, strawberries, lychee, acai berries, maca, hemp protein, and chia seeds. It was a good old banana and fruit tasting smoothie.
Big Tip For These Revive Superfoods Smoothie Cups
My biggest tip is to take these out of the freezer well before you are going to make them.
We did most of them straight from the freezer, but we started to realize that they tasted better warmer than they did frozen. (This happened after I left the pumpkin and chill one alone too long because I didn't really like the flavors.)
We noticed that the flavors come out more after they thaw out and that they taste more like what they are supposed to taste like… or what you would hope they would taste like.
You can see how frozen they are straight from the freezer.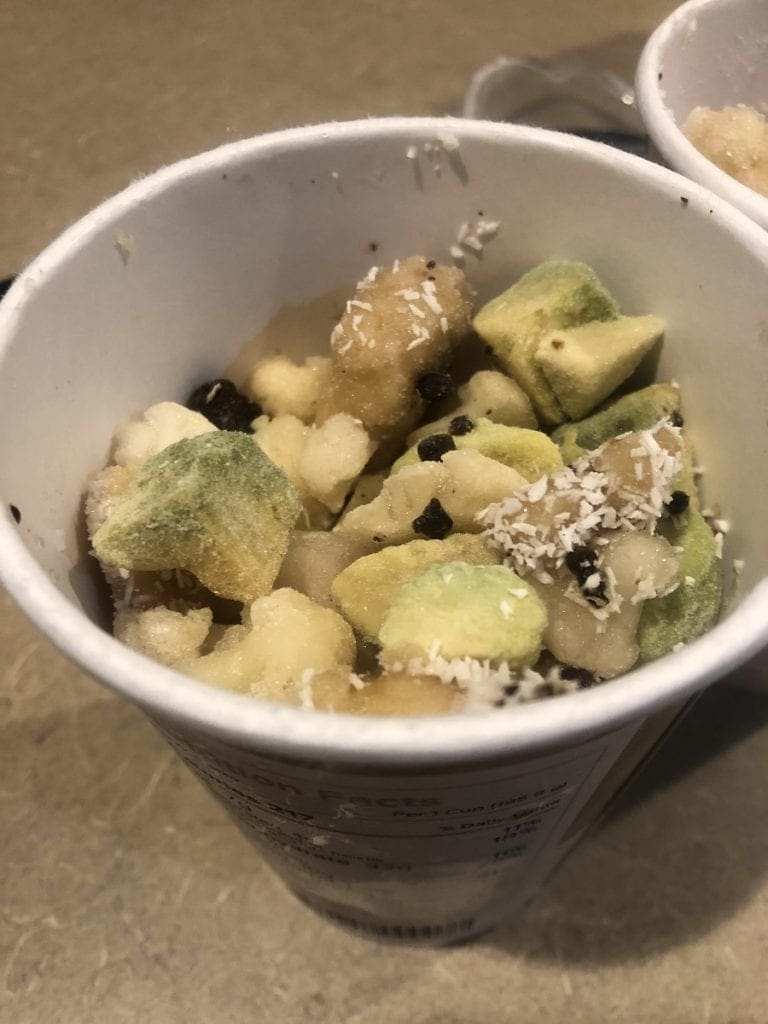 But when you wait for at least an hour or two, everything thaws out and blends better and tastes better, in our opinion.
I've Noticed The Revive Superfoods Website Can Be Slow
I'm not sure if this is my internet or the site, but I've noticed that the Revive Superfoods site can be slow sometimes. It's a pain in the ass when you are trying to quickly go through the smoothie cups or just want to check something out in your account.
Next Time We Order Revive Superfoods Smoothie Cups, We Will Try The Ones We Didn't Try
We are not going to order for a few months. My husband has made a smoothie daily since I can remember and he likes it the same way every day – blueberries, spinach, oat milk, and protein powder are his main ingredients. I'm not the biggest fan of that smoothie, which is why I wanted to try something new.
But I think now that I've tried some new flavors and know what to work with, I'm going to use some ingredients in our expanding freezer and see what I can come up with. I guess that's another pro for Revive Superfoods smoothie cups – they give you inspiration for when you want to make your own smoothies.
I love the ability to just pause your subscription on these smoothie cups rather than cancel it. We can keep our points and rewards and wait a few months to order another subscription. During December, when we are going to be busy with Christmas stuff, it will be a great time to have convenient smoothie cups at our disposal.
Update: We Tried The Falafel Pops
My husband and I love falafel, so we had to try these. They come in a cup, just like the smoothies, and there are only 6 of them.
We threw them in the air fryer at a lower temperature for about 12 minutes. The temperature and time were pretty much parallel to the instructions for them being in the oven. They smelled amazing while cooking and came out looking good.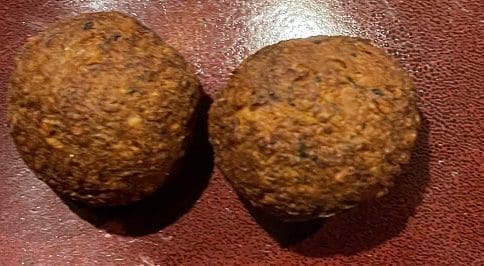 I was excited for the inside tahini sauce because on the website they make it look like there's a lot of sauce pouring out. They say that the pops are 'soft and moist on the inside'.
They are not. Well, one kind of was, but the rest weren't.
We ordered two cups, and there was only one falafel pop that had a little bit of actual sauce inside. The rest had a dry tahini mixture that didn't really stand out from the falafel pop itself. In other words, it's just mostly falafel and then there seems to be some tahini stuff inside, but it's not saucy, it's hard.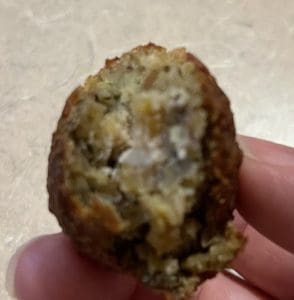 That said, the falafel was flavored well. However, I can make falafel at home easily. I would rather buy one of the smoothies than the falafel pops.
Try Out Revive Superfoods For Yourself
If you are interested in trying these smoothie cups, and you've read this far in the review, please use my referral link here. And if you already have tried them out, please let me know what you think of them in the comments below.