I bought the Moonology Diary for 2022 and the Moonology Oracle Cards. I've been really interested in the lunar cycle and how it impacts our lives lately, so when Hay House talked about a woman named Yasmin Boland and her Moonology stuff, I signed up for her webinar and bought the cards and diary all in pretty much a few minutes. I see that she has other books out there on working with the lunar cycle, so I will probably end up getting that too. But, for right now, let's talk about the diary and the cards.
Here's What The Moonology Diary And Oracle Cards Look Like
I've just started doing some video with this site, so I thought I might as well show you the Moonology Diary and Oracle Cards up close in a video rather than trying to explain everything in an article.
After reading through it a bit more, here's what the Moonology diary contains.
Daily diary space to use as you want. I want to use this to record feelings and thoughts around my intentions for the month, gratitude, and affirmations, as well as any observations or lessons I learned about astrology and the lunar cycle. That's a lot to get into the space provided, but I can shorthand it.
During each new and full moon, you get information about which star sign that lunation is in, as well as what it means for you and how to harness its power.
Each new moon has space to write your intentions out for the month.
Each full moon has a forgiveness and release list.
Moon mantras to use.
Those symbols on each day indicate which sign the moon is in for the day.
We are supposed to get more resources at moonologydiary.com, but that site isn't a working site, so I'm not sure what's going on with that. I wrote in to find out. I'm assuming it's not available until 2022. (Update: They sent me a link to get the bonuses.)
After a few months of using the Moonology diary, I'll update how it's working for me and what I'm getting out of it.
I'm sure I'm going to love using it. It makes me excited as I read through it, and there are a ton of good reviews for the 2021 version of the Moonology Diary, so I can't see this one not being just as good as 2021's.
As I said in the video, I'm really looking forward to learning more about the lunar cycles and how they play a part in my life, including how to use them to my advantage.
The Moonology Oracle Cards: A Quick Spread
I showed the Moonology Oracle Cards in the video, but I wanted to do a quick spread with them. So, I did the past, present, and future spread. Here's what it looks like (seriously, these are so pretty!) and I'll include what it means below.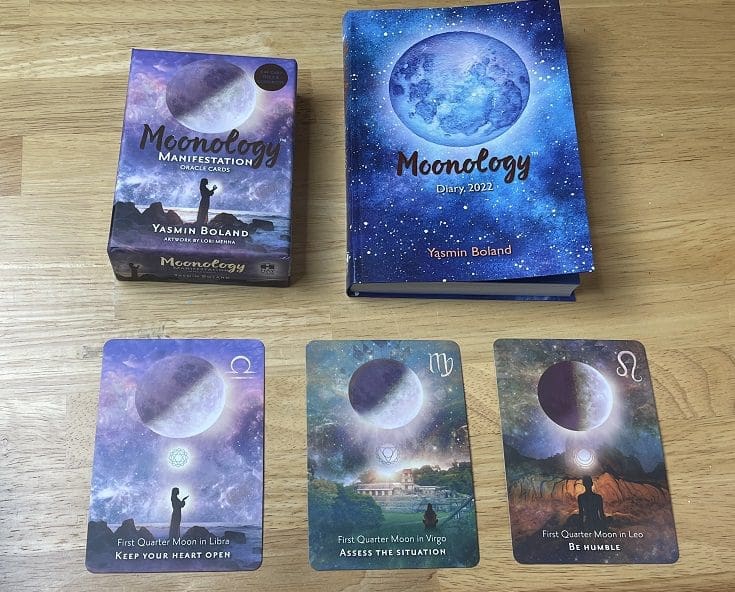 I found it interesting that all the cards I pulled were the First Quarter suit. The First Quarter cards are supposed to reveal how you are being challenged.
Also, each one of these cards is supposed to carry one of the seven chakras. And if you choose to work on overcoming those challenges, you can work with the color of the chakra that aligns with the card's zodiac sign's energies.
Moreover, the cards were in order… if you were to work backward and go from Leo to Virgo to Libra. I thought that was super interesting.
In the companion book, you find an explanation of what the card means as well as sections called Manifesting Mix, Manifesting Mindset, Tune Into Your Manifesting Powers, and When To Manifest Your Magic.
I'll include the most information for the present card because that's the one I'm focused on, but each card includes what chakra to focus on, manifesting information, and more information than I'm including.
Past: First Quarter Moon in Libra – Being too attached to goals. It's important not to get set in your ways and keep your heart and mind open.
Present: First Quarter Moon in Virgo – Laziness is your enemy. Be honest about how much you are doing and how much you should do to manifest your dreams. Be mentally flexible. As far as manifesting powers, tune into your throat chakra and visualize a column over you, then call in the energies with this mantra, "Energies of the first quarter moon in Virgo, thank you for helping me towards clarity and confidence." The best time to work your magic is when the moon is in Virgo or during Mercury's hour. (She includes a resource to figure this out)
Future: First Quarter Moon in Leo – Avoid allowing your ego to overwhelm you. Identity and clear any blocks. (I'll be using the technique from Christie Marie Sheldon's Unlimited Abundance to do this.) The best time to work your magic is when the moon is in Leo or during the sun's hour.
I can't explain how much I love these Moonology Oracle Cards. This is my favorite deck EVER so far. I love the look of the Moonology cards, and I love all the meaning behind them as well as all the information you get to implement into your life. I'm going to be using these a lot!