Last Updated on November 22, 2021 by Kari
For years, I've struggled with what to write about. I've had many different interests over the years, but every time I started a website on one of them, it didn't seem to take off. It went OK, but not the way I expected. Then I would sell the site and move on to something else.
Eventually, I decided to write reviews about things I try, which is how this website got started. This website has been good to me over the years, but I still want to start a website in a tighter niche that helps people in a more targeted way. I've just been scared to do that because I've never been successful before.
Choose by Ryan Levesque has given me a topic to create a website about.
We'll see if it works.
It Took Me A Long Time To Start Reading This
I bought this book in October of 2020 and I just started reading it a few weeks ago.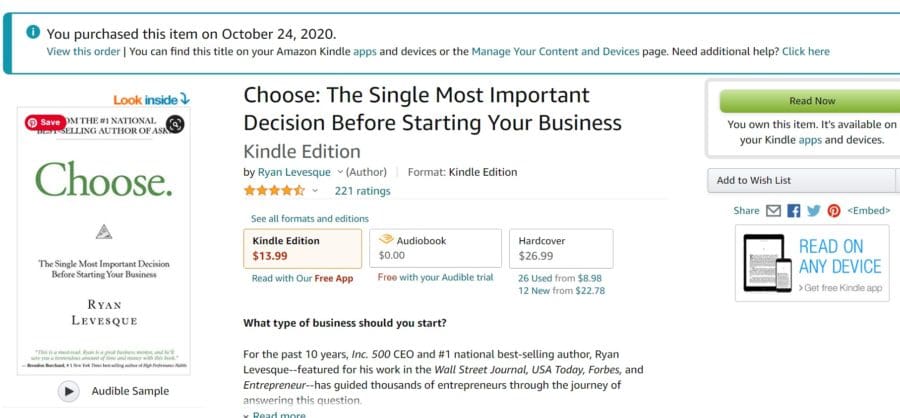 I don't know why it took me so long to start reading it. I've wanted to start a new website for years, but for some reason, I put off reading this and just kept doing what I do.
It wasn't until a few weeks ago when I had that urge to get an offline job again that I started reading the book.
Why would I want to get an offline job?
Sometimes working online gets too stressful.
Sometimes the results don't come.
Sometimes it's stressful to deal with incompetent affiliate programs that screw you over again and again.
Sometimes I see how much better people are doing online who started after me and that's when I mostly want to give up.
A few of those things were happening and instead of giving up, I decided to read "Choose".
Choose Helped Me Find A Niche To Start A New Website On
That's what Choose is about. It helps you choose the right market, or at least the 'should be right' market, as opposed to what I've done over and over again – pick the wrong market.
It takes you through various exercises that Ryan says he uses to choose his own markets.
Most of the things he talks about looking at, I've done at one point in my time online. I don't normally just pick a topic out of the blue. I make sure there's interest in it and that some people are having success with the topic already.
I think the one thing that stood out in "Choose" for me was the Google Trends aspect. Ryan Levesque shows you how to find the sweet spot in Google Trends that's not too high and not too low. That was an interesting section to me, and now I run all kinds of ideas through the Google Trends test he laid out.
After I went through all the exercises in the book, I came out with a niche that, according to Ryan Levesque and his method, should do well. It passed all of Ryan's tests, which include making sure there is a demand for your niche and adequate traffic and competition for your niche.
Actually, I had a few niches past his tests. But the one I'm choosing is something I'm passionate about. Hint: it relates to dreaming. Anything in relation to dreaming is something I will never stop being passionate about, so it makes sense to pick a niche that is based around it.
I'm a little worried though. There's some good competition out there for the niche I want to write about… well-established competition that has covered all the nooks and crannies of the subject.
That's Where "Ask" Is Supposed To Come In
If you read "Choose", be prepared to be sold to after you're done. Ryan Levesque recommends reading his other book, "Ask", next.
Ryan Levesque says that "Ask" was made first, but when he realized that some people using the ask method were not succeeding, he realized it's because they were picking the wrong markets. And that's why "Choose" was written.
I had bought Ryan Levesque's book "Ask" long before I bought "Choose". And I didn't read that one either.
So, I'm just starting to read Ask to see how I might be able to stand out from the competition and give my readers (assuming I get any) what they want.
It has some great reviews on Amazon, and it's supposed to help you figure out what your reader/customer wants through various quiz funnels. At least that's what I've gotten from it so far.
We will see if the method is for me. I have a hard time putting pop-ups on my sites. I don't like to bombard readers with too much stuff, but quizzes sound OK, right?
We will see. I'll write a review on that book when I'm done.
If the method doesn't resonate with me, I guess I'll do what I've always done – write unique articles that I think add some value.
"Choose" Is About Selling Education And Expertise
If you are going to read the book, you should be interested in selling education and expertise, because that's what Ryan Levesque focuses on. It's also something a lot of bloggers focus on, including me, so it fits in perfectly with my desires and style.
That doesn't mean that his method won't help you are focused on creating a site around something else, but he promotes selling education and expertise a lot, and a lot of what he talks about relates to that.
This means if you want to build a membership site, a coaching career, an informational website, an online service, a site focused around a cause, or something similar, you will find this book valuable if you are not totally sure what aspect you should focus on.
In short, "Choose" helps you define what you want to do clearly and then figure out what to focus on so that you attract the audience and customers.
I read it on Kindle, and it was just fine to read on there. You can find it on Kindle, audiobook, Hardcover, or Paperback on Amazon.