For Christmas, we got an Instant Pot. I'm planning on doing an Instant Pot review once I cook more with it. Before the Instant Pot, we already had two pressure cookers that we used daily. We still use them to make the dog's food and occasionally for our beans. Pressure cookers are our go-to kitchen tool. We are always either making beans, rice, lentils, or one-pot meals. The Instant Pot makes pressure cooking so easy, which makes me extremely happy.
We Got The Rainbow Plant Life Cookbook With Our Instant Pot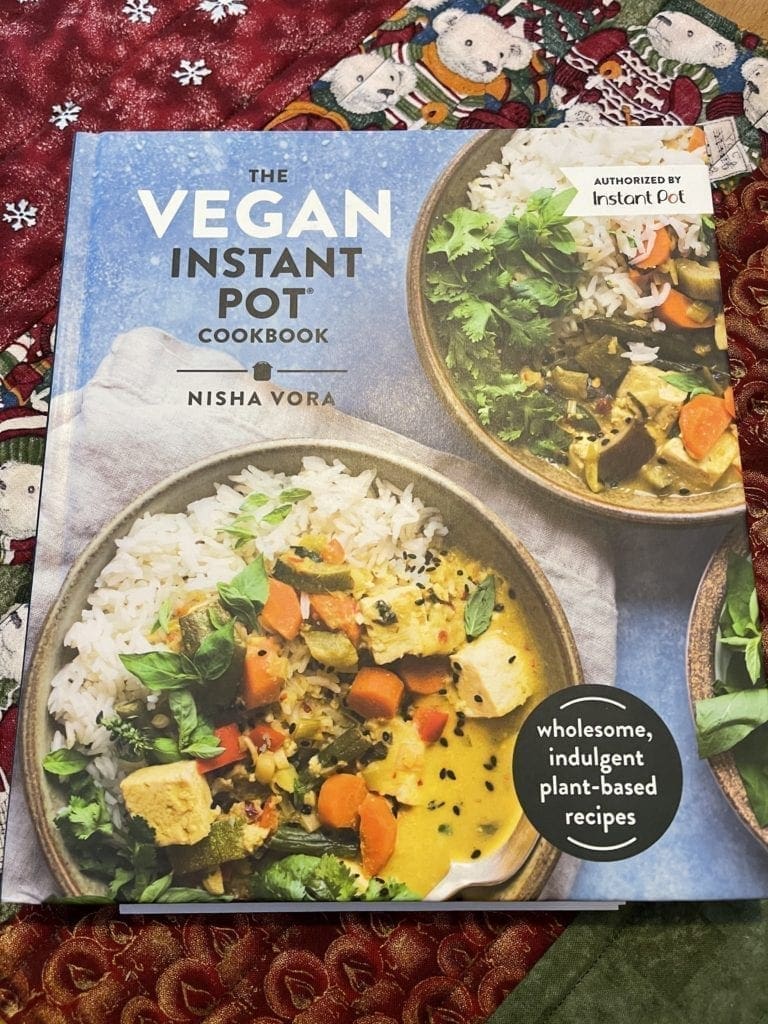 I've cooked a few things in the Instant Pot already, and besides some potatoes, they have all come from the Rainbow Plant Life cookbook (that we got with our Instant Pot as a gift) or from the Rainbow Plant Life website.
A while ago, I wrote about the best bean curry that I've ever made, and that was from Rainbow Plant Life. But I still didn't follow her at that point for some reason. I guess I had too many other recipes to check out and try.
That changed when we got her Vegan Instant Pot cookbook to go with the Instant Pot.  I've pretty much only made new recipes from her cookbook since Christmas. She is a vegan genius. We've liked everything so far. The one that stands out is a fire-roasted lentil soup from her book that I could eat every day. The flavors are amazing.
Pumpkin Lasagna Soup Is A Thing – And It's Delicious
One of the recipes I made from Rainbow Plant Life was the Vegan Instant Pot Pumpkin Lasagna soup.
I made it because I had leftover pumpkin in the cupboard from Thanksgiving. I've heard of pumpkin stuffed pasta before, so I knew it was a thing. I went to the Rainbow Plant Life site and searched for pumpkin pasta and got the recipe for the lasagna soup.
Honestly, I didn't think it was going to be amazing. I thought it was going to taste like pumpkin soup, not like lasagna soup. But I was wrong.
This soup IS amazing. It calls for pumpkin, chickpeas, coconut milk, and nutritional yeast along with the regular tomato sauce, spices, and pasta you would put in a lasagna.
She does her spices with a bouquet garni with fresh herbs. I only have dried herbs, so I just dumped mine in there like I would when making minestrone or Italian pasta sauce.
She also called for 2 tablespoons of nutritional yeast and I'm sure I put in at least 4 tablespoons. Again, I just dumped and didn't measure.
I made half the recipe because I've vowed to stop cooking so much food that we always have leftovers… and we still had leftovers. (It's just the two of us.)
And I used a vegan ricotta recipe that I always use which I already had in the fridge because I had made it for stuffed pasta shells the night before.
The result was delicious.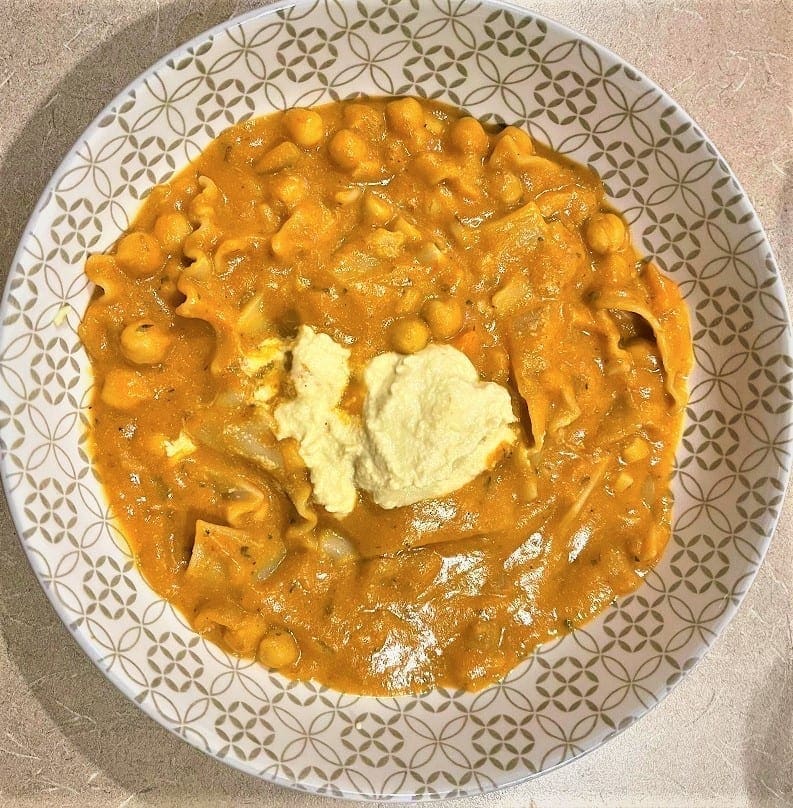 I still can't believe how good the pumpkin is in there. I think what the pumpkin does is give it an extra creaminess. It was creamy and thick and delicious. I didn't taste one ingredient over the other. It all combined so wonderfully.
I didn't even mind the chickpeas in there. My husband loves chickpeas, so I threw them in. But the flavors from all the ingredients took over the chickpeas and made this dish of lasagna soup delicious spoonful after spoonful.
And it didn't taste like coconut milk, which I was a little worried about too. Normally I only put coconut milk in heavily spiced foods, such as Indian food. But, it melded with the rest of the ingredients deliciously and didn't stand out.
And the ricotta is what threw it over the top. Don't leave out the ricotta. It completes that lasagna taste.
I highly recommend trying this recipe and every recipe on Nisha's Rainbow Plant Life site. She hasn't failed me yet!