Last Updated on January 8, 2021 by Kari
Sometimes I wish I could just eat whatever I want without thinking about ingredients and having to write to companies to clarify certain things. But, choosing to be vegan, I don't get that luxury.
President's Choice is pretty good at labeling their products correctly. If something is vegan, they label it as a vegan product. If something is vegetarian, they label it as a vegetarian product. But recently I found a product that is labeled as vegetarian but appears to be vegan. The product is the PC Breaded Avocado Bites.
Says Vegetarian, But Ingredients Look Vegan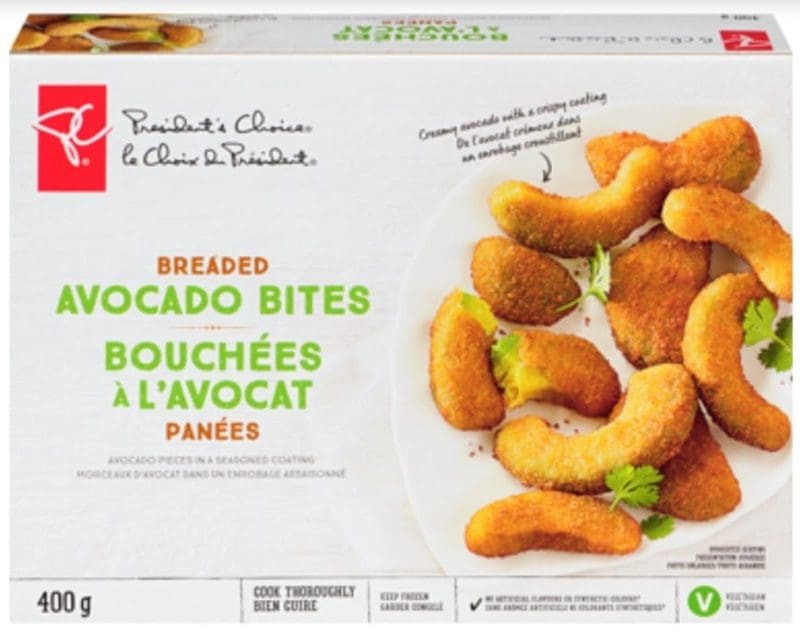 On the bottom right, you can see that it says vegetarian.
But the ingredients are as follows:
Ingredients: Avocado (Avocado, salt, ascorbic acid, citric acid), Toasted wheat crumbs with spice extracts, Water, Enriched wheat flour, Vegetable oil, Modified corn starch, Corn flour, Sea salt, Natural flavour, Garlic powder, Onion powder, Sodium phosphate, Salt, Baking soda, Guar Gum.
As a vegan of a few years, these ingredients in the President's choice Breaded Avocado Bites look vegan.
Plant-Based Options…
To make it more confusing, looking up Avocado Bites from PC, I found this page where they talk about how they make them. They mention that with more people looking for plant-based options, they thought it was time to have a little fun with avocado.
Then it goes on to talk about how they pick the avocados and found the perfect coating after lengthy testing.
But there's nothing in there that helps me understand what makes this product vegetarian instead of vegan.
I had written in once to ask them and received no response.
So, I got my husband to write into President's Choice and ask them what the deal was.
The Response From President's Choice
My husband wrote to President's Choice and asked them if the product is vegetarian or vegan because, even though they are really good at labeling products, the ingredients appear to be vegan.
Obviously, I was hoping they would answer back and let us know what makes it vegetarian over vegan.
Instead, we got this dumb answer.
As the box indicates, the product is vegetarian.

Please let us know if you have any further questions.

Sincerely,
Terri
Loblaws Customer Care
Gee, thanks. That was extremely unhelpful.
My Best Guess On What Makes It Vegetarian Over Vegan
Either the toasted wheat crumbs or the natural flavor is likely the culprit here.
However, I thought allergens such as milk needed to be declared, so I can't even imagine what type of ingredient is in here that makes it vegetarian but not vegan.
Why Won't President's Choice Disclose Why They Are NOT Vegan?
I'm pretty good at reading ingredients and understanding whether or not a product is vegan, but these President Choice Avocado Bites have stumped me.
President's choice is usually very good at labeling their products correctly. They have a whole line of clearly labeled PC vegan products and I've tried a few, so I know they understand the difference.
I guess Terri from customer care just doesn't know the difference or is not allowed to disclose the difference. Either way, I'm not liking it.
We should be able to make informed decisions on the President Choice products we buy, along with any other product on the market.
Is that really too much to ask?
The Lessons From President's Choice Avocado Bites
I'm surprised by this product, to be honest. It doesn't make a lot of sense to me why it looks vegan but isn't. President's choice has been so good with their products in the past.
The first lesson is that if it's labeled vegetarian, but it looks vegan, then believe the PC label. There is something in there that is not vegan, and they are choosing not to disclose it.
The second lesson is that you can make something as simple as avocado bites at home, and if you are vegan, you probably should. When something as simple as the ingredients on President's Choice Avocado Bites cannot make it clear why it is not vegan, it makes you wonder what you are really eating through store-bought products. Cooking at home allows you to know what's in your food and be confident that there are no hidden allergens or products that you don't want to be consuming.