This was my second attempt at making a pizza that my favorite vegan pizza place served. It was called Habanero Hell and it was created for Halloween. My first attempt was good, but the sauce wasn't spicy enough and there were a few ingredients that I wanted to add as toppings. The good news is that I don't need to do a third attempt because we have found a winner for our habanero Greek pizza and it's how we are going to make it going forward. Here's how I made it.
The Habanero Sauce
It took us a long time to find habaneros for some reason. I guess our pizza joint was buying them all out? In any case, I did the sauce almost exactly the same as I did it last time, except I added less sugar and two habaneros.
One can of diced tomatoes (796 ml)
1/2 can of tomato paste
Two orange habanero peppers mostly deseeded
2 cloves of garlic
1 tsp sugar
1 tsp agave
1 tsp salt
1 tsp onion powder
I blended all the ingredients together in a Vitamix. I recommend doing this in a high-power blender because then you can blend up that habanero so fine that you don't get any big chunks that are too hot to handle. (Unless the average person's hot is mild to you, like my husband… then you might not care.)
Then I threw it into a pot with 1 tbsp of olive oil and let it cook and reduce for about 40 minutes and low-medium heat.
I didn't remove all the seeds from the habanero, but I removed most of them.
The sauce was hot to me. I ended up taking a taste and it hit the back of my throat and threw me into a panic because it was too hot.
My husband thought it was perfect.
As it cooked and boiled down, the taste blended out to me. It was hot, but not something that was going to kill me.
The sauce was not like Die Pie's, but close. The heat was there, but I'm not sure if they used something sweet or what to get their sauce to taste the way it did. I couldn't figure it out. Their sauce was also kind of orange looking, but not mine. It's red like any tomato-based sauce, so I'm not sure how they pulled that off. Maybe more habaneros?
In any case, I'll let them have their delicious sauce and we will have ours. They are slightly different, but both very good.
I didn't use a lot of sauce on the pizza because I was scared I wouldn't be able to eat it with too much sauce. My husband put some sauce in a container and dipped his pizza into that.
We had some habanero sauce leftover and my husband used it with pasta for lunch the next day. So you can get some extra uses out of this sauce if you like the heat.
The Vegan Ricotta
The only recipe I use for vegan ricotta is this one from Simple Veganista. It's been one of my favorite vegan cheese replacements for a long time.
I have used this vegan ricotta in lasagna and stuffed shells and it always turns out good.
Make it as is. I've used both the lemon and the apple cider vinegar, and it works either way.
Perhaps the only thing I do differently is add extra nutritional yeast. I don't even measure. I just dump until it seems like it should be enough.
The Vegan Pizza Dough
As I said in my last pizza recipe article, I don't measure out anything for my pizza dough.
I simply throw in equal parts yeast and sugar (maybe 1 tbsp each), and then about a cup of warm water and let that get foamy.
Then I add some flour (maybe 2 1/2 cups), oil, and salt and mix it up. I add more flour as needed and more water as needed until I get a smooth dough that doesn't stick to my fingers.
I let it rise for an hour or more and that's it. It comes out good every time.
Putting Together The Habanero Greek Pizza
I got grape tomatoes this time but didn't get the red onions, so white onions were used again.
I simply put the sauce on, then the onions, then dolloped the ricotta cheese and tapenade on top of the pizza. Lastly, I threw the tomatoes on.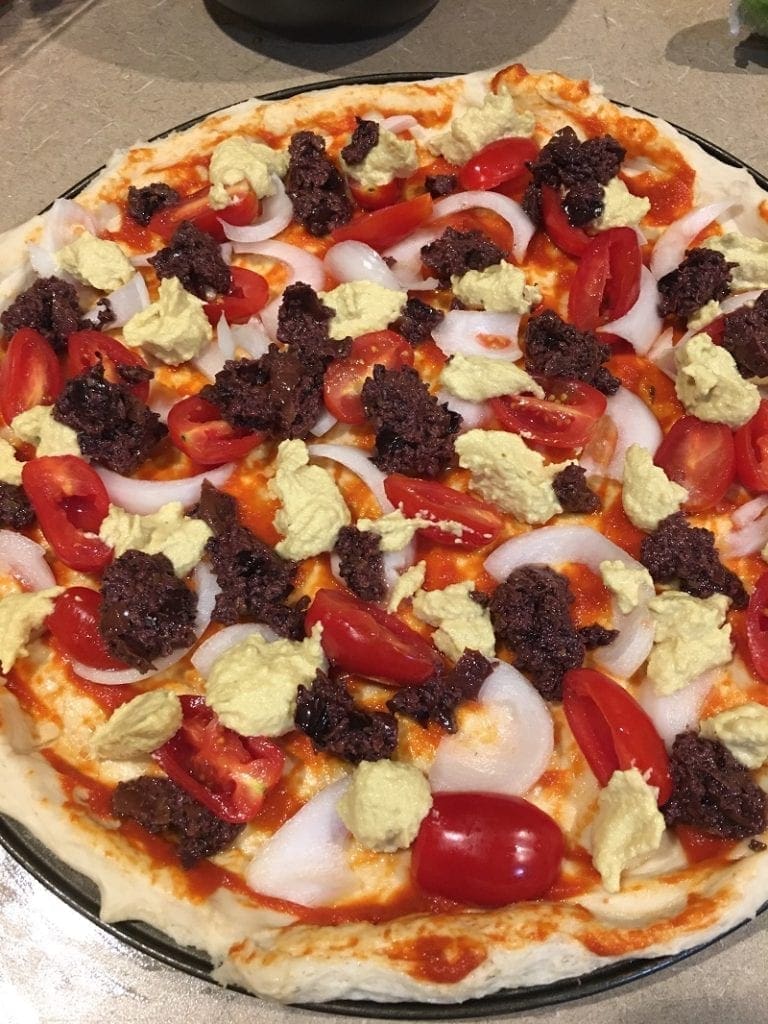 I cooked the pizza at 450 degrees F until the crust was looking brown, and then I broiled it for about 1 1/2 minutes until I got concerned the crust might burn.
When it came out, I threw on the cucumber and that was it! We didn't have any basil, so that was still missing. But it came out perfect.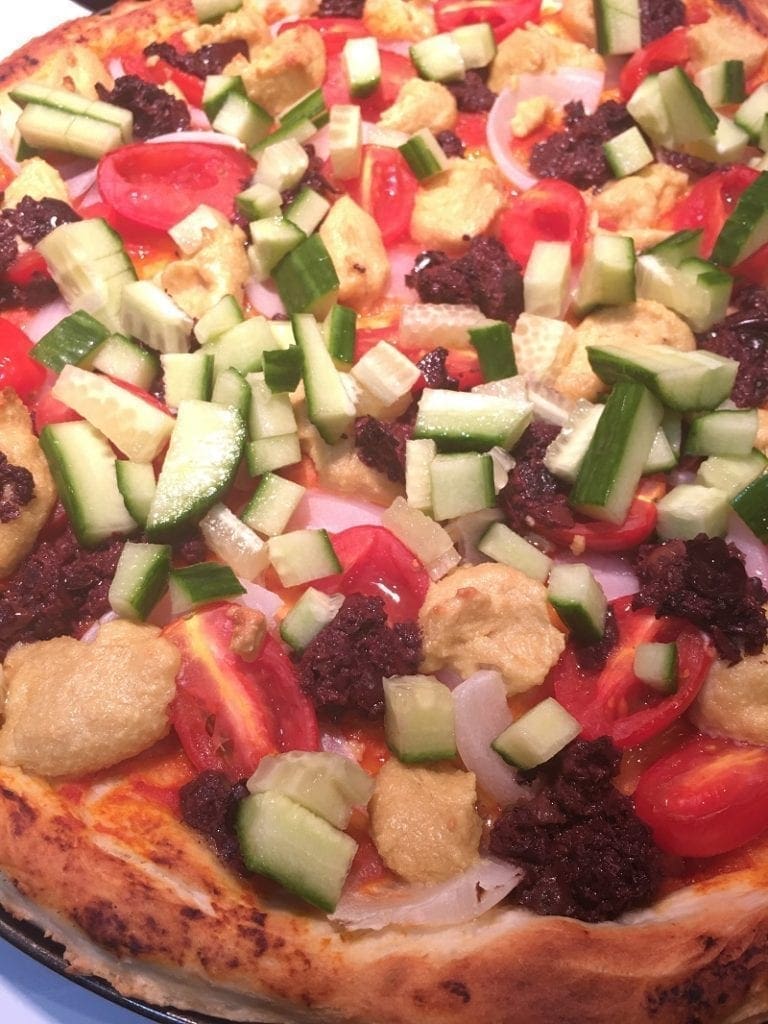 Holy moly this pizza is good. The best part is you can add as much or as little of something as you want.
I could probably make the whole pizza topped with ricotta and tapenade and be fine, but every single ingredient was good.
The habanero sauce wasn't as strong when you combined it with the other ingredients in the same bite, but you could feel the heat at certain points.
Sometimes we have leftover pizza, but this time it was all gone. It's safe to say this is our go-to pizza going forward.