I'm currently playing around with a video maker called FlexClip.  It allows you to easily make quick marketing videos and throw them up on your blog, social media account, or on YouTube. But you can also make personalized videos for friends or family. So far, it's been very user-friendly and I've only had a couple of issues with it. Here's my FlexClip review.
FlexClip Has Video Templates For All Kinds Of Things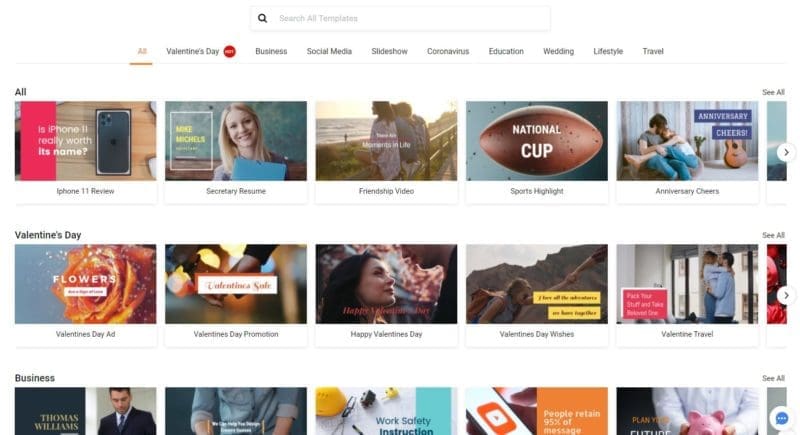 Templates are the best! All you have to do is go in and edit the template to make it your own.
Because it's close to Valentine's Day, they have Valentine's Day templates.
They also have video templates for:
Business videos
Social Media – YouTube, Facebook, Twitter, and Instagram are all covered.
Slideshows
Coronavirus
Education
Wedding
Lifestyle
Travel
Sports and fitness
Restaurant and food
Art and culture
Fashion and beauty
Animal and pet
Family
Nature
Technology
Automotive
How-to and tutorial
Various holidays
Reviews
Most of these videos are fun, quick videos that contain video, pictures, text, and music.
You can check out all the video templates they have here.
You can easily customize these templates to fit your needs.
It's Really Easy To Edit A Template Video On FlexClip
You can easily edit the text, image, video, and music within the FlexClip templates. All you need to do is click on customize and it's very user-friendly from there.
I chose a Halloween clip just to show what I mean.
As you can see in the following screenshot, you have control over all the elements. You can change the text, overlay, elements, background, music, speed, and add a watermark. You can record your voice over it, upload your own files, crop the clip, split the video, and add more clips or delete some.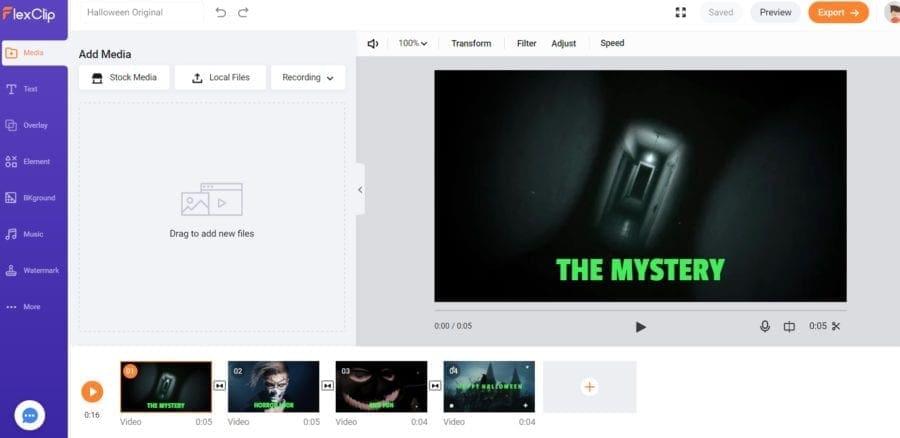 You can also adjust the exposure, contrast, brightness, temperature, tint, and saturation.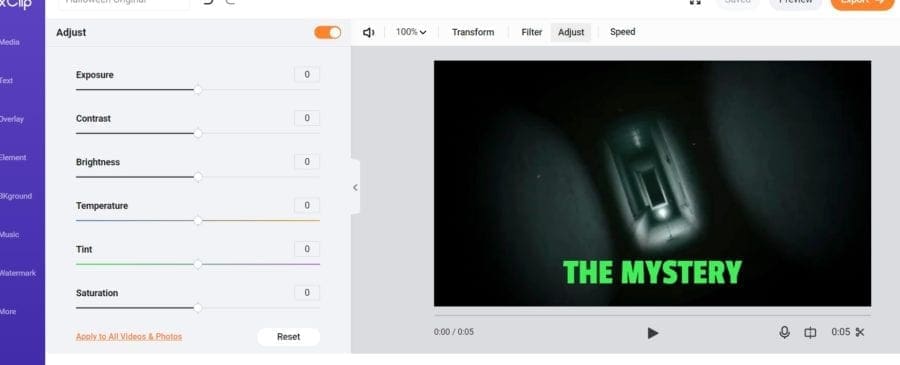 And you can apply a filter to your video or image.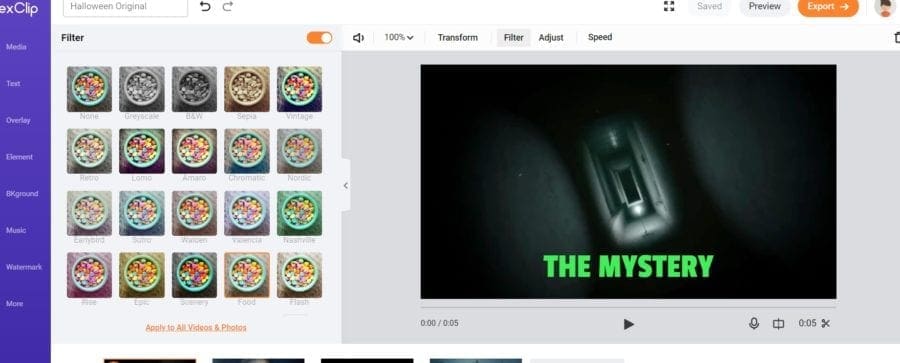 And you can flip the image or video and rotate them.
Plus, you can see what your video will look like on all kinds of screens.
You can also play with the sound to make it louder or quieter – or mute it altogether.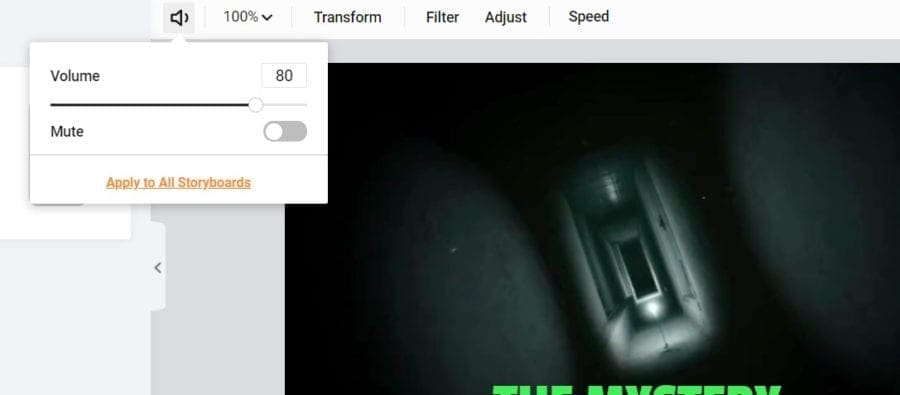 In short, you can do pretty much anything to customize your video. I can't think of anything it doesn't have.
Here's a quick example of how easy it is to edit on FlexClip. I used a Halloween template.
Here's the original template:
Here's the video with my text and video edits:
The only issue I had was that I tried to add another cool zombie video clip, but it wouldn't add. It downloaded, but then it just froze saying it had downloaded at 100%. I couldn't even click on it to do anything with it. When I refreshed the screen, the clip outline was there, but it was blank – completely white and no time on it. So, I went back into the stock video and found another zombie clip which downloaded fine and didn't freeze. Not sure what happened there.
Here's A Quick Screenshot Video Demonstrating How To Customize A Template Clip
I recorded my screen to show how quickly I could edit one element of a template I wanted to use. There will be sound popping on and off because it's also recording my screen's sound.
If I had wanted to change the music for the entire session, all I have to do is click on music and then pick one of their selections.
My husband and I like the scary music. They have creepy kids laughing, which is the ultimate creepy sound to us, but they also have a lot of good horror and suspenseful music. I feel like that kind of music could be used on every video for dramatic effect.
For instance, I added audio called 'End of Days' to the clip and it sounds intense. Have a listen.
You can also upload your own videos and pictures to put inside of the videos.
You Can Create A Video From Scratch
As of this FlexClip review, the Timeline Mode is in beta, so it's not fully functional. Still, I tried making a video for my Quest All Access Pass review, and it went pretty well.
A few things I couldn't do:
I couldn't change the layout of the text, which was frustrating. It was all in one box that couldn't be resized horizontally or vertically. You could only grab it by the corner and resize it that way.
I couldn't access the free music clips so, after I realized I couldn't get my voice to record, I had to go find some royalty-free music.
You can only type in 200 characters, so I couldn't get in all the words I wanted to on one slide.
Here's the video I made it with it rather quickly. I simply made text boxes and then I used screen recording. Then I dragged in my own music. It didn't take me too long to do it.
What About Copyright?
I'm going to be using FlexClip for reviews and videos on my blog, but I know a lot of people would want to use the videos on YouTube. So the question is can you use the music and stock pictures and videos on YouTube and not get a copyright hit?
On this page, FlexClip says that you shouldn't get a copyright claim, but it can happen. They also say that they can help you get the copyright claim released.
I know with Canva, you can connect your YouTube account, and when you publish a video with their music, you are not supposed to get hit with a copyright claim, but even they say you can be hit with copyright if the media contain an identifiable person, logo, place, or trademark, so it's important to use common sense.
I noticed that a lot of their stock picture seem to be from Unsplash, which is a place that has freely-usable images. But I also noticed that the images on Unsplash have actual people who have taken the pictures. I'm assuming they are allowing their pictures to be used for exposure.
One day I'll upload FlexClip's videos to YouTube and I'll update this review and let you know how it goes. I just don't have use for a YouTube channel right now, but maybe I could do a review on YouTube and use FlexClip.
The FlexClip Plans
There are 4 different plans with FlexClip, but if you are planning to use the service for professional reasons, then the business plan is the only plan for you. This is because it is the only plan that allows unlimited stock videos per project. Moreover, it allows you to create a video up to 30 minutes in length.
In the plan one step down, you can only have 5 stock videos per project and only create a 10-minute video. It's a HUGE difference.
You can see what's included in each plan plus the prices on this page. Note that you can choose to pay annually or monthly.
FlexClip Videos Download And Upload So Easily
I saw some negative FlexClip reviews saying that they were unable to download their videos. I don't know if this was an issue that FlexClip was having before, but it seems to be fixed. At least for me! I have had no problem downloading the videos I make.
All I do is click on Export and choose the resolution and format.
And then it gives me a message that it's downloading. And then it downloads with a confirmation message where your MP4 or GIF has been downloaded.
I have had zero issues with downloading.
I also haven't had any issues uploading to my site.  I just upload it as a media file, and it inserts and plays easily.
I also tried uploading a video to Twitter and it was super easy, and it looked and sounded great.
I'll Continue To Update As I Use FlexClip More
I just started to play around with the video editor, but for now, I like it. I have a lot of things I still want to try on it.
I know that FlexClip is going to come in handy to do quick screen capture videos and other interesting videos that will liven up a blog post. And, if I ever decide to work on my social media accounts more, it's going to come in great for posting quotes, messages, ideas, etc.
I can see how it would be good for conveying marketing messages for a small or large business. You can create a quick, catchy video that tells people exactly what you want them to know, then share it on your website or social media.
And you can easily create a video to send to family or friends through email or social media.
You can try this video creator out for yourself here.
If you have any specific questions about FlexClip or want me to try something to see how it works, let me know.