Last Updated on November 18, 2021 by Kari
Luxe Box is a Canadian beauty and lifestyle subscription box. I decided to give it a try when I got an email that I could save a few bucks if I used my American Express. It seemed like $20 with free shipping was a decent price to try out the box and see if I liked it.
I had heard that you get 7 to 8 trial or full-size items, so I was surprised to see so many little items in my box. But then I checked out the about page on their site and it says that you only get 7 to 8 trial-sized beauty and lifestyle items, so I guess that is part of the deal.
In any case, it gives you a chance to learn about and try out some products that you may not have otherwise known about, which was certainly the case for me in this box. Following is what was in the box and my thoughts on each item and whether or not it was worth it for me. (Note: I've tried it a few times and have the same verdict!)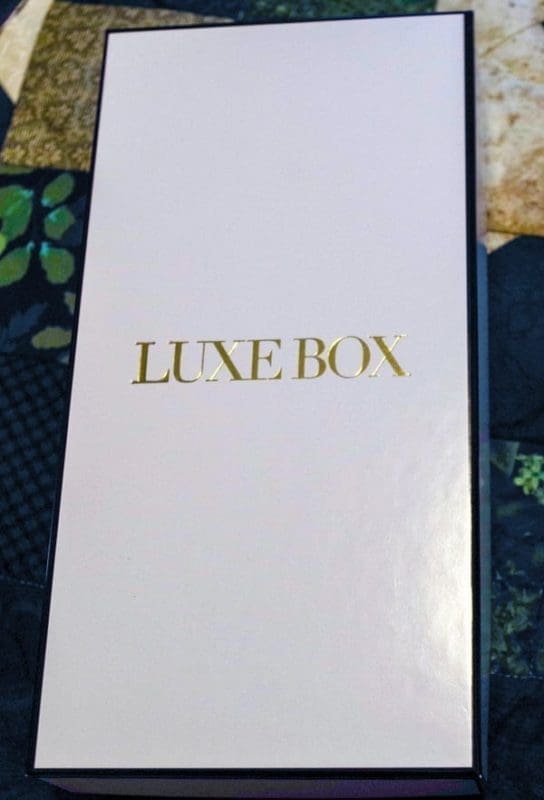 1. Retinol Ceramide Capsules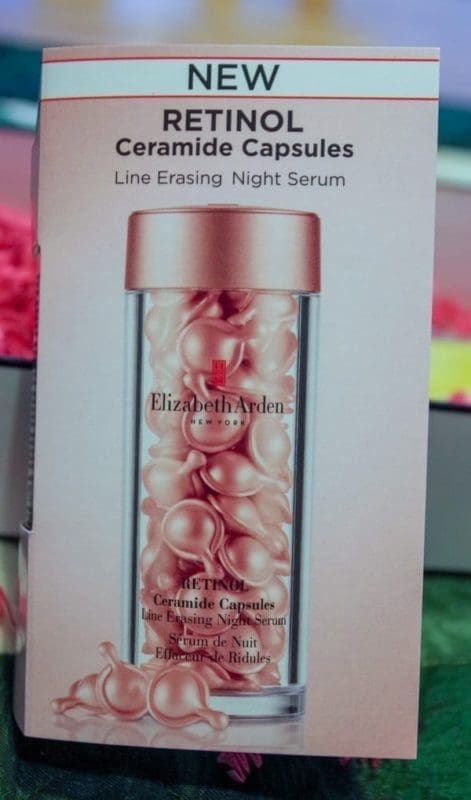 This is a 1-week sized container with 7 capsules. You can buy 60 capsules for around $100, so this would be worth around $11 if my math is right.
These are supposed to help visibly diminish lines and wrinkles as well as improve skin texture and tone. You simply open one capsule at night, put it on your face and neck, and then put your moisturizer on. You can read the full details on it here on the Elizabeth Arden site.
I wouldn't buy this because the ingredients are not things I want to use long term. For instance, the first ingredient, Cyclopentasiloxane, is listed as having moderate concerns of organ system toxicity and low concerns of endocrine disruption and neurotoxicity. And the C18-36 Acid Triglyceride is possibly from animals, but it's hard to tell, so as someone who lives a vegan lifestyle, it's hard to want to use something that could or could not be free of animal-derived products.
2. Cougar Eyeshadow Contour Set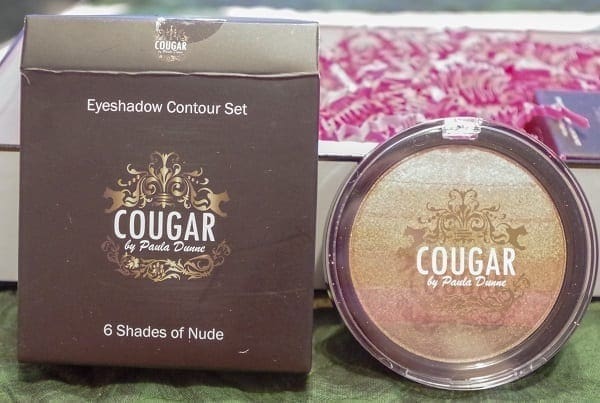 This 6 shades of nude eye shadow palette is offered on the Cougar Beauty Products site for $22 CAD. The one I got in the Luxe box is about 6 grams as opposed to their 40-gram product, so it would work out to about $3.30… again, if I'm doing my math right.
It suits me because it's neutral colors, but it does have beeswax in it. Nothing else in the ingredient list seems to be animal derived.
I don't understand why animals are involved in some way in almost all beauty products when there are so many vegan alternatives.
3. Laritzy Wonder Dew Pot
This is a highlighter that you use on the high points of your face to add some radiance.
The wonder shade is called Icy White on their site, and the price is about $27 CAD. But, I can't tell if the dew pot in the Luxe box is full sized. I don't think it is. It's only 0.12 ounces, and I imagine they would sell it in a bigger size pot than that. Weirdly, I can't find the size of the pot for sale on their site, so I can't do the math on this one. I'll be generous and say this is about $5.
It does say 'cruelty-free' right on the side of the container. And it contains something called ceresin, which is apparently used instead of beeswax. So, I think I will give it a try.
4. Toleriane Sensitive Prebiotic Moisturizer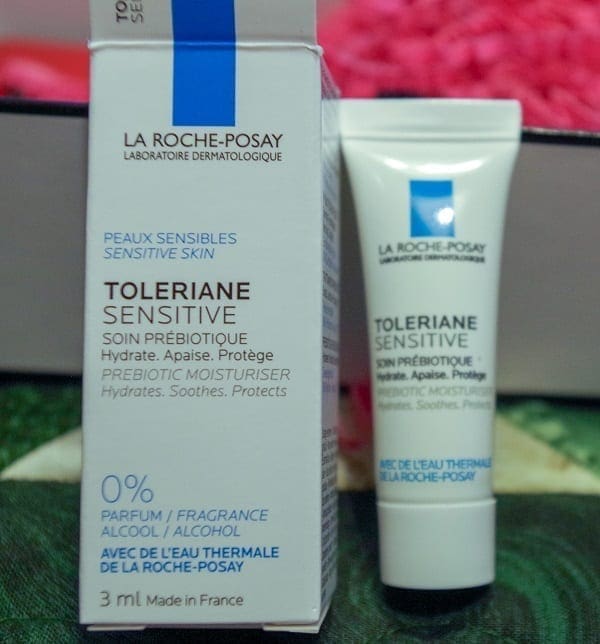 I was really hoping for a moisturizer in the Luxe box. The one in the box is an obvious trial size at 3 ml. On this site, the full size costs $25 CAD, but I can't find the actual size of it so I can't really do the math on what the little trial size is worth. I can say that in terms of days, it might last about two days and that's about it. It's so, so small. It would definitely be a free sample.
One of the ingredients, Ammonium Polyacryloyldimethyl Taurate seems to be a mystery ingredient. I can't find any information on it.
And Stearic Acid (along with a few other ingredients in this cream) can be derived from both animal and plant products.
Isn't it weird that they don't label which one it's derived from? Or is that just me?
I won't be using this because I just don't know what's actually in it.
5. Mac In Extreme Dimension Lash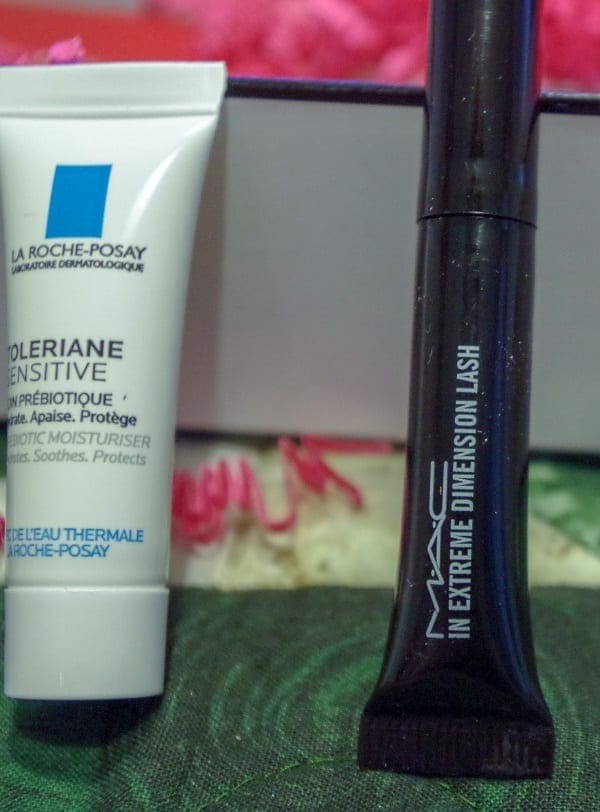 This is a small sample size of mascara. I put it next to the cream so you can see that it's even tinier than it.
It's so small they don't even put a weight on it. On the Mac Cosmetic site, the .14 ounce is $14 CAD. But, I would say this sample size is a few cents at best.
Not much to say about this. It's a mascara with too many ingredients including Carmine. WTF? What's wrong with people?  Carmine is derived from insects. Crushing insects. It makes my blood boil that this would even be in mascara.
Won't be using this at all.
6. Climax Mascara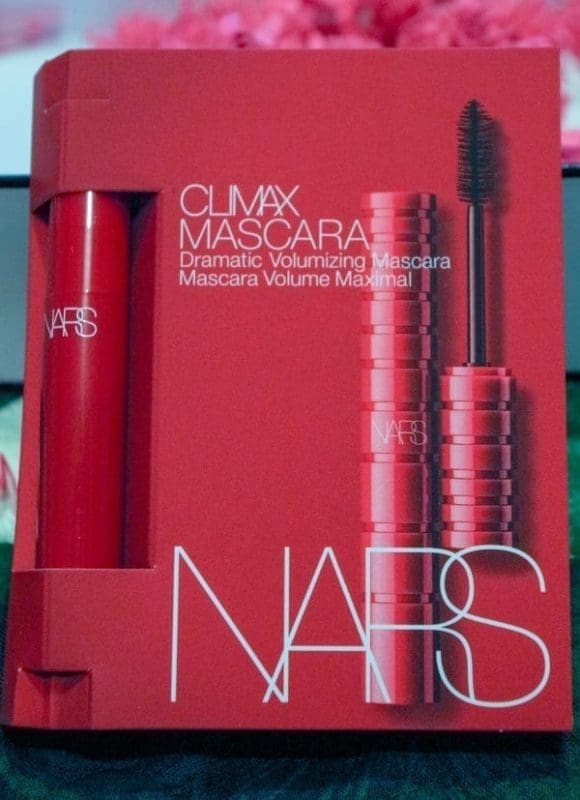 More mascara in a small little bottle. I didn't take a picture of the little bottle itself (you can see it on the left of the card anyway), but the weight says 0.06 Oz. on it.  It sells on Sephora for $30. On the Nars site, it comes in two sizes, so I assume the one on Sephora is 0.21 oz. So this sample would be worth about $1 in my calculations.
It contains synthetic beeswax, which is not something I've heard of before. This article mentions that some cruelty-free brands mention that their synthetic beeswax is not vegan because it contains beeswax… again, WTF.
This mascara doesn't have the best reviews, so I'm not going to squint and go through the rest of the ingredients to see if they are vegan or not. For such a tiny size bottle, it's just not worth the effort. I won't be using it anyway.
7. Pedi In A Box By Voesh
It says right on the front of this – vegan spa – which was SO nice to see.
It has a scrub, mud masque, and massage cream in it. The only place I could find a price for it was on this site for $4.00.
I paid an extra $10 to get this done last time I had a pedicure, so I think it's worth it. The only difference is that I'm the one doing the scrubbing and massaging.
Is This Luxe Box Worth Buying?
So, in total, I came to the conclusion that it had about $25.05 worth of stuff in it.
For me, it's not worth it. I paid $20. I could go out and buy the vegan spa pedicure for $4 and spend the rest on something more natural and non-toxic for myself.
I'm sure I've seen other people get full-sized products in their Luxe boxes, but it just wasn't in the cards for me.
The big benefit of the Luxe subscription box is finding new products like the Pedi in a Box, but I can do that in many other ways.
Update: I got suckered into it again when American Express sent me the message that it was on special again. I thought it might be better. It wasn't. It was just as disappointing as it was the first time for me.