Since I've gone vegan, eating out has been an issue. We have some amazing vegan restaurants around us, but our family and friends want to go to restaurants that offer more of what they are interested in, and I can't blame them. When we have to go out to non-vegan restaurants or catered events we are faced with a few problems.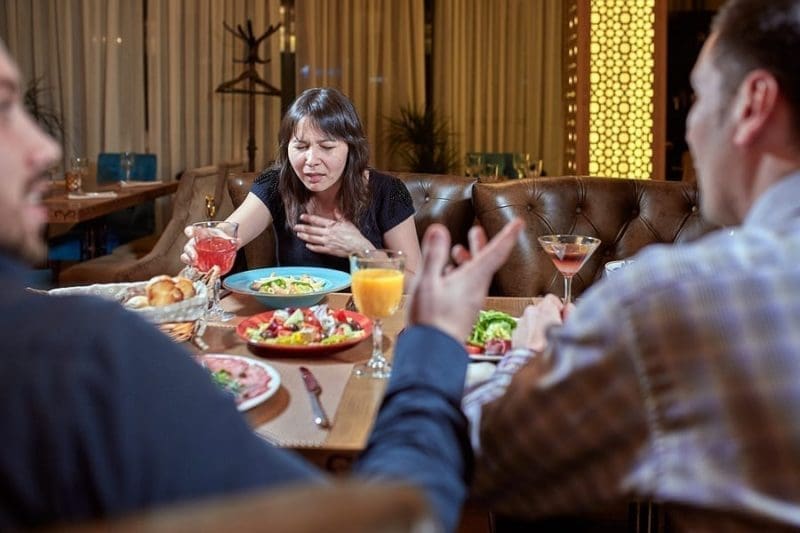 1. Staff That Don't Know What Vegan Means
This is very common. Restaurant staff do not often get trained in what vegan means and are not understanding of what's in their dishes, so it can be very frustrating to try and communicate with them about whether or not their dishes are vegan or could be made vegan.
For instance, we once went to Earls and ordered something off the menu. I asked our waiter twice if it was vegan and he assured me it was. We found out later that it wasn't vegan at all.
Our Worst Experience With Uneducated Staff
Our worst experience was at a funeral that was being catered. The funeral was for a close friend's brother, and she had gone to the trouble of making sure we had vegan dishes alongside all the other food that was being ordered. When the staff brought us our meals, it turned out they were vegetarian, not vegan. There is nothing worse than refusing food your friend ordered for you at her brother's funeral. Nothing.
Our Solution: We Don't Depend On Staff
Unless it's something out of our control, like the catering at the funeral, we make sure we do our own research before we go anywhere. That means checking out menus online and contacting the restaurants for clarity if needed. Then we can figure out how to order certain items so that they come out vegan.
The best menus have a little symbol to indicate that something is vegan. That's a good feeling and I've noticed it more and more on menus. But, usually, you have to clarify with the restaurant about what's in their dishes.
And if we can't get any answers, then we order the safest thing on the menu like nacho chips and salsa or a plain salad.
2. Staff That Don't Like Vegans
We have run into some staff who are annoyed by us being vegan. I get it. Vegans used to annoy me too because I felt like they were being picky and hard to work with. But, obviously, I feel differently about it now. We are just trying to eat in a way that aligns with our vision for ourselves, and that's OK because, as we learned in Lifebook, everyone has their own vision for their ideal life.
The Worst That Can Happen
A woman on Facebook had this problem the other day. She said that went out with friends who wanted to go to a non-vegan place that was supposed to have vegan options. She felt like the waiter was annoyed at her asking or a vegan option, and about halfway through eating she found some ham in her dish. She didn't want to cause problems so she pushed her dish aside without saying anything. But, when the waiter came to their table, he had a smirk on his face and she couldn't help but believe their waiter had put it there.
Our Solution: Watch For The Annoyed Look
It's not fun to interrogate your waiter or waitress about what is in a certain dish. I wish I could just order something easily off any menu without worrying, but I can't unless it's a vegan place. So, sometimes I have to ask if they can omit the cheese, among other questions. When I get an annoyed look or sense that my waiter is not happy with me, I know that I need to abandon the dish I'm asking about and order something safe. It's much easier than pissing off a waiter or waitress who will be serving not just us but our group.
3. Staff That Aren't Good At Their Job
Sometimes waiters or waitresses don't care if you are vegan, but they just aren't that good at their job. I was a waitress at one point in my life, and I can say that I was NOT good at my job. It's a hard job that demands a good memory, good social skills, and the ability to pay attention to people. I didn't have two out of three of those things, so I screwed up a lot.
The Worst That Can Happen
You order a cheesy bean burrito with no cheese, which is not a normal order. They are thinking about something else and all they hear is cheesy bean burrito. So, you end up getting their standard cheesy bean burrito loaded with cheese and now you have to ask them to redo it.
This happened to me the other day. I had to go out to a restaurant that had no vegan options on the menu, which meant I would have to ask for stuff to be omitted in a dish I wanted, and our waitress was obviously not doing very well that day. She had tables waiting for drinks while people who came after them had already gotten their food. It was terrifying for me because I needed her to understand my order and there was a high chance she wouldn't listen to what I was saying because she had too much on her mind.
It's also important to note that the cooks aren't always on point either. I have had great waiters and waitresses who gave the order to the kitchen staff correctly but received something different than what they put in.
Our Solution: Repeat The Order In A Way That Will Get Their Attention
Nobody wants to be questioned on their listening or memory skills, but if I see someone who doesn't have it together and is about to take my order, I need to make sure they understand me and they don't get mad at me as I do ask them questions. So, I do it in the kindest way possible that ensures they pay attention and get it right.
With the waitress from the other day, I asked her if I had mentioned that I wanted no cheese and told her I wasn't all there because it had been a long day. She could relate, obviously, and took the time to look down at her notepad to make sure that she had written it down right. Turns out she hadn't, so I'm glad I said something!
When it comes to the kitchen staff, there's nothing you can do but complain to management if your order doesn't come out right. It's the worst, I know. But, hopefully, they talk to the staff and help them pay more attention to what they are doing. When this happens, I usually end up not eating because I know how kitchens can work and I just don't trust the next dish that comes out for me.