One of the things I've been actively interested in since I was younger is foot reflexology. I find it fascinating and have had my feet done every single day for over 20 years. It's the one thing I've never skipped in my day, no matter where I am or what I am doing. I can count on it to help me pinpoint what's going on in my body when things aren't feeling right. That's why I'm so happy my path led to these massage sandals.
I Wanted Something To Walk On For Deeper Self Foot Massages
My feet are pretty tough. There are certain points in the month where my feet are almost numb for some reason. I think it has something to do with hormones. But other than that, I can handle quite a bit of pressure on my feet unless there is a very sore spot.
I find myself craving foot massages throughout the day, not just for reflexology, but to stimulate them and get the blood flowing.
I have a bad habit of sitting on my feet. I have sat cross-legged since I was a kid. I sit cross-legged at the dinner table, on the couch, and in my office chair. It's just my natural go-to position.  So, a foot massage can help get the energy going in my feet after I've been sitting on them for an hour or so.
I don't have very strong fingers, so it's hard to give myself a good foot massage. I can use a pencil, which helps, but sometimes I crave even more pressure than what I can do myself with a pencil. However, even though I crave more pressure on my feet, my feet still have a hard time walking on things like rocks. There are too many edges that hurt too much, and it doesn't feel good.
I've been thinking a lot lately about making something with smoother rocks that I could use as a reflexology tool by standing or walking on it. I just couldn't figure out what kind of rocks to use.
Then I found out that there was such a thing as acupressure slippers after over 20 years of not knowing about them! It feels like I wasted a lot of time, but better late than never, I guess.
My New Massage Sandals!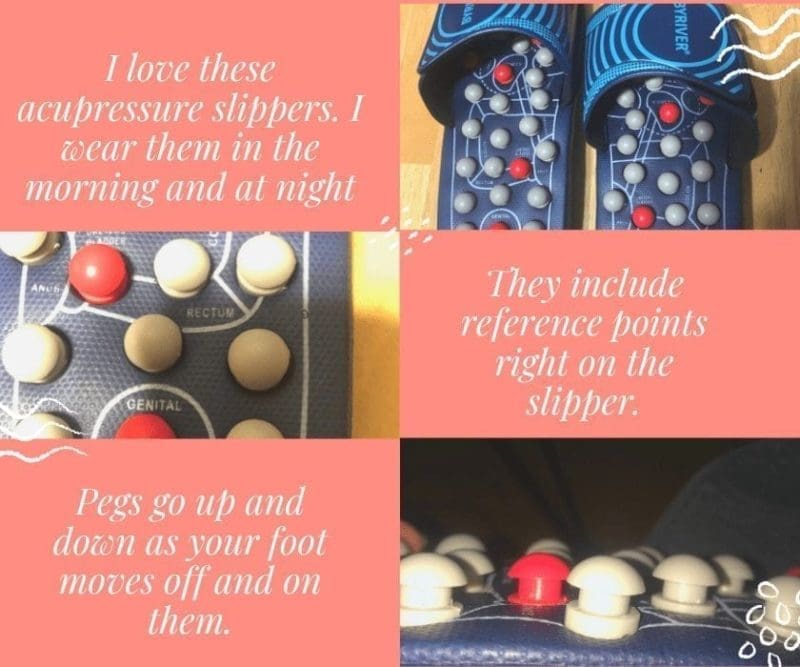 These acupressure slippers are just like sandals in my opinion. They are harder material, like sandals, and you can adjust the straps like you can with sandals to fit more snuggly over your foot. So, I would call them acupressure sandals more than I would massage slippers. But they go on like slippers and you wear them around the house, so I guess that's why they are called acupressure slippers.
These Massage Sandals Have Pegs That Move Up And Down
These massage sandals have little pegs placed throughout the sandal that go down when you put pressure on them and come back up when you release that pressure.
These pegs are small enough to get into some small parts on your foot, such as the inside of your toe. You do have to move your foot a bit to get it to hit some of those finer spots, but you can do it.
The massage sandals came with 3 extra grey pegs and 2 extra red pegs in a little bag for replacement. They feel really sturdy right now, so I can't see them breaking off any time soon.
These Massage Sandals Are Labeled With Some Of The Important Reflexology Points
When it comes to foot reflexology, the massage sandals are labeled with some of the important reflexology points, such as thyroid, heart, colon, and stomach.
However, the massage sandals do not label every point on the foot, so you will still have to refer to a reflexology chart if you want to know what the sore spot is if it's not labeled and you don't know what the point correlates to.
The Size Of These Massage Sandals Run Large
My feet are size 11 1/2 in women's shoes, and I ordered a size 8-10 because I had read a review that these massage sandals run large. That person was dead on because these fit my feet perfectly.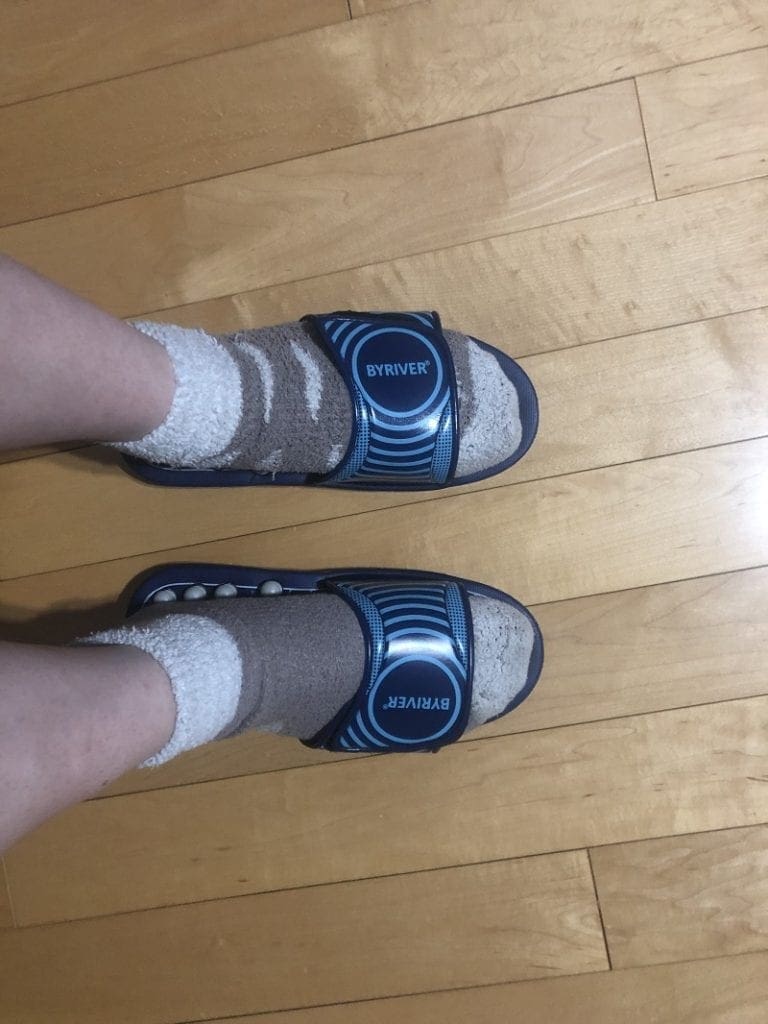 The size choices for these massage sandals are 5-8, 9-10, and 10-12. So, I would say that if you order these massage sandals, order down a size and a half.
These Massage Sandals Are Perfect For A Do-It-Yourself Foot Massage
Standing or walking in the massage sandals gives me a better foot massage than I can do myself. It's not as good as a foot massage as my husband can do, though. He has the strongest fingers in the world and can really dig into some areas that I need extra attention on.
But, if I didn't have my husband, these massage sandals would be what I would count on because my fingers cannot dig as hard into my feet as these pegs can when I stand or walk on them.
A lot of people on Amazon were saying that these massage sandals were painful for them. But when my feet are sore, I put these on, and it feels so good. It takes away the numbness, tingling, or soreness that I'm feeling in just a few minutes, so I think it's worth trying them.
A big tip is to wear thicker socks if it hurts too much. I have to wear socks when my husband gives me a foot massage, and I find myself wearing socks with these massage sandals in the evening and occasionally throughout the day. You can see in the above picture that I have soft socks on, and they are pretty thick and help pad my feet quite a bit.
I don't need to wear these massage sandals too long to feel the benefits from them. I think that the company behind them recommends 15 minutes a day only, and I would say that I do about 15-20 minutes throughout the day broken up throughout the morning, afternoon, and evening.
You can check these out and read the reviews on Amazon here.  If you are in Canada, you can find them on Amazon.ca here.