Last Updated on February 13, 2022 by Kari
A new Jim Kwik book came out and I didn't hear about it until I heard him talking in Mindvalley University about the concept of being limitless. In that talk, he referenced his Limitless book about 5 times, which was a smart idea because after seeing it so many times I knew I wanted to read Limitless. This new Jim Kwik book is motivating, informative, and gives you the tools you need to go forward with all your superpowers intact.
The Limitless Model: A Model For Living Your Best Life
Jim Kwik has based this book around his Limitless Model.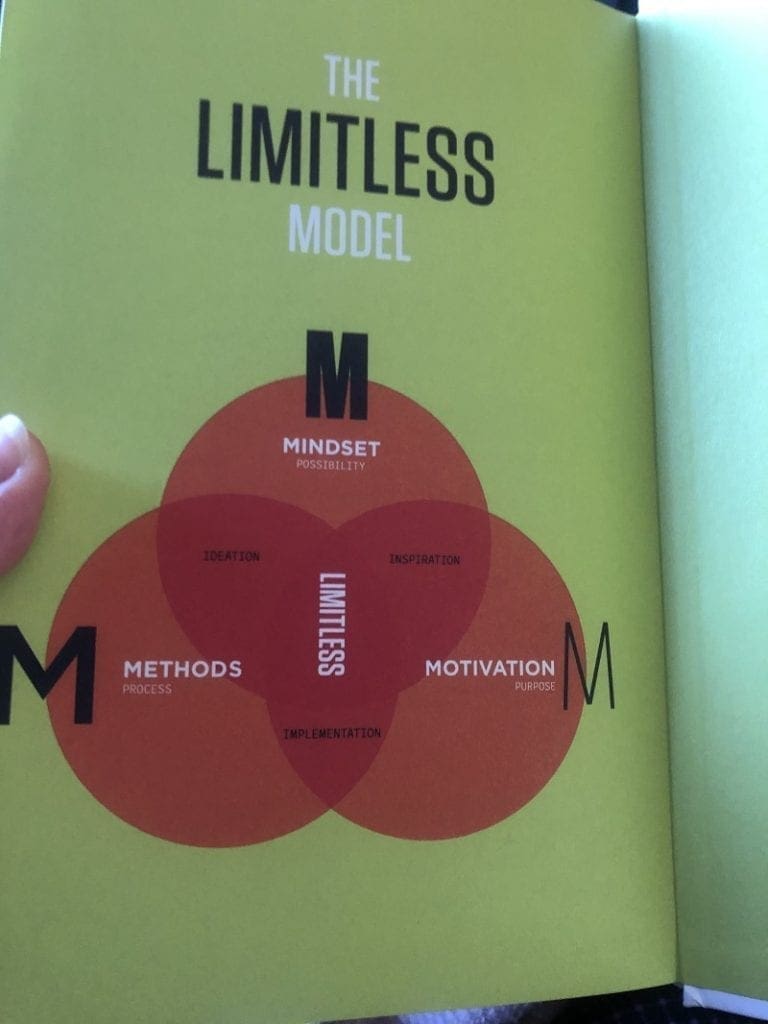 He talked about this limitless model in his class in Mindvalley University. Here's the diagram I had created while he was talking. I guess I was pretty much on point!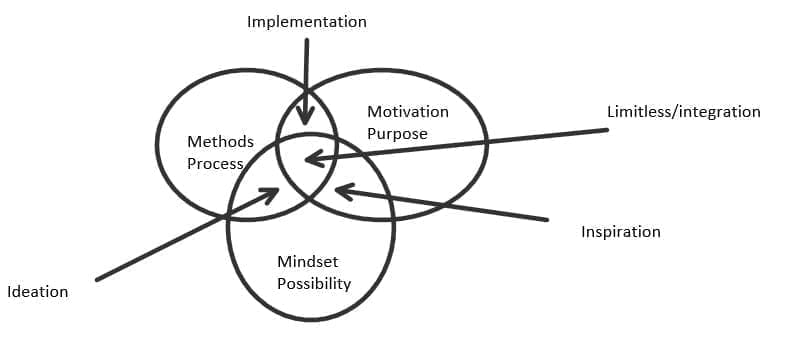 That's the thing about Jim Kwik, he's a great teacher! You understand what he's saying because he can explain himself and his concepts so clearly both in written and speech format.
The book helps you dig into all of the Ms in this model. Jim Kwik talks about how to cultivate the right mindset to be limitless. Then he talks about how to get motivated to be limitless. And then he talks about the methods used to be limitless. When you put them all together, you become limitless.
When you put only two together, you get either implementation, inspiration, or ideation, but you don't get integration (limitless). This is such an important concept to understand when it comes to making things happen.
For instance, you can believe in yourself all you want and have some motivation to do what you need to do, but if you are not implementing the right methods for success, you only have inspiration in your life and can't make things happen.
In the book, Jim Kwik mentions a movie with Bradley Cooper called Limitless. My husband and I watched it the day I read about it. It's about a guy who takes a pill and uplevels his brain instantly for better focus, clarity, recall, and more. Jim Kwik talks about how we don't need a pill to do that and how we can do it by focusing on our mindset, motivation, and methods (actions).
Kwik Start Exercises
Throughout the book, Jim Kwik includes 'Kwik Start' Exercises. These help you implement or think about the material just taught. It's a great way to be more interactive with the book and the lessons you learn and get a feel for what he's talking about.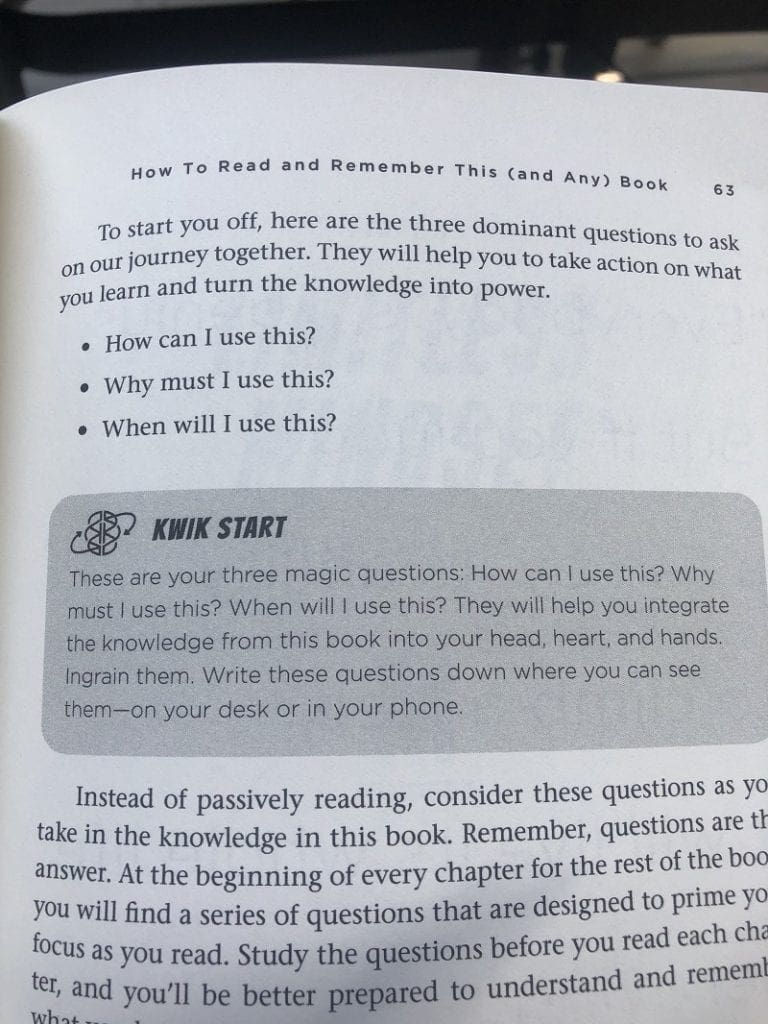 After Reading Limitless, I Can Say That 'Methods' Was My Weak Area
For me, I had the mindset and some motivation, but the methods were lacking. I had let myself forget things that once learned from people like Jim Kwik, and I was struggling to do things that contributed to my growth. I was actually spending more time playing a game on my phone than putting the methods Jim Kwik talks about into place.
I realize after reading Limitless that my biggest problem is distraction. I let my mind get distracted so easily that I've actually trained myself to be constantly distracted.
For instance, my husband and I have been watching Homeland on Netflix and I can't remember the last time I watched it while not playing a game simultaneously on my phone. I also spend a lot of time looking up information on my phone during the show.
And, I've realized I do that in all areas of my life. Even while I'm writing, I will want to check the weather or Covid cases or what a YouTuber posted.
I've trained myself to constantly be distracted and it's caused me to lose the ability to create and implement in the way I want to.
Jim Kwik and Limitless helped me realize how important focus is in my life and I'm working on keeping my focus on the task at hand or activity at hand. Just that realization has helped me to do better.
I watched a whole movie last night without looking at my phone!
I was lacking a bit in mindset and motivation as well. Not as much as methods. But, thanks to Jim Kwik's Limitless, it's really clear to me now why I haven't doing what I know I need to do and what I need to do to start making things happen.
This Is A Jim Kwik Book I'll Be Reading Again
I plan to go through this book again. At least once, but maybe more a couple more times.
I don't normally do that, but the information in this book is something I need to master. I need to remember how important it is to have the right mindset, motivation, and methods in life, as well as what those things are. It's not something I can let go lax again.
I don't feel good when I'm doing the wrong things for my health, success, etc. I know what I want out of life thanks to Lifebook, and the tools talked about in Limitless are what I need to implement in order to act on my Lifebook and have the life I want.
I don't know if you know how painful it is to know what you want and what you need to do and not do it.
For me, I can't count the number of nights I've gone to bed and felt like I had wasted another day.
I blamed it on overwhelm and lack of energy, but the truth is I had just fallen into some poor habits again. Jim Kwik's book, Limitless, helped me see that very clearly.
Limitless Teaches The Insights And Habits Needed To Have A Better Life
You can see how Limitless is broken up with the following flow chart that's included at the start of the book. Each section is packed full of stories, insights, and exercises to help you uplevel your brain and your life.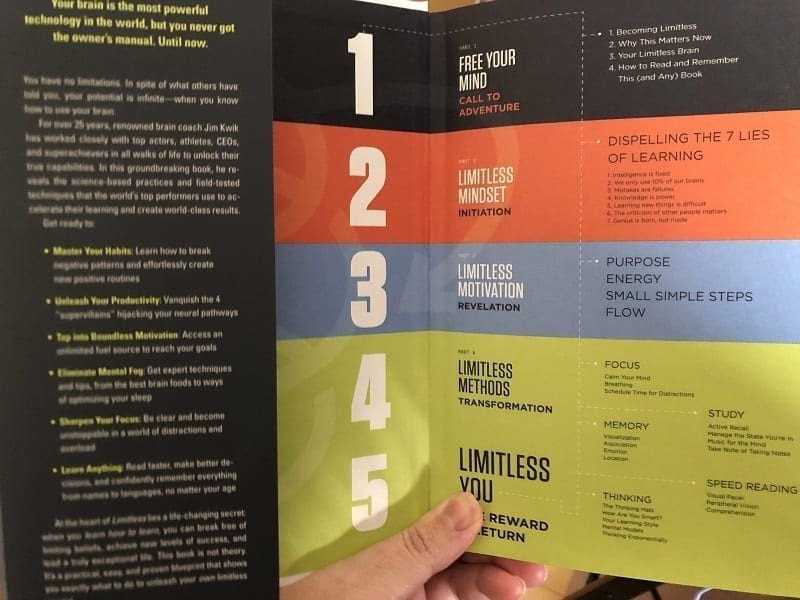 I highly recommend this book to anyone who wants to be better. It's uplifting and motivating, and it teaches you the path to go forward into a better future.
I've heard a lot of people are having a hard time getting this book. I ordered it as soon as I wanted it and had it delivered in a few days, so hopefully you will have the same experience.
You can check out Limitless on Amazon here.