I'm blown away but also very grateful right now. I just received an email from Mindvalley that says because I'm a Quest All Access Pass member, I'm getting a free ticket to Mindvalley University this year. Of course, it is being done online this year, but that's fine with me! I'm excited to join in and learn in a way that I may never get to experience again.
Mindvalley University is giving free tickets to a select group of people, one of them being the Quest All Access subscribers who have an active subscription. If you've been sitting on the fence about the pass, this may be the motivator you needed to join! Here's a snippet from the Mindvalley University information email I received.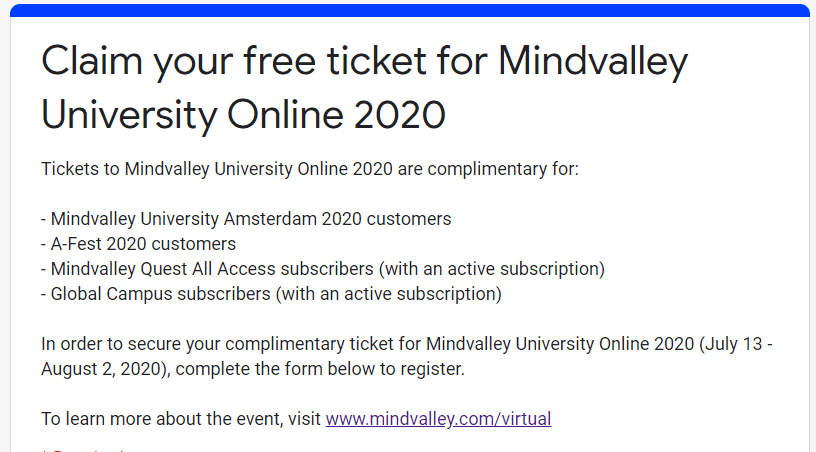 What Is A Quest All Access Pass Member?
You can read my full review of the Quest All Access Pass here, but to summarize, it's a pass that you pay one price for and it gets you access to almost all the quests on Mindvalley. The exceptions are Lifebook, Unlimited Abundance, and Wildfit.
You also get access to every new quest that is launched on Mindvalley, which means you get to take the quest the first go-around with live Q&A sessions and a tribe who is enthusiastically engaged in what's going on.
It's a yearly pass. Therefore, each year the pass renews at the same price on the date you first purchased it. If you renew, you just continue on like normal. If you decide not to renew, you lose access to all the quests on Mindvalley that you hadn't previously purchased individually.
Some people think that the pass price should be lowered the second year considering you've taken more courses and have less to take for the next year.
However, I think with Mindvalley continuously adding new quests to their platform, the pass more than pays for itself each year. And when you add in things like free tickets to Mindvalley University, it becomes even more awesome.
What Is Mindvalley University Normally Like?
You think of university, and you think months of training, but that's not what Mindvalley University is about. It takes all the good out of university and condenses it for, what I hear, is an awesome, life-changing time.
Normally, Mindvalley University is held in a different city each year. This means that people need to travel to the location and get to experience both learning and travel at the same time.
Mindvalley University is about networking, learning about real-world things that you actually want to learn about, partying, and much more.
I haven't had a chance to go to Mindvalley University yet, but because I'm always engaged with Mindvalley, I've seen pictures and heard stories of everyone learning, socializing, drinking, dancing, and having a good time at Mindvalley University.
Also, I've noticed a lot of the videos from various teachers at Mindvalley University get clipped and posted through Mindvalley in one way or another, so you get a little glimpse into what happened even if you didn't go.
Here's a video from last year with Vishen explaining Mindvalley University.
You can also check out the schedule from last year to see what Mindvalley University would be like in person.
They do plan to move Mindvalley University back to an in-person event in 2021, so this year will likely be the only year that it gets held online unless something crazy happens. (I think we've all had enough crazy for a while!)
Mindvalley University Online 2020
Mindvalley University online will obviously be a little different than the in-person format. This is going to be 3 weeks of online training, events, and connections!
Starting on July 13th, 2020, we will have access to trainers, speakers, and ideas that – like all Mindvalley classes and quests – could change your life. The topics listed are very relevant to these current times.
You can read about what to expect and the topics of focus on this page at Mindvalley. You can also secure your ticket on that page.
But, if you are interested in getting access to Mindvalley University, and almost all the current quests and future quests on Mindvalley for a year, then I recommend you check out the all access pass on this page. 
I'll definitely write about my experience with Mindvalley University when it's all said and done.
Woohoo!