We just wrapped up Mindvalley University online last week. It went for three weeks, with 2-3 actual classes daily Monday to Friday. This is the first year they've done it online, because of the pandemic. Normally Mindvalley University Is done somewhere in person where everyone can meet and socialize, as well as attend the classes. But, being online was perfect for me. I realize a lot of people want to get together and meet a ton of people and party, but I'm not one of them. I want to watch the classes and then enjoy the silence wherever I am with no obligations to do anything else. There were some good and not-so-good things about Mindvalley University online for me.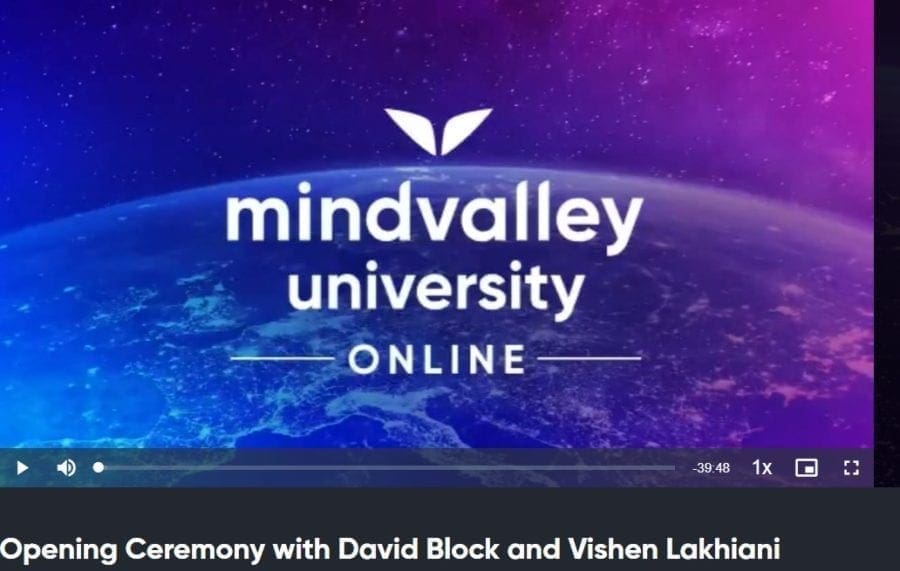 Mindvalley University Was Well Put Together
Mindvalley University online was very well-organized right from the beginning. Everything was done on Zoom. The hosts and teachers all had their shit together and everything went really smoothly. There was a calendar that told us what to expect and there were countdowns to the classes, so we knew exactly what was going on each day.
I liked that the classes were really geared towards our current time and how to make the most out of it. For instance, Eric Edmeades, who kicked off the whole thing, talked about essential needs to stay strong and healthy. And Dr. Shefali talked about how Covid-19 is teaching us lessons we've never had before.
I took a lot of insights and applied them to my life rather quickly thanks to Mindvalley University online.
The biggest problem was the sound in some cases. Some classes involved music with a meditation, and that music cut in and out because of Zoom. It was distracting to the meditation.
Also, the chat box was distracting. I couldn't find a way to turn it off completely, so I either had to have part of the screen dedicated to the chatbox or watch the chat pop up at the bottom of the screen over and over and over again. I wish there had been a way to turn it off, especially in some cases where I really wanted to focus on the teacher.
The only other issue I had with Mindvalley University online was the closing ceremony. I couldn't find it! This was likely a ME problem. I missed the class before it, so I'm assuming something was announced in that class about it being moved to another time schedule, but I never received any confirmation of that. So I just tried signing into the Zoom link for a few hours and then gave up on it because it kept saying that the webinar was about to start. The next day, the webinar link said the webinar was over, so I guess it must have happened, I just have no idea when.
There Were Business Mastermind Sessions That Required Interaction
There was a business mastermind class each day. I went to the first one totally stoked, thinking it would be a class where we learned something about business each day. It wasn't what I expected.
It was a session that allowed a limited amount of people in, and then you were paired off with other people and discussed things. It was about sharing and learning from others, as far as I could tell.
That was so not my cup of tea.
It was so disappointing for me.
I really thought we would be learning something in a class setting.
So, I just scratched that off my daily to-do list for the three weeks because it wasn't interesting to me.
I'm not sure how valuable these sessions were to people who were into them. I didn't see anyone talking about these sessions in the Quest All Access group.
During one live class, I did see someone say that they had mentioned something to their group in the business mastermind class, but it wasn't something insightful. It was just a joke. So, I don't know how much people got out of these mastermind sessions.
The Co-Creation Sessions Were Not For Me Either
Occasionally, there were co-creation sessions to kick off the day. Again, these were limited to a certain amount of people and were supposed to be interactive. I tried to get into one just to see what it was about, but the class was fully booked already. I didn't try to get into another one. I just scratched those off my to-do lists as well because it didn't sound interesting to me to.
I Also Wasn't Interested In Every Lesson
The first week of Mindvalley University I really enjoyed. It felt like I was starting at a new school.  It was nice to wake up and know that I would have classes each day, even if they were only a couple of classes. I enjoyed all the teachers and lessons. I was likely on a big high.
After that, there were some teachers that didn't resonate with me and I ended up leaving the class and doing something else.
That's another beautiful thing about having Mindvalley University online – you can get up and walk out if you are not into what's being taught and spend your time doing something that does resonate with you.
If for some reason I do get interested in the lessons later on, I can watch them because they were all put in our Mindvalley dashboard under 'channels'. This is another nice thing about Mindvalley University being online.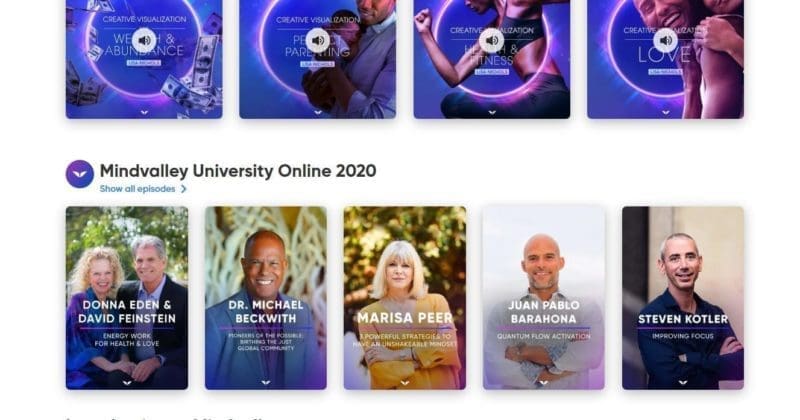 I had to miss a few days on the last week because we had rented an Airbnb and were spending a lot of our time travelling and relaxing. I intend to catch up on the videos that interest me from that time.
The Mindvalley University Teachers
Most of the Mindvalley University teachers were teachers that are already on Mindvalley. I found that there was some repetition with some teachers between their quest and their Mindvalley University class, but most teachers had something new to talk about during their class.
I did find that some of the more interesting teachers had a shorter time to talk. One speaker would have an hour to talk and then another speaker, with something really interesting to talk about, only had 30 minutes.
Steven Kotler – the creator of Habit of Ferocity on Mindvalley – comes to mind for this. The guy talks fast, but there is only so much you can say in 30 minutes, and he has a lot of interesting things to say.
Also, Jon and Missy Butcher from Lifebook only had 30 minutes, and their talk on building unshakeable love was really interesting and deserved more time.
All of the Mindvalley University teachers should have had at least an hour, in my opinion.
There was supposed to be time for Q&As after each teacher, but sometimes that didn't happen because the teacher had filled up all the time with their lesson, and it would have been really nice to have more of that.
Overall Mindvalley University Was Good
I got a lot of good insights from the teachers on Mindvalley University. Some of the classes weren't my cup of tea, so I just left them, but I found most of them were pretty good.
I was hoping for more business-orientated classes and didn't really get that. Although, I did really enjoy the talk by Jason Campbell from Mindvalley. He was also the host for a lot of the days. I had never learned from him before, but I've signed up to his productivity class and will follow him on his podcast going forward.
We did get one surprise class with Vishen interviewing Marc Jacobs, the co-found of Netflix. Apparently, that was a planned podcast and Vishen just decided to make it into a class for Mindvalley University too. I enjoyed that talk a lot too.
Now that it's over, I feel like I'm missing out on something. I have always enjoyed the structure of school and classes, so it was a real treat for me to have that structure offered again.
Bottom line: If they have some form of Mindvalley University online next year, I will definitely sign up for it.