Last Updated on March 28, 2022 by Kari
The Mindvalley dashboard has a 'Continue Learning' section where all the courses you have started but haven't finished live. This area can get quite cluttered, especially if you have the Mindvalley Membership and you start a bunch of courses at one time because you can.
For a long time, there was nothing you could do about it. I kind of gave up on it for a while. But the other day I decided to check into it again and found out that they had finally added a way to clear out the quests from that section and put them back into the section where all the quests that haven't been taken or have been completed live.
How I Cleared Up My 'Continue Learning' Section In My Mindvalley Dashboard
It's so easy to leave a program that you started now. On most of the programs, they have a 'leave' option. One some of the programs, they have a 'leave' or a 'choose new start date' option. Either way, you can do what works for you.
Here's a quick video on how to do it.
Now I just have a couple of quests left that I want to focus on.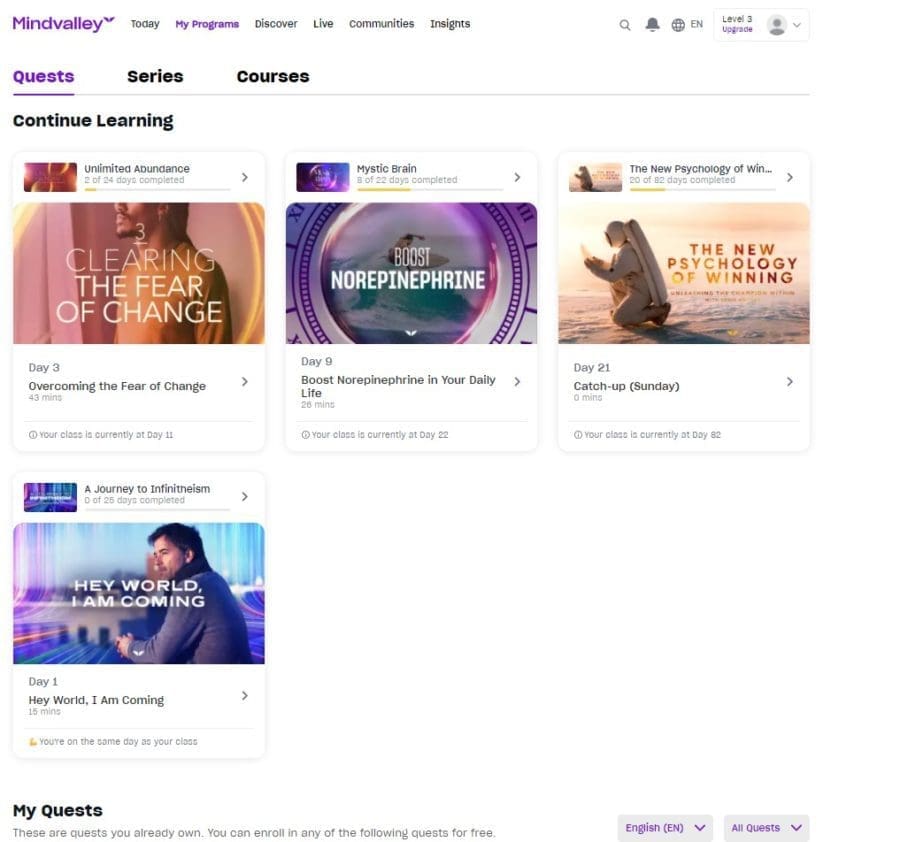 Why Would You Want To Leave A Mindvalley Quest?
The quest is not for you. With the Mindvalley Membership, there are a ton of quests to choose from, and they all look good before you start. But sometimes you get into a quest and find that it's not resonating with you. Maybe it doesn't apply to you or maybe you don't like the teacher or the content. It happens.
You are doing too many Mindvalley quests at once. With the Mindvalley Membership, it's easy to do too many quests at once. You want to start this one and that one and that one… and it feels like you can take them all on, but it's hard, as I proved to myself.
Don't beat yourself up for not completing a Mindvalley quest in one sitting. I used to do that because I had the membership and didn't want to waste one bit of it, but Mindvalley has put so much content on their site that you would have to dedicate yourself full-time to doing quests, watching webinars, etc. While I think some people can do that, most of us can't.
Moreover, you don't want to waste your time on courses and personal development that doesn't resonate with you.