Before we went plant-based for good, we only ate President's Choice cheese. That's because they used a vegetarian source of rennet in their cheese, and we were vegetarian. I was always so grateful that they actually labeled their cheese as vegetarian-friendly. It made me think that whoever creates their products understands what vegetarian means. I don't tend to trust a lot of people when they say their products vegetarian or vegan, but President's Choice is the one brand I trust the most because of that experience.
In that past few years, I've noticed that the President's Choice brand has been coming out with new plant-based items here and there. My husband has tried their plant-based Undeniable Burger, and he liked it. We both have tried a few of their plant-based dips. There was a roasted pepper dip with cashews that we liked. But, it wasn't something that we were going to buy every week.
Then the other day I was looking for some items online from a local No Frills and noticed that there was a President's Choice plant-based cream cheese. I was shocked. Never did I think they would create plant-based cream cheese.
After some research, I found out that they've released a bunch of new plant-based products – more than I've ever seen at once.
One of them is cheese sticks! Those were my ultimate favorite comfort food before going vegan. Unfortunately, I can't find the cheese sticks in my stores yet, which is a major bummer. I wish they wouldn't have even disclosed they made plant-based cheese sticks if they weren't going to put them in the stores. The cheese sticks are all I want in my life, to be honest. But I went ahead and tried some of the other stuff in the meantime.
Update: I had written them about why the cheese sticks were not in-store, and they said there was something going on beyond their control and that they would try to have them in-store as soon as possible, but now the link to the product results in 'this page no longer exists', so I'm assuming they are not going to be putting out the vegan cheese sticks anytime soon.
1. President's Choice Coconut Cream Cheese-Style Spread
This was the first thing we got and I can say that it's my favorite store-bought cream cheese so far.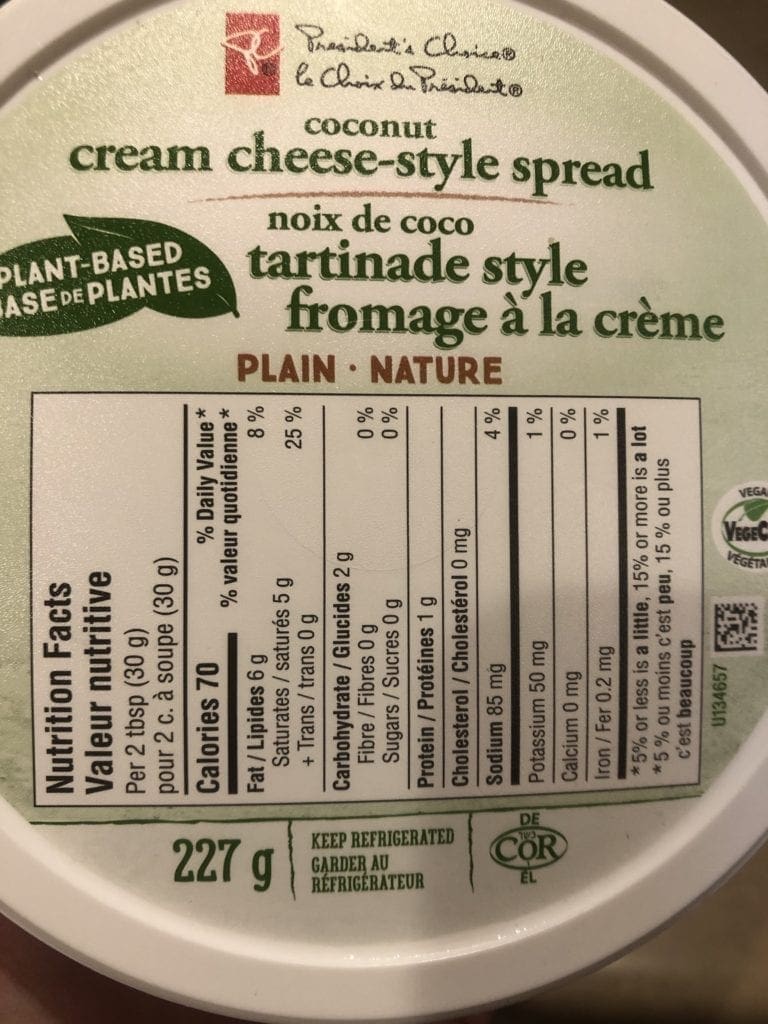 When you first taste it, you get the tang that cream cheese should have. It reminds me of Philadelphia cream cheese. Then you get a taste of coconut, which makes sense because the first ingredient in this President's Choice plant-based cream cheese is coconut cream.
I don't normally like a coconut taste in my dairy replacements, but this one works. The tang and the creaminess of the spread are what makes it delicious.
I've put it on bagels and used it as a dip. I put it in mashed potatoes, and it was quite coconutty. I didn't really like it until I added a bunch of other flavors. But, I think it's going to be a hit in baked goods requiring cream cheese.
There is one other plant-based spread that I use as a replacement for cream cheese from Spread'Em. I usually get the Chives and Garlic and it is really good.
But this President's Choice plant-based cream cheese is more reminiscent of dairy cream cheese to me. There are no extra herbs or flavors. It's just tangy creaminess. I didn't realize how much I've been missing that until I tasted it.
This will be a constant in our fridge.
2. President's Choice Cucumber Cashew Dip
I ate a ton of Tzatziki before going plant-based. I just liked it as a dip.
In the President's Choice plant-based Tzatziki the texture is a little different… less creamy. But, the taste is really good. It tastes just like what a good Tzatziki should taste like. But the texture is really off. Slimy? I don't know. Not pleasing.
Spread'Em also has a Garlic Tzatziki that I like, but the texture is off in that one too. It's a little more fermented and airy than deeply creamy. That said, I like the texture in Spread'em WAY more than I do in the PC version.
This is not something I will buy again.
3. President's Choice Swiss-Style Slices
The other day, before I knew about President's Choice's new plant-based lineup, I was asking my husband if we had ever eaten any plant-based swiss products. He didn't think so and neither did I.
We used to eat swiss all the time before going plant-based.
We had it after meals at his mother's.
Ever since I was young, I would always order bagels with two slices of swiss cheese.
We put swiss on nachos.
We had swiss cheese all the time, and it's definitely something I've missed. Interestingly, a few days later, we found all these new President's Choice plant-based products, and swiss-style was one of them!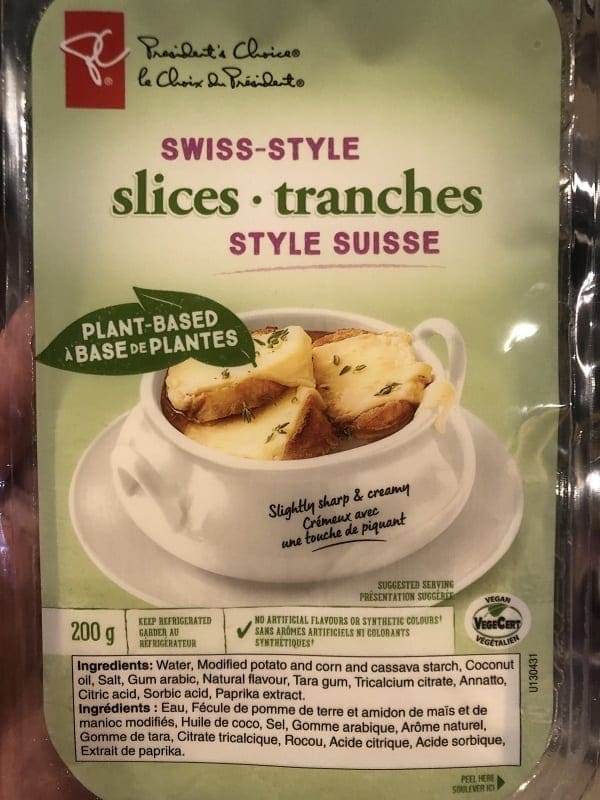 I like it. It doesn't have any weird taste to me, even as an aftertaste, which some plant-based cheeses have.
It's tangy and creamy, just like they've labeled it.
My husband and I don't think it tastes exactly like we remember swiss cheese tasting like, but it's damn close.
We remember swiss cheese having a slightly grainy texture, and this cheese has the typically smooth, creamy texture of a plant-based cheese made with coconut oil. So the texture is a little different, but not enough to turn me off.
We tried melting it on nachos, and it melts as most plant-based cheese does in the microwave. Poorly.
It looks hard, but it has a creamy texture when you bite into it. The best part was that the taste didn't change for the worse when heated. Some plant-based cheeses taste worse when they are heated, but this one actually tasted better when heated.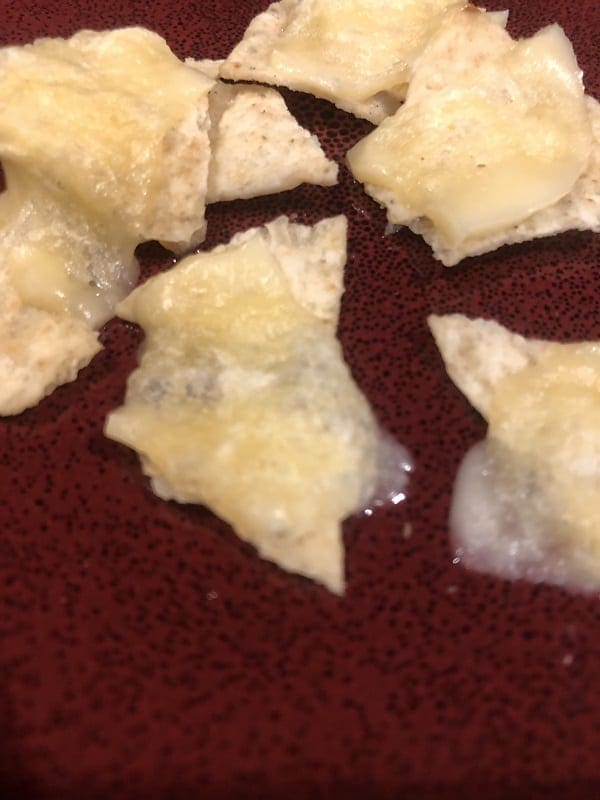 I'm looking forward to trying this in a grilled cheese because I think it's going to taste really good. I also think it might melt better in the oven, so we are going to have to give that a try. But if the taste is good from the microwave, then it will definitely be good in the oven.
I tried it in a bagel, and it was good. Really good.
As I said, it doesn't have that dry or gritty texture that I used to like in swiss, but it was still very tasty.
This President's Choice swiss-style cheese will be one of my go-to store-bought plant-based cheeses for sandwiches and bagels and on top of certain casseroles since the taste is good when heated.
I still like a couple of Earth Island cheeses, especially the Earth Island Provolone. But we've been ordering our foods online for the past 6 months, so we haven't been to the store that carries the good Earth Island products. We plan to keep avoiding the crowds and ordering online for a while, so the President's Choice swiss-style cheese will be what we buy for a while.
4. President's Choice Plant-Based Vegan Cheesecake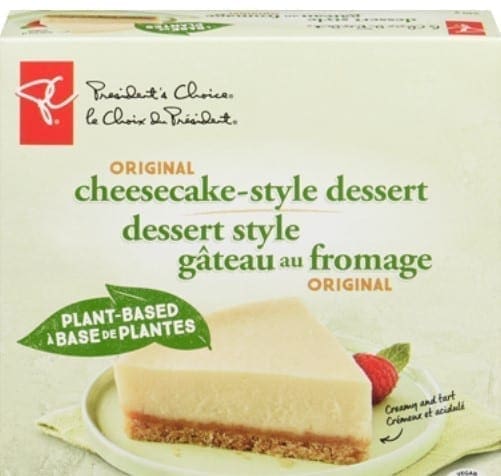 I had seen this for a while shopping at Superstore and No-Frills, but the price put me off. I finally bought it along with the other plant-based stuff just to give it a try.
It's good. It tastes like a cheesecake to me. But it's not hard to make a plant-based cheesecake. There are many versions online that taste really good. In fact, long before we went plant-based – like 13 years before, we made a cheesecake with cashews and tofu that was so good we couldn't tell the difference between it and our dairy cheesecakes.
The neat thing about the President's Choice one is its base is made from lima beans, oats, and coconut oil. You can see all the ingredients here. My husband swears he could taste the oats a bit, but I didn't. It just tasted like a tangy, creamy dessert.
The big problem was that at room temperature it was way too soft and out of the freezer it was way too hard. I guess we could have thrown it in the fridge, but we didn't.
This is not something I will buy often. Maybe if I need a quick dessert to give guests or we are out of town and I feel like something sweet.
Look forward to trying more President's Choice plant-based products… especially the cheese sticks. Update: I tried the vegan cheese sticks and they are NOT something I will buy again unless they change up their recipe.