Last Updated on September 30, 2021 by Kari
Over a month ago, I talked about some new President's Choice plant-based options. The one thing they had listed as a new product but didn't have available was their plant-based mozzarella sticks. I spent weeks trying to track them down. I finally received an email from President's Choice telling me that they were having problems getting them in the stores and that they were doing the best they could. So, I gave up on them for a while.
Then I was looking through an online flyer for my local Superstore and I saw the plant-based mozzarella sticks advertised. I grabbed my keys, got in the car, and headed to Superstore within a minute of seeing that. Unfortunately, Superstore didn't have them despite having them advertised in their online search bar. The staff there told me that they were unable to get them in, despite trying to order them.
I contacted President's Choice again, and they sent back an email telling me that the flyers would sometimes contain foods not in the store because they were updated as a whole, not store by store.
That made me think that maybe the Mozzarella sticks were somewhere else. I checked out the store called Your Independent Grocer which is like Superstore or No Frills with Presidents Choice products, and I saw that they were offering the plant-based mozzarella sticks on special – buy 2 for a certain price.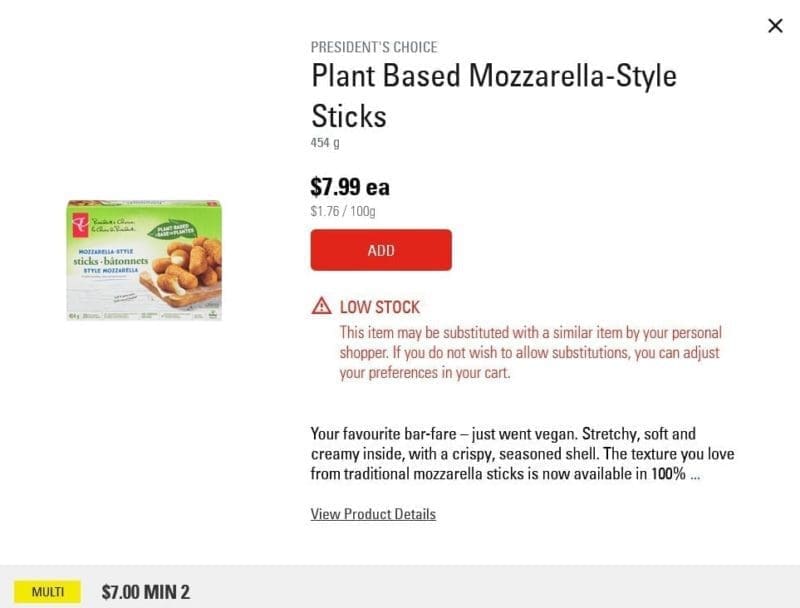 It's important to note that the deal wasn't on all the store's online search bar. It was just on two of the search bars. A few of the stores I checked out weren't advertising them at all. So that kind of goes against was the customer service representative told me.
Anyway, I went to the first store and they were sold out.
So, my husband and I decided to take a road trip and drive 1 hour and 45 minutes west to a small town that was advertising the multi deal. If they weren't there, at least we would have a nice drive.
I wasn't hopeful.
I walked into the store, went to the plant-based section, and saw ONE box. I think I put my hand straight through the glass I was so excited. They didn't have any more left, but I was just happy to get the one.
Are The President's Choice Plant-Based Mozzarella Sticks Worth All The Effort I Went Through To Get Them?
The short answer is no.
When I opened up the box, I have to say that it smelled like boxed cheese sticks. I was excited because when it smells good, that's a really good sign that it's going to taste good.
Here are the ingredients: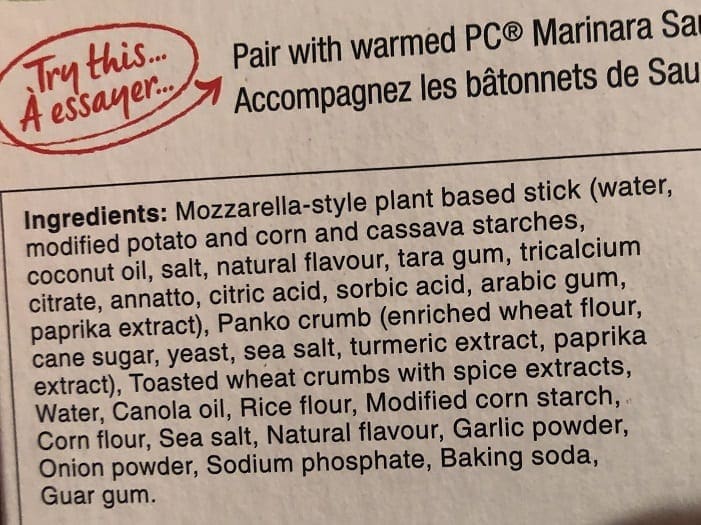 The picture on the front of the box makes them look awesome, but it's deceiving. It looks like cheese sticks, right? It looks golden brown and the cheese is all oozing out of the center.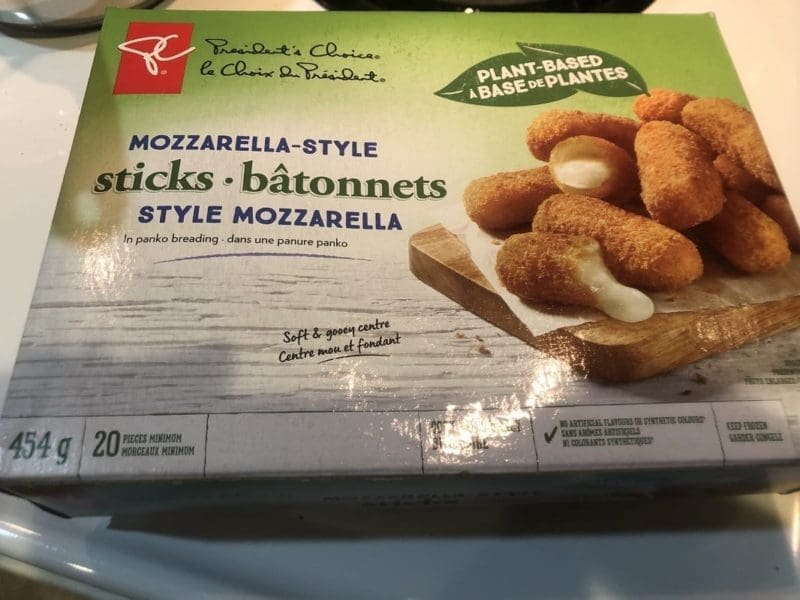 The instructions say not to overcook or else the cheese could come out. But I tried cooking it according to the instructions on the box, and the cheese had all come out of the breading before it was even set to be done.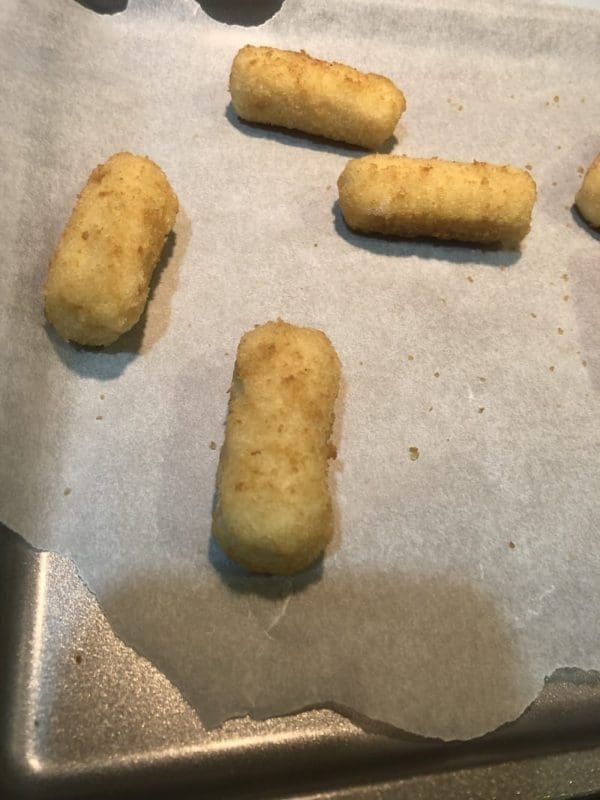 Every single one of them burst open.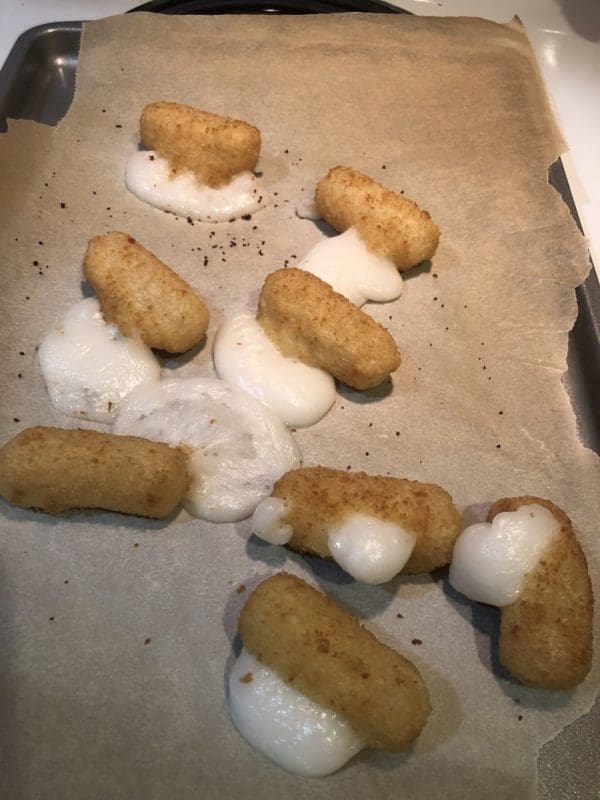 That would be fine if they had tasted good. But we sat down to eat them and they tasted like… nothing. They had no flavor. And I didn't like the texture of the cheese. It was kind of slimy rather than creamy. Maybe a mixture of both, but not something I liked at all.
I was disappointed, to say the least.
I Tried Cooking Them Differently
The next day, I tried cooking a couple in the air fryer. I cooked them at medium heat and let them go until the breading turned a golden brown. I figured if the cheese is coming out anyway, I might as well try cooking the outside better than it comes out with the recommended cooking instructions.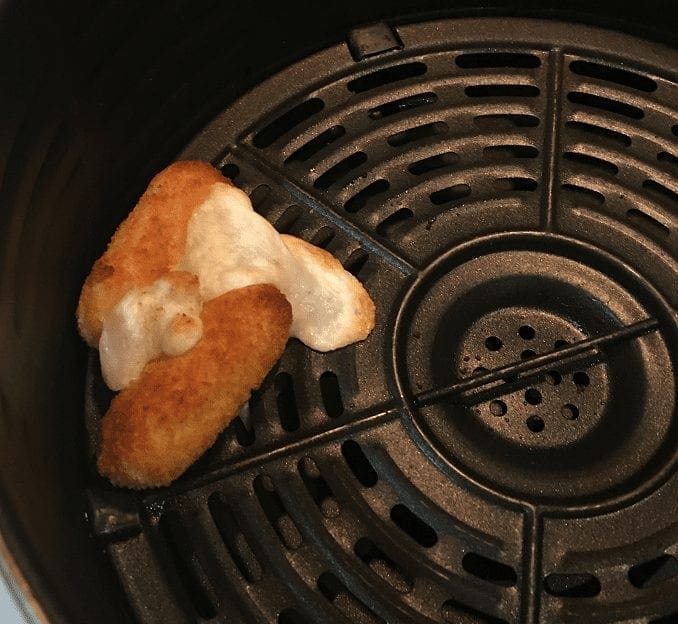 These ones tasted better. The 'cheese' was crunchy after being air fried, which I liked, and it had a taste. Nothing like dairy mozzarella cheese though. There was just a subtle taste of mozzarella.
And the breading tasted like a fried breading should taste like. It's not the best flavored breading in the world, but it was better than no flavor at all!
I Can Make Better Mozzarella Sticks At Home
I was disappointed in this. I thought President's Choice had a team of culinary experts that would make these plant-based mozzarella sticks taste amazing. But they didn't, and they aren't.
They taste OK in the fryer, but it's nothing I would want to make on a regular basis. I could make a grilled cheese that tastes better than these.
I have made cheese sticks in the past with Miyoko's mozzarella and with Earth Island Provolone and both of those were MUCH tastier than these cheese sticks.
President's Choice needs to work on the breading – possibly make it thicker to hold the vegan cheese inside.
And they need to replace their current vegan cheese in these cheese sticks with something tastier, such as Miyoko's. Or just make their current recipe more flavorful.
It might even be in their best interest to make a cheese stick with a cheddar flavor rather than mozzarella. I think it would taste much better.
It's hard to recreate mozzarella (how the dairy version tastes and melts) in the vegan world.
I know they make a dairy tortilla and jalapeno cheese stick. That would be much easier to make in a vegan version than mozzarella sticks.
So, all my efforts to find the President's Choice plant-based mozzarella sticks weren't totally worth it, but I'm glad I got to try them. I have my fingers crossed they improve their recipe going forward. If they do, I will try them again. Until then, I'll make my own cheese sticks at home.
Update January 25th, 2021
We tried these again because a friend wanted to judge them for herself. For some reason, everything about them tasted better this time. The breading and the filling had a much better flavor.
The filing still spilled out, but at least it had a pretty good taste. The vegan cheese filling still has a weird goopy/creamy texture if it's too soft, but the taste is better. They just need to improve the texture!
It doesn't say that the recipe has been updated on the box for the PC Plant-Based Mozzarella Sticks, but our taste buds definitely like these better now.
I was watching the Vegan Zombie today and he bought some vegan cheesesticks from Aldi (a store that is everywhere around the world except for where I live!). In any case, the cheese in their vegan cheesesticks stayed inside the breading and look really good. It's what I would like to see with the PC Plant-Based Mozzarella Sticks in the future.
Here's a video that starts with his taste test of the vegan cheese sticks.
Update September 2021
I really like these now. The more I eat them, the more I like them. The only problem is that the filling usually comes out while cooking. We always cook them in the air fryer at a low temperature. But, even so, they are good. When the filling gets cooked, it's good.
Bottom line: These president's choice vegan mozzarella sticks satisfy that cheese stick craving in a pinch. You could make them better if you want to do it, and I'm sure there are other vegan cheese sticks brands that are better, but if these are all you got and you don't have time to make cheese sticks yourself, they satisfy that cheese stick craving.
That said, I'm going to start to try to make my own when I have time to see how much better I can make cheese sticks and what brands of cheese would work best. I've made them quickly before with miyoko's, and they came out OK, but my cheese selection has expanded since then and I want to see what I can do.
Update Later In Day After My Last Update
Writing about President's Choice Mozzarella Sticks made me want President's Choice Mozzarella sticks. So, I threw a few in the air fryer and kept the temperature even lower than I normally do (sorry don't know the temperature I had it at)  because I had to clean up some stuff and didn't want them to cook too fast.
After a few minutes (don't know exactly how long), I took a look and saw that no cheese had come out but the stick looked a little cooked. Normally I would cook them longer until they are really golden brown, but I thought since the cheese was still in there, I should try it to see how it tastes.
They say on the box that if you overcook it the cheese will come out, and, I guess they know what they are talking about! My oven must just be hotter than other ovens they created their instructions for, which is why the cheese came out the time I followed the instructions a tee.
This time, the cheese stick wasn't dark golden brown, but it was cooked, and all the cheese was still inside! It was good! It's still not the same as biting into a dairy mozzarella cheese stick, but that coating along with the semi-creaminess of the plant-based mozzarella is SATISFYING! There's still a little bit of the gooey texture, but it's not a turn-off.