Last Updated on October 31, 2020 by Kari
Spicy foods used to hurt my stomach, but now I can't get enough of them. I'm always craving spice and the more the better. This is good news for my husband who loves to eat spicy food. His spice tolerance is on another level. Once he told me that some spicy chips weren't that spicy, so I ate ONE and suffered for the next 30 minutes trying to get my mouth to cool down. In short, his level of 'not that spicy' is everyone else's level of 'holy crap I'm going to die' spicy.
We're Trying To Recreate An Awesome Plant-Based Spicy Habanero Hell Pizza
We often find food we like and then I spend a lot of time trying to recreate it. Usually, it's a non-vegan food that I need to turn into a plant-based food, but this time it's a full-on plant-based food that I want to recreate – a delicious spicy pizza made by some plant-based pizza experts.
If you are interested in following us trying to make the perfect spicy plant-based Greek-style pizza, then this series will be for you!
This all started when our local plant-based pizza joint called Die Pie made a Habanero Hell pizza for Halloween. It's a special pizza and their specials only last about two weeks or so.
Posted by Die Pie on Wednesday, October 21, 2020
We tried it, and this pizza is now our favorite pizza in the world. I can say that with certainty.
Even before we went vegan, I've never had a pizza I enjoyed as much as this one.
Thanks to Die Pie, gone are the days of peppers, onions, and mushrooms (our old standby). Now we are more creative with our pizzas and enjoy pizza that is full of flavor and deliciousness.
It would be amazing if Die Pie would put the Habanero Hell pizza on their menu (it would be a great spicy addition) but I know that it's just a special. That's why I need to learn how to make it. My husband and I want to eat it year-round.
So we went out to buy all the things we thought we needed for it…
But there were no habaneros at the stores we went to.
And we forgot to buy grape tomatoes.
And we couldn't find any red onions.
And we forgot to buy basil.
And I didn't plan ahead and make plant-based feta.
So, our first attempt at their Habanero Hell pizza was without the habaneros, tomatoes, feta, basil, and red onions. In other words, not really their pizza.
That said, it came out really good. We used a combination of Thai and Serrano pepper in the tomato sauce.
As you can see on the Scoville scale, they are both not as hot as the Habanero pepper is. In fact, the Thai pepper seems to be half as hot as the Habanero pepper!
How We Made Our First Spicy Pizza
Sorry, this isn't going to be your typical recipe-style post. But, I'll try to make it as clear as possible.
First off, I don't have a pizza dough recipe. I just throw in some yeast, sugar, and water and let that get foamy. I would say I do equal parts yeast and sugar and then maybe a cup or two of warm water. Then I add some flour, salt, and a little bit of olive oil and mix it up in my Kitchenaid mixer with the dough hook. I add more flour or water as needed from that point. Once done, I let it rise for at least an hour or two before I use it.
I did write down the sauce ingredients, though, because I know this is going to be a process and I want to know exactly what I've tried in the spicy pizza sauce before.
The sauce I attempted looked like this:
One can of diced tomatoes (796 ml)
1/2 can of tomato paste
Two Thai peppers
One Serrano pepper
2 cloves of garlic
1 tbsp sugar
1 tsp salt
1 tsp onion powder
I blended that all up together in a food processor and then added it to 1 tbsp of olive oil that was hot in a pot as if I was going to sauté some vegetables. I think olive oil in the pot is just a habit. I may try without it next time.
I turned down the heat to just under medium and let that cook and simmer for about 40 minutes until it thickened up. Then I let it sit for a few hours on the stove.
Notes:
The sauce wasn't that spicy in the beginning, but after it had sat for a few hours, it got a little spicier. The next day it was about twice as spicy, so if we were to make this sauce again, we would make it the day before to allow the flavors to mix up and get spicier.
It was too sweet. I thought that sweetness would complement the spiciness, but I found it too sweet. The spicy sauce is good on the pizza, though. But, to eat it on its own, it's just as sweet as it is spicy to me. If you like sweet, then that may work for you! But for me, I'm going to put in half next time and see what that does.
To make the pizza, I put the spicy tomato sauce on the dough along with the white onions, tapenade, and Miyoko's regular mozzarella cheese. I debated leaving the tapenade off and putting it on the pizza just to cook for a minute, but I decided to leave it on. It ended up being fine on the pizza the whole time it was cooking.
I cooked it at 450 degrees F until the crust looked a little brown, and then I broiled it until the cheese looked a little a little brown. I don't time these things. I go by sight and smell.
Once it was out of the oven, I threw on the fresh cucumbers and we cut it up and ate it. And it was really good.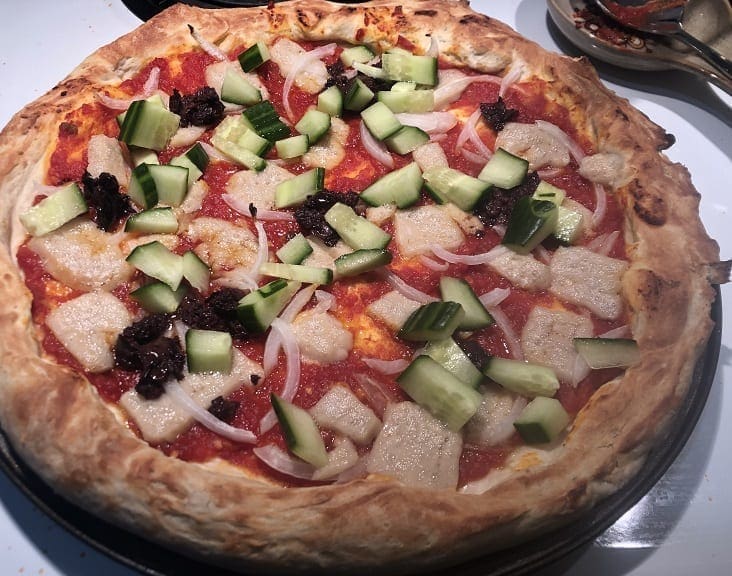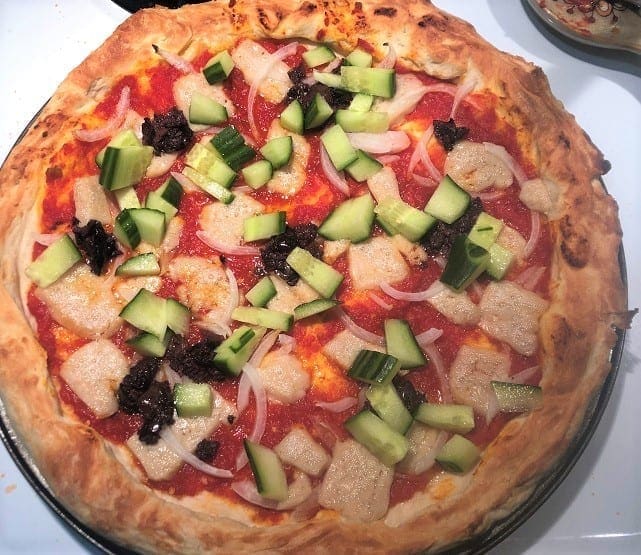 We both ended up putting more tapenade on our slices, but other than that, we ate it just like this.  The sweetness of the sauce was fine when you put it with all the other ingredients. But, still, next time I'm not going to make it as sweet.
And the sauce was not at the level of spicy that we wanted. It had a tiny bit of heat, but it was not like on Die Pie's pizza where we had to drink water right after. We will keep trying until we get it perfect, though, starting with using habaneros!
Also, we plan on roasting the peppers at one point and playing with some other ingredients as we go forward to see what that does to the flavor.
Until then, this is a really good plant-based pizza with a little spice. If you make the spicy sauce a day ahead of time, it's going to give more of a kick as the flavors will increase.