Last Updated on November 21, 2018 by Kari
When I wasn't vegan, there was one recipe that I couldn't live without – my cream cheese layered dip. I would make it about once a week. And, honestly, I probably would have made it every day if I wouldn't have felt guilty about it. When I went vegan, I didn't realize that there would be so many more recipes that I couldn't live without. I've listed 7 below, but I'm sure I'll find some more recipes in the future.
1. Jalapeno Cashew Cream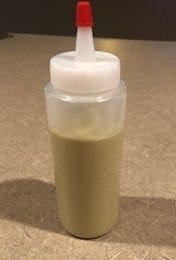 This is my newest must-have recipe. This creamy goodness goes well with so many things.
I've put it on things like tater tots, nachos, burritos, fajitas, and sandwiches. I love this sauce so much.
One of the ingredients is miso paste, and I think that's what sends this cashew cream sauce into 'can't live without' territory. It adds a depth to the sauce that is so creamy, cheesy, savory, and yummy – let's just say that it's hard to stop eating it.
I had tried recipes with miso paste before, and I didn't like them. But, I now know that's because I hadn't found a good recipe using miso paste.
If you want to make a creamy, cheesy, dreamy sauce, then check out Monica's Jalapeno Cashew Cream recipe here.
2. Best Vegan Cabbage Rolls
I grew up on cabbage rolls. We would make them the night before a holiday and cook them in the oven all night on a low temperature so that the house smelled amazing and made everything feel comfy and perfect.
After I stopped eating meat completely, I didn't eat cabbage rolls for over 25 years. Then, just this past year, I found the Connoisseurus Veg blog and a recipe for Quinoa and Lentil Stuffed Vegan Cabbage Rolls.
Oh my god these are good. They don't take as long to make as my parent's meat-filled cabbage rolls, but they taste (in my opinion) a million times better.
We made it with quinoa at first, but now we substitute rice for the quinoa so it's even closer to what I remember as a kid.
On holidays my husband and I bring a vegan meal while my parents cook their traditional stuff. But, my dad tried these cabbage rolls and was blown away at how good they are.
3. Spicy Black Bean Taquitos
When I ate dairy, I used to stop at 7-Eleven and get those cream cheese taquitos all the time. I loved them and it was one of those things I wished I could still eat after going vegan.
Then I bought Lauren Toyota's Vegan Comfort Classics, and found a recipe for spicy black bean taquitos that satisfied my craving and then some.
I've used pinto beans and kidney beans in place of black beans, and it always comes out amazing.
You do need to buy the cookbook for this recipe. I can't find it anywhere else.
It uses her nacho cheese sauce recipe (which I also can't live without).
4. Vegan Green Chili Mac 'N' Cheese
This is my go-to cheese recipe for mac and cheese. It has a nice kick to it, and it actually tastes very similar to the jalapeno cashew cream.
It doesn't have miso paste in it, but now I'm wondering what adding a little bit of miso might do to the recipe… I'm going to have to try it next time I make it.
But, I recommend you try it 'as is' first to get a sense of how good it is. You can find the recipe on Minimalist Baker here.
5. Almond Ricotta
I used to make my lasagna and other pasta dishes with cottage cheese, but ricotta quickly replaced that when I met my Italian husband and fell in love with ricotta.
When we went vegan, I thought we wouldn't be able to make our recipes with ricotta anymore, but I was wrong!
I found Lauren Toyota's Lasagna roll ups, made them, and realized that the ricotta in the recipe was going to work in everything I needed it for.
It's not as moist as dairy ricotta, but it tastes just as good.
6. Cashew Parmesan
Pasta is not the same without Parmesan. Luckily we have a recipe that we used even before we went vegan, so I knew that Parmesan wasn't going to be an issue for us.
The recipe is by Connie RAWsome who is a vegan cheese queen. You can find the recipe on her YouTube channel here.
7. Sour Cream
This was one of my first finds as a vegan. Since I found the best vegan sour cream recipe, it's been a staple in our fridge. If it's getting low, I make another batch without thought because I use it in so many things, including chili, dips, on pierogis, and for adding a creamy and tangy taste to recipes.