I love being vegan. I get excited when I make and eat vegan food. I would say it's the number one thing I'm passionate about. And I always want to talk about vegan things, even when I'm around non-vegans. But, I know that non-vegans are not as interested in the vegan pizza I had or new vegan cheese sauce I made, so I tend to keep my mouth shut. That's why I write. There are some really cool things that happened in the past few weeks that I want to talk about!
My Friend Liked The Beyond Meat Burger
I have a friend who doesn't really understand what being vegan is all about. She thinks that lactose-free milk is vegan because it has no lactose. She lives in a place where most people hunt moose, eat a ton of meat and cheese, and don't have any type of grasp on what vegetarian, let alone vegan means.
Last month she traveled here to be with her brother who was sick. We got together a few times, and one of those times we went to Frickin' Delights, where she was willing to try a burger.
Turns out she was blown away. She said it tasted like meat and had the texture of meat. She actually told me that she loves the texture of meat, so she was really trying to find the difference between the beyond meat burger and meat. She couldn't. She said she could go vegan if that's what being vegan was like.
Of course, later on during her visit, we went out and she told me that she wanted a burrito with ground beef and cheese solely. So, it didn't change her life.
But, if want to impress your non-vegan friends who love meat with something, try serving them the Beyond Meat burger.
I Bought Daiya's Regular Pepperjack Shreds And They Were Good!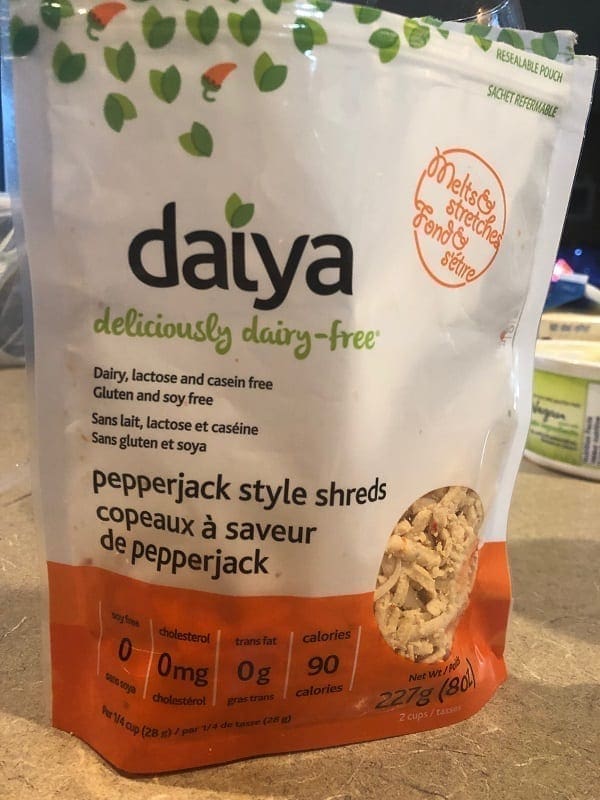 I talked about Daiya's new cutting board shreds not long ago and how good they are. Well, I went out to the store to get some pepperjack shreds and accidentally bought the regular version of Daiya's shreds.
I was a little ticked off because I don't like the Daiya taste and I had needed to use the shreds for something I was making that night. But, when I tried them, they were actually really good!
I don't know if Daiya has changed their recipe, but that weird Daiya taste doesn't seem to be there. At least not in the pepperjack shreds.
As a side note, we also bought the smoked provolone slices and those are on point. My friend didn't like them, but they taste like smoked provolone to me! So maybe she doesn't like the smoked flavor element.
I Made Cashew Ricotta And It Was Awesome
Recently I went out to a vegan restaurant and they had a lasagna there that was awesome. The ricotta tasted like dairy ricotta, so I knew I had to make it at home.
The restaurant uses a lot of cashew in their cheeses, so I figured it was cashew. Plus, I had made almond ricotta before, and we liked it, but it wasn't as creamy as the ricotta at the restaurant was, so cashews seemed like the logical choice.
Turns out I was right. I made this cashew ricotta recipe and I threw it in some lasagna and, wow, it was on point. Cashews give that creamy and soft texture of ricotta, but you still get that firmness of a cheese layer in your lasagna. I used to like dry cottage cheese because it provided that cheesy firmness, so this cashew ricotta is perfect for me.
Let's just say we will be eating much more lasagna around here.
My Parents Found Some Vegan Desserts At M&M Food Market
I swear that place used to be called M&M Meat Shop. But, maybe I'm wrong.
Anyway, my non-vegan parents cook a vegan meal for us once a month, and it's hard for them. My mom is pretty good, but like in the case with the lemon meringue pie, it can be hard to know what's vegan or not vegan.
This time she found some vegan brownies, coconut bars, and peppermint nanaimo bars at M&M's all in one box. I can't find the dessert box online, and I didn't take a picture of it, but trust me – it said vegan on the front. And the brownies and nanaimo bars used tofu in their recipes. My mom didn't have to worry about anything.
All three were good. Sweet. But good.
It's amazing at what is popping up out there. It not only makes it easier for vegans. It makes it easier for people who are trying to feed vegans and don't know what to buy.
We Came Across Coffee Mate's Vegan Creamers
We took a road trip to the mountains, which are about four hours away.
We left early, and I forgot to bring my silk creamer, so we had to stop at a store close to the mountains to see if they had any available.
We found some non-dairy creamers from Coffee Mate. I was blown away. They are a part of the bliss lineup from Coffee Mate.
As far as I can tell, they look vegan. But they don't say vegan outright, so there's always that wonder.
I sent them a message asking them for clarity, here's the unclear message I got back:
Our regular non-dairy creamers contain sodium caseinate and aren't considered vegan. While our natural bliss plant-based creamers aren't certified vegan at this time, we think they might be just what you're looking for. Visit our website and check them out!
So I guess they are vegan? They don't outright say that, but they imply it. So I asked for clarification and this was the response:
Our products are not certified vegan so we are unable to make that claim at this time.
I get that. So, I didn't push it anymore.
We really liked the almond vanilla. So much so that we stopped back in the store on the way home and picked up some more of it.
We also bought the coconut sweet creme flavor and didn't like it. It tasted like it had gone bad or something, but I think that's the way it was supposed to taste.
But, before I went vegan, cream started tasting bad to me. And the taste is kind of reminiscent of what cream tasted like, so maybe it does taste like sweet cream and it's just not something I like the taste of anymore! Weird.