If you've seen my food pictures on this site, you know that I'm not good at taking pictures of food. I want it to look appetizing, but it usually doesn't look that great. I haven't mastered it at all. But, after watching countless videos of food being made on YouTube, I feel like that's something I would like to try. I tried to create a video, and it turned out horrible, so I got on Skillshare and found Food Videography For Beginners by Rose Nene.
The Course Covers A Lot Of Content
She did this Skillshare course really well. She covered everything from planning the video to marketing it. It's not a short course. It's 3 hours and 19 minutes in total. She did a great job. She deserves a lot more students!
There were points in the class that I got butterflies of excitement in my stomach. I had a lot of aha moments that were exciting to me, and I thought a lot about how I would set up my food videos going forward.
I loved how she showed her mistakes too. For instance, she showed herself setting up two cameras to get different shots, and they both ended up getting pretty much the same shots, so it was pointless. She didn't edit that out, she actually showed that how it looked the same and was unnecessary.
I wish she wouldn't have cooked with so much meat, as it's a turn-off for me, but, from a skill point-of-view, the course covered all the stuff I need to get going.
Be Careful Using Your Phone For Video
In the start, I used my iPhone to take some video and I ended up calling 911 by accident! The operator asked me if I was able to speak because I was trying to act like it was no big deal. I told her I was trying to shut off my phone and accidentally swiped to call emergency instead. I didn't want to tell her what was really happening. I was so nervous telling her that, and I was worried she would think that someone was making me act like it was no big deal and then send out the police.
I think it happened because I had a feature on that calls 911 if you push the side button 5 times. I think I was accidentally pushing the button as I was getting it set up in the tripod. But I'm still not totally sure how that happened because I was being careful to set it up.
Let's just say that it's put a little bit of fear in me every time I set up the phone in the tripod now.
Once the tripod fell over and my phone was in it, and it started making a god-awful emergency sound for about 10 seconds. Thankfully it didn't call 911, but I worried that it might have sent out some sort of distress signal… somewhere. I was terrified the police were going to come to my door and I was going to have to explain that I was trying to video some cooking I was doing and accidentally called 911 or sent out a distress signal. Luckily, they didn't show up.
In short, be careful not to call 911 as you film with your tripod.
You May Or May Not Need Equipment
I'm pretty lucky because my husband has a lot of equipment to shoot video already. He plays the guitar and puts some of his guitar pointers on YouTube. Therefore, he has tripods, microphones, and lighting that I can use.
The only thing I don't have is a backdrop like she has. My husband does have a huge backdrop holder, but it's so big! It's meant for him sitting in front of it, not a blender or plate or something.
In any case, I'm glad he has all that stuff because I'm not sure I'd be willing to spend a lot of money to try this out. I do that too often. I buy everything I need to do something, use it a few times, and then it sits around for months or years waiting for me to use it again.
I also have a camera that I was gifted years ago. It's a Pentax k-50. I was going to learn EVERYTHING about photography back then, but I've barely used the camera. So, I'm not going to invest in something better. I'm going to use it and see how it goes.
An Editing Software Is Essential Too
This is another thing my husband has but I don't. (Well, I use editors like Canva and Flexclip to do editing, but I'm talking about an editor that literally does everything while editing your videos.) He uses Filmora Pro by Wondershare. I took a look through it and think it will be fine for me. I have no idea how to use anything though, so that will take some time.
In the class, Rose uses Adobe Premiere Pro.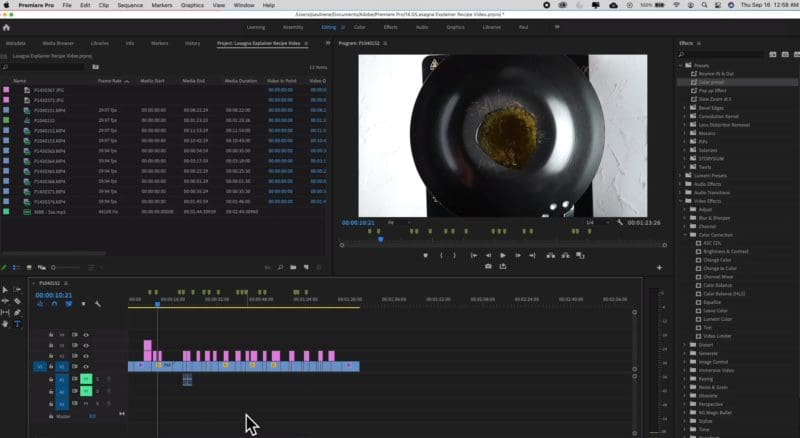 There is a lot of time in the class dedicated to her using Premier Pro to edit the video she shot. She explains everything she's doing in detail. Even though she works quite fast in it (you can tell she does this a lot), it's pretty easy to pick up what she's doing because she explains her editing process so well.
It would be best to follow along with her in Premiere Pro, but I'm not buying that software right now, so I just sat back and listened. I did pick up some tips just watching her edit, such as reducing/increasing speed, correcting color, and adding some effects and text to make it look better.
A Big Aha For Me
I always wondered how they get these great overhead shots of food being made. I've noticed that a lot of people seem to use hot plates for their shots and thanks to this course I know why.
They put everything on a low table and cook it from there. This ensures they can get those great overhead shots without knocking the tripod over and calling 911.
I do have a low table, but I don't have a hot plate that I can cook from, so I still think I need to try filming over top of my oven.
That said, there are some really nice hot plates on Amazon and they are only about $60 CAD, so if I feel it's necessary, I will invest in that in the near future.
An Important Part Of Filming
I also learned that planning is really important. Not just a little bit of planning, but it's important to create a storyboard so that you can set up scenes, create continuity, and ensure you are getting all the shots you want to get without having to do it over and over again.
Luckily, Canva came through for me AGAIN and has some great storyboard templates that I've downloaded.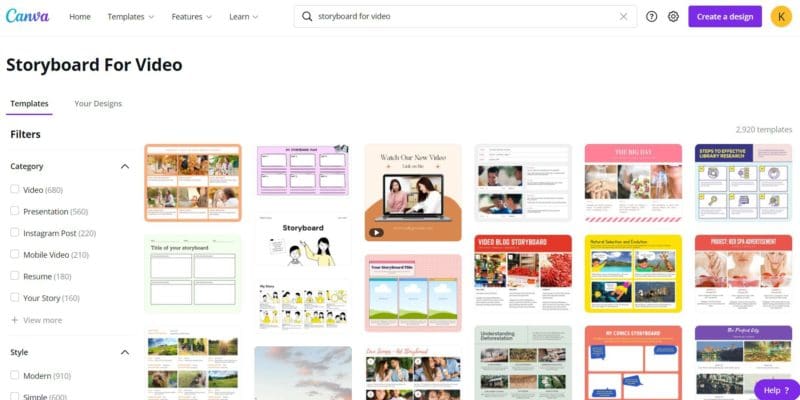 I'm excited to try my first video. I have a few things in my mind. I don't want to go too big. I always go too big too fast, and it ends up being too hard or too disappointing. I'm going to do something easy that I think looks good and makes me feel good when I accomplish it.
I plan on posting my first video on a YouTube channel that I started for this website. I want to have it up this week. It terrifies me to think about doing that. I can publish written content all day long but putting out a video on YouTube is way out of my comfort zone.
Here's the link to her class. If you are not on Skillshare, you should be offered one month free to try it out and you can try her class for free then.