I can't count how many times I've seen the President's Choice Plant-Based Apple Crumble Pie and thought about getting it, but passed on it. I'm not really a pie person. I need to be in the mood, and when I am, I just make it at home. But, things are changing lately!
I tried Panago's Vegan Apple Pie not long ago and really liked it. Their pie is made with an all-dough crust.
The President's Choice Plant-Based Apple Crumble Pie is just as it sounds, with a crumble topping.
Who doesn't like a crumble topping? I was craving it in a big way the other day, so we ended up buying this apple pie when I saw it.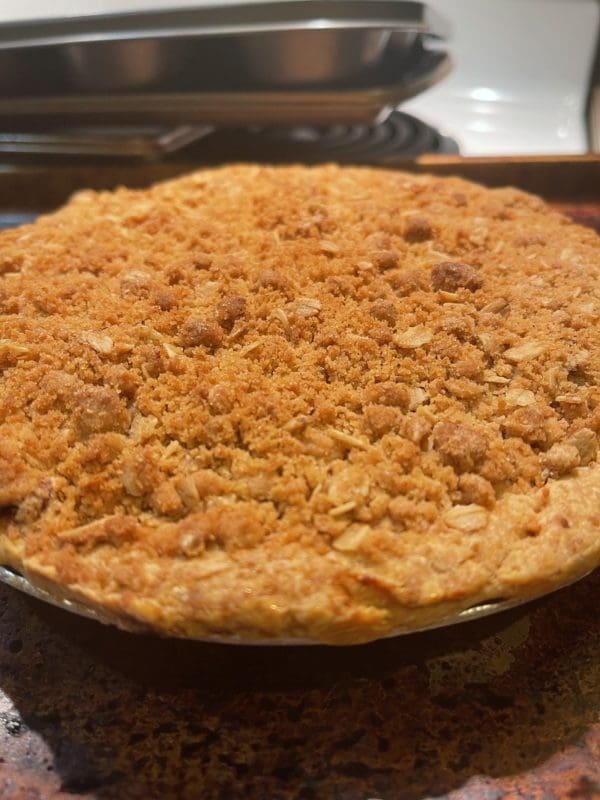 The ingredients are pretty standard for an apple pie. There are a few things I wouldn't use if I made an apple pie at home, such as Palm oil shortening, but other than that, there are no completely weird ingredients or preservatives in this vegan apple pie.
Here's a picture of the ingredients and nutritional facts. It's not the healthiest thing in the world, but it's apple pie with a crumble top… so you can't expect that.
The pie sits in an aluminum pie plate and comes wrapped up tight in plastic.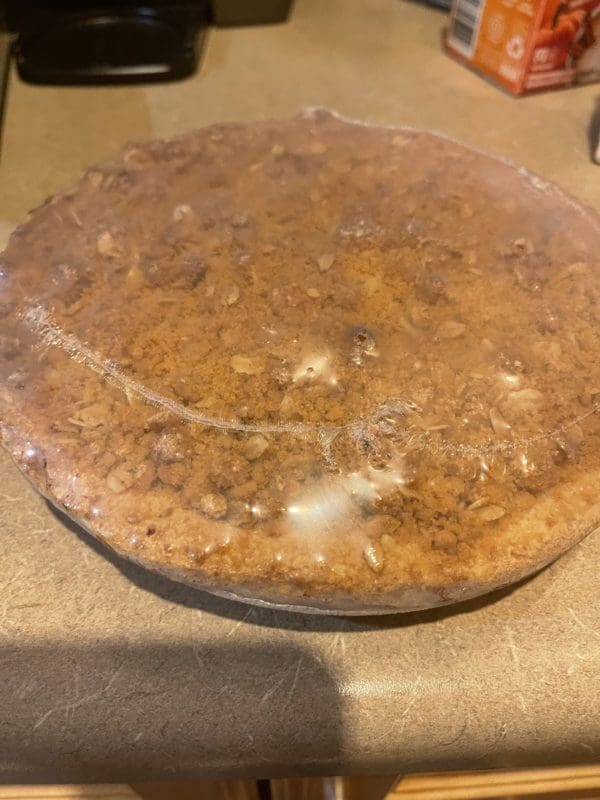 I figured the topping would all come falling off when I took off the plastic, but it didn't. It hung on there as you can see from the first picture. It's packed tight on there.
You bake it in the oven on a baking sheet and on a low rack at about 325°F for an hour.
I cooked the apple pie for exactly an hour in my oven. My oven tends to bake things faster than recipes say it will take, so any longer and we would have been eating burnt apple pie.
When I took it out, there was no doubt in my mind it was going to be good. The smell was amazing. It looked warm and goey. And it was.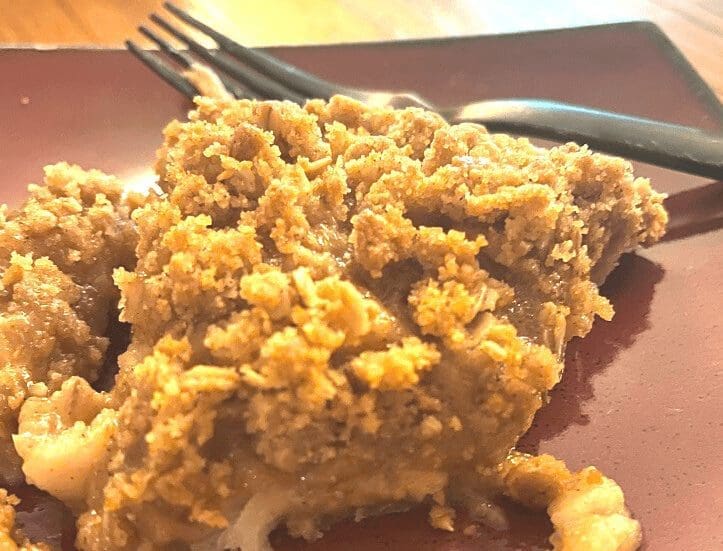 The President's Choice Plant-Based Apple Pie is better than Panago's Apple Pie in my opinion.
The oat crumble is delicious.
The apples are tender and delicious.
Everything is delicious. Hot, cold, or anywhere in between, it's good.
I often like my pie with ice cream, but I actually liked this apple pie BETTER just as it was.
Something to point out – my husband is allergic to raw apples but can eat apples when they have been cooked, most times. Sometimes he will feel a twinge in the back of his throat and stop, but usually, he's alright eating cooked apples.
With the President's Choice apple pie, he was fine. And there are a lot of apples in there. It's nice to be able to enjoy something you usually can't eat, especially when it's as good as this plant-based apple pie!
Keep It Coming President's Choice!
I'm so glad President's Choice keeps making all these plant-based options. They missed the mark with a few of them, but this pie is on point, and I would highly recommend it.
We will probably be getting this apple pie to make for dessert when company comes for supper and we just don't feel like putting in the work to make a dessert.
And I know I'll be craving this again soon, so it will probably be something we get every second pick-up at Superstore.
(As a side note: PLEASE President's Choice people… make some vegan pizza bites!!!!)