Just last week, I decided to try the Calm app. I'm so glad I did. Like most things, it came to me when I needed it. I was feeling stressed out. I've been having hair loss, which I think is due to stress. I'm talking a straight-up bald spot! I have never had a bald spot on my head. I was diagnosed with Alopecia Areata, but I really feel like stress was what caused it because I know much stress I've been feeling lately.
The pandemic, worrying about money and other things, big hormonal shifts, and having some anxiety over what's going to happen has been a part of my daily life for a few months. I basically fell into a habit of worrying.
After my diagnosis of Alopecia Areata, I decided to start using daily what I learned months ago from Everyday Bliss. Paul McKenna gave some awesome techniques for destressing, and I was planning to replace my habit of worry with those techniques that I seemed to have gotten out of the habit of using. In combination with that, I was going to go deeper into NLP and make it a daily practice.
The very next day after I made that decision, I found the Calm app. I signed up and have been using it almost every day, minus a day here and there, along with the techniques from Paul McKenna and a few techniques from NLP that work well for me.
I feel like a brand new person and it's only been just over a week. I was constantly stressed out with ridiculous thoughts and an ever-present feeling of doom and gloom and now I feel normal again.
The Calm app is a great app for mindfulness and meditation, and it was exactly what I needed to come into my life. I feel like I have everything I need to keep myself sane going forward. Now, I just need my hair to grow back!
I Wouldn't Want To Share The Calm App With Someone
This is one of the few apps I don't want to share with anyone. The main reason is that it has a 'my stats' section where you can see how many sessions you've had, minutes you've spent on the app, and your streak for using the app.
I like this. It quantifies what's going on and I will be able to create some clear goals going forward into 2021 when it comes to mindfulness and meditation.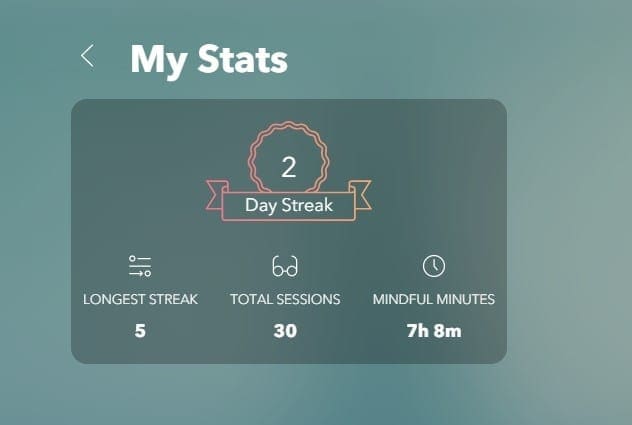 Also, the app shows you the recommendations for you based on what you've done, so I only want to see recommendations based on what I've done.
I Like Both The Desktop And Phone Version Of The App
I tend to like one or the other more with apps, but with Calm, I like them both. I use my phone app when I'm on the go and with the bedtime stories and my desktop app for everything else since I'm already by my computer for 8 hours out of the day.
They are both very user-friendly.
They both show you what's up next for you today, which always includes the Daily Calm, a daily meditation focused on various things. I've found these daily calm meditations to be very tied to what's going on with the day in terms of holidays or events. In other words, they are very relevant for the day or for a wide range of people.
Both apps also show you what to take next for whatever multi-day meditation you are in. There are a lot of multi-day meditations to go through. I've noticed many of them seem to last around the week mark (in other words, 7 days and 7 meditations) and they teach all aspects of the subject of focus to give you a wide variety of tools to go forward with.
I've done the 7 days of managing stress meditation series and I'm on day 4 of the 7 days of calming anxiety series.
The biggest difference I've noticed between the desktop app and the phone app is that on the phone, I can see what I've completed whereas on the desktop it doesn't show the progress you've made along the way.
Here's the desktop version that just shows 7 Days of Calming anxiety as the first meditation.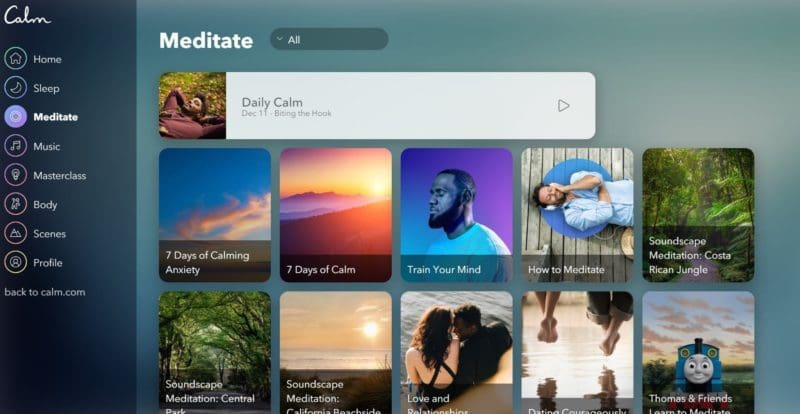 And here's the phone version that shows I've completed 3 days of it.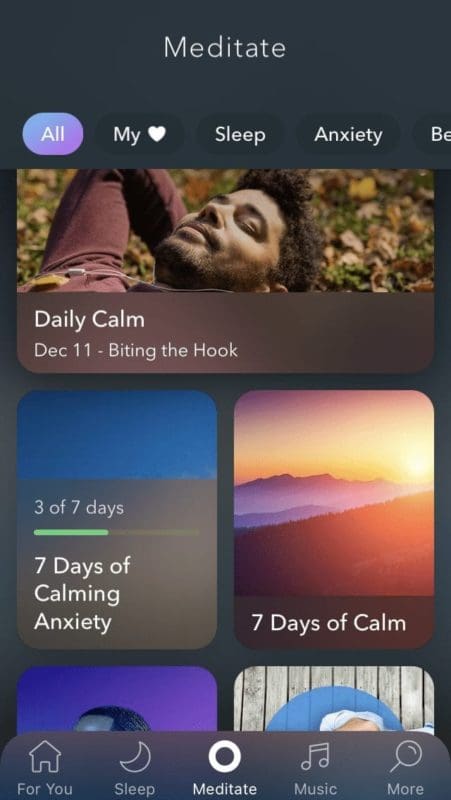 Both of the apps show you what's next for you in terms of what you are doing.
And both the desktop and phone app move the multi-day stress meditations out of view once I finished it.
You Can Choose Between A Female And Male Voice For Some Meditations
The daily meditation is always done by Tamara Levitt. I like her voice, but I prefer a deep voice when it comes to meditations. That's why when I have a choice, as with the multi-day meditations, I've chosen the guy's voice. I found that once you choose the voice you like you don't need to choose it again. It becomes your default voice no matter which app you use.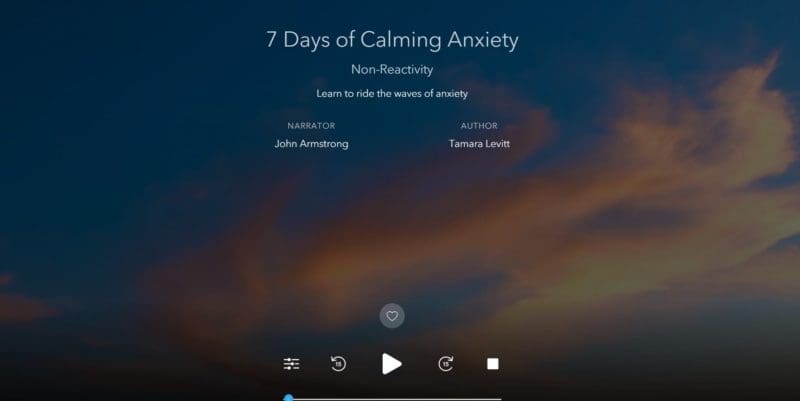 My Favorite Bedtime Story From The Calm App
Never did I think Matthew McConaughey's voice would put me to sleep, but it does. It's so soothing. And the story he tells is now my favorite bedtime story ever – and I haven't said something like that since I was a kid!
For me, the underlying message from the story that Matthew McConaughey narrates, called Wonder, is about being curious about the magic and wonder in life. As someone whose soul fills up when I watch the stars, and especially meteor shows, this story hits home for me as it's set around a young girl and her grandpa watching the meteor shower that's occurring. I think about it every time I look up at the stars now. The story helps me remember that there's more going on than meets the eye in 'my' world and helps me get unstuck from a very focused viewpoint that causes stress and anxiety. It's so good. So, so good.
I love the bedtime story feature on the Calm app. It's a great way to focus your mind on something else than your worries for tomorrow and the regret of the day. It's a distraction and helps you put your focus on something more positive. And, as opposed to reading, where I put down my book and often refocus on the problems in my life, I always fall asleep to the bedtime story and drift off in a positive state of mind. I love that.
I saw someone say in another Calm app review that the bedtime stories are too long. I don't think so. If you are like me and sometimes lay awake for an hour or more thinking and tossing and turning, then a 40-minute or less bedtime story isn't a big deal. Chances are you will fall asleep well before the story is over and get to sleep much faster than you would without it.
The Music Also Puts Me To Sleep
The Calm app has a few different subcategories to choose from in the music category. There is work, relaxation, lullabies, focus, sleep, nature, and soundscapes. It all puts me to sleep. Even the afternoon pick-me-up list just makes me tired.
I've tried listening to some of the Calm music in the bath, and I get too tired… to the point that I'm scared I'm going to fall asleep and drown. I've tried listening to it while working for focus, but again, I get so tired.
Perhaps my body is still recuperating from stress and anything calming puts me into a deep relaxation that my body needs. I don't know, but since I got the app, I only listen to Calm's music if I want to nap or sleep.
The Beautiful Calming Scenes
Man, I love this.
You can pick through different scenes and sounds that resonate with you. If you want, these scenes appear when your app is at rest on the desktop and when you turn your phone sideways on the phone. And they have sounds to go with it.
You can have a different scene on your Calm desktop app as opposed to your phone app.
The scene and sounds play behind the meditations, which is so cool. There are a few silent scenes to choose from if you don't want noise in the background.
But I like the sound. For instance, I love the thunderstorm. The sound of thunder has always been one of the most calming noise to me. I imagine myself out in a cabin on the porch listening to a thunderstorm while I'm meditating.
Or with the sunset beach, I imagine myself in a canoe meditating listening to the water splashing around me.
Or, with the tropical beach, I imagine myself back in Maui laying beside the ocean and meditating.
The sounds help me stay mindful during the meditations. I wish they had a train sound because, for me, that's one of the most calming sounds I can listen to. I'm sure most people wouldn't find it soothing though.
I Haven't Tried The Body Or Masterclass Sections Of Calm Yet
I don't see anything in the Calm Body section that I want to try, and I haven't gotten around to taking the masterclasses yet.
But I did notice that Dr. Michael Breus, the guy who teaches Mindvalley's Mastery Of Sleep, has a masterclass on there. And, so does Dr. Shefali Tsabary, who teaches Conscious Parenting on Mindvalley.
There are not a lot of masterclasses on Calm, but I do see some that I'm interested in. I plan to schedule these into my days soon.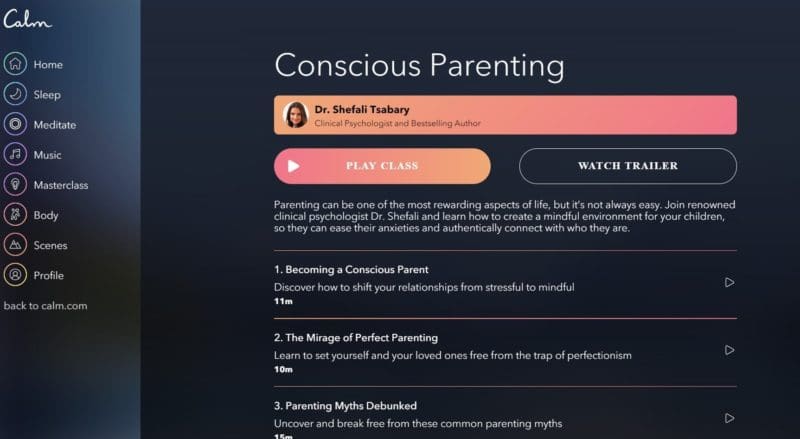 The Calm App Has Mindfulness Reminders
I like this feature. The Calm app sends notifications that remind you to be mindful, which truly does interrupt whatever you are doing and forces you to look around be mindful if only for a minute.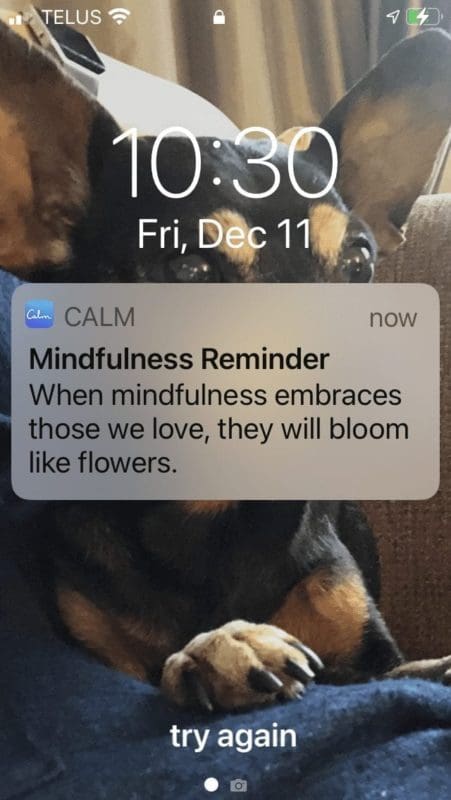 The Spark Podcasts
The other thing I've been listening to are the podcasts. I've listened to a few while I'm doing a daily clean in the morning. I listened to the Matthew McConaughey interview/talk and realized what a deep and empathic person he is.
I don't actually know if you can find the podcasts in the desktop version of Calm. I haven't been able to find it there. But it's in the list of options in the phone version.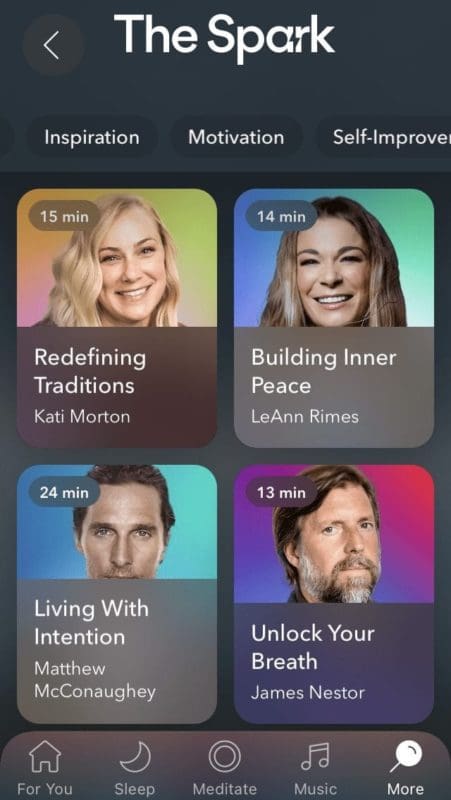 Calm Is A Great Mindfulness And Meditation App
I had downloaded another app not long ago that was supposed to be for mindfulness and meditation. It was called Headspace. For some reason, I never got into that app.
Granted, the Calm app came into my life when I badly needed it, so that's likely why I started using it so quickly and kept using it.
I recommend the app. I used the paid version right from the beginning, so I can't say how good the free version of Calm is. I know the paid version has much more than the free version.
According to Calm, in the free version, you get day 1 of all the multi-day meditation programs, and one sleep story, the breathing bubble, and free scenes and nature sounds or music to choose from.
But, in the paid version you get access to everything on the Calm app, and there is a lot of stuff there.
Even with the breathing exercises, you get 6 to choose from for different things like focus or energizing instead of just a bubble that expands and contracts.
And I'm not sure if this is in the free version or not, but you can reflect on your meditations and write little reflections that you can look back on. It's a neat little journal with quick and in-the-moment thoughts.
I don't think I would use the free version, and that's likely what happened with Headspace… I wasn't paying for it so it didn't seem to offer enough for me.