Planner inserts for the Happy Planner have become essential to create. I'm online all the time, and if you've been online at all this year, you know it can get pretty depressing. This is why I've made a resolution to spend a lot more time offline in 2021. One of the ways I'm going to do that is by using my Happy Planner way more than my online planner in the coming year.
I love Goals on Track. I think it's a great goal setting software. But, planning offline is one thing I can do to reduce my online time, so I'm doing it. I'll still use Goals on Track, but I'm planning on spending a way bigger portion of my time planning and reflecting in my Happy Planner next year.
My Happy Planner Has The Basics
I'm not a big fan of the new Happy Planners for 2021. They all have things I don't need in them or are decorated in a way that I don't really fit. My friend felt the same way, so I'm assuming other people do too.
But I needed one, so I ended up buying the Good Habits Big Vertical Happy Planner this year. It was at my local Michaels. I like the vertical setup. I'm not sure about the lower set up with the habits section, but I'll see how it goes.
It has monthly calendars and weekly spreads, so I don't need to create anything like that.
I do need some planner inserts, though, to help me create goals and keep track of things.
Making Some Inserts For My Happy Planner Using Canva
I love planner inserts. In the past, I always tried to draw them out by hand. I really like the idea of bullet journaling, and watching buller journalers on YouTube I've been inspired, but my planner inserts never look anywhere near as good as theirs.
I've made planner inserts for counting steps, keeping track of habits, reading lists, menu planning, and more. And they've all been uninspiring to me, but took me hours to create.
Lately, I've been experimenting with making my own planner inserts on Canva. I love it because I can make them look more professional (my writing is like a 4th graders) and customize them to exactly my needs.
Canva already has some templates for planner inserts.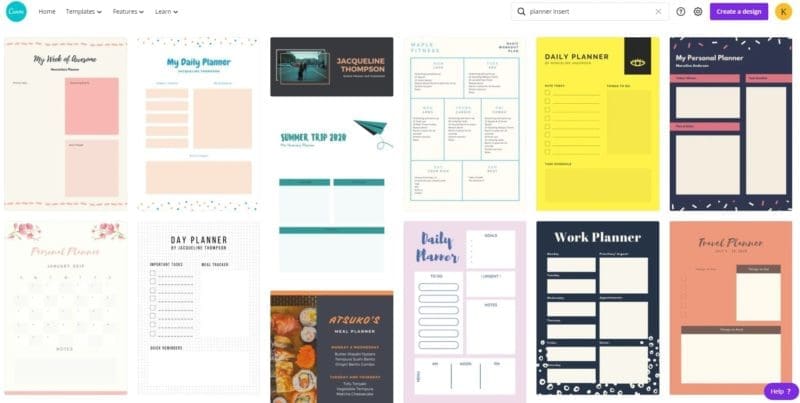 There are quite a few to choose from that you can edit to fit your needs.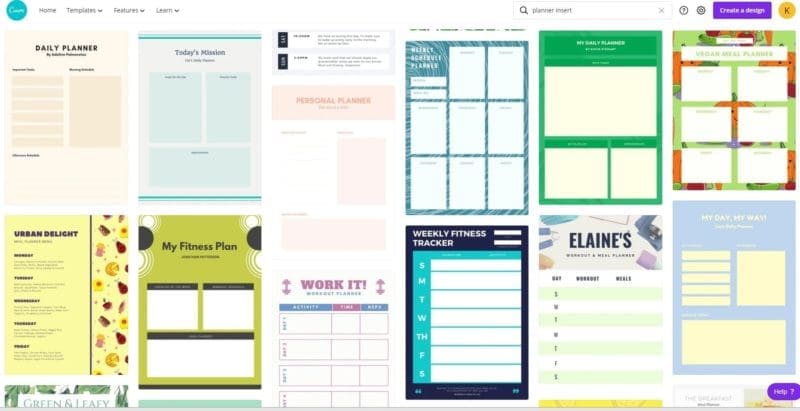 I just noticed that there are even vegan meal plan templates. In fact, there are plenty of meal planning templates, including paleo, sugar-free, weekly meal plans, lunch meals plans, personalized meal plans, and more. In short, if you want to plan your week out for meals, you will find a template that likely works for you in Canva.
You can get a closer peek at individual templates by clicking on them and then choose to use them if you want or go back and check out more templates.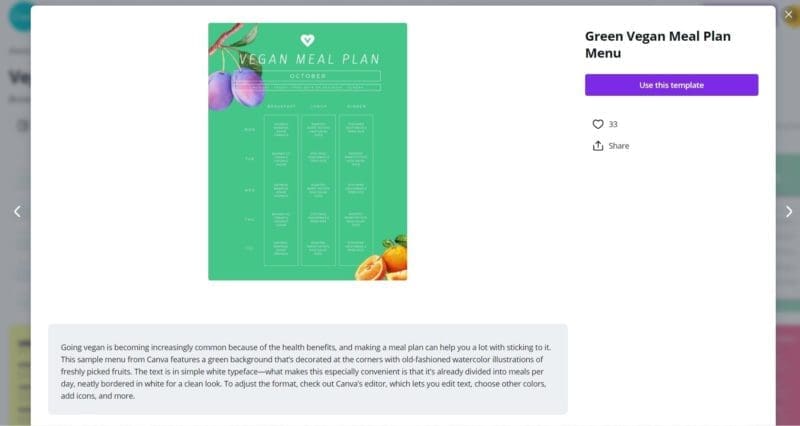 And then once you get into the editing page, you can edit every element to your liking, including the text, icons, colors, and pictures. This is what I love about making planner inserts on Canva. You can make them extremely personal to you.
A Few Lifebook Inserts
One thing I'm going to include in my Happy Planner this year is Lifebook inserts.
I'm going to be making the Lifebook membership and app a big part of my daily routine, so I'm likely going to have some inserts around both of those things.
But, while I still haven't ironed out all the details on what I want for Lifebook inserts, I have my monthly goals and weekly goals templates done.
They are at a glance type inserts that I can branch off from with tasks and details. I'm planning on making an insert for my yearly goals and other inserts that help me break down the tasks and details I need to pay attention to as I go through day to day.
Here's what I have for my weekly and monthly goals in the areas of Lifebook that I focus on.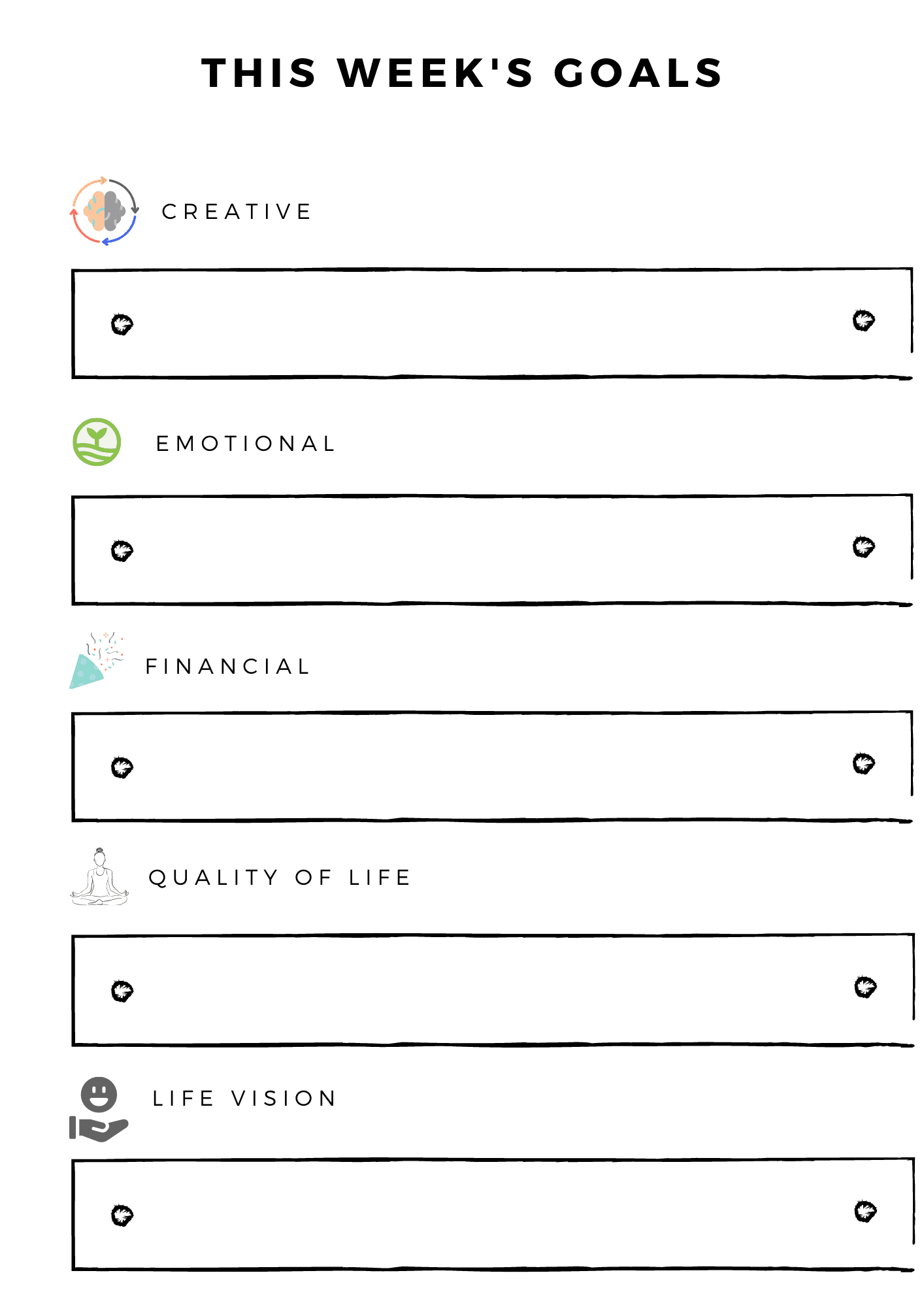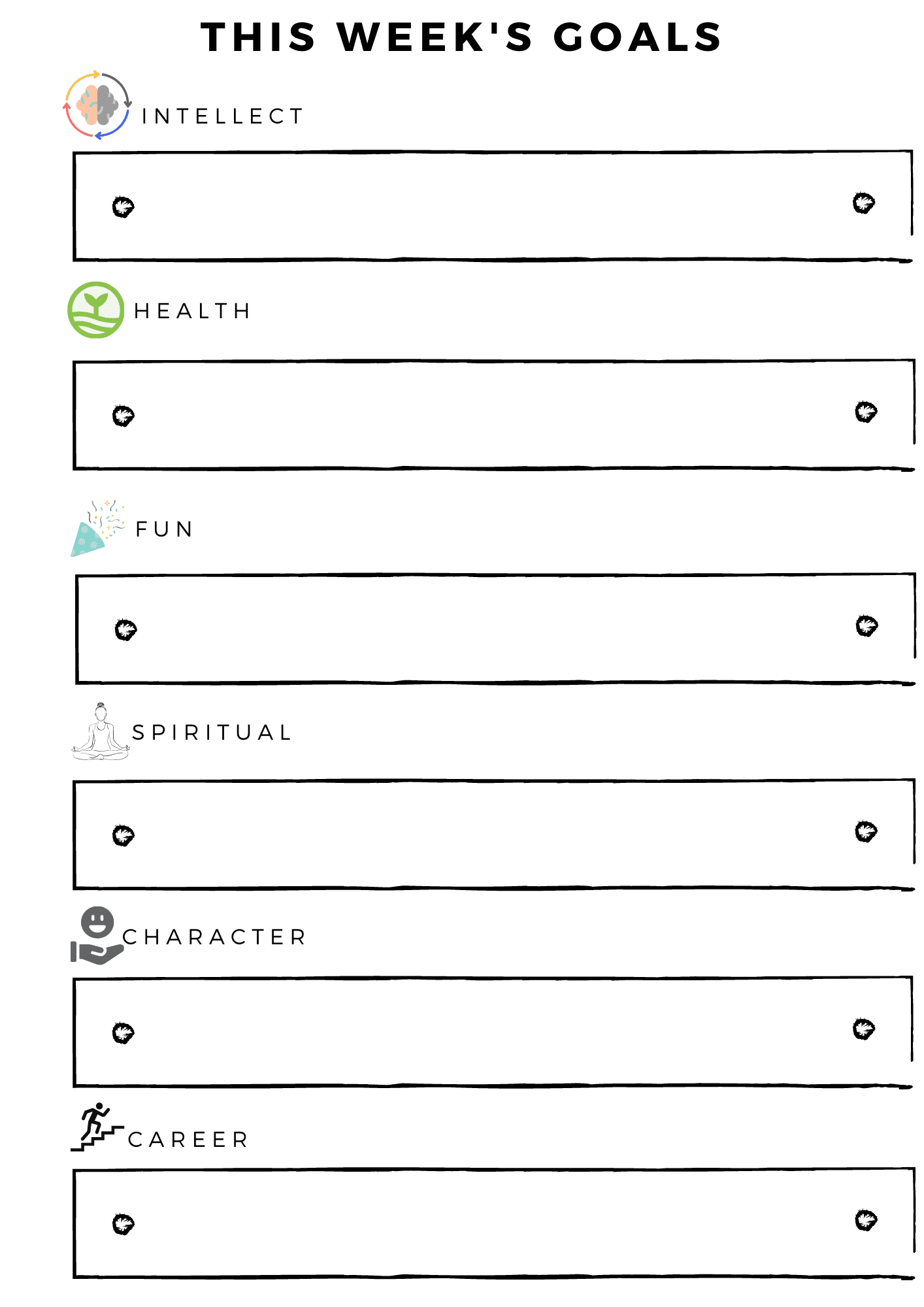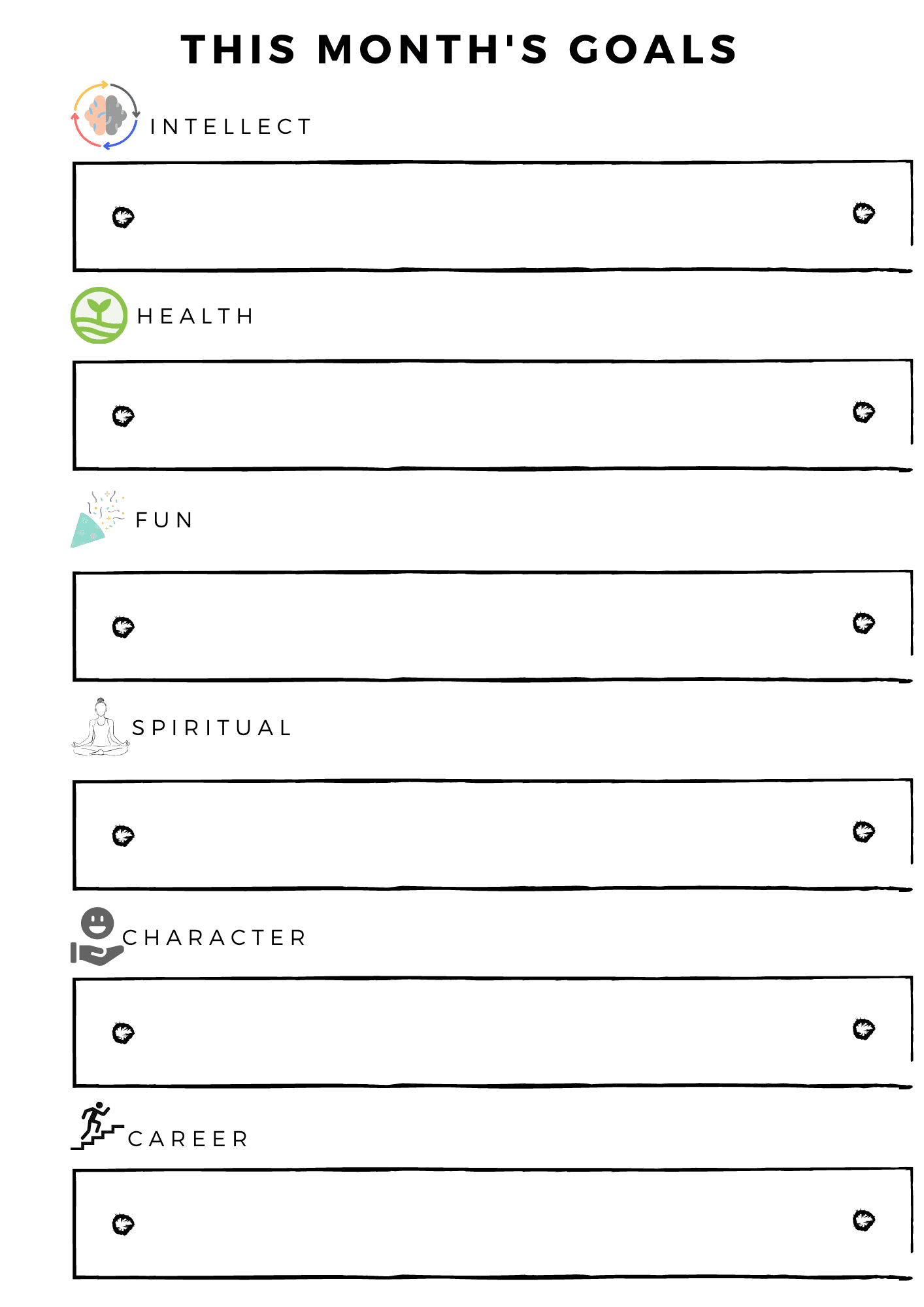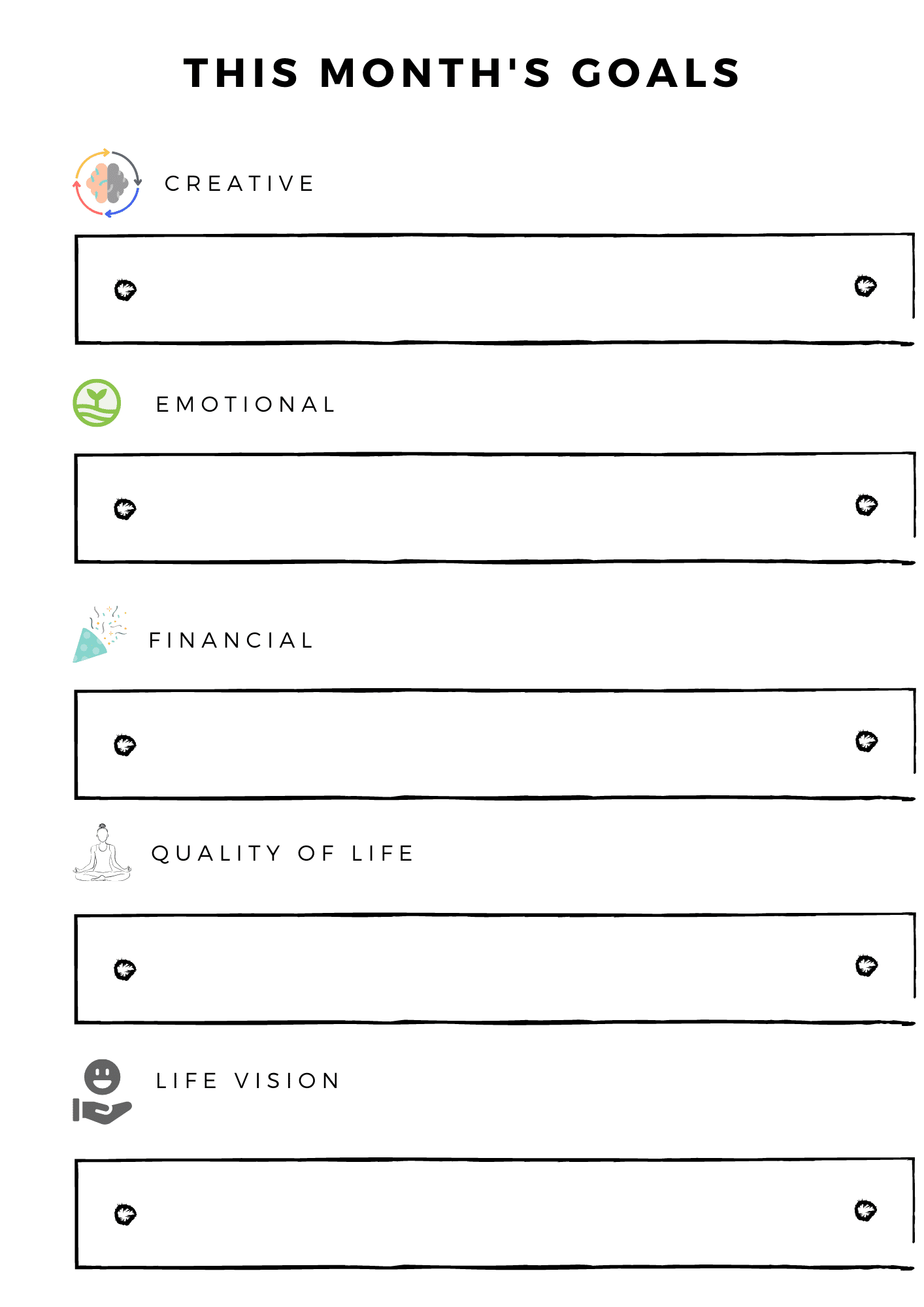 Editing this post, I noticed that my fun and financial have the same icon. That was by accident, but I kind of like it. Maybe it's a reminder that I need to look at my financial life is a more fun way, just like Ken Honda taught us in Money EQ.
The Lifebook membership has a challenge right now to get us ready for 2021, so as I go through that challenge, I think some more Lifebook planner templates are going to pop up.
I simply saved these in PDF format so that I can print them off when needed.
Book Reading List Template
I have long had a goal of reading 4 books per month, and I've been failing miserably at it. Not in 2021.
I have created a monthly template on Canva for my reading goals. It's a simple planner insert, but it's going to help me see the books I want to read at a glance and write down any notes I have.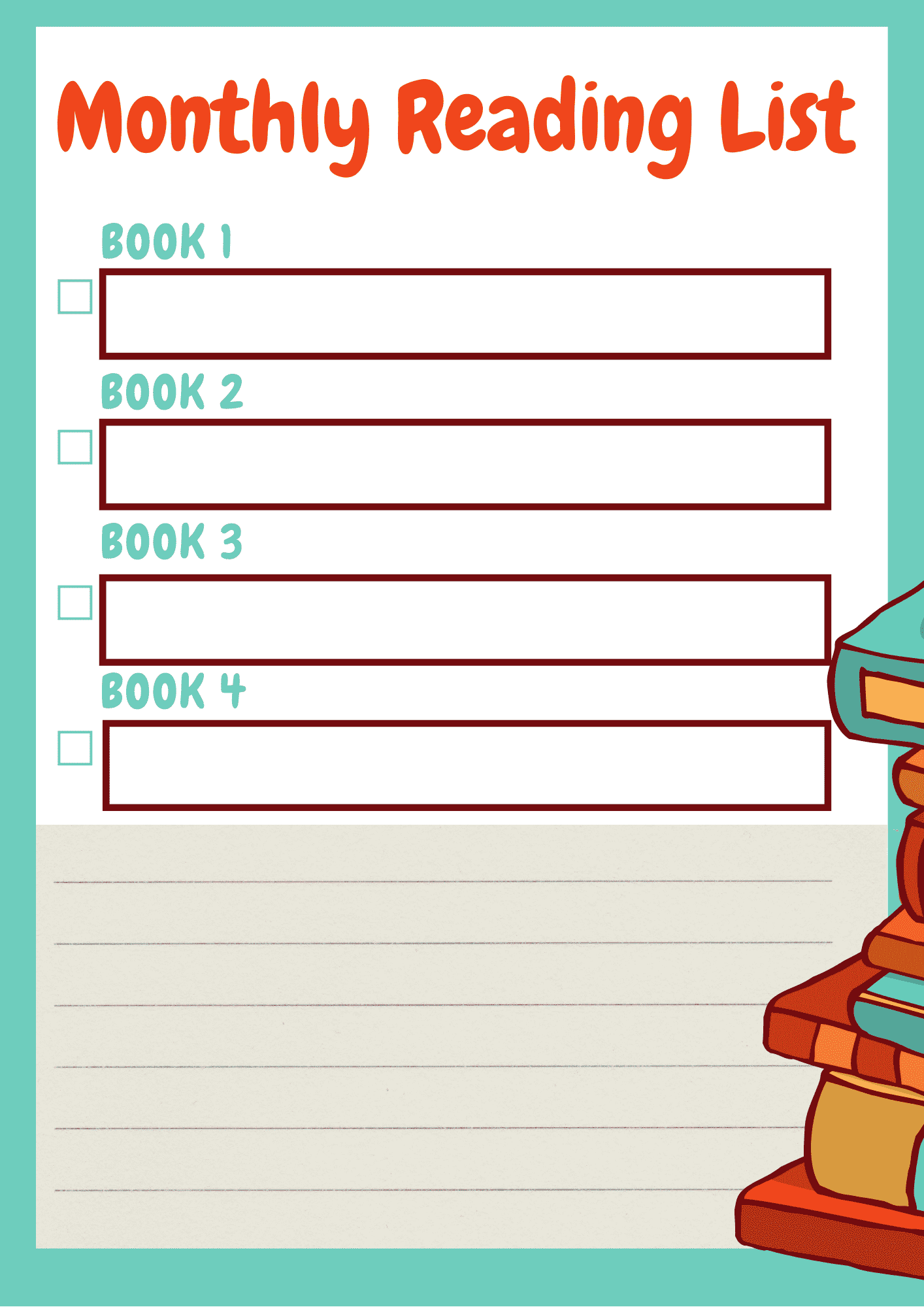 There are plenty of reading and book templates to choose from. As you can see, I used the second one on the top left of the screenshot below and edited it to fit my needs.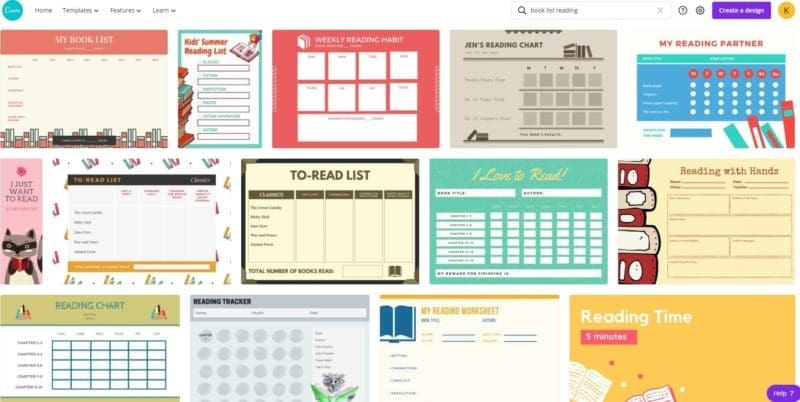 Regular Inserts For Happy Planner
One of the things I always buy from Michaels is the note inserts for The Happy Planner. They are always so pretty. But, I can easily make those on Canva. Here's a quick planner insert I whipped up for gratitude.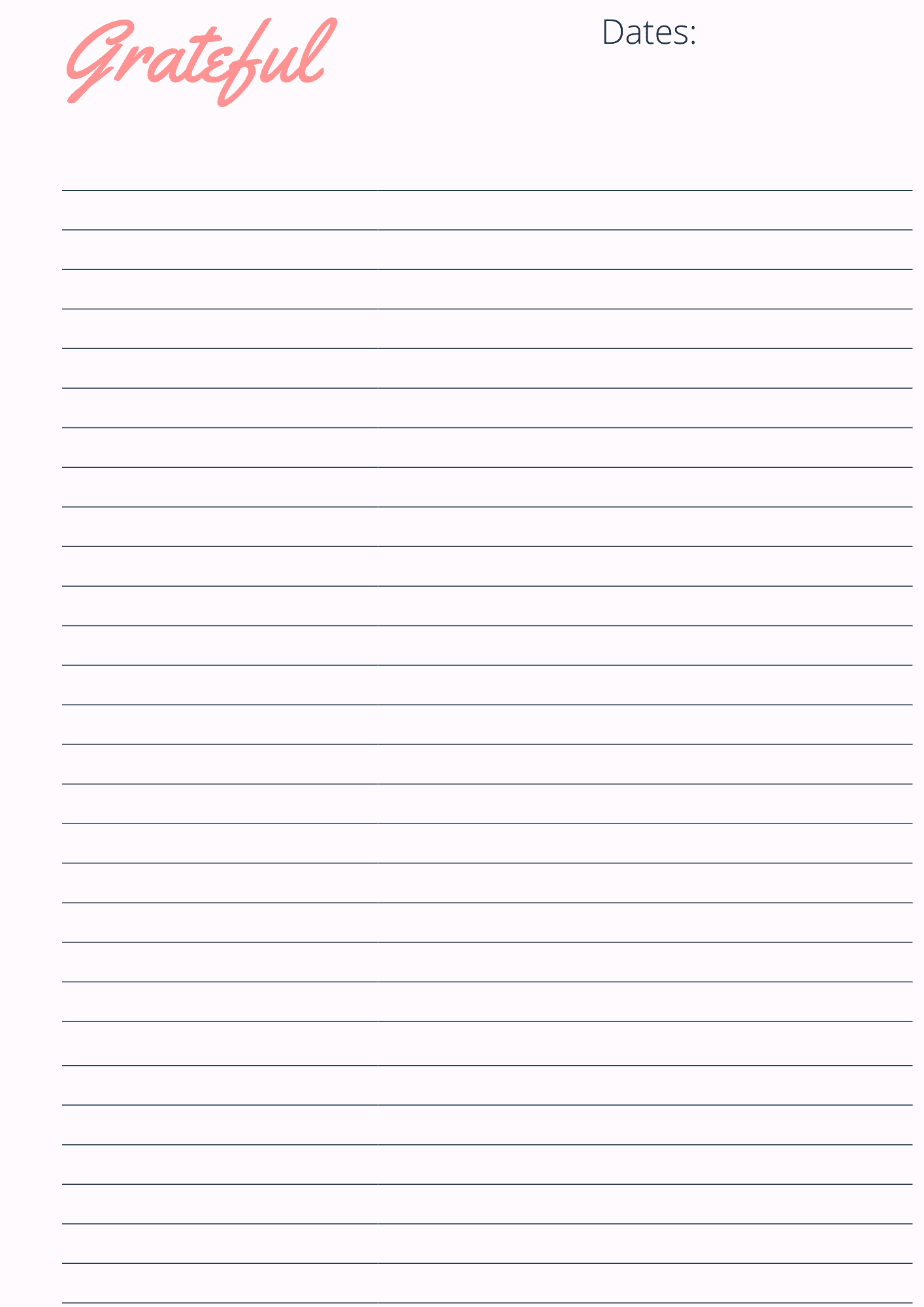 I'm thinking about doing weekly gratitude in my main Happy Planner. Sometimes I use the Happy Notes for that, but I can make some pretty inserts that will make committing to writing these down much more easy.
The beauty is that I can tailor it to the headings and text I want, colors I want, and images or elements I want. It makes it very personal and much more usable that way.
I'll Update With New Planner Inserts I Create
I'm not sure what else I'm going to add to my list of must-have planner inserts for 2021. I'll keep updating this post with new inserts that I create.
If you want to create your own inserts, I highly recommend checking out Canva for yourself. It's the number one service I use in terms of creativity for myself and my writing. In fact, I've written about how I use Canva everyday here. You can add planner inserts to that list!
If you want to buy inserts, I highly recommend checking out Etsy. There are some people creating some awesome planner inserts there.