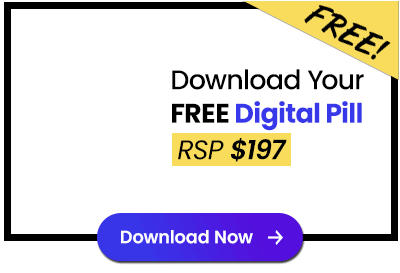 I've talked about how much I love Lush, but I hate going into Lush stores. So I haven't been in a Lush store in years. But, I saw a subscription box that you can order online, called the Lush Kitchen Subscription Box, and couldn't resist. It's fall, so it's a great time for bubble bars and new scents. Especially when they are Halloween-themed!
The Subscription Box Hasn't Run Totally Smooth So Far
It was a bit of a kerfuffle as I waited for the subscription box. I think it's fairly new if not totally new to Lush as there was some confusion going along.
For instance, they allow you to vote for items you would like to see in the subscription box coming up.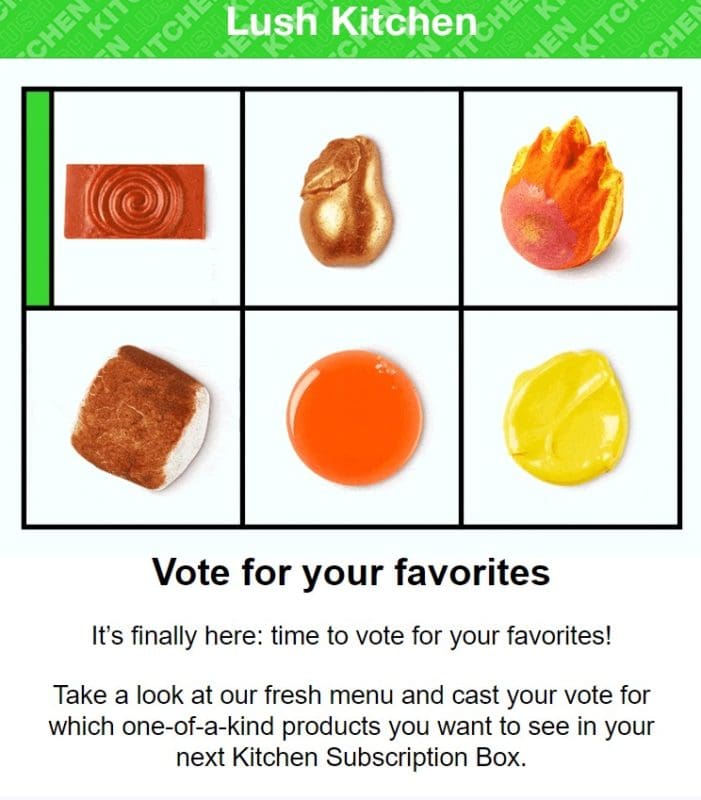 When I got the email to vote, I was taken straight to a page where it said, 'Thank you for voting!' but I hadn't voted yet! That was disappointing. They did send out an email about a week or two later that said many people had an issue with voting so they were opening up voting again.
Also, I thought I had gotten double charged for the October box, but it turns out the first 'charge' was just an authorization charge that wasn't actually applied until later. I didn't get emails to tell me I was being charged, so that would have been nice.
The good news is that Lush's chat has been great. Every time I've written in, I've gotten helpful and friendly answers telling me what's going on.
I'm assuming all the kinks will get worked out as they create more and more subscription boxes.
The October Lush Kitchen Box: What's In It?
I paid $58.75 CAD in total for this subscription box. It's $49.95 plus shipping.
There are 5 beauty products, one notebook, and one little Lush pin. So as far as products go, I'm going to say the are 6 products and that works out to $9.79 each.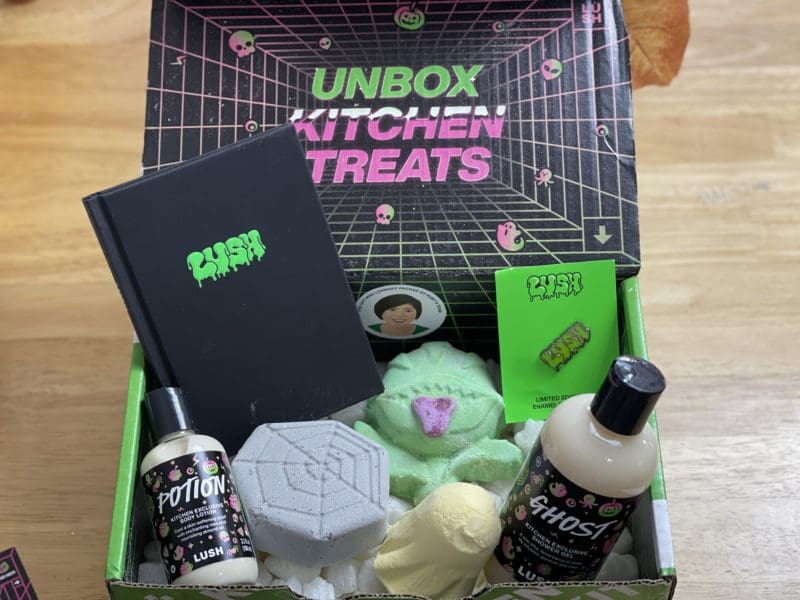 The cool thing is that these products seem to be just for the Lush Kitchen Subscription Box. I'm not seeing them for sale on the Lush website.
1. Potion Lotion
First, we have the Potion lotion.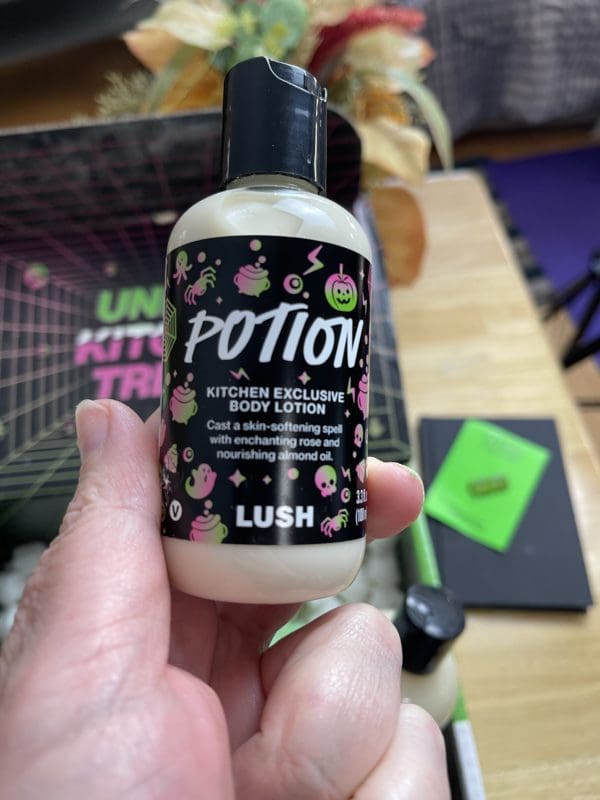 The smell is definitely between rose and almond – a mixture. I know someone like my mom would think this was too powerful of a smell, but I like it.
I liked that it had a seal on it, so you know it hasn't been used.
As far as lotion, I'm pretty picky, and I like the feel of this stuff. More than their dream cream, which is my old favorite at Lush. It goes on nice – not too greasy – and maintains the smell.
The bottle is too small, though. I would have liked the bigger bottle. It's 100 grams. Most of Lush's lotions run about $13+ for 100 grams.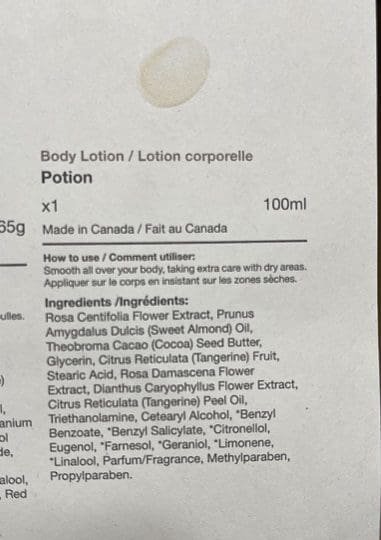 Tried it after a shower: This lotion went on nice. It soaked in nice and didn't leave any type of greasy residue. And my skin does feel softer than it usually does. I usually use the Live Clean lotion after a shower. The smell is strong of rose, and I love the smell of roses. I guarantee if you put this on before you go out, people will either love you because you smell like flowers or hate you because the smell is too strong and they don't like strong smells.
2. Ghost Shower Gel
Next, We have the Ghost shower gel.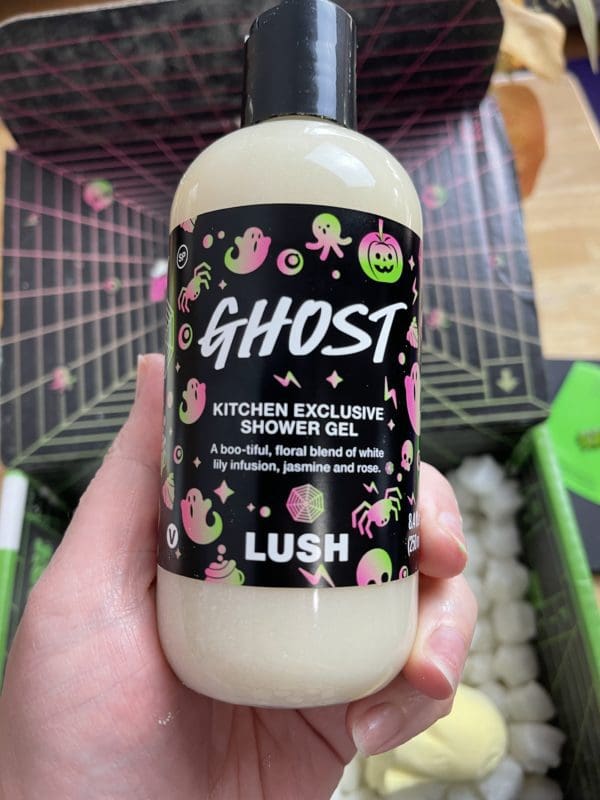 It has a strong flower smell, so I know my husband is going to pass on this one, but I'm going to like it. I haven't smelled a lily in a long time, but I guess lily or jasmine are most prominent in the shower gel because I don't really smell the rose.
This is a good size! It's 250 ml. I have never bought shower gel from Lush, but 250 ml seems to be double of most Lush shower gel products. And the average price for 100 ml is $11. So I consider this a good deal.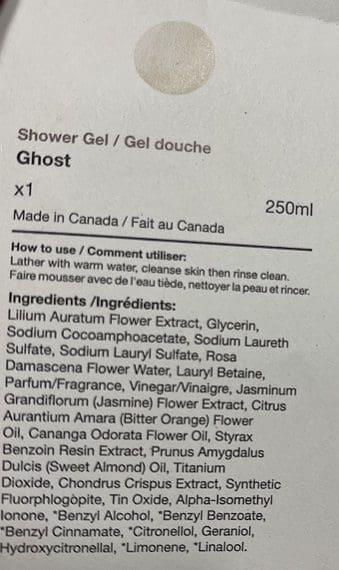 Tried it: Wow! This Ghost shower gel has a STRONG smell! In the shower, it was great. It felt like I was running through a field of flowers in the warm rain. When I got out, my husband said it smelled like roses, which I can see. And it's strong! I like it. The whole bathroom, bedroom, and hallway smells like flowers. That said, if you don't like strong smells, you probably won't be shopping at Lush anyway!
3. Cobweb Bath Bomb
Of course, there is a bath bomb in the Lush Kitchen Subscription Box.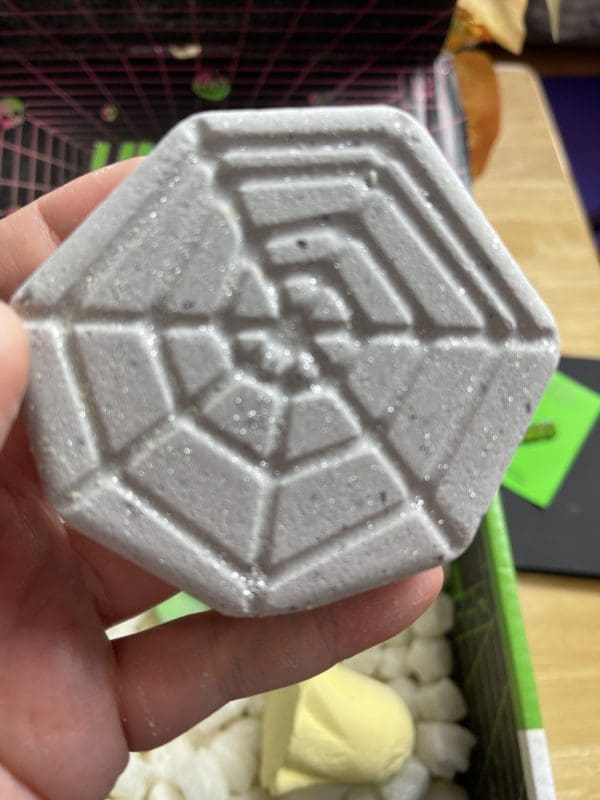 It's got little glittery stuff in it. And the detail for the spiderweb is cool.
This just smells like a Lush store to me. It's got Matricaria and lavender scent. It's strong, but it will be good in the bath.
Bath bombs are an average of $8 on Lush.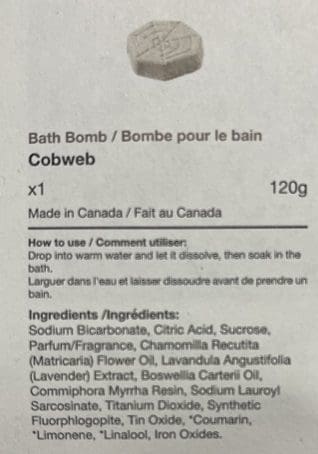 4. Banana Ghost Shower Bomb
I haven't gotten a shower bomb from Lush in a long time. I don't see the point. I can make a shower last for 10 minutes, but I can make a bath last for hours! It feels like a waste of a product to buy.
In any case, this smell of banana is what I smelled the most when I brought the box unopened inside.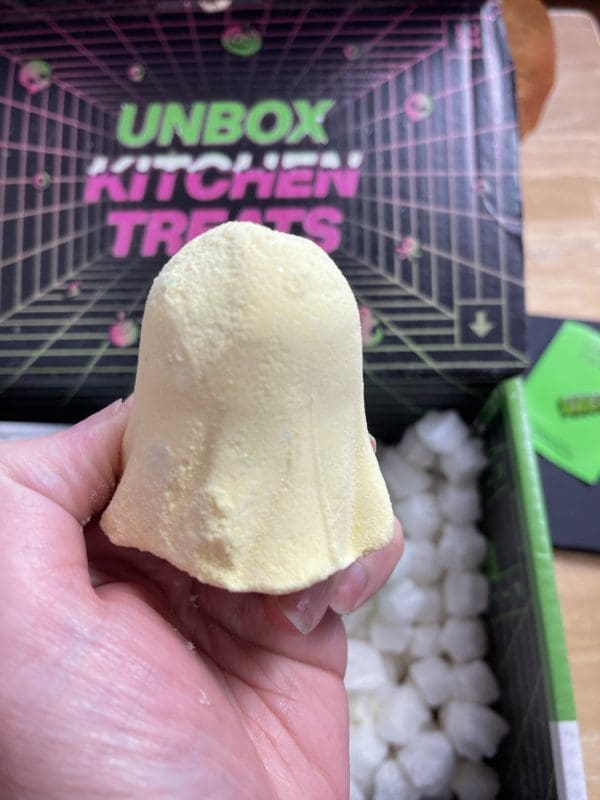 This is the first item with color in it, which I'm not a fan of. I could do without color. I actually do without color in my foods if I can help it.
Would it smell like a banana if it wasn't yellow? We'll never know!
Shower bombs are about $4.50 on Lush.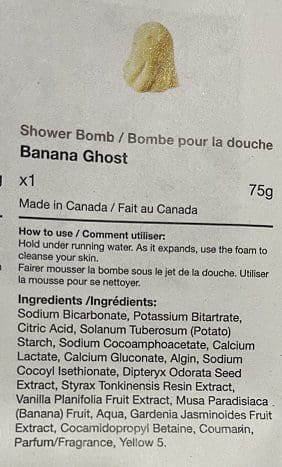 5. Mean Green Mother From Outer Space
I appreciate the effort that went into this bubble bar. It looks so much like that man-eating plant in Little Shop Of Horrors, that you can't help but like it.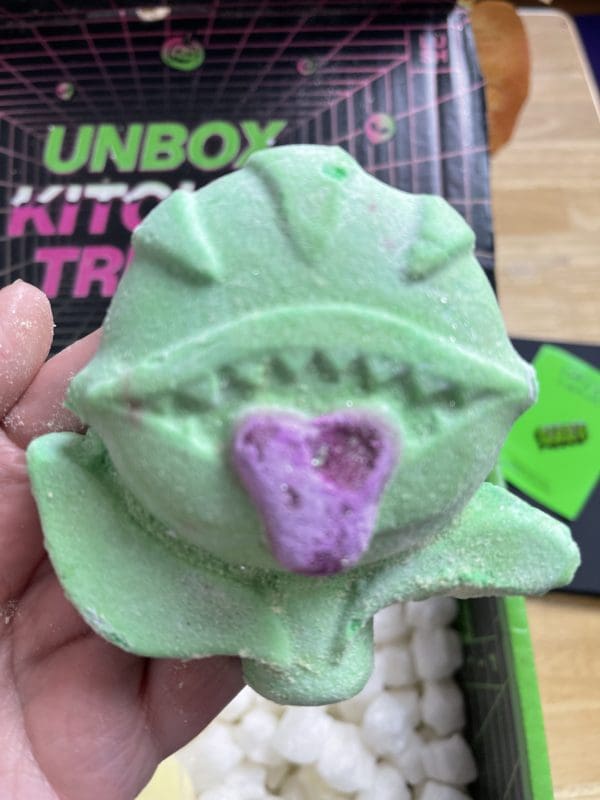 It obviously has color in it too. And it smells like lime.
It feels more like a bath bomb than a bubble bar, but if they say it's a bubble bar, it must be!
Bubble bars are about $13.50 at Lush.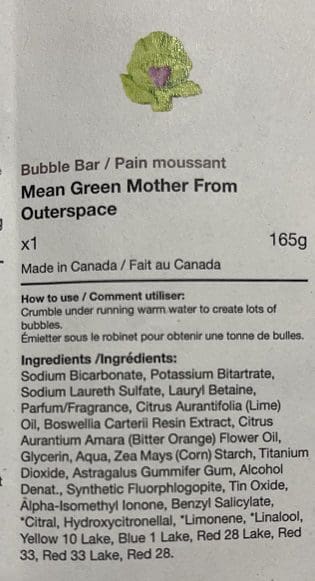 6. A Little Halloween-Font Lush Notebook
I thought this was a cute addition and I totally didn't expect it.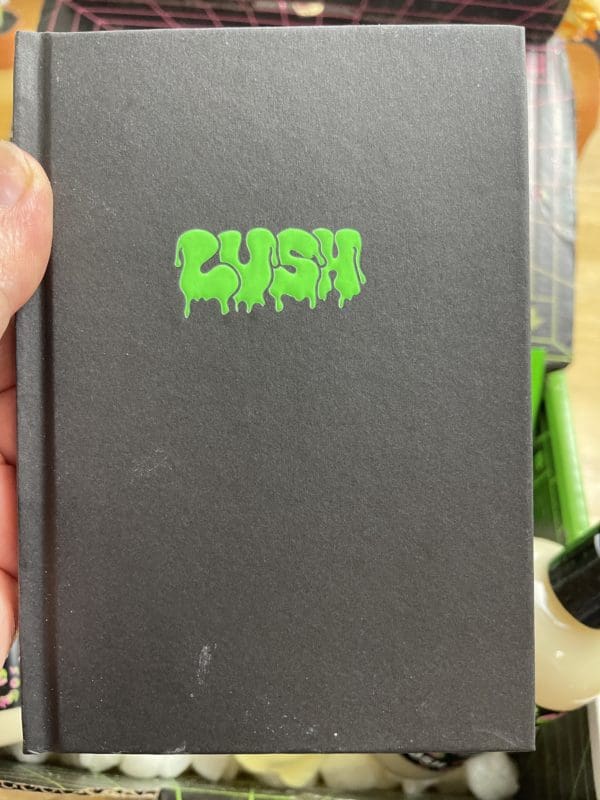 It had bath bomb stuff all over it being in the same box and it sure does smell!
It's a little notebook with both lined and unlined pages. And it has a Halloween font, which is a good addition for an October subscription box.
7. A Halloween Font Lush Pin
More of a promotional tool than anything. I'm not going to walk around with a Lush pin on me.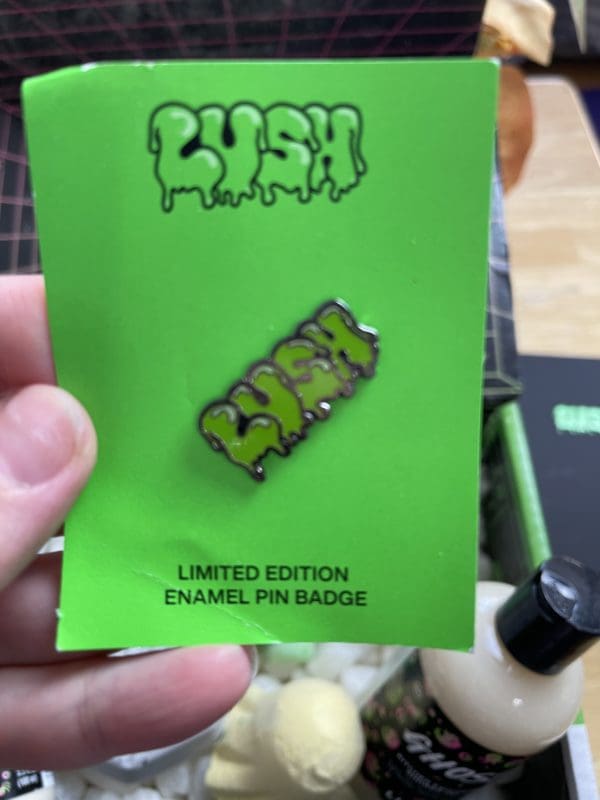 Is The Kitchen Subscription Box From Lush Worth It?
So, I paid $58.75 CAD in total for the Lush Kitchen Subscription Box. In my estimates, the bath and shower products came to $61. The notebook is probably $3. So about $64 worth of stuff.
Not a great deal. If you don't include the shipping, it looks like a better deal at $49.95. But still…
You do get stuff that isn't in the store. Then again, it smells like a lot of the stuff in store, so you could just go get what you want for the same price as the box and shipping.
I'm hoping future boxes will pack a little more punch to them. At least full-size lotions. That would be nice.
But, besides the cost, it is fun to get a box with surprise items from Lush that you can't buy in the store that are vegan and I will use.
I don't remember voting for any of these things when voting was open, but maybe I did and just don't remember. I'll pay more attention next time.