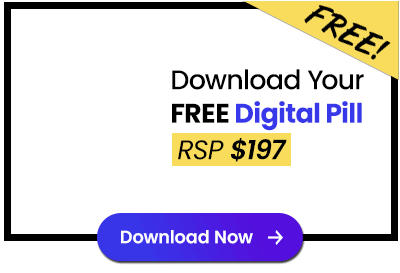 Last Updated on October 11, 2022 by Kari
I have never played a game as much as I have played Homescapes. I usually get tired of something after a while, but I cannot stop playing this game and it's getting ridiculous. I originally downloaded it because of the ads that promoted it as fun challenges for solving puzzles, but I quickly became addicted to the game inside the game, and I've been playing it daily ever since. I love it and hate it at the same time. Here's my review of Homescapes.
The Premise Of The Homescapes Game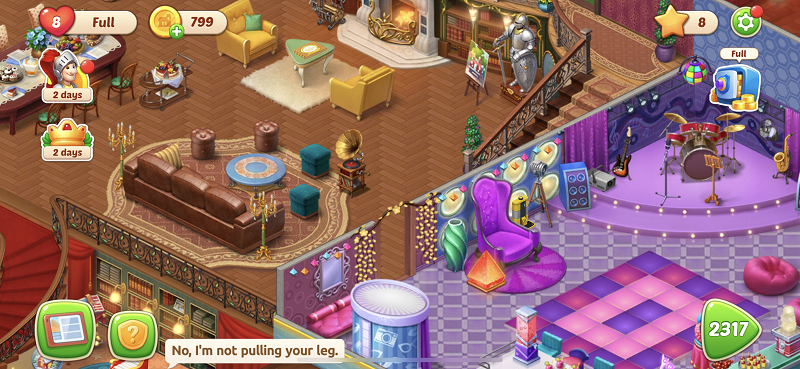 Basically, you are fixing up a home, room by room, that Austin and his parents are living in. He's always eager to fix something – and there is always something to fix.
You earn stars by playing the main game, and then you can use these stars to do the tasks around the house that need to be done – plant garden, paint walls, retile floor, etc. As you do tasks, the home gets built up, but you also get boosters that help you win the main game. At the end of the day, when you reach the 100% mark, you get 30 minutes of free play and a booster.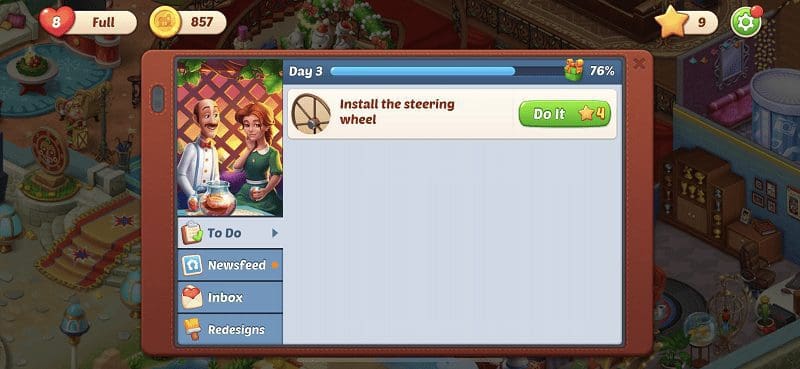 You get 5 lives to play with if you don't buy the 'golden ticket' (see below) and each life renews within 20 minutes. So, if you are out of lives you are out of luck… you have to sit around and wait for a new life to come so that you can try the game again. You can see in the top left of the following screenshot it will still be 4 minutes and 40 seconds before a new life appears and I can play again. You can also exchange lives with friends or teammates, but who wants to do that? Not me!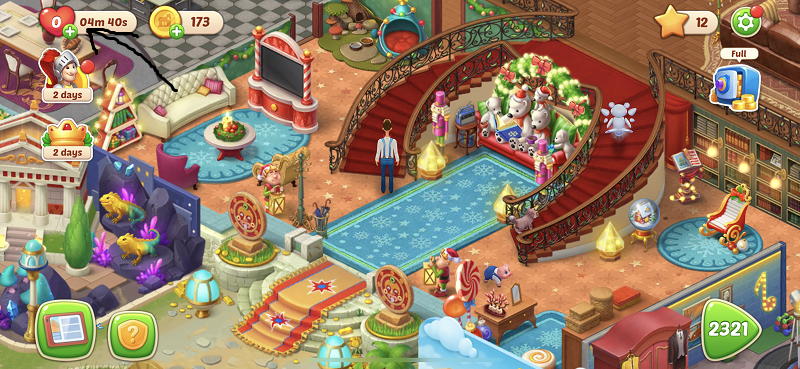 On and on it goes. You play the game, win stars, redo the house, win rewards, and play the game. You spend so much time on one room or area until it's complete and then you move on to another. And the game goes on and on as the developers are constantly creating new rooms and keeping it updated.
I Used To Care About The Home Renovations
I'm sure some people who play the Homescapes game are keeping up with the home as it gets renovated. Not me. I sometimes pay attention to what they are doing with the stars, but usually, I just fix up the home so that I can win boosters or free lives and get back to playing the main game seen below.
In this game, you need to complete the challenges in order to win. For instance, in the following screenshot, I still have to knock out 37 of those yellow-colored squares (which get colored after you make matches next to those olive oil-looking things) in 11 more moves.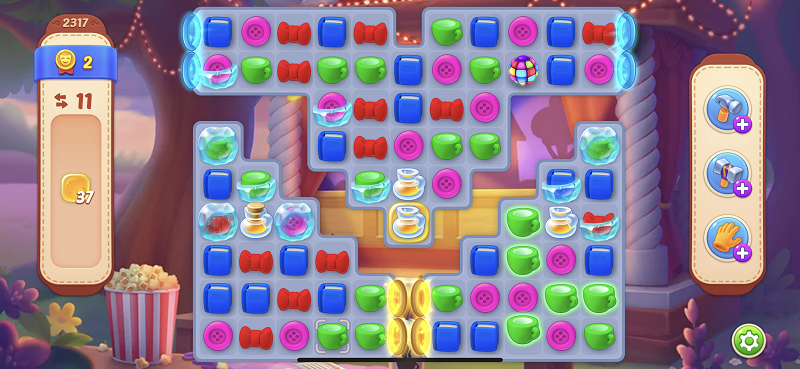 I am completely addicted to this Homescapes game. If I had spent half as much time doing work as I did playing this game in the past year, I would be much better off, but this is what I turn to when I'm feeling stressed out or just want to zone out. I've spent entire road trips playing this game. I'm on level 2317 and many of the games take more than one try to beat them – at least for me.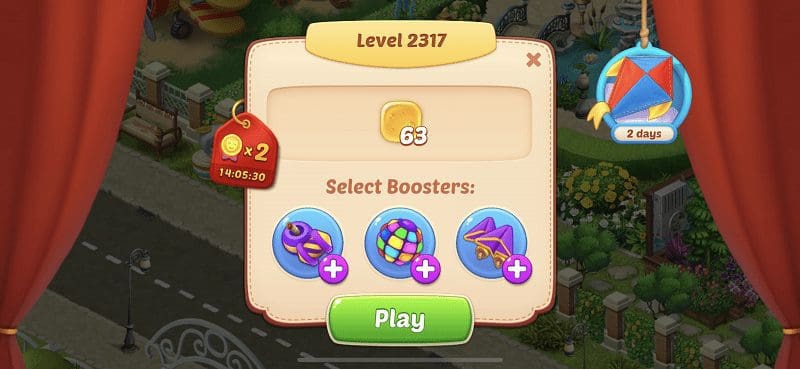 Let's say each game took an average of five minutes. That would mean that I've spent about 193 HOURS on this game. But, the fact is almost all the games take much longer than 5 minutes to win. So I would times that 193 hours by 3 or 5 or 10 – I don't even want to think about it.
In fact, we watched the entire series of Z Nation on Netflix, and I played Homescapes continuously while we watched. And that's just a fraction of the time that I've spent on this game.
This is just sinking in.
Oh. My. God.
You Will Probably Spend Money On The Homescapes Game
The Homescapes app is free to download and play, but if you become addicted to it, you will spend money.
Once every few months Homescapes offers a new 'season'. You can buy the 'golden ticket' which is simply a way for you to earn extra boosters and rewards so that you can play more. It only costs about $8 CAD and I buy it every time. It just makes sense to do it if you are going to be obsessive with this game. You get an extra 3 lives with the season (so instead of 5 lives, you get 8) and rewards. However, I have yet to complete the entire season and get all the rewards. It's too hard, which is totally frustrating.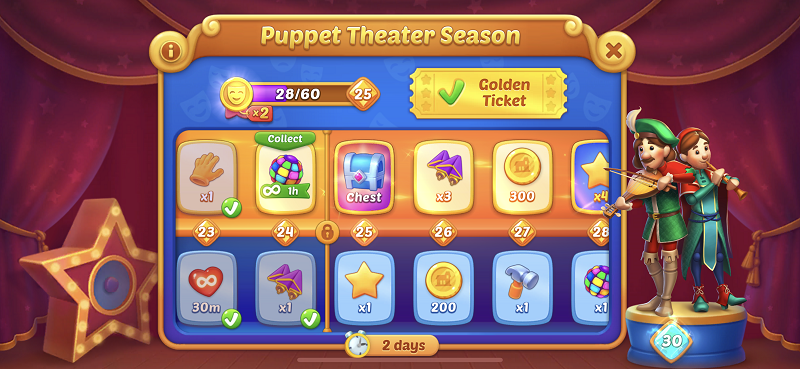 Moreover, Homescapes has a thing called the 'gold reserve' where you can earn coins after winning games and then buy them back for about $4. Those coins can buy you lives or boosters, and I can't count the number of times I've had to buy them because I had no more lives or I needed boosters to beat a level. To buy lives it cost 900 coins and the boosters range from 900 to 1900, so you can see how fast the coins go if you can't win.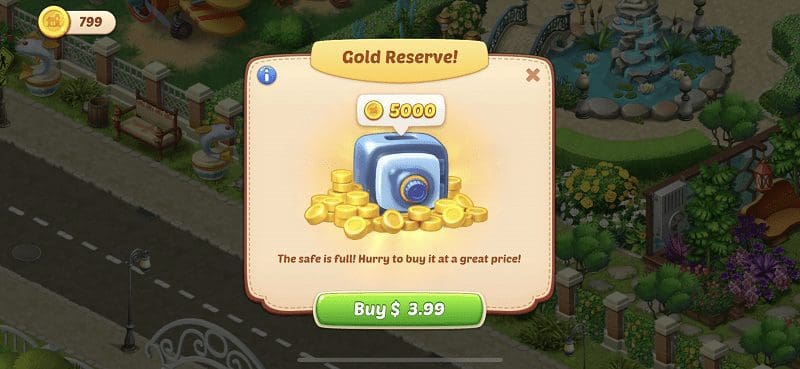 Also, Homescapes offers packages that you can buy, which include coins and boosters. Sometimes these go on 'sale'. I've bought the sale packages quite a few times.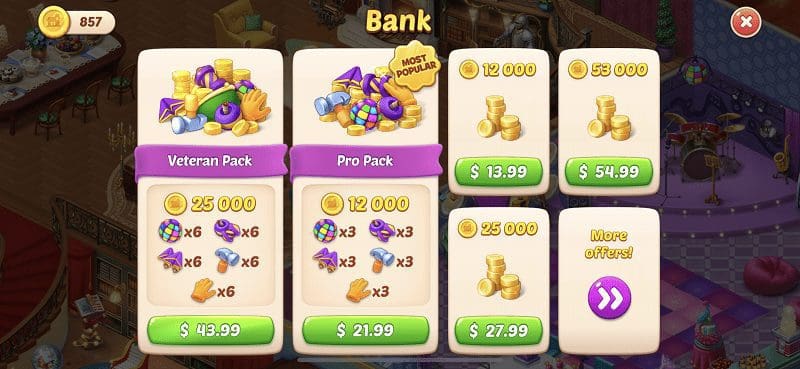 I don't even want to think about the amount of money I've spent on Homescapes. Way more than I would on buying a video game or any other game, that's for sure.
I keep telling myself that I won't buy anything else, but then I get stuck for days on a level and can't take it anymore. I need to buy boosters to get past it.
I read this review on Homescapes in the app store, and I totally agree with it on some level. I'm happy to know I'm not the only one spending a lot of money.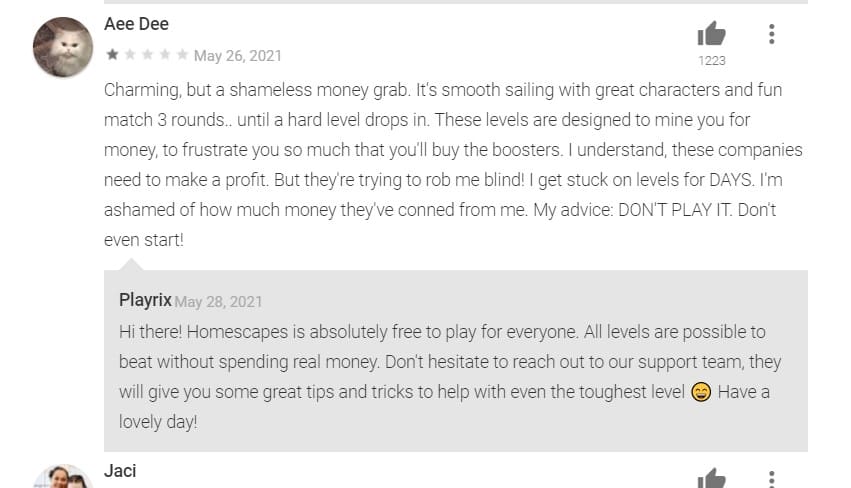 Homescapes responded by saying that all levels are possible to beat without spending real money. That may be, but it can take days and days to beat them, and if you want to get moving to a next level or if you want more lives, you will spend the money.
Other Things That Have Ticked Me Off About Homescapes
I have actually started this Homescapes review a few times in the past year and some (I don't remember when I downloaded it, but it's been over a year for sure). Unfortunately, I usually start writing my review when I'm extremely ticked off with the game, and as I said in a previous article, I won't write a review if it's solely negative. Today I'm feeling a little more balanced… a little.
Here are the things I dislike the most about Homescapes.
The Game Wastes Time When You Don't Want To Waste Time
Every day you open up Homescapes, you get a daily bonus booster as a reward for playing that day. Every seven days you get an extra reward with a booster that lasts for 15 minutes to an hour. On the 30th day, you get one hour of all the boosters, which means you can pretty much win the games you are playing for an hour – usually.
When this happens, I find that the game often pulls me into Austin's world and spends forever on a conversation that I can't get out of until they are done talking. This wastes the time I have to use those rewards, and it pisses me off – to say the least. You only get these rewards so often, so to waste even five minutes on it is very frustrating.
Occasionally, The Boosters Don't Do Anything Useful
The boosters include a paper airplane that can knock out the squares around it and fly to knock out another one. There's a bomb that explodes the squares around it. There's a rocket that blasts through a line either vertically or horizontally. And there's a rainbow ball that clears off whatever color you use it with – or multiples the other boosters if you use it with one of them. You can also combine the other boosters for more power. For instance, combining the bomb and rocket takes out three lines horizontally and vertically across the board.
One thing I've noticed is that sometimes the booster (or booster combination) won't actually do anything useful. It will take off a piece that has no influence on whether or not you can win the game, which is SO FRUSTRATING!  Why bother having a booster if it is going to help you in some way.
The Promotion Of Another App Inside The Game
The creators must have created something called Gardenscapes, because, for a while, it seemed like I was always being asked to help out with the gardening and then being led to a different app. That was kind of annoying. They used the same colored buttons you would push to play to lead you to this app, which got me a few times when I wasn't paying full attention.
Just let us know about the app and move on. I don't mind promotion, especially of a similar game, but when it constantly distracts me from trying to play the game I want to play – enough already.
A Few Errors
There has been a couple of times when I was supposed to earn boosters but they didn't appear in my game. That was frustrating, but I knew writing in wasn't going to do anything so I just continued on.
I guess if they do that enough I might quit the game, but then again I'm still working for someone who has constantly promised me things and never delivered on their promises, so maybe I'm not as bad ass as I think.
Spending Hours On One Game That's Almost Impossible To Win
I know that the creators of Homescapes said that you can win every game, but I don't think they mean every time. Yes, you can eventually win a really hard game, but most of the time, even if you make all the right moves, you can't win it. There's no way. I've often told my husband that it's like slot machines – it is set up to make you lose until they want you to win. Or until you put more money in.
Homescapes Support: Update December 2021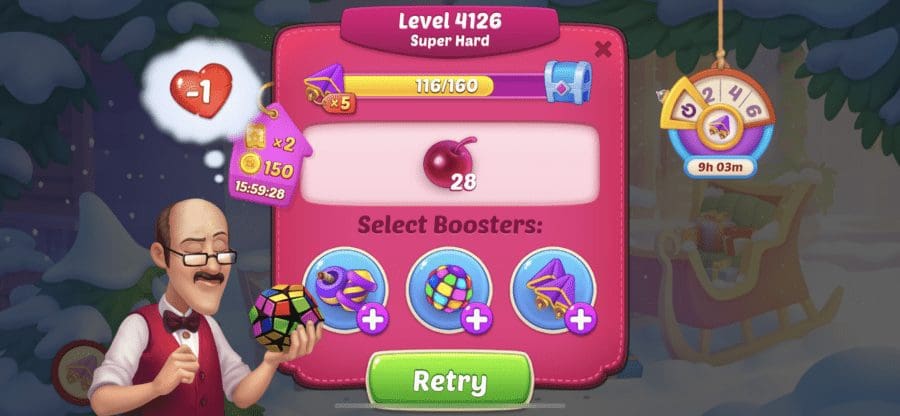 I am now on level 4126 and until the other day, I didn't have to contact Homescapes support. And now that I have, I can say that my experience with support is not good.
The Christmas season just started in the game, so I bought it, of course. One of the rewards is 15 minutes of free play. I tried to use it the other day and the game didn't give it to me. It took the reward away as if I had claimed it, but it didn't give me the 15 minutes of free play. That's never happened to me in all the time that I've been playing this game.
I wrote into Homescapes support through the app telling them what had happened, and they haven't bothered to write back.
That pisses me off.
I have spent way too much money on their game, and Homescapes can't address a legitimate error on their part? That's really pathetic.
So let's just say I have nothing good to say about Homescapes support. I don't know if it's standard practice to ignore concerns or not, but I'm not impressed that such a simple concern was ignored and not rectified after all the time and money I've put into their game.
The Reasons I Like Homescapes
The games are a challenge. I like challenges. I like to win challenges. This is why I keep trying and trying and trying and trying… this is why I'm addicted to Homescapes.
It's a place I can put my focus and distract myself from negative things going on in my life. If I could just use it as a tool to refocus and calm down for a few minutes, that would be great, but I often find myself playing for hours after I start.
I like winning boosters and seeing myself win in competitions. I think it triggers the reward center in my brain, which feels damn good.
They always have some sort of promotional thing going on where you can collect boosters as long as you win. (Although, the 'in the clouds' one is dumb because you only gain one reward with one win and then you lose everything with one loss. You should lose one booster at a time, just as you earn it.)
There is a storyline to it. The writers have created a constant story that works well with the home. However, I've stopped following the story because I don't want to sit there and read every single conversation they are having. But sometimes I pay attention to it – when I'm really bored.
I think it's a brilliant game. It's created to keep you playing and spending money, and I respect the people behind it. They have done well with the game and made it very interactive and fun… until you start to not have fun. They've even created a Twitter profile for Austin. So smart.
Be Careful If You Download The Homescapes Game
Unlike the other reviewer, I'm not hardcore against Homescapes. I think it can be fun and distracting and challenging, which are good things.
But, it's important to know that Homescapes can be addicting and cost you money. If you are not willing to chance that, then I wouldn't recommend downloading Homescapes.
If you are, then go into it like a kid being supervised by their parent and give yourself an hour a day or so to play it if you want, and then you have to do something more productive with your life. If you don't, take it from me, you will regret not using the time for better things like reading, getting out into nature, spending time with loved ones, or working!
Update September 17th, 2022: I Deleted The Homescapes Game Today!
I don't think I've ever been addicted to something like I was to the Homescapes game.
I was playing it in every spare moment I had, while watching TV, while having a bath, while on the toilet… I played it everywhere.
And I spent a ton of money on it. I just spent another $6 the other day, which doesn't sound like much, but I can guarantee that I've paid more for this game than I've paid for many things I own.
The biggest problem was that I wasn't using my free time for things I actually want to do like reading and taking my courses. I needed to play and use up my lives and get my money's worth and win stuff.
And I got sick of it this morning.
I realized that we are going on vacation for the first time next week and I might spend all my free time playing this stupid game.
So here it is. Level 6223 is officially the last level I completed.
Goodbye Homescapes. I spent way too much time, energy, and money on you and now I'm going to put that time, energy, and money elsewhere.