Last Updated on October 16, 2023 by Kari
Die Pie is a vegan pizza place in Edmonton Alberta. They have more than just pizza, though. They have pasta, burgers, wings, fries, and more. They've been open, on and off, for years. When we first found them a few years ago, I was thrilled! Vegan pizza with cheese that isn't just Daiya cheese! Yes, please! We've had some ups and downs with them over the years, but it seems they've settled into a new place and are doing more of a consistent good job… although, there are still some misses.
We've Gone To Die Pie Often And Experienced A Lot Of Screw Ups Over The Years
We used to go to Die Pie all the time in their Downtown locations – both of them. And there were a lot of screwups.
For instance, we once ordered their truffle fries, which has sunflower parmesan and truffle olive oil. We got just fries. We paid way too much for just fries. We could have gone to McDonalds. And when I wrote in to tell them about it, they basically told me that things happen and mistakes are made.
That was after a multitude of mishaps with them, and we just stopped going. Then they closed down during Covid and reopened later at another place downtown, so we tried again. They were consistently good at that place.
They have moved from that place and have expanded their menu in their newest location. They are still good, however, we've still had some mishaps.
We've gotten the wrong pizza, which we didn't find out till we got home.
We've gotten the wrong dips – a lot.
We've had way overcooked pizza bites, which was extremely disappointing.
We ordered the nachos once and they were cold. I'm not sure if that's how they were supposed to be, but there was no one else in the restaurant, so I guess so! That was disappointing so we never ordered them again.
And, we've waited for OVER an hour during pickup for a pizza that was obviously sitting there the whole time because when we got it to the car (a one minute walk) it was cold.
I've also seen the waitress on her phone while skip the dishes is trying to get her attention for minutes, and if I've seen that once, I'm sure it's happened before and contributes to the overall wait time for pickup.
Note: There is a new guy serving at Die Pie and he is excellent. I'm not sure of his name, but he has a long white beard and he understands how to treat a customer. He's quick to help you and knows exactly what you need when you need it. He's really good and they're lucky to have him there now.
They Haven't Taken Criticism Well At Die Pie
In my experience, Die Pie doesn't take criticism well. I like to review things and I speak up when something isn't right, so I've written in a few times to let them know that we didn't get what we expected or that something was wrong, and they've been very defensive about it.
Because of this, I don't write in anymore when things go wrong (like the overcooked pizza bites or the ridiculous wait).
I'm not a fan of businesses that don't take constructive criticism because it means they are not willing to improve. It makes me want to boycott them. But they are the only place with really interesting and good vegan pizza, so I can't do that.
Our Favorites At Die Pie
We have a few favorites at Die Pie.
The Korean Pizza
We once had the Korean Hawaiian when they were located in their last place, and it was AMAZING! I'm not a fan of fake meat,  but I really enjoyed that pizza. I craved it so much, and when we were able to try it again, they had moved to their Die Pie location. It was different for some reason. The first time it had a chewy 'meat' that I actually enjoyed. There were pieces of it distanced out over the pizza. This time the pizza was fully covered in a different meat than they had first used, and it was layered on the bottom instead of scattered throughout. It was a huge turn off for me.
The Poutine
Die Pie's gravy is really good. The poutine comes with mozzarella and an aioli sauce. The mozzarella doesn't have much of a taste. It's not like squeaky cheese. It's very, very soft. But when you are in the mood for poutine, Die Pie's creamy version hits the spot.
The Perogy Pizza
I've actually made a perogy pizza at home based off Die Pie's pizza. This pizza was the only pizza I was ever able to get my dad to eat at Die Pie, and he enjoyed it, which is saying a lot. If he knew something was vegan, he was often already turned off by it. But, this pizza he liked, so I highly recommend trying if you like perogies.  It has feta, potato, cheddar sauce, sour cream, onions, and bacon flavored parmesan.
The Pickle Pizza
This pizza is good. It has pickles, red onions, dill, jalapenos, pickle seasoning, feta, mozza, chedda, and a dill cream sauce. It's a little spicy with the jalapenos, which we like. The various cheeses on here work well together, and I especially like the feta cheese. The dill cream sauce is good. It's just a good pizza overall.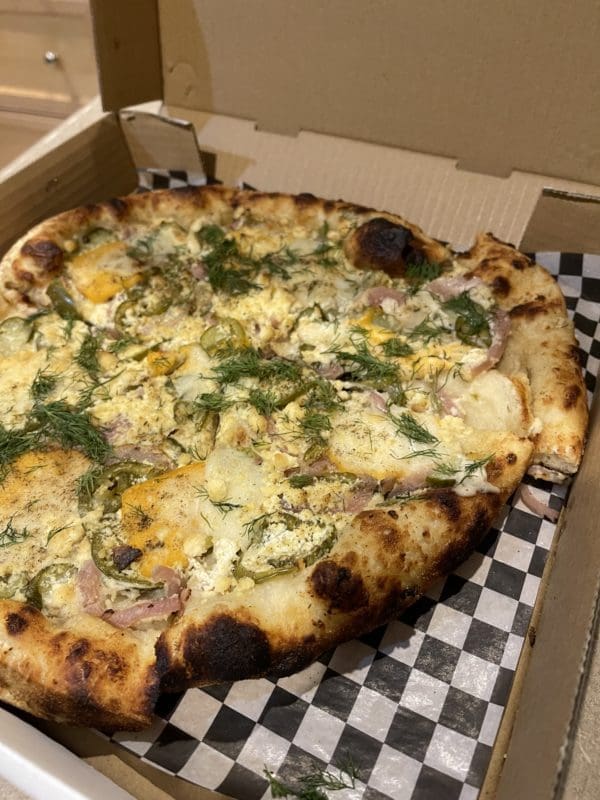 The Black Garlic Truffle
This is also a good pizza at Die Pie. It has an aioli with black garlic and truffle, mozza, gorgonzola, chickpea parmesan, and baby greens. The black garlic and truffle aioli is kick ass good. My favorite part is the Gorgonzola, but it all blends together on the pizza to give a delicious taste with each bite. Even the baby greens are good on this pizza. This vegan pizza has to be eaten to understand the taste and how good it is.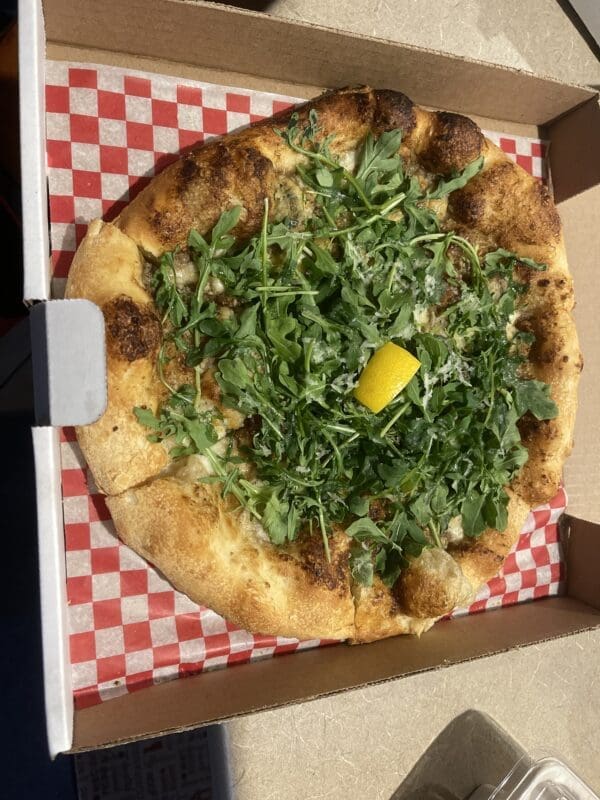 The Cheddar Bites
We have tried all of their cheddar bites – plain cheese, with pickles, and with kimchi. The dough is really good. I like the plain the best, but these are often inconsistent. Sometimes you get a lot of cheese in them and sometimes you get next to nothing. Sometimes you get a lot of sunflower parmesan and sometimes you get next to nothing or nothing at all.
These are best hot from the restaurant. We live quite far away, and letting them sit reduces how good they are.
But, the worst is when these are overcooked. They dry up pretty fast and don't taste good, even if you eat them from the restaurant.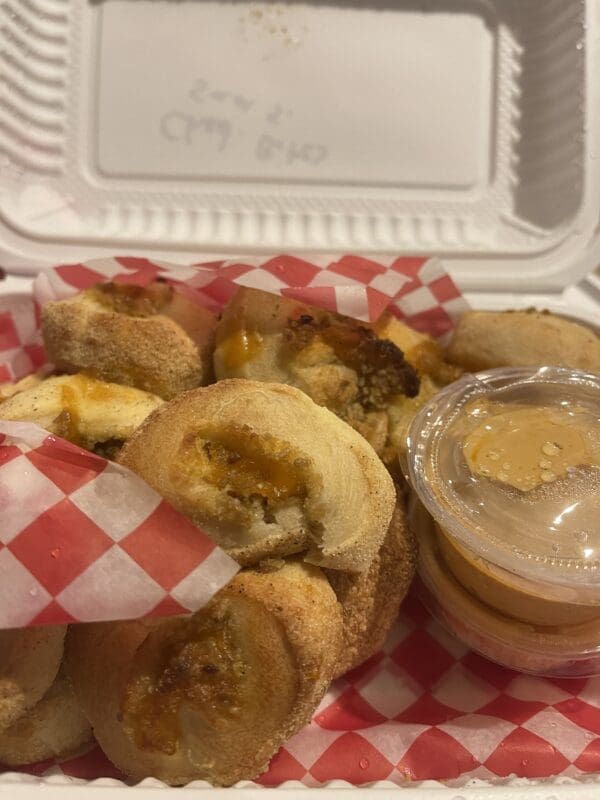 A Little Trick We Learned For Heating Die Pie Pizzas
Because we live far away and we often have to pick the pizza up on the way home from work, we always kind of have colder pizza that we had to throw in the microwave.
The pizza does taste good cold, but if you want it hot, throw it in the oven at about 325. For some reason it crisps up the crust in the oven and it tastes almost like fried pizza or maybe like really good toast with delicious toppings on it.
All Their Desserts Are Good
I've never had a dessert at Die Pie that I didn't like.
The cheesecakes are my favorite. They are always very smooth and tasty, no matter what kind of cheesecake it is.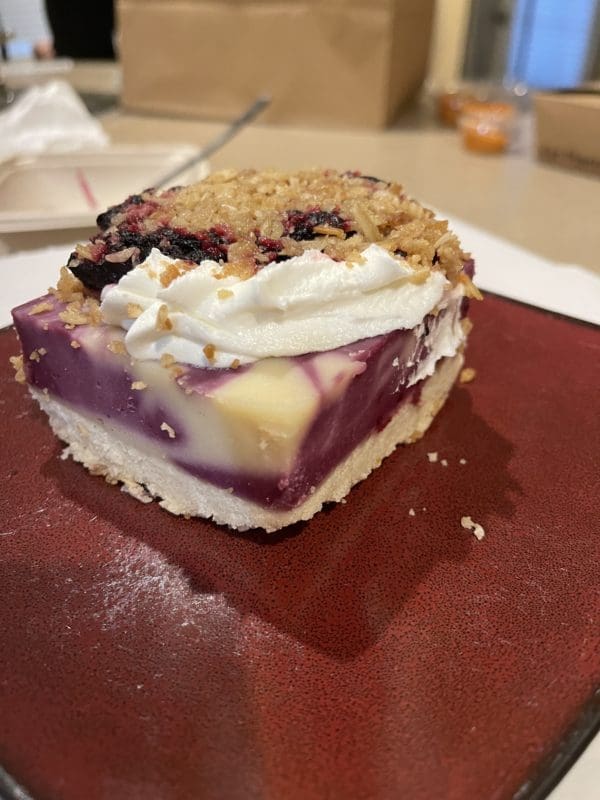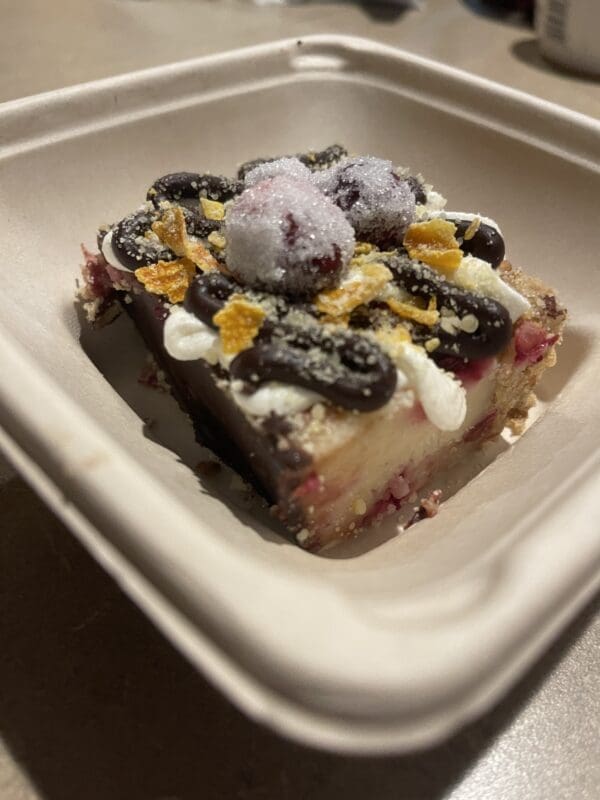 New Things We've Tried At Die Pie
Beetza pizza. This pizza has beets, arugula, dill, fennel, and beet greens with chickpea parmesan and ricotta. Wow. I wasn't sure if I was going to like it, but we do like borscht and we had to try it. It's good. There's a taste of coconut, which I think is from the ricotta, but that's my only complaint. My husband really like it. It tastes like you would expect it to taste like – beets and greens on a pizza with some creaminess to it. I actually liked this pizza better cold than warm. The flavors of everything stood out to me more. But, warm or cold, it really does remind me of a bowl of Borsch – but slightly different. And, beets are good for you, so this pizza is good for you… and that's always good.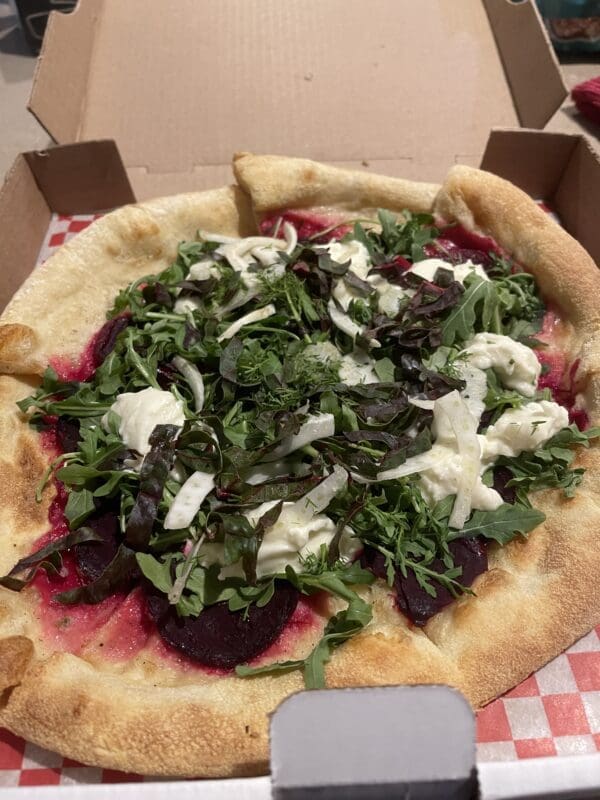 Die Pie Keeps Us Coming Back
All in all, the food is good at Die Pie if it's cooked right and has what it's supposed to on it. We've had quite a few mishaps, though. Maybe we are just unfortunate? I don't know. But we keep trying, so that's saying something.
You can find them on Facebook here or at their website here.