Last Updated on September 27, 2020 by Kari
I've been using Goals on Track for years. I've written reviews about the software before, but there is a new version of Goals on Track, and I'm starting over with that version, so an updated review is in order. I can say this to start with confidence: I guarantee that if you have goals and want to use an online software for setting goals and managing them, this one is going to offer you a few things that you will find invaluable. Following are 12 of them.
1. The Vision Board

A vision board brings your goals and dreams to life. When you can see visual representations of how you want to feel or live, you feel as though it's more of a reality – and more achievable. Add the right music to your pictures, and you can really get pumped up to do what you need to do to reach those visual goals.
If you like the idea of a vision board, but don't want to put one up in your home somewhere, Goals on Track has you covered.
Each time you add a goal, you can upload your own picture for that goal and it automatically goes into your vision board. If you don't want it on your vision board, you can delete it directly from the vision board.
You can add as many pictures as you want, and you can upload your own music that inspires you or motivates you. The default music is pretty catchy and you get used to it too.
There are many different transition options to choose from, you get three speeds to choose from, and you can choose how long the pictures pause before moving on.
2. The Creator Of Goals On Track
As I said, I've used Goals on Track for years, so I have had to contact Harry Che a few times throughout those years. I've never seen a creator more dedicated to making his product worthy of purchase.
Despite it being a good goal setting software when I started using it about 5 years ago, he has also revamped Goals on Track and made it better and more user-friendly.
In short, you don't have to worry about not being able to get in contact with the creator or the software being shut down with all your goals still on it. He's been consistently devoted to his product.
3. The Habit Tracker

Habits help you reach your goals. If you want to achieve anything, you have to habitually put in the effort to get there. For instance, if you want to lose weight, you have to develop habits like eating better or exercising more.
Goals on Track lets you create as many habits as you want and allows you to choose a few important things, such as:
Whether or not you want to do the habit every day, every week, or every month
How many times you want to repeat the habit (choose from 7-100 times)
Correlate your habit to a goal you have created.
Put your habit in a category, such as home, work, personal, or money.
Put pictures up with your habits for that added motivation.
4. Keep Track Of Your Tasks
When you have your goals set up on Goals on Track, you can create tasks for those goals.
For your new task, you have a few options:
You can choose when it's due – which is essentially your end date. Typically this will be the date that your goal is due.
You can tie it to a goal.
It can repeat daily, weekly, monthly, or yearly.
You can write notes about the task.
You can choose when you will start performing the task (not shown in the picture above).
It used to be that you would have to delete all the tasks if you no longer want to do them anymore, but now you can just click on 'completed' and then choose to 'apply the changes to all recurring instances'.
5. Create Dreams For 'Someday'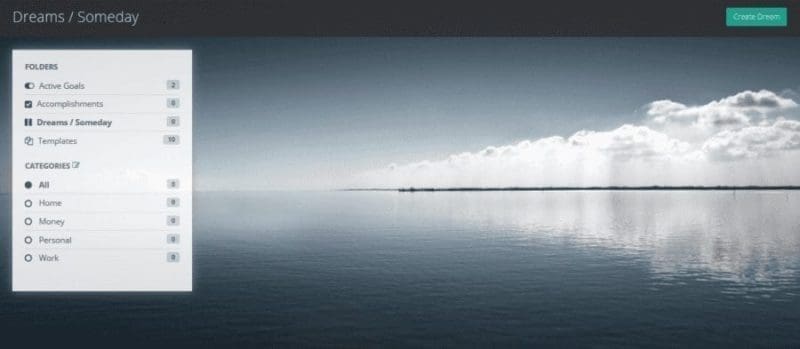 You can keep track of all your dreams before you convert them into goals with Goals on Track. I LOVE this feature. It's quite new to the software, but I think it's so important to be able to write down those dreams that you want to go after someday so that you are constantly reminded of them.
What's really cool is that when you are ready, you can set your 'dream' as a 'goal'!
6. Set SMART Goals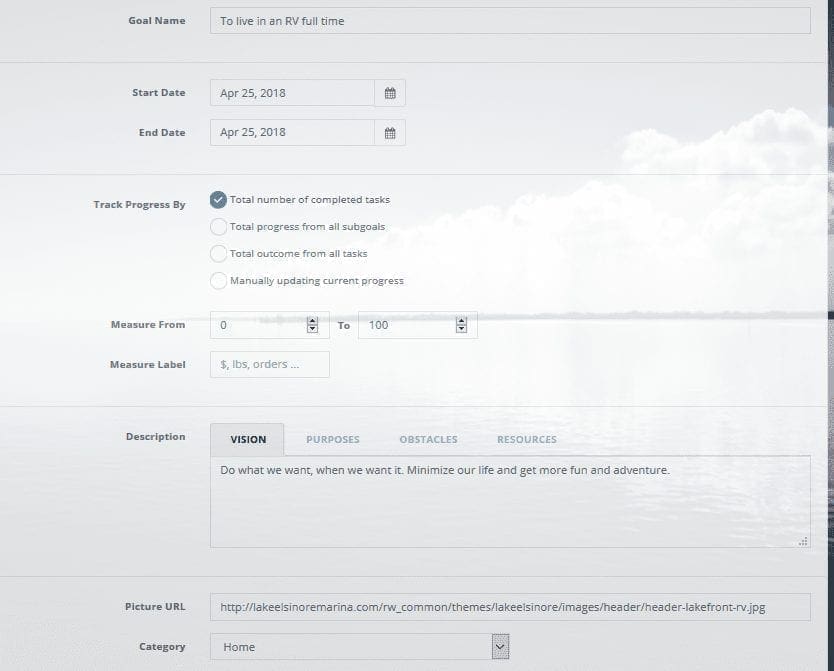 Goals that are goals that are specific, measurable, achievable, relevant, and time-limited are considered SMART goals. Goals on Track lets you make them easily.
I like that you can even problem solve on Goals on Track by writing down obstacles and how you will overcome them. Moreover, you can include resources to help you remember what you need to achieve the goal.
7. Done-For-You Templates
There are 10 done-for-you templates. I wouldn't put it past Harry Che to create more templates, but as of this Goals on Track review, there are some common goals that people have inside of these templates.
When you click on one, it opens up to show you what it consists of and then you can create your goal from the template. You can edit it to fit your needs and then click on 'Create Goal' to add it to your goals.
8. Keep Track Of Your Accomplishments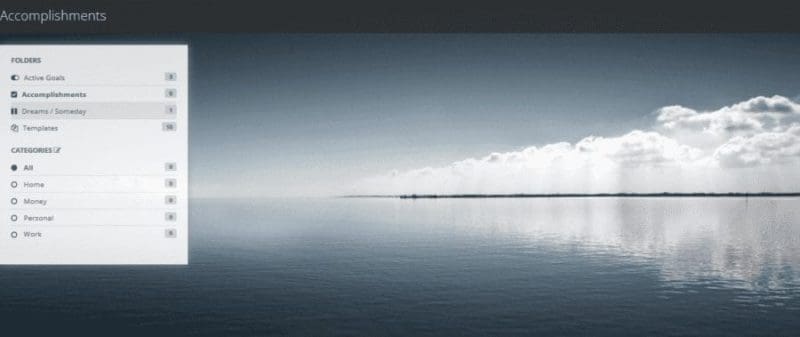 I cleared out my Goals on Track goals, habits, and accomplishments because I was too busy with a client to actually tackle my goals. And my goal situation was looking pretty poor as I was accomplishing NOTHING!
But, if I had accomplished a lot, it would be in this section reminding me of how great I can be and how much I can accomplish if I put my mind to it. And it can do the same for you.
Right now it's just reminding me that I got to stay committed and work on achieving my goals.
9. Journal About Your Progress, Thoughts, Etc.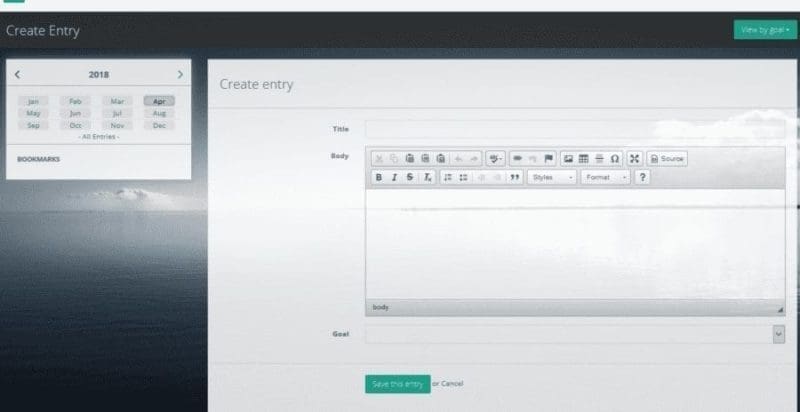 Journaling is important to achieving your goals. It helps you keep track of thoughts, what works, what doesn't, and ideas and inspiration that can help you move forward.
Instead of doing your goal journaling in your personal journal, you can use Goals on Track and journal about your goals in the same place you are keeping track of your goals, habits, and dreams.
In fact, you can attach your journal post to a specific goal which will make it easier to find your posts and progress later on by searching through a specific goal.
10. The Dashboard
You can add and view the goals that you are most actively working on and see the progress and goal status. You can also drag and drop them in any order you want.
You can clearly see what tasks you need to do today, including any overdue tasks that you have yet to accomplish. You can check them off as you go, which will cause the checked off task to disappear in a hidden section (that you can open up if you want) and leave only the tasks still required.
In fact, it shows you how many tasks you have completed in the 'tasks for today' section. And, if you want to add in a task quickly, you can do that and it will appear on your dashboard as well.
Lastly, you can see the habits you need to do for the day and check them off as you go.
11. The Timer
In most Goals on Track reviews, you will find that the timer is one of the favorite things of users. For me, who loves to see how I actually spend my day instead of how I think I'm spending my day, this is a fun tool.
For each task, you can click on the timer to the right of the task and time how long it takes you to do it. You simply click on it to start and stop the timer.
At the bottom of the tasks, you can see how many hours (or minutes or seconds) you've spent in total on your tasks. This is a huge motivator to get your butt in gear when you clearly see how much you are – or are not, doing.
12. The Price
This isn't a monthly subscription. You pay once a year and that's it.
The price is $68 USD, which would work out to $5.50 per month if it was monthly. That's an incredible price for everything you get with Goals on Track.
It's also a price that hasn't changed since I started using the software, and it's a price that is fair and doable for almost anyone.
There's So Much More
There's much more to Goals on track then just this list. You can see your calendar by day, week, or month. You can drag scheduled tasks to drop onto your calendar to set due dates. The more you play with it, the more you will like it. And, if you've taken Lifebook Online and want to keep track of your foundational goals, overriding goals, quarterly goals, and weekly and daily goals, along with all your sacred choices, then Lifebook and Goals on Track work really well together.
If you are interested in Goals on Track, you can learn more about its benefits and sign up with it here. There is a 30-day money-back guarantee, so you can try it out and see if I was right about you enjoying it or not! If you end up using it, please come back and let me know how you enjoy it in the comments below.