Even though I've been vegan for a while, I still don't make a lot of food with tofu. I do make 'eggs' sometimes on the weekend, and I like that, but I haven't found a lot of other ways that I like tofu… until last weekend. My mom made a simple but delicious dinner with tofu as a base for a sauce, and my husband and I have had it every day since. I'm so grateful that I have a mother who is willing to try out different foods for us and inspire us, even though she is not vegan!
Easy Burrito Bowl That Takes No Time To Whip Up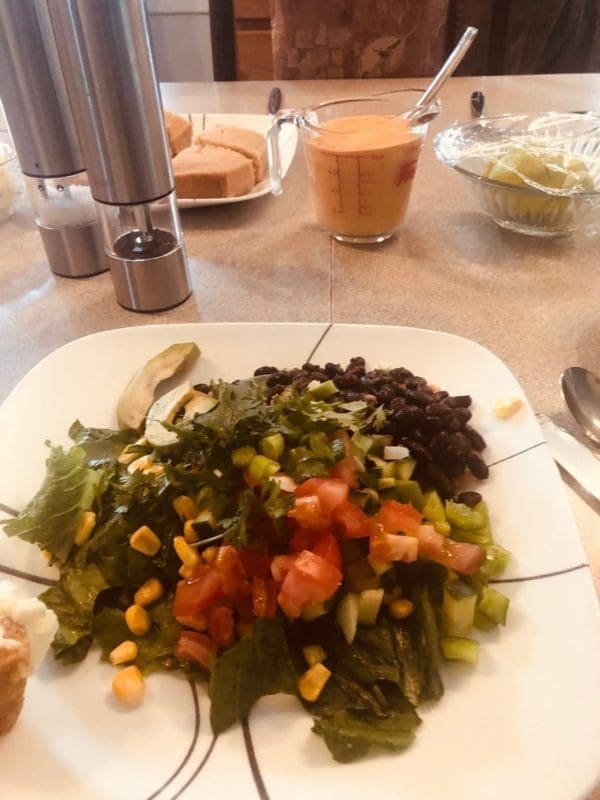 We eat a lot of wraps and burritos around here. But as far as burrito bowls go, that hasn't been a thing, until now. (Yes, I know – we should have called what we ate a burrito plate not a burrito bowl!)
My mom put out all kinds of vegetables out for the burrito bowl, including cucumber, avocado, tomatoes, corn, green onions, green pepper, and lettuce – and it all worked in there. She also had cilantro, which I've never seen my mom cook with. She also put out black beans and made rice with salsa.  And she put out lime wedges on the side. The result was a flavorful plate of fresh and tasty ingredients.
It was probably one of the most simple but flavorful dishes my mom has made in a long time, and it quickly became one of my new favorite foods.
We knew this was something we were going to want to eat all week. So, when we got home, we just cut up a ton of various vegetables and threw them into containers. We also made a huge pot of black beans and threw that into a container. And, I made some cilantro and lime rice and threw that into a container. Voila! We now have all the fixings for a delicious and healthy burrito bowl (or wrap) whenever we want during the week. It truly is an easy weekday vegan dish that you can whip up in minutes with just a little prep work on a Sunday.
Make A Big Batch Of Sauce Too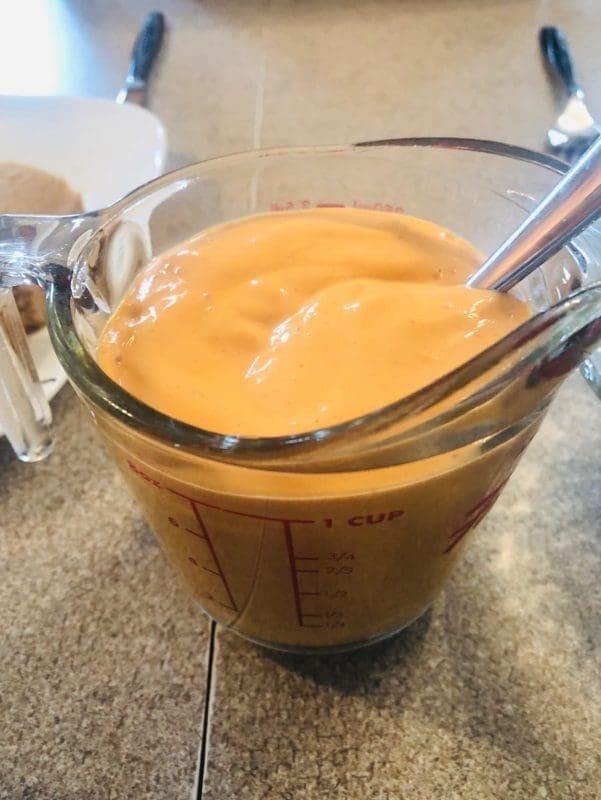 The tofu sauce works with every vegetable. The big ingredient that packs a ton of flavor is chipotle in adobo sauce.
My mom got the recipe from The Garden Grazer here. You don't need another one. This one is perfect. Just adjust to taste if you like. My mom likes to follow recipes to the letter, and it was perfect as is.
But, for my husband and I, more of everything works. For instance, we've been using way more garlic than a couple of cloves!
Interestingly, I used to make this type of sauce with almond yogurt and completely forget about it until my mom made it. I would never have thought to use tofu, but I love the texture and taste that comes out with tofu.
For a while, I've been wary about tofu because I have hypothyroidism and tofu contains goitrogens, which supposedly it can exasperate that condition. Even though there are other foods that contain goitrogens, I hear about tofu the most. However, there is also evidence that soy does very little to affect the thyroid unless intake of iodine is low… but I don't have to worry about that.
To be honest, I'm more worried about gluten than I am about tofu at the moment.
Plus, the benefits of tofu seem to outweigh any potential issues that may come from the small amount that I eat, so it will be a staple in my sauces from now because the creaminess factor is off the charts.